Meindl Perfekt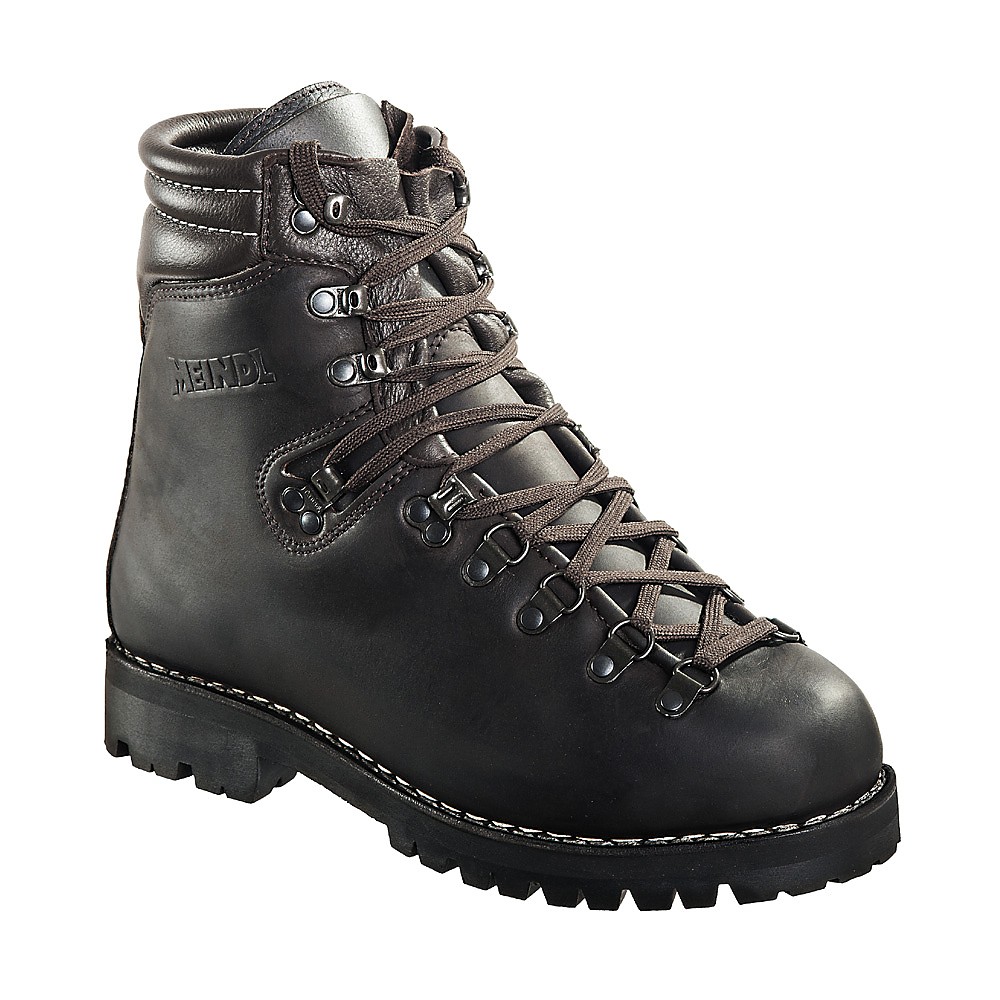 I used my perfects (size 40 European) on the road, in the mountains, rocky terrain, snow paths, icy conditions. In the mountains they are at their best, especially rocky terrain, on even paths, or no path at all, the boots love it and you will too.
The boots close in your ankles firm but soft. The soles are perfect for feeling just enough what you are walking on and enough not to be hindered by nasty ridges. You simply rest on them, because the soles are so stiff, you won't feel anything pushing through the sole (Vibram, rubber). The balance you get from them is really fantastic.
On the other hand the soles give in enough to walk on them comfortably. Nicely waxed, in snow you feel like walking on clouds, with nice warm and soft cushioned feet. Try them!! It will not let your feet get wet, even after non stop walking through high snow and sludge for many weeks! (or water even, poses no problem whatsoever.)
The boots are big, so you move accordingly, but the comfort is so immense you don't mind a bit. In the mountains you feel sturdy support. I have demanding feet with hallux valgus and quite sensitive joints because of this, I can walk for days on Meindl Perfects on rocky terrain. Store your Meindl Perfect boots clean and dry and well-WAXED in a well-ventilated shed and you will be happy snow-walker/ and climber for many, many years!
Good waxing is the only thing you'll have to do keeping your boots in perfect condition, before every trip check if you boots need some wax. Maybe refresh the innersole or buy a new pair of laces, that's all. Remember these boots love climbing !
To complete my story that I already wrote about these incredible shoes, I have the following recommendation to make: Do treat your Meindl Perfekts with beeswax, and nothing else.
The brand I love to use is: SNO-SEAL all season leather protection. Has no specific color, is transparant or white when solid. Sold in tube or jar. Fabricated by: ATSKO INC. ORANGBURG, S.C. MADE IN USA.
Be sure to (in this order-->) clean and dry and reapply after each trip!!
It is very easy to apply. You warm up and dry the freshly watercleaned shoes with a hairblower. Then the wax is melting on the shoes. They absorb a lot of wax. They need it to stay in shape. Apply as much as the shoes will take in, the outside big flap and sole stitchings too. Then they stay in excellent shape.
These shoes are just like pets. Keep them in a well ventilated shed! (holes in the side)
Are places where you can find this great beeswax, 100% vegetable (best for the shoes; won't crack you see).
That is what I wanted to ad to my review above.
Take care & Enjoy !!
Materials: leather
Use: rough trail and heavy pack
Break-in Period: 1.5 week at home
Weight: 1,3 kg.
Price Paid: 325 Guilders (1994)

An excellent, solid boot. I used to wear the old Asolo Yukons and wanted something a little more like them—a bit lighter, with the break-in more along the width for overhang—but could not find anything suitable. The Meindls are heavier, more thickly padded, and wider-cut—so they are a little 'clunkier' feeling. BUT the Meindl Perfekt is an unquestionably well-made boot.
Pros
Design
Construction
Comfort (for what they are)
Dry
Appearance
Cons
A heavier boot
Needs mindful breaking-in
Meindl Perfekts deserve, and require, a slow and gentle break-in with good care. I am a fan of Obenauf's, which is working well for this. I have worn boots like these before, so the break-in isn't too bad for me.Likewise, I have wide feet, so in many ways the Perfekt is easier to break than the Yukons of my youth. If you have narrow feet, they may be a little 'swimmy' and hard to fit.
Mine are getting more comfortable with each wearing. So far they are dry, and I expect they will stay dry if properly treated (at least until they are resoled). The solid 'rubber' midsole performs a little differently from Oak Leather ones: it rocks less early in the break-in, but does gradually give enough to provide good rocking motion over time--and it looks like there is less to go wrong with it.
The generous padding of its leather-lined interior makes the Meindl Perfekt nice and toasty-warm, but not 'swampy' because there is no synthetic membrane to interfere with wicking or sweat absorption. Properly laced, the Perfekt rocks where it should: along the inside third of the Vibram outsole—which is broad, and of superior density and hardness.
If you have not worn boots like these before they may seem like too much weight, bulk, and work to get comfortable with; if you have, you will appreciate the level of quality Meindl puts into them.
Bottom line: they are worth every Euro I paid for them, and—at age 53—I do not expect to outlast them in the field.  
p.s. If you have an NOS pair of the original Asolo Yukons in U.S. 8.5, I want them too!
Source: bought it new
Price Paid: 340 Euro

Built to last
Very comfortable in summer as in winter
It's a shoe you can trust
Pros
Build quality
Durability
Comfort
As I write this review I've owned my Meindls Perfekt for 13 years now.
With the exception of a period of two years where I suffered from gout and bought a pair of Hanwag Alaskas because they were more forgiving on my inflamed toe.
To be short, in two years the Hanwag really need repairs. The Meindls have never been repaired. Never re-soled or anything.
I give em reasonable care and wear them every day. Hiking, beach (salt water) when it's 35 degrees or minus 10. Its amazing the way these are built.
New they really were a pain to wear in...so stiff and unforgiving. There was a bit of pain and doubt in first weeks. But after about three months (as I remember) they shaped after my feet and after all these years I can honestly forget I'm wearing them. They are like a part of me. These natural materials feel so good and safe. No other shoe did this for me.
Sole is not glued but sown and I'll never buy glued soles again. After some hard use they get loose, get cracked etc.
It literally is perfekt.
Experience
These are superior to Hanwag Alaska and Meindl Island.
Source: bought it new

Meindl perfekts are almost a legend in Europe.
The are heavy one piece leather boots made out of russian leather. This leather has an excellent waterproofing. In combination with the norwegian welt soles I never got wet feet, and that is without gore-tex lining.
The perfekt takes cramp-ons (no step-ins). After a long (in my case really long) brake-in period the boots seem to be cemented to the feet.
They are extremely comfortable thanks to the very thick cushions that surround the ancles. I have used them on both short and longer hikes, mainly in hill and mountain areas like the alps and ardennes, usually with heavy loads. Untill now no blister has shown.
The Vibram Montagna sole shows little ware and give enough grip in rough terrain.
A great shoe that I rarely see in reviews from the USA.
Materials: Norwegian welt Russian leather
Use: Rough trail, alpine
Break-in Period: Long, thick leather (3-4 mm)
Weight: 1.26kg
Price Paid: dfl 459

I picked these German made boots up from a Dutch Military store in Bosnia. Paid 250.00 German Marks and they would be a deal at twice the price.
Outstanding support and comfort, really long break-in period (reminds me of hockey skates). These boots will probably last for a few decades. My last ones were 16 years old and were still going strong until they were stolen!
The most suprising thing about the Perfekts is the winter comfort. January brings minus 30c here in Canada and I wear them daily, why wait for a hike to the back country?
Good heavy boots that refuse to let you down. Feet stay dry and warm and once you get use to the weight they'll go for miles. Remember the break-in period!!! (I'm talking months)
Materials: Russian leather
Use: Rough trail/winter conditions
Break-in Period: Long!
Price Paid: DM 250

Just to updat on my Perfects, after a trip last spring around Lake Superior Canada the most confortable feeling was slipping these boots on each morning. These boots tackled the Canadian shield without missing a beat. Without the advantage of having them dry completly each night it was incredible how warm and dry my feet were.
If anyone knows what is the recommended wax treatment let me know as I have been using a beeswax compound but I can't find a dealer here that will give me the right info.
Materials: Russian leather
Use: Hiking, rough trail, day trips
Break-in Period: Long
Weight: 3kg
Price Paid: 250DM (military duty free)

Ne posseggo un paio da 15 anni, mai una vescica, comodi dal primo momento in cui li ho indossati. Piedi sempre caldi e asciutti (generalmente i miei piedi sudano molto). Unico neo il peso, sopportabile per l'immenso comfort

[Google Translate: I own a couple for 15 years, never a blister, comfortable from the first moment when I wore them. Feet always warm and dry (usually my feet sweat a lot). The only drawback weight, bearable for the immense comfort.]
Pros
Comodi [Comfortable]
Duraturi [Durable]
misura corrispondente alla taglia reale del piede
super confortevoli
ottimo supporto alla caviglia
impermeabili, occorre ingrassarli spesso
ottima trazione
caldi d'inverno e sopportabilissimi anche con il caldo
[Google Translate: measure corresponding to the actual size of the foot, super comfortable, good ankle support, waterproof, you must often grease, good traction, warm in winter and also sopportabilissimi with the heat.]
Source: bought it new
Price Paid: 180€

Well I have a pair of Meindl Perfekts size 15 US. They are indeed quite comfortable and roomy. I am curious as to why there is not more of a rocker action to the soles though. I also have a pair of Montrail Mazamas and these seem to require less energy to walk in due to their stiff sole and excellent rocker action.
Anyone else have similar experiences? Just curious?
Price Paid: $325

I purchased the boots in Italy and wore them for a year in Afghanistan. I never rolled an ankle and my feet were in heaven. It looks as if they need new soles. Too bad you can't find them in the States!
Materials: leather
Use: long long walks with load in mountains
Break-in Period: a couple of weeks
Weight: heavy
Price Paid: 250 Euro

Bad quality control, awful customer service.
Pros
Great boot while it lasted (not long)
Cons
Bad quality control
Awful customer service
There are two problems with Meindl boots as I see it:
There are plenty of dud boots out there — Meindl's quality control department seems to be awful. I bought a pair, and the midsole started cracking amazingly quickly at the ball of the foot, where the boot is supposed to flex. I couldn't believe it given their reputation.

If you get a dud, then you're on your own because Meindl customer service is as bad as their quality control. They'll just pass the buck and do everything possible to avoid honouring their product.
I have a pair of Scarpas that cost roughly the same as my Meindls, have done at least ten times the miles, are older, and are structurally still fine notwithstanding the fact that they are generally used in tougher conditions.
My advice would be to buy a boot that is made by a company that stands by its product (i.e., not Meindl).
Source: bought it new
Price Paid: $350

You cannot go wrong.


Pros
Quality build
Good leather
Stiff for ankle support
Comfortable from the box
I have several hiking boots from other manufacturers, Lowa, Hanwag, Danner, Zamberlan and the Meindl Perfekt is the toughest built boot I have owned. It is very comfortable right out of the box.
Never a blister, never a hot spot. I wear them to work in the office and never take them off. So for 12-hour days at work and take long walks at lunch, I love these boots. You cannot go wrong.
Dallas Texas
Dean
Source: bought it new

Good boot for most!
Pros
Comfortable
Not too expensive
Durable
This is a solid boot and to avoid the one con, I lace them really well. However, I have really narrow heels, so heel slip is inevitable in general.
The boots are extremely comfortable and durable. They don't show much wear. I hike and snowshoe in them. They even offer decent ankle support. Now if I could find something just like it, but with an even narrower heel.
For most with average feet, these will fit very well.
Source: bought it new
Price Paid: $189

My sole came off both boots. Company won't do anything about it. The boots were not abused. That sucks. They don't stand behind the products. I bought them because I thought they were good, but they are not.
Cons
Soles fell off both boots
Soles fell off both boots, never abused them. Company said "tough, can't help you, throw them away."
Source: bought it new
Price Paid: $250

Your Review
Where to Buy
Help support this site by making your next gear purchase through one of the links above. Click a link, buy what you need, and the seller will contribute a portion of the purchase price to support Trailspace's independent gear reviews.
You May Like
Specs
| | |
| --- | --- |
| Price | Reviewers Paid: $189.00-$350.00 |