Montane Grand Tour 50

Top 50 in women's Weekend Packs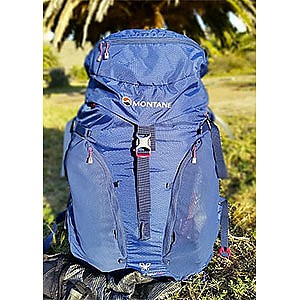 Specs
Price
MSRP: $198.00
Historic Range: $103.99-$197.95

Weight
1290 g / 46 oz

Reviews
1

review

5-star:

0

4-star:

1

3-star:

0

2-star:

0

1-star:

0
The Montane Women's Grand Tour 50 is targeted for long distance hikes and tours. It is a lightweight backpack with full functionality and good load stability. The pack is an all-around performer and sports some unique features that set it apart.

I found the pack to be very comfortable for loads of 20-30 lbs., with the exception of one contact point on my lower back. The unique feature set, overall comfort and fit, and savings of weight more than make up for any detractions.
Pros
Clean lines, thanks to Montane's mountaineering roots
Very stable, quiet, functional frame
Improved sternum strap design
One-hand-zipped hip pockets
Many other small details that add up to significant gains over competitors
Cons
Top lid not removable
Hip belt seems skewed towards larger sizes
Frame caused some discomfort where it contacted my lower back
Fabric: Main-RAPTOR ZERO; Reinforced base fabric-RAPTOR UTL; Back pad / shoulder straps / hip fins- CONTACT Mesh; Pockets-GRANITE STRETCH; Lining fabric-HALO
Weight: 2.65 lbs. or 42.5 oz; 2.45 lbs. or 39.0 oz. with removed aluminum stay/plastic frame sheet
The Montane Grand Tour 50 is a women's-specific pack with some select feature catering to curves and smaller figures. I should state upfront that I'm not the most gifted in the way of curves but I do require a women's pack when it comes to torso length and shoulder width.
Regardless of bust or hip size, a women's pack should fit a small torso range (around 14-17 in) and have more narrowly spaced shoulder straps that are also smaller in width, so as not to overly squeeze "the ladies." This pack has all these attributes and goes one further in having a "split shoulder strap construction." This is simply a groove/fold in the otherwise firm shoulder padding that allows the straps to anatomically flex around the chest.
Everything about the upper part of this pack works perfectly for me. The shoulder straps have functional, firm and trim padding, are well spaced for narrower shoulders, and sculpted in a way that they do not cause discomfort in the least. Torso length also seems just about right (I'm a 16"), since the straps contact me evenly all the way over my shoulders.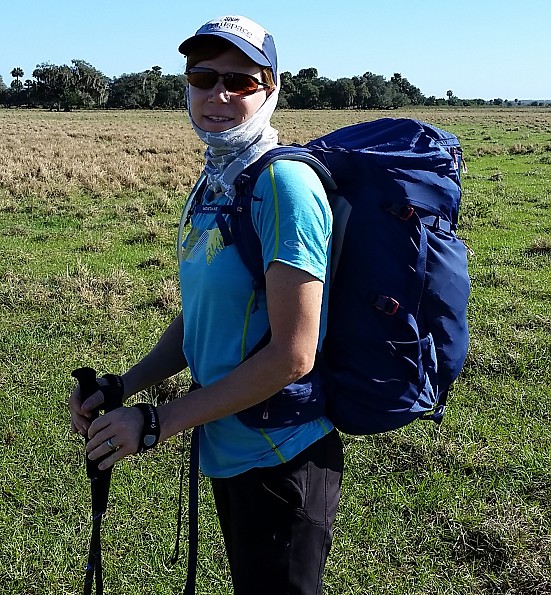 One of the best features is the sternum strap, which eliminates the standard buckle in favor of a uniquely designed low-profile clip on the left side. This clip has several advantages. It negates any hard parts over the chest, can be attached and detached using only one hand, and allows for easy adjustment anywhere along the 6" track.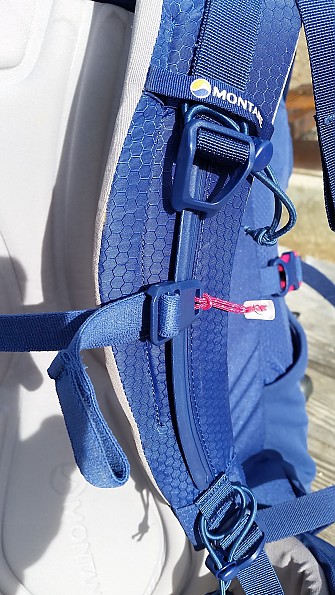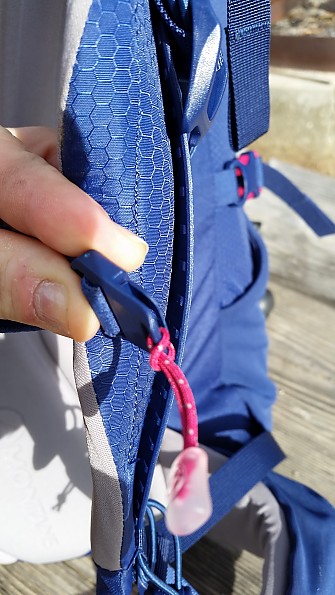 The strap can also be detached on the right side and reset at a different height in the various loops of webbing. Once set for preferred placement, the clip holds firm until the user simply pulls outward on the lanyard to release it. I think most will agree this is a solid improvement over the old standard.
Some of the lower parts of this pack didn't work as well for me.
First, the hip belt is comfortable and well-designed except that it doesn't seem to be in proportion with a women's S/M pack. As I've alluded to already, I don't have much in the way of curves (34" hips/26" waist) and find that I have to tighten the belt straps almost to their limits of adjustment in order to get a snug fit. This leaves a lot of extra webbing flopping around up front (which can easily be trimmed) but more importantly, limits the range of shapes this pack can fit.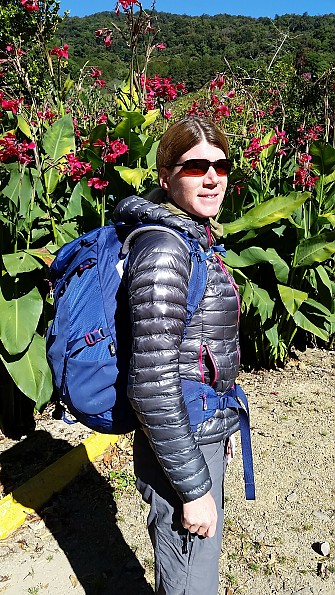 (Note all the extra webbing on the hip belt)
Although not a problem for me, potential buyers should be aware that I'm at the lower limit of waist/hip size. Alternatively, with sizing of the belt skewed towards a larger hip size, this could be considered an advantage to some.
My biggest overall dislike of this pack is the transition from the back pad to the fabric at the at the bottom. As can be seen in the pictures, the grey padding ends about 1 inch from the very bottom. This seems to allow for the underlying plastic frame to contact my lower back/upper buttocks, which becomes even more present under load. Thankfully, the discomfort has never exceeded more than a mere annoyance but does usually result in a sore spot.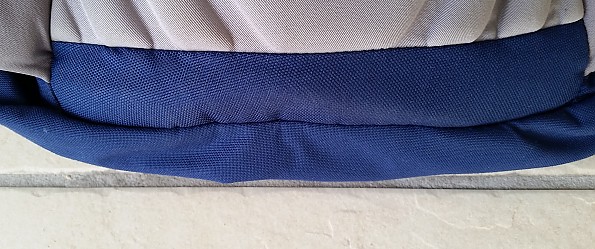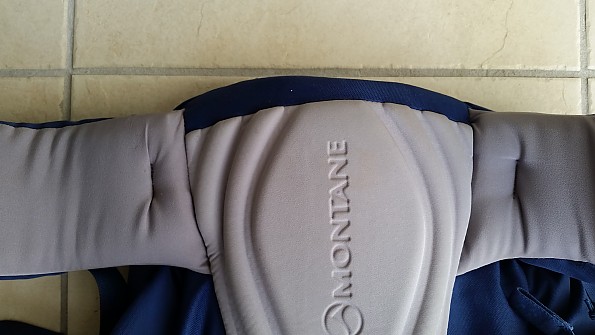 I would prefer that the back pad were slightly curved around under the bottom of the pack, to mimic better a women's curves…perhaps a feature that Montane could consider for future editions. It's also worth noting that I have very little built-in padding in this area, and therefore may feel such pressure points more acutely than others.
Ventilation: 
Product claims state: Women's specific Montane 'Comfort Back Pad' is molded to the female form and features channels that wick sweat and rainwater away whilst giving additional ventilation.
Having hiked mostly in very hot conditions, I would say that ventilation is good but only average when compared to some of the off-the-back, trampoline-style back pads available on the market. My back was almost always soaked with sweat after removing the pack, so I am a bit dubious of the sweat-wicking claim.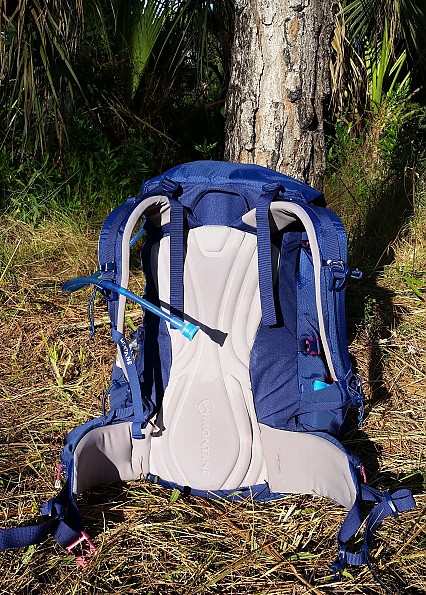 Also, the light color of the back pad shows sweat stains and dirt fairly easily, but this obviously does not affect performance. On the upside, the back pad is very low profile and the closed-cell padding doesn't seem to absorb water, making this a great improvement over many other packs I have used in the past.
Capacity:
The Montane Grand Tour 50 has adequate space for trips lasting 1 to 7 days, consistent with its published 50 liter capacity. Furthermore, the space is even in diameter from the bottom to the top of the pack, meaning it employs a relaxed rectangular shape in the main compartment. This facilitates easy loading as well the elimination of irregular voids.
I've previously used packs with a wide bottom (sleeping bag compartment), which often resulted in odd, empty spaces, unless carefully filled with small items. IMO, the design of this pack allows for a more simple and efficient use of interior space.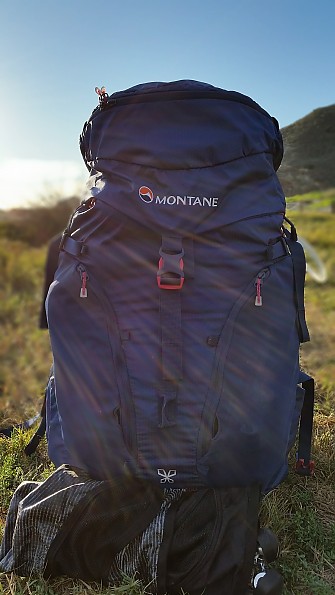 Additionally, the curvature of an internal frame, both vertically and horizontally, can often clash with the access and organization of a main compartment. I'm happy to report that this pack's minimalist frame doesn't intrude into the main compartment in the least.
Organization, Accessibility & Additional Ease-Of-Use Features:
Despite its very clean lines, consolidated main compartment, and minimal weight, the pack features plenty of other functional spaces for organization and compartmentalization. All exterior pockets are made from Granite Stretch material, which allows for outward expansion while not reducing interior space of the main compartment. This stretchy mesh-like material is also semi-transparent, so you can sort of see the contents inside the pockets.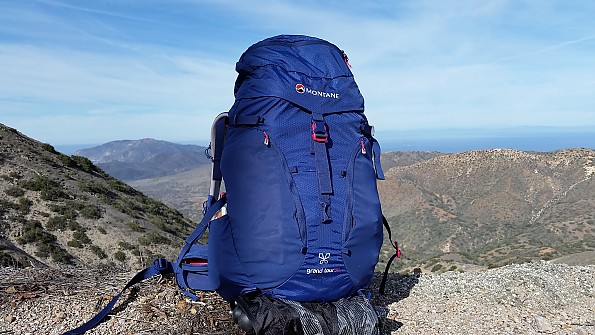 First are the two hip belt pockets, which are pretty much a standard feature of all packs these days. Being rather small in comparison, recall that this is a female-specific pack and that large, bulging hip pockets in combination with curvy hips might be problematic for a lot of women. I myself have a really low tolerance for anything that intrudes on the range of motion of my arms and trekking poles, so I am thankful for the low profile of these pockets.
I am able to stash a few items like chapstick and one or two Clif Bars per hip pocket...but not a smartphone. What's more, the ingenious stiffening-rod along the zipper track means that these pockets can truly be opened and closed with only one hand…such a unique feature is easy to overlook but deserves special recognition. Well done on this, Montane!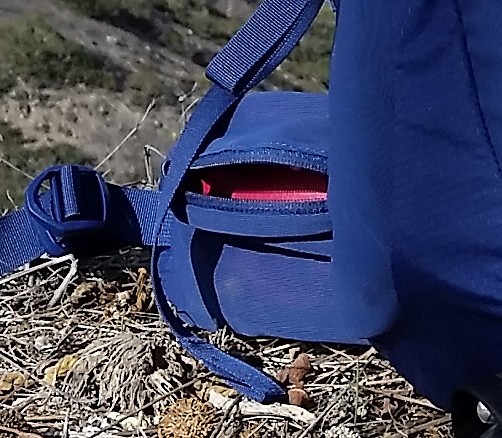 (seen in this close-up is the hipbelt zipper stiffening-rod, which allows opening and closing with one hand)
The front twin exterior zippered pockets provide a good stash spot for snacks, toiletries, and wet gear/clothes. Unfortunately, they are a bit too small for larger items such as tarps, fly sheets, shoes, etc.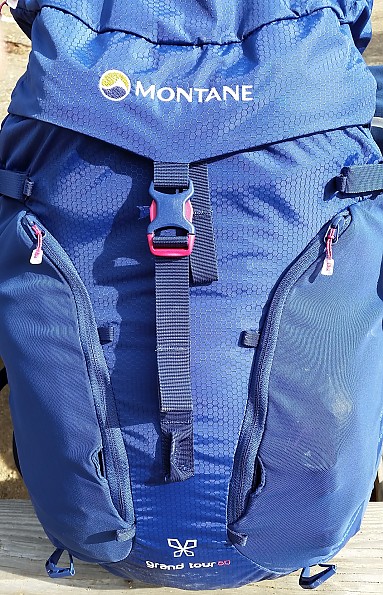 Such items can instead be stowed half in/half-out of the two side pockets, which also hold such things like water bottles, tent poles, folding chairs, and a first aid kit.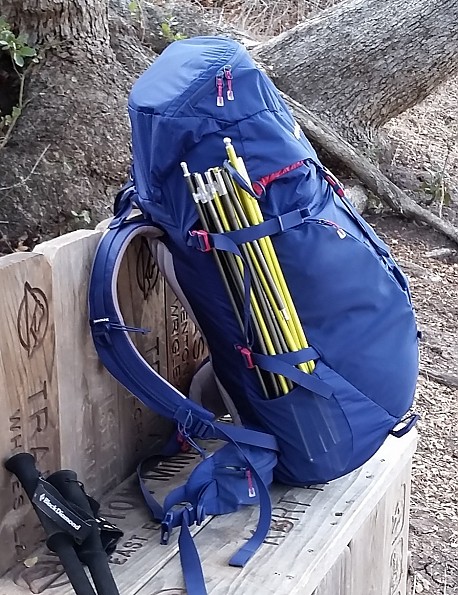 I do find it difficult to retrieve/return a water bottle from these side pockets, without first removing the pack. Since I generally use a hydration bladder, this isn't a priority for me. Alternatively, a small water bottle can be secured to either shoulder strap via the attached bungee loops and tensioning cord locks, as seen in the picture.
I did not use this feature on the trail, so I hope Montane will provide its own picture/drawing of this "easy grab" water bottle storage feature, because I'm not entirely sure I'm rigging it correctly.

(water bottle storage bungee loops are found on both shoulder straps...other creative uses for these could be derived or they can simply be removed.)

There are several webbing loops on the front of the pack for tools, as well as a series of smaller webbing tabs that accommodate the rigging of an additional bungee strap (in the same way a shoe string is laced on).  This can be used to lash down lightweight gear, such as tent fly. Two bungee/plastic loops at the bottom function as a place to store trekking poles.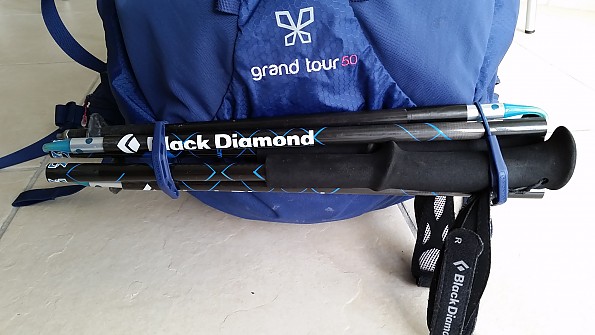 The top lid offers two zippered compartments, the larger of these with two more smaller zippered security pockets inside. The smaller underside pocket has a clip for keys. Interestingly, the top lid's main compartment zipper faces away from the wearer's head. The idea is that a companion can easily fetch items while the pack is being worn. This makes sense to me, though I guess the downside is that if the zipper isn't closed completely, items can more easily fall out.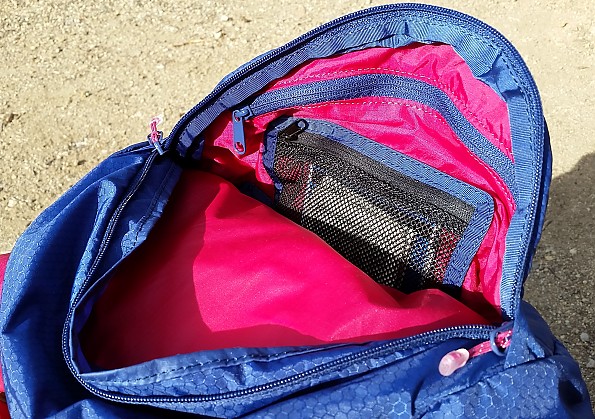 The small pockets inside the top lid are especially good for a thru-hiker. I use them to store my money, cards, reservations and receipts, since I don't want to carry the extra weight of a wallet. Given such functionality, it is really a shame that the top lid cannot be removed…this would serve a thru-hiker ever greater for in-town use as a day pack and wallet.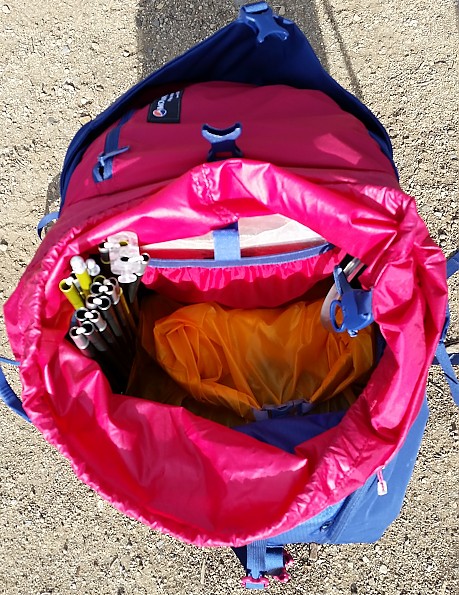 The main compartment contains a hydration reservoir sleeve and Velcro tab for hanging a reservoir that has a built in loop. The sleeve is wider that it is long, so long, skinny reservoirs don't fit that well. But I was still able to make it work for a 2 liter Platypus Hoser reservoir. There is a port to lead the hose outside on the upper right shoulder, along with a hose clip on the right shoulder strap. There is no lower compartment separation or zippered access to the main compartment. This used to be all the rage but as I've found, just adds weight and leads to voids.
Ride/Stability:
The Montane Grand Tour 50 does a great job of distributing and carrying the weight, that is, for the low to minimalist loads that I employed. In all my uses, I did not exceed 30 lbs. and my average weight was around 20 lbs.
Some might question if a pack targeting long distance travel should be able to carry up to 40 lbs. Maybe it can and should, but since I could not find a published load range for this pack, I assumed it to be in the 20 to 30 lb. range. I assigned these figures based on the fact that this pack is intended for women AND is marketed as a lightweight pack.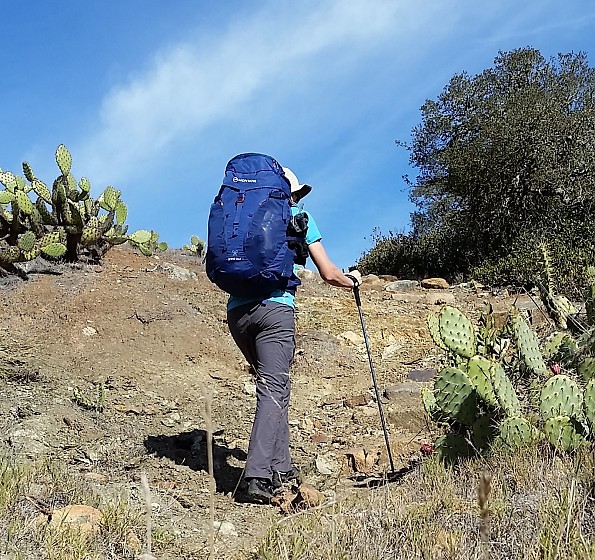 Since I can put myself in the shoes of a woman planning for a grand thru-hike (Te Araroa), I would strive for a max pack weight of 30 lbs. and therefore a suite of minimalist gear. In following, a desirable pack would be around 2-2.5 lbs. (but not so minimalist as to be frameless).
I feel pretty confident about these load testing parameters, which are also backed-up by my ability to use the pack for a self-sufficient thru-hike (albeit of only one week). Regardless, Montane should publish a load range for this pack.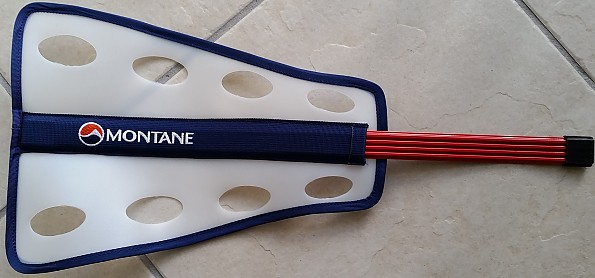 The pack employs standard internal frame features such as load-lifting straps attached directly to a horizontal aluminum bar and a (removable) vertical aluminum stay/ plastic frame sheet that connects the upper structure to the lower (pictured above). Since the weight savings of removing the stay seemed insignificant to me, I did not test the pack without it. I will update this review if I do find a circumstance to remove it.
The hip belt is well integrated into this structure, with plastic fins extending from the belt into the back structure. As a result, the hip belt is not removable. The rigidity of the back padding provides the rest of the frame support.
One of the things I like most about this pack is how slim the frame is, both in terms of thickness and also horizontal (shoulder to shoulder) width. In fact, the pack came shipped in a box of about 7 inches in diameter. Not only does this translate into reduced weight but also a reduction in the amount of space it occupies when not in use. For squeezing into small spaces on airlines and various other travel-related circumstances, this is ideal. It also results in a free range of motion, especially torso rotation.
Compression:
This pack employs the standard four side compression straps with buckles. The lower two extend to the centerline and can be rigged both over and through/under the front pockets. There is a single exterior top lid compression strap and interior main compartment strap.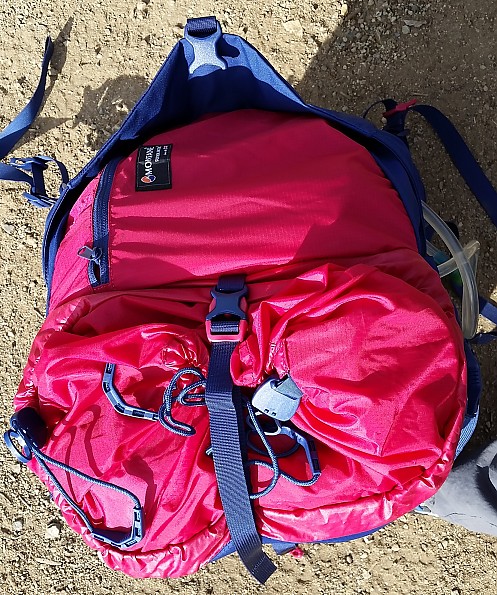 The expansion collar of the main compartment features two compression cords, each with a set of quick release mechanisms that make opening and closing very easy and fast (see video for a demonstration). Altogether, the compression features makes this useful as both a multi and single day pack.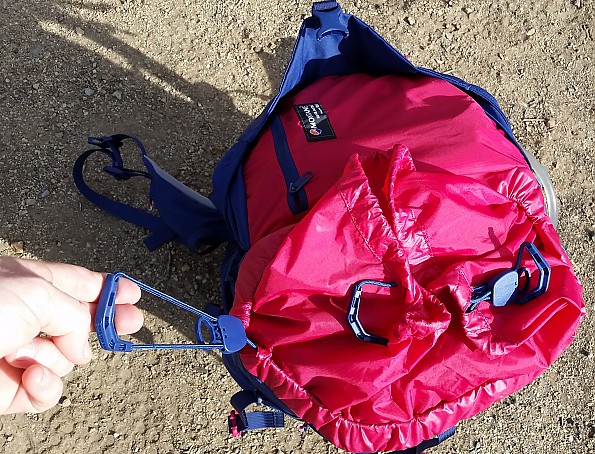 Construction & Durability:
It is clear that a lot of thought and care went into the design and construction of this pack. It has a wide array of quality and durable textiles, each calculated to perform a different function depending on where they are located on the pack (the bottom material is the thickest and most durable, for instance).
The buckles are color-coded male/female, are of the highest quality, and are even different size in places where they might be accidentally mixed up. The zippers all slide easily and include pulls. There is a lot of attention to detail that adds up to a top-shelf product. Inconsistent with this is the misalignment found at the bottom of my sample, but as I've said, I think this is probably just an irregularity inherent to this prototype.
Conditions:
I tested this pack beginning late November through January in a variety of conditions and trip lengths.  After first testing it on an overnight hike, I opted to take it on a mini thru-hike of the Trans-Catalina-Trail on Catalina Island, California.
The trail is officially 37 miles end to end, but given all the logistics and back-tracking involved in doing this hike solo, I covered about 60 miles, spent 5 nights/6 days trekking and suffered through a lot of elevation gain/loss and steep trails.
My main reason for the trip was to attend a two-day conference on the island mid-way through, which afforded me a food resupply opportunity and short break in my forward progress. But otherwise, I did the trek unsupported with enough gear to be completely self-sufficient. This included my Sierra Designs Lightning 2P UL tent, Sierra Designs Backcountry Quilt, Therm-a-Rest NeoAir Xlite, Alite Monarch chair, Solo Stove, and three to four days' worth of food.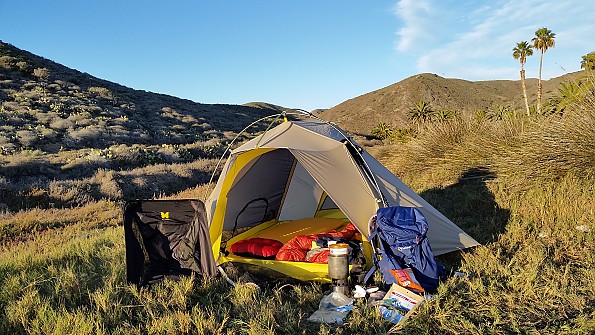 At its fullest, there was still room for more in the pack, especially if I were to move some of the gear to the outside of the pack (as I did the first day with my tent poles). This trip, along with several more overnights and long weekends in Florida, gave me a good sense of the pack's performance.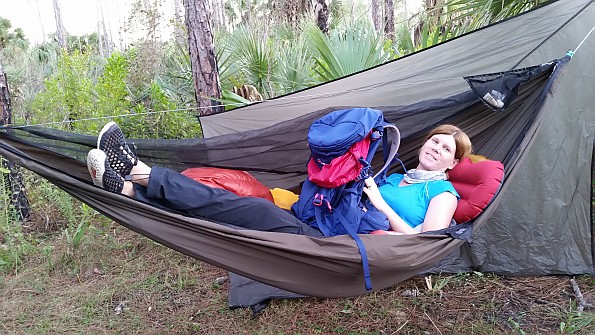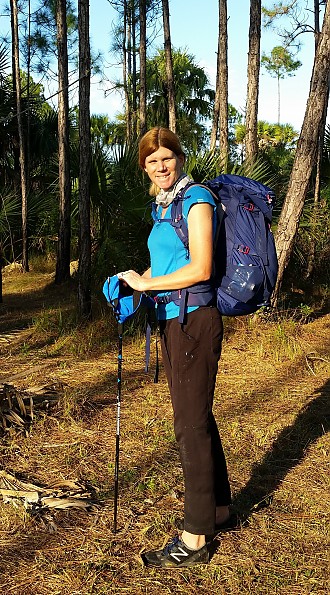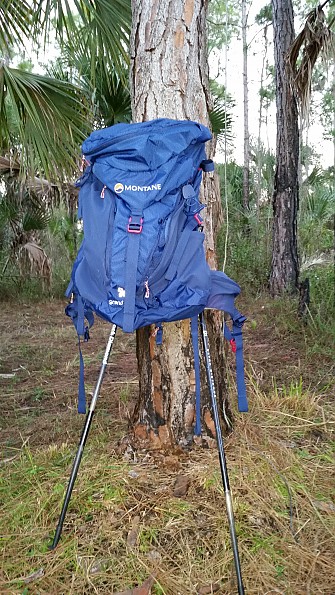 I also used it twice for airline travel, both as a checked bag and as carry-on. For a week of adventures in Costa Rica, it served well as my primary travel bag and as a day pack. I wouldn't hesitate to use it as a travel bag for an extended trip, say, to Europe (as I just did this past fall with a similar sized pack). No matter where I travel and what the purpose, I really enjoy the freedom a backpack affords me.
In conclusion, the Montane Grand Tour 50 is aptly named, as it is a durable, good performing pack over a wide range of uses.
Thank you to Trailspace and Montane for the opportunity to test this pack.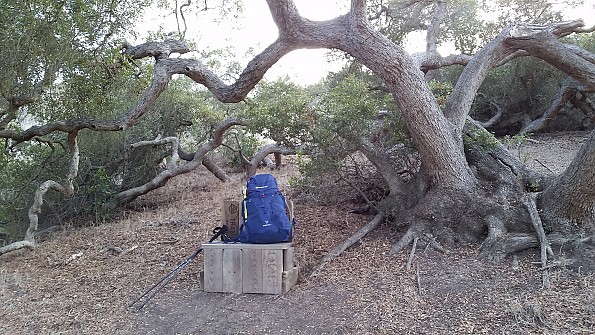 Source: received for testing via the Trailspace Review Corps (Sample provided by Montane for testing and review)

You May Like
Recently on Trailspace