MontBell Down Hugger 900 #5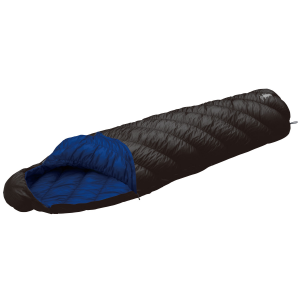 The MontBell Down Hugger 900 #5 38F sleeping bag is a high quality, super comfortable, accurately rated, very compressible, and lightweight option for anyone in the market for a new bag. I would recommend this bag to anyone who is looking to upgrade their bag, or simply shed some weight off of their pack load. This is one bag that you will not be disappointed by.
Pros
Lightweight at 16oz
High quality 900 fill down/ fill weight 7oz
Compresses to a small size 4.7"x9.4"
Insulated zipper draft tubes
Super Spiral Stretch System
Double auto locking zippers/can be opened at footend
This product was provided by Montbell for testing by the Trailspace Review Corps.
Initial Impressions:
When I removed the bag from its packaging I was immediately in love. It has that wonderfully plush and soft down bag feel you want and expect from a high end bag. Workmanship and quality control seem to be high. I could find no errors in the stitching, seams, cinches, material, or zippers on the bag. Thread ends were all trimmed and neat, and along with the feel of the bag, has the look of what you would expect of a high end bag as well.
Construction:
This bag has superb construction, utilizing high quality materials and workmanship. The Montbell Down Hugger 900 #5 weighs in at 16oz, with a fill weight of 7oz. The bag is 73 inches long, with a shoulder girth of 53-75" and a knee girth of 44-62", with a maximum recommended user height of 6ft. This sleeping bag comes with a stuff sack and a cotton storage bag.
The materials feels nice against the skin, and the bag has a wonderfully contour cut and fit, which helps minimize weight and bulk. The outer fabric of the bag is a black , and the inner is blue, both are 8 denier ballistic airlight nylon with a Polkatex DWR treatment.
It utilizes Montbell's Super Spiral Stretch System, which consists of a tailoring technique of sewing the fabric at a 45-degree angle with an elasticized thread creating a type of pleat in the fabric. This allows you to move freely in the bag without feeling constricted by a unyielding fabric. The Super Spiral Stretch System allows the bag to move with you, yet keeps it pulled in close to your body to maximize thermal efficiency.
Below is Montbell's description of the Super Spiral Stretch System.
"By adopting a classic tailor's trick and paring it with only the best materials available MontBell has brought extreme comfort and thermal efficiency to the ultralight world. We found that integrating a woven fabric "cut on the bias" and orienting the fabric's warp and weft threads at 45 degrees to most major seam lines the sleeping bag becomes more fluid in nature. To create an even more comfortable system we utilize an elasticized thread in the stitch to create small "gathers" in the quilting. Through the combination of strategic seam orientation and the stretch provided by gathered quilting we offer unrivaled fit and comfort. These innovations allow the sleeping bag to move with you as you change positions throughout the night, drawing the premium 900 fill goose down closer to your body and eliminating drafty dead spaces. Keep body heat inside your sleeping bag, where it belongs."
The hood of the bag cinches down tightly and forms a snug yet comfortable seal for when you need to really seal out that cool night air. Utilizing auto-locking zippers allows for the zippers to stay in position fairly well. I only had minor zipper creep throughout my use of the bag. The zipper is a double zipper, able to be opened from either the head or foot end, and you can also completely disconnect the zipper for more of a quilt functionality if desired. The footend has a small vent hole as well that can be used for venting, or even putting the bag around a hammock's suspension.
Entry and egress from the bag was easy and painless, it opens plenty wide enough to allow easy entry without having to get into a brawl with the bag. You do have to actually pull the zipper open or closed however, because the auto-locking zippers prevent you from just exerting sideways pressure and having the zipper fly open.
Use and Functionality:
I had the pleasure of using this bag over the course of about 4 months, over a wide array of temperatures and weather. I slept in this bag a total of 21 nights, the longest continuous stretch was 10 days. With several 1-3 day trips scattered in. Overall I have been very happy with this bag, and have had no major complaints. It has held up remarkably well throughout the course of testing, with no noticeable wear and tear. 
My only real complaint is that the contour of the bag is a bit snug. Granted the stretchy/elastic nature of the fabric greatly makes up for this, it would have been nice to have just a little more room without having the fabric stretch to make the difference.
The bottom line is this bag is comfortable, and I slept splendidly on every night despite the slight constriction. I would like to mention that I do have fairly wide shoulders, so this may not be an issue for everyone. For reference I am 5'10", 205lbs.
Being EN rated, I found the temperature rating of this bag to be spot on: Comfort: 48F, Limit 38F, Extreme 13F.
About half of the nights when I used this bag the temperature ranged from 37-45, and the remainder of the nights including the 10-day continuous stretch ranged from 40-55. I felt that I was more than adequately insulated at these temperatures, and feel I could easily take this bag down to the low to mid 30s in relative comfort. I think this bag makes a great late spring to early fall bag here in the Northeast.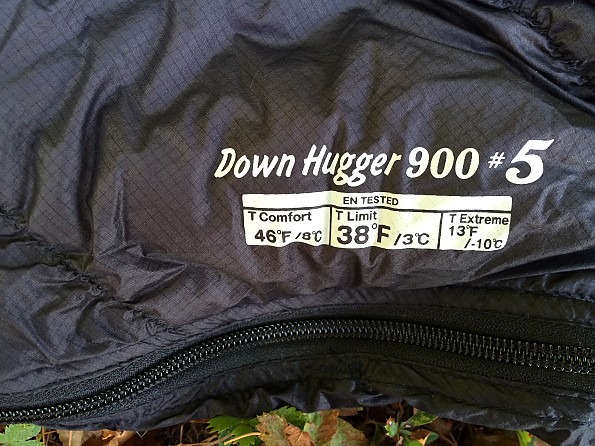 I wasn't quite sure what I would think of the "stretchy" nature of this bag. But I must say that I was pleasantly surprised by it. It has just enough give to really overcome that typical mummy bag constrictor feel. If you're claustrophobic it might not help you, but for everyone else I think you will also be pleasantly surprised by this functionality. You can toss and turn in the night and the bag gives and moves with you minimizing the need for those midnight readjustments of the bag itself. The auto locking zippers also all but eliminate zipper creep during the night, which helps prevent drafts.
I found that this bag maintained its loft remarkably well during my 10-day trip. This trip would have been a true test for any bag on the market. I spent 10 days, and 9 nights in the Cranberry Wilderness in West Virginia. We were at an elevation ranging from 3400-4500ft. And have I mentioned the rain? It rained, and it poured, then puppies and kittens fell from the sky, and then it rained, and poured, then misted, then it rained sideways, and then I thought it was done and the firehose was turned upon me.
OK, all joking aside, it seriously rained nonstop during the entire trip except maybe 8-10 hours broken up through the entire trip. Most of the nights were around 40-47°F. The daytime highs in the mid 50s to 60s. This bag was nice and lofty and plush every single day. I did hang it on the ridgeline of my tarp every day when I got to camp for an hour or two, but it probably wouldn't have mattered if I didn't. Each day when I would get to camp and pull the bag out of its stuff sack and give it a few shakes, it would loft up in just a short period of time each and every day.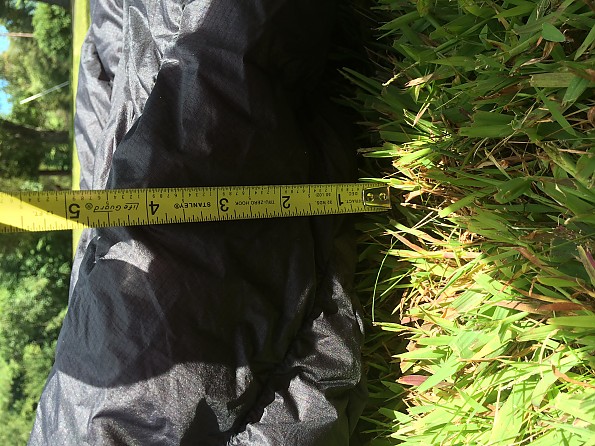 The loft did not seem to be adversely affected by all of the moisture on this trip. On the last day I laid the bag out in a moderate rain for about five minutes to test the DWR coating. All of the rain beaded up and rolled off or sat in place as expected. Picking up the bag and shaking it off was all that was required. I inspected the bag for any locations that had wetted through, or areas where the down was clumping from moisture and I could find no areas of the bag that had been compromised by the rain/moisture. 
Through the course of the testing I used this bag in a Nemo Meta 2P tent, on a NeoAir sleeping pad for 10 nights. The remaining 11 nights were used in my Warbonnet Blackbird Hammock with a Superfly tarp. As much as I dislike sleeping on the ground these days I felt it was prudent to test the bag towards its intended use first. The Cranberry Wilderness trip I used it in conjunction with my hammock.
The opening on the bag at the foot end was perfect for fitting my hammock suspension through. I could then zip the bag up around my hammock and create a nice cozy enclosure "peapod" style. I must say I was very impressed with using the bag in this manner. It worked absolutely perfectly. I would have been a bit chilly if the temps were much lower using it in this manner without any other insulation, but for mild temps in the 40-50 range this worked out very well.
Conclusion:
This is a very comfortable sleeping bag made of high quality materials, minimalist in nature, yet extremely functional. For a lightweight, moderate temperature bag, the Down Hugger 900 #5 hits a home run. You would be hard pressed to find a better bag for the price. I would strongly recommend this bag to anyone in the market for a high quality, lightweight, accurately rated bag.
Source: received for testing via the Trailspace Review Corps (Sample provided by Montbell for testing and review)

Your Review
Where to Buy
Help support this site by making your next gear purchase through one of the links above. Click a link, buy what you need, and the seller will contribute a portion of the purchase price to support Trailspace's independent gear reviews.
You May Like
Specs
Comfort
Lower Limit
Extreme
Price
MSRP: $419.00
Historic Range: $335.20

Weight
1 lb / 461 g

Fill weight
7 oz / 200 g

Insulation
900 fill power goose down

Temp Rating
46℉/8℃
38℉/3℃
13℉/-10℃
Max User Height
6 ft

Shoulder Girth
53-75 in

Knee Girth
44-62 in

Recently on Trailspace