Mount Hagen Organic Fairtrade Instant Coffee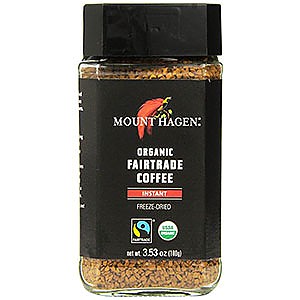 About as good as instant coffee gets, at a reasonable price and lower weight-per-cup than the main alternative. A good choice for extended backcountry trips where real coffee isn't worth the extra weight and hassle.
Pros
Tastes pretty good (for instant)
Comes in jars or one-cup sachets
Price
My wife likes it
Cons
IT'S INSTANT COFFEE (what do you expect?)
Backcountry coffee is a perennial topic on the TS foums, with threads running on for weeks if not months, and many members weighing in with their own idiosyncratic preferences. Here's another log for that long-burning fire.
Here's the search image: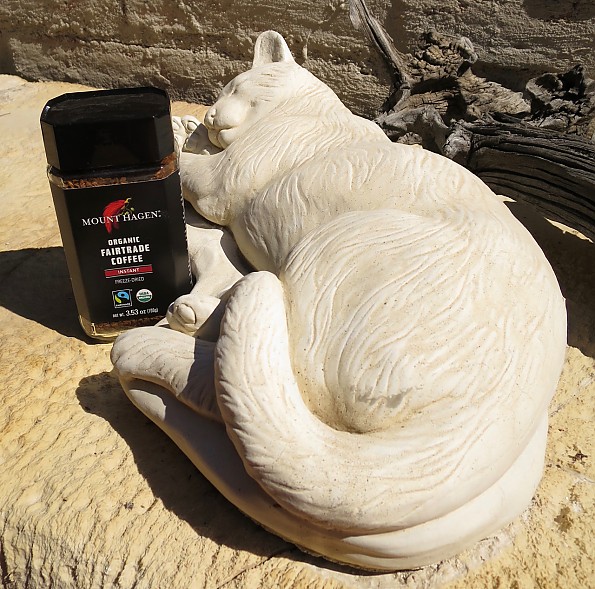 And the backstory:
A while back when my wife and I were planning a 10-day outing, we got into a little disagreement over what to do about coffee. We agreed that we had to have coffee, and that the weight and hassle of fresh brew wasn't going to work for us this time—when you're trying to get 10 days worth of food into two bear canisters and keep your starting weight reasonable, some things have to go. So we would have to make do with instant. But she insisted that we go with Starbucks Via, which we had tried on a previous trip and found acceptable, while I grumbled that it was expensive and not all that much better than any other quality instant.
Investigating further, I found that the whole Starbucks microground thing was a bit misleading—it says right on every sachet that you are getting a mix of instant coffee and microground without giving the proportions of each. So I googled around some more looking for reviews and taste tests of instant coffees and found that Mount Hagen Organic often ranked as good or better than Via, with some Nescafe variants also being given a stamp of approval.
As the main food planner, I exerted my authority and ordered some Mount Hagen. We first tasted it at home in the kitchen when we were doing our weighing and repackaging for the trip, and at that point my wife declared it not bad. Out on the trail we both agreed (!) that it was about as good as instant can get.
I sometimes use instant to make iced coffee, and consequently used up our leftover supply in our first few weeks here in Tucson. Now we've got another trip coming up so it was time to get some more. It took a little looking around to find it (not at Safeway and its ilk), but we finally homed in on it at Whole Foods. My wife was actually psyched that we held out for the good stuff. Hence this review.
It is freeze-dried and comes in 100 g jars that are good for about 50 8 oz. cups or in packages of 25 one-cup sachets. The recommended amount is one teaspoon per cup, which weighs in at right about 2 grams. As with other instants, larger or stronger cups of coffee will require up to 2x more—I've been known to use two Vias or a heaping teaspoon of freeze dried in a 400 ml cup for that first kick in the morning or for a pseudo-espresso or -latte.
Here is some actual data for the three leading brands, with the weight and price based on the recommended dose (1 teaspoon or sachet per 8 fluid oz cup) and non-bulk purchase price on Amazon (same or similar retail prices at Starbucks and Whole Foods).

*Weight for Mount Hagen determined by weighing out 5 regulation teaspoons to ±1 g on a kitchen scale, then dividing by 5. I'm assuming Nescafe, which is also freeze-dried, is similar. Starbucks net weight given on sachet, checked as approximately correct on kitchen scale.
Starbucks costs more than 3x and weighs more than 1.5x (leaving out packaging weight) per cup! For gram- and penny-savers this is a no-brainer. For the record, Mount Hagen in sachets comes out to about $0.25/cup.
Looking at the label, I see that it is produced in Germany and is certified as organic by the USDA and ECOCERT in Germany, and also Fairtrade certified. And you can get it in jars so you don't have to carry out and dispose of a little sachet for each dose. So there's a little virtue in every cup.
So if you're looking for a lightweight coffee alternative for your next backpacking trip, hike on down to your nearest organic food mart and try out the Mount Hagen brand. 100% of wives (well, I've only got the one) agree that Mount Hagen Organic is the superior instant!
I think it's pretty good too.
Source: bought it new
Price Paid: $10.95 (100 g jar)

Excellent taste and portability; the BEST tasting Instant Coffee!
Pros
Great full bodied taste
Dissolves easily in hot or cold water
Easy to adjust amount based on preference
It's organic and fair traded
Imported from Germany with strict standards
Comes in easy to reseal glass container
Good price for organic coffee
60 servings per container
Mount Hagen Organic Instant freeze dried coffee is a wonderful backpacking answer to having our java in the morning... or anytime! I've been using it for about three years and believe it's the best tasting organic instant.
You could pack the whole container at 11 oz; but reserve that for car camping. It comes in a glass resealable container, but I split my designated morning brew into each morning's breakfast in a plastic sandwich bag with dry powdered soy milk. That and my oatmeal and I'm ready to hit the trail.
Full flavor from Arabica beans. This can be pricey if you buy from Whole Foods or other similar stores. I buy 2 or 3 at a time from Vitacost when on sale. Better then Starbucks Via or Folgers!
Source: bought it new
Price Paid: $7.59

Version reviewed: Single Serve Sticks
Traveling from place to place, only one thing remains constant—my Mount Hagen sticks. I bring these suckers everywhere with me! i have a couple in my purse just in case. I also bring them to work and have a nice cold (I know I know) cup of coffee in the morning.


It's refreshing, organic, and easy to make. They are small, lightweight, and not as expensive as other brands of single packets. I highly recommend these for traveling. This product is also available in a jar.
Price Paid: $5.70

Your Review
Where to Buy
Help support this site by making your next gear purchase through one of the links above. Click a link, buy what you need, and the seller will contribute a portion of the purchase price to support Trailspace's independent gear reviews.
You May Like
Specs
Price
Current Retail: $51.96
Reviewers Paid: $5.70-$10.95

Recently on Trailspace