Mountain Hardwear Airjet 2

The Airjet 2 has been discontinued. If you're looking for something new, check out the best three-season tents for 2020.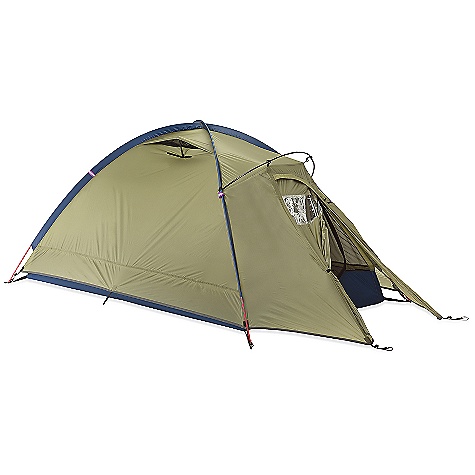 Specs
Price
Historic Range: $100.00-$285.00
Reviewers Paid: $150.00-$450.00

Reviews
17

reviews

5-star:

3

4-star:

1

3-star:

1

2-star:

3

1-star:

9
Seams came unglued after about 15 nights of light use in Colorado and French Alps in 2008-2009 (with some rainy nights at 2000-3500m). Fully agree with other reviews stating that the quality is very bad. Astonishingly, I regret to say: shame on you, MH!
(sorry for my English just a French hiker).
Pros
Light
Very quick to build
In French:
Désolé d'écrire ainsi...j'ai acheté cette tente aux USA avec des amis américains...Elle paraissait génial, légère, rapide à monter...parfois quelques soucis d'humidité dès les premières nuits passées au Colorado...mais bon..Ensuite dans les Alpes, meme chose, à 2500m d'altitude, un peu de pluie estivale, mais rien de méchant...Quelques mois après, le stockage était OK, j'ai commencé à voir que la couture reliant la tente avec le double toit intégré commencait à se décoller...et cela s'est empiré...évidemment, c'est inutilisable, je vais essayer de la faire réparer mais sans garantie...
Pour finir, je connaissais MH comme une marque de qualité mais j'ai été vraiment déçu....dommage.
[Google Translate:]

Sorry to write so ... I bought this tent in the USA with American friends ... She looked great, lightweight , easy to assemble ... sometimes some moisture problems from the first nights at Colorado .. .but bon..Ensuite in the Alps, same thing , at 2500m, a little summer rain, but nothing too bad ... a few months later, the storage was OK , I started to see that the seam connecting the tent with double roof started to be built off ... and it got worse ... obviously , it's useless , I'll try to get it fixed but not guaranteed ... Finally, I knew MH as a quality mark but I was really disappointed .... pity .
Source: bought it new
Price Paid: 250

All seams came unglued after about 3 years of light use. The other reviews on this point have it right - seams are glued where they should be sewn and disintegrate. Mountain Hardwear blew it on this one.
Price Paid: $229

If the seams had not failed I would have rated this tent 5 stars.
Pros
Easy set up/breakdown
Can take heavy weather
Great ventilation
Light weight
Cons
In the end, horrible seam design
Loved this tent. I actually put it to some good backpacking use. I used it for ten years, but only a few times a year.
Unfortunately its failure in seam tape design, as has been mentioned by other reviewers, was its downfall.
The entire front wall, where you enter and exit came unglued on my last trip this month.
This tent could have had another 5 years service, minimum, with the use I put into it. I suspect I could have squeezed 10 years, and I would have because the design (obviously minus the one glaring failure) was outstanding.
Bummer.
Source: bought it new
Price Paid: $400

Maybe MH could keep this design and just sew it up and forget the seam welding.
Cons
seams were welded not sewn
poles not up to MH quality
Can only add to others' reviews that the tent fell apart before I could hit the trail with it. In setting it up in the backyard I found it went up very fast and was nice and light, but then the floor came apart where it was welded or glued to the side walls. Maybe it could have been sewn back together, but for that price it went back to the company.
Source: bought it new
Price Paid: $245

Just called MH to return my tent. Never got to use it, but the whole front door section detached when set up. Hope their lifetime warranty service is good.
Pros
Lightweight
Looks great until you set it up
Cons
Poor fabrication, since some seams are glued, not sewn
I bought this tent in 2007 and hoped to use it for some week+ long backpacking trips. Set it up when I got it in 2007 and it looked like a great solo backpacking tent.
Didn't get a chance to use it until recently so I wanted to set it up and make sure it still was fully functional, even though it's only been stored in a cool, dry, storage room.  Luckily, I did this test since the entire front section became detached from the rest of tent when I installed the tent poles. 
Called MH today and they provided a return authorization number with no questions asked. I think this tent has a history of falling apart so they expect returns. Hopefully their warranty service is better than this tent's fabrication.
Not sure why some seams are glued and not stitched.  Most tents are sewn and have the seams sealed with tape to make them waterproof.
Source: bought it new
Price Paid: $275

I Just sent my Airjet 2 back to M.H.  I called customer service and before I could finish saying "the seams on my Airjet 2 are falling apart," I had a return authorization number.  They even told me to include the floorsaver because they were going to give me credit for a new tent, and the Airjet floorsaver doesn't fit under any other model.  I guess they are well aware that this tent has a major manufacturing problem. 
I bought this tent in 2005, and have used it enough that the red anodized poles turned pink where they were exposed to the sun. I knew that the seams were its greatest weakness because I had to stitch and seal a few minor failures over the years. But like many of the early reviewers said, this tent was always reliably dry in the rain, with little to no condensation so long as you staked out the ventilation flaps properly.
We'll see how much credit they give me toward a new tent. I hope it's enough to get an in-kind replacement. I give it 2.5 stars because it never failed to keep me dry and because M.H. customer service has always been good to me in the past.
Price Paid: I can't remember

Fell apart at glued seams after minimal use. Pole elastic came apart too. Sticky coating on inside.
Price Paid: unsure

Fell apart before first use, nothing more too say.
Sleeps: 2
Ease of Setup: good
Weight: 5lb
Price Paid: $289

I was really enthused about the single wall Airjet 2: light weight, and easy to put up. But now I am not a happy camper!!!
I bought it in June 2007, Used it for a week and another long weekend, for total of 11 days. Next year 2008, a few more nights, 16 nights. I noticed a little separation of the side vent/flap. Nothing serious.
2009 used it for four more nights, on the 5th night it rained, the first time I have used it in the rain and I staked out the side flaps for ventilation. It fell apart!
The ventilation flap along the bottom looks to be sewn to the mesh and floor. But it is GLUED!!! The Chinese did a poor job of gluing. (Where it should have been sewn!)
Later I noticed even more places where it was coming apart. Seam tape everywhere splitting, not just coming off. Seams opened up everywhere the top corners, the bottom corners, and the remainder of the GLUED seam along the bottom/side joint.
If you e-mail me I can send you some photographs.
M.H. hasn't yet answered my letter.
surferskir@aol.com
Price Paid: $229

i loved this tent. when it began coming apart at the seams M.H. fixed it for free and sent it back quickly. i have had this tent for a long time and have only until recently have hiked alone.
just a few weeks ago a friend went with me, he brought his bright orange MSR tent. now i have a reason to buy another tent that i did not even think about. the bright orange tent made for a more peaceful environment, in the evening and in the morning when the sun came up. my Airjet was dark and dank and looked more like a dungeon or cave next to his slightly more light and roomier tent. that's my only complaint.
Design: three-season freestanding light weight dome tent
Sleeps: 2
Ease of Setup: the easiest tent you will ever set up
Weight: 3

I bought this tent on Ebay after reading great reviews about it. I have several others including a Bibler Awahee II which I have only used one time and didn't like the way it sets up.
The thing I like most about the Airjet is the ease of set-up. It's never any problem plus it's water tight as can be. I've taken it on two motorcycle trips to Alaska including one to Prudhoe Bay during which I experienced torrential rain and wind storms. It never leaked once although on occasion there was a bit of condensation (but not much).
All told this is the best tent I've ever owned and I'm now shopping for another before they become unavailable.
Design: Three-season free standing semi-dome
Sleeps: 2
Ease of Setup: Set-up is super easy
Weight: 3+
Price Paid: $150 on Ebay

It fell apart. Until this month, I loved M.H. products and till this year owned four M.H. tents.
My Airjet 2 fell apart at the seams during its third use. It was even raining. It was my second M.H. tent to come apart at the seams this year and I treat them like children.
My other was the Haven 3. I really liked that tent and used it about three years, a lot. Then, in July, during a light rain, it just came apart. Pieces that weren't even wet or weight bearing just came apart. It was freaky.
I assumed it was a tent defect and REI took it back as a return, amazed at how it had literally fallen apart. Woke up wet that night. The Airjet 2 did the same thing but had only used it two previous times during an almost three year period. And it wasn't raining. It just fell apart.
The next morning, the stuff in the tent pocket had fallen through the seam, the seam by the zipper, one in the tent and one on the fly had all done the same thing. I've done some looking and others have had the same experience.
I'll no longer trust my M.H. tents and go back to my old standby. I still have a Skyledge 2 and an Atrium 4 but won't trust them for anything but car camping, certainly not high milage CO hiking.
I've written M.H. and am waiting for a response.
Beware.
Jim R
PS: I still use all their other gear, clothes and bags.
Design: 3 season free standing
Sleeps: 2
Ease of Setup: very easy
Weight: about 4 lbs or less
Price Paid: $289

I am from New Zealand. I use my Airjet 2 for hunting in alpine and bush camping. It worked very well in rain. It good and light, but it pays to open vents to let your sweet out at night. A good tent to go light.
I LOVE this tent. I have used the Airjet 2 in the hardest of downpours Southeast Alaska has to offer and never got wet (3 days of non-stop heavy rain). The tent was great in heavy mountain top winds (tie it off = good night sleep). With the cross flow ventilation MH put in this tent, the air keeps on moving and fights off moisture. Well done, MH.

Design: 3 season
Sleeps: 2
Ease of Setup: practice and it is fast
Weight: 4 lbs

This tent is Fantastic! I slept in it and there was no condensation whatsoever. It is easy to set up. It needs some more room (it makes a great solo tent.) It is single walled tent and there are vents on top and bottom so it has great ventilation.
Design: three-season freestanding square dome
Sleeps: 2
Ease of Setup: easy
Weight: 3.88 pounds
Price Paid: $199.99

I read every review I could find on this tent before I bought one at REI in Phoenix. I was headed for a 4-night trip in Rocky Mountain National Park in Colorado. The problem was that even though it had been an extremely dry summer in the Estes Park area, the time of my trip (August 3-4) coincided with the heaviest rains of the season.
I arrived at my campsite at 3 p.m., just as it was starting to rain. I quickly set up the tent and sat in it for two hours until there was a break in the rain. I went to bed at 9 p.m., and it started to rain -- hard - - at 2 a.m. on August 4. It rained, and rained, and rained until 4 p.m. the next day. During that time, I spent almost all my time in the tent, waiting out the rain. Oh, and by the way, it was 42 degrees.
Summary -- During my time in the tent, it rained heavily, for a long time, and at cold temperatures (low 40s). This is the worst-case scenario for a single-walled tent. The condensation on the interior surfaces of the tent continually splashed off (from the impact of the rain) all over me, my sleeping bag, and the rest of my gear in the tent. While Mountain Hardwear has undoubtedly tried very hard to minimize this problem, it seems to me to be a fundamental problem of single-walled tents. While probably better than most in its class, it still falls far short of what I would consider acceptable. After 24 hours, I was soaked from the condensation splash.
This tent is largely responsible for cutting my trip from four nights to one. We hiked out the next day because I, and all my gear, was soaked. My brother, with a double-wall tent, was damp, but not wet. His condensation splashed from the rain fly to the canopy, making it damp, but didn't hit him or his gear.
If you plan to camp where there are warm temperatures and no rain, this tent may be for you. It's lighter than its double-walled colleagues, and sets up faster. However, when you need a tent the most - - in the rain -- this tent fares very poorly. I flew back to Phx and immediately returned it to REI. If you buy this tent and you're camping in temperatures less than 50 degrees, pray it doesn't rain for long -- you will be wet.
Price Paid: $250

Was a good tent for a little bit of time, but is no good at all today. The glue that holds it is no good, it is coming apart.
Best thing you can do is not to buy it.
Source: bought it new
Price Paid: $450

You May Like
Recently on Trailspace