Mountain Hardwear Elkommando Kilt

The Elkommando Kilt has been discontinued. If you're looking for something new, check out the best hiking skirts for 2023.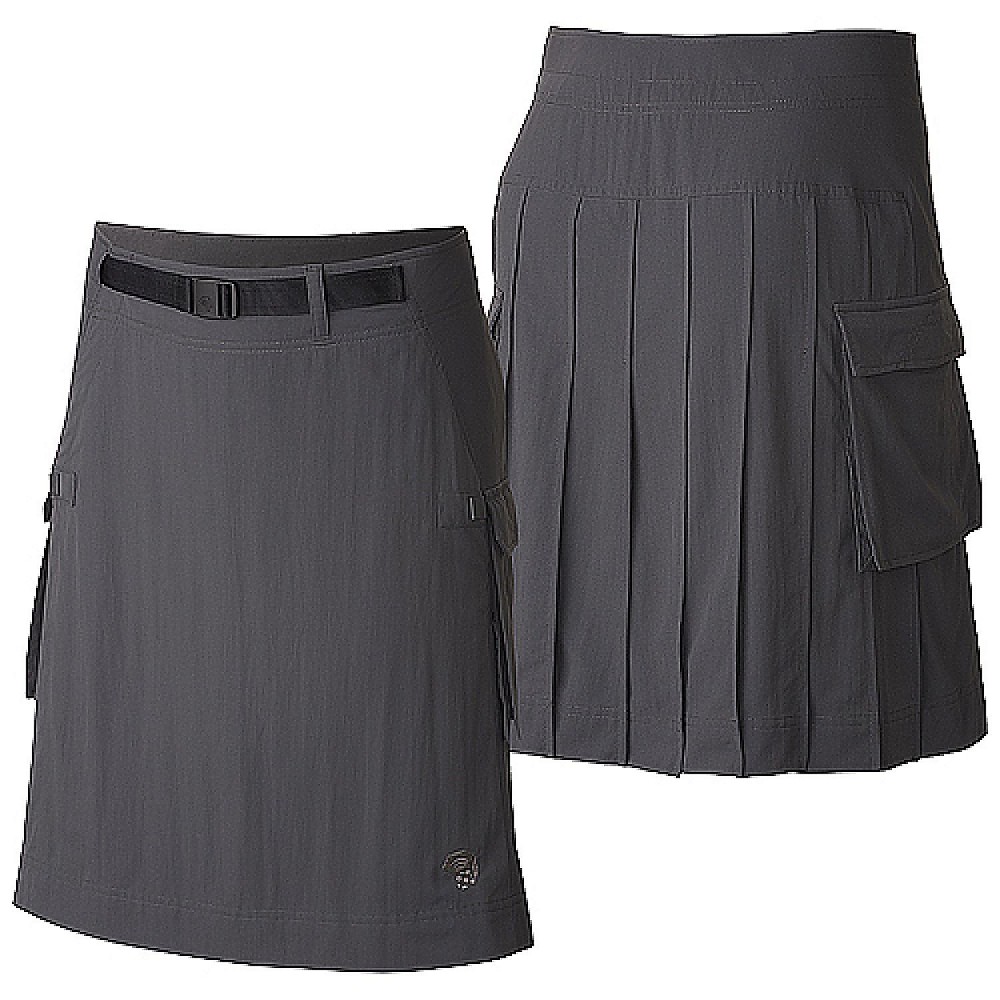 Great for warm weather hiking or backpacking. But could use more belt loops. Also needs a right hand side slash pocket—now if you put something in the slit where you expect a slash pocket it just falls to the ground. Needs a velcro reinforcement of the modesty snap, or an even stronger fastener.
Pros
Cooler than shorts in warm weather
Freedom of leg movement
Good material for back country use
2 good side pockets
Looks good
Belt adjustment is easy
Comfortable at the waist when backpacking
Unsnapping the front panel makes for easy on / off
Cons
Might need to order a size larger than you expect
Only a slight pull unsnaps the modesty snap
No slash pocket where you expect one
Slipping on the kilt without unsnapping the front panel may be tight at the hips
Putting on the kilt after unsnapping takes some practice
After a 5-day backpack on the Pacific Crest Trail in the Cascade Mountains of Washington State, I can say that this hiking skirt is definitely better than shorts for warm weather. That is, you get good air circulation where it makes a difference (better cooling than women get) when you wear the skirt without underwear or tights. However, if you sit down or bend over in a certain way you end up fully exposed to roving eyes.
To counter this problem, there is a "modesty snap" that allows you to snap the back of the skirt to the front, but not to the overlying front panel. Thus the skirt feels and acts more like shorts, but this function is normally hidden by the front panel. This works great except that it will unsnap with even a small pull on the skirt, which seems to always happens when you sit down or bend over. You need to pull the skirt up your thighs with one hand in just the right way as you sit or bend to keep this from happening.
To make the snap more reliable, I sewed on matching velcro patches over both halves of the snap, cutting holes in the velcro to keep the snap function. This helped a great deal, but I still need to be careful when sitting down when others are around.
I also sometimes hiked for a while with this interior "shorts configuration" when the weather cooled down temporarily. For full day usage of the skirt, I would start out wearing it over underwear and tights early in the morning, then stop to take these off when it warmed up, putting the underwear and tights back on when it cooled down again or when I got into camp.
The only issue here is that taking the tights on or off required removing my boots first. Also, tights aren't as good as long pants when it gets too cold, in which case I took off the skirt put on rain pants over the tights (the same as for wet weather), not wanting to take extra pants to save on weight.
By getting a size of Large, I was able to slip the skirt on or off with the belt loose or unhitched, even though it was quite tight in the hips. However, I'd recommend unhitching the belt, then fully unsnapping the front panel (2 snaps on each side).
Next practice putting the skirt on by wrapping it around and resnapping the front panel, then rehitching the belt. The belt tightens easily and securely by pulling the loose end to the left, and it loosens by pulling outward on the buckle. Though this belt doesn't need it, it would be great to have extra belt loops in place for people who are used to attaching tools or other implements to a full sized belt. For example, I have a seat pad with belt loops, so that the seat pad is always attached and always there whenever I sit down. I was able to fashion some belt loop extenders to keep my seat pad functional, but this should not have been necessary.
I quickly got used to the outer pockets, which are about the right size, and I didn't lose anything even when the pockets became unsnapped. However, more than once I forgot and put my smartphone into the slit where my right pants pocket normally resides, only to have it fall to the ground. Either there should be a real pocket here, or there should be an extra snap or two to keep the slit closed.
I also have a Sports Kilt, which uses velcro instead of snaps, and has nice slash pockets on both sides. It also has big belt loops all around though no belt is included. But its plaid material is much less suitable for backcountry use and it has no modesty fastener. I prefer the Mountain Hardwear skirt, but wish that they would learn from the Sports kilt in regard to pockets, velcro, and belt loops.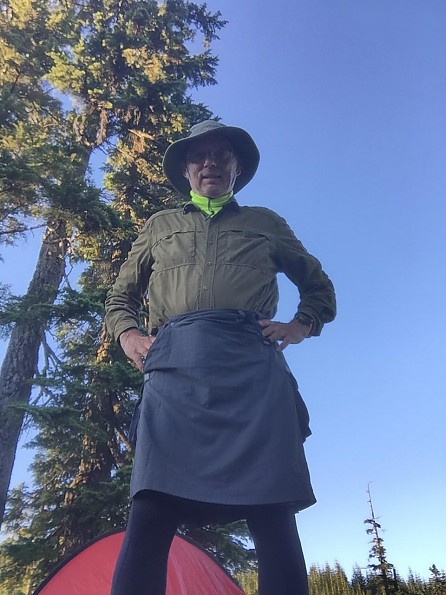 Source: bought it new
Price Paid: $75

The only thing I have missed since I left my pants behind and started hiking in kilts? A kilt made of fast-drying, brush-resistant nylon. The Elkommando kilt brings technical excellence to the convenience and comfort of hiking in a kilt. Added bonus: side pockets, which traditional kilts lack.
Pros
Lightweight
Comfortable
Fast-drying
Tough fabric
Doesn't show dirt
Modesty snap is a plus
Pockets are good-sized and well-placed
Fits well with a backpack hipbelt
Cons
Tends to be a bit tight in the hips
Hip snaps, unsnapped, chafe
A bit shorter than I would prefer
Waist not very adjustable.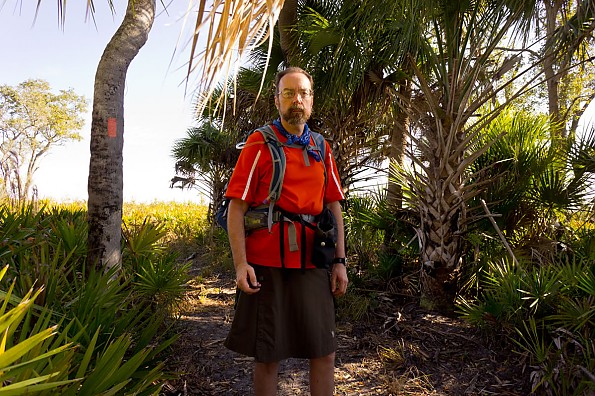 The Elkommando has the comfort factor of a kilt. But the fit leaves a little to be desired. Most kilts are about six inches wider in the hips than the waist, and that fits the majority of men. But the Elkommando seems to have less of a difference, meaning that a kilt that fits across the waist is a bit tight across the hips. I thought I had solved that by not snapping the snaps at the hips, only to end up with an abrasion on my left hip from the open snap. Snapping just the left one solved the problem.
Then there's the length. At 21-22 inches, I need to wear it lower than I would prefer in order to have it come to just above my knees, which is where a traditional kilt falls and where I feel comfortable with it. That's about normal for a modern kilt; it's just a bit shorter than I would prefer.
It would help if the kilt was adjustable across the waist. Many modern kiltmakers use velcro on the waist to provide some adjustability. But the Elkommando has a snap and a belt. If it's just right or a bit loose, that's great. But if you're just a tad larger than the high end of the waist measurement, you need to go up a size.
When it got wet in a rainstorm, it was still comfortable to wear and dried quickly. I have found it to be refreshingly cool in hot weather, and the waistband wicks well. I have not used it in cold weather.
Because the waist is basically non-adjustable, it layers well only when adding layers on top.
Pockets are well-placed and generous, and close securely with snaps.
After five days of backpacking, it looked clean and brand new. It is nice enough to wear casually around town. So far, I have only one trip and one wearing-out on it, so I would expect it to be holding up well, and it is.
Source: received it as a personal gift

Much more comfortable and cooler than hiking in shorts.
I'm 6'3" 240 lbs with a 44 waist. XXL fit fine. XL was a bit too snug, although it could be worn.  
I ran water over the kilt right out of the box and it pooled on the material without soaking any up. I haven't used it in the rain yet, but it seems to be very water resistant. 
Worked great in the field, except for the snaps on the pockets. If you try to pull open a pocket with one hand you'll end up revealing the secret of what is beneath your kilt. A zippered pocket closure would work better and be more secure.
I didn't think I would ever use the privacy snap on the hem of the under apron and pleats, but after a hike we went immediately to a post hike picnic and it was nice to be able to snap it up and avoid any inadvertent exposure.
Good enough product that I sent back the XL and ordered a second XXL. Now I can't imagine ever hiking in anything but a kilt where I would otherwise have hiked in shorts. Makes no sense to be torturing my boys on the trail when there is a better option.
Source: bought it new
Price Paid: $75

This is a great product for summer hiking and unrestricted movement. I wore this on the AT this weekend and loved it. However, you do get a few looks and some comments. Do not worry and come up with some snappy comebacks.
Pros
Nice pockets
FREEDOM
No more tight hiking pants
Cons
None, but people always want to ask you about it.
As for the fit, I ordered a large and my waist is a 35-36 and it fit just right. However, if I gain any more weight they will be really tight. It has an adjustable belt but there is not much adjustment in the waist.
It appears waterproof/resistant but I have not worn it in the rain to test it out. Appears well made and durable with sun protection built into the material.
I have only worn this once hiking but I wear it everyday around the house. Love it and plan to buy another one.
Source: bought it new
Price Paid: $75

Very comfortable, but takes a while to "get comfortable" with wearing it. I'm 5'11" and 175lbs., the medium fits me well in the waist, but I feel like the "skirt" portion of the garment is a bit snug around the buttocks and thighs.
Price Paid: $60

Your Review
You May Like
Specs
Price
Historic Range: $30.00-$75.00
Reviewers Paid: $60.00-$75.00

Recently on Trailspace