Mountain Hardwear Kiva

The Kiva has been discontinued. If you're looking for something new, check out the best tarps and shelters for 2020.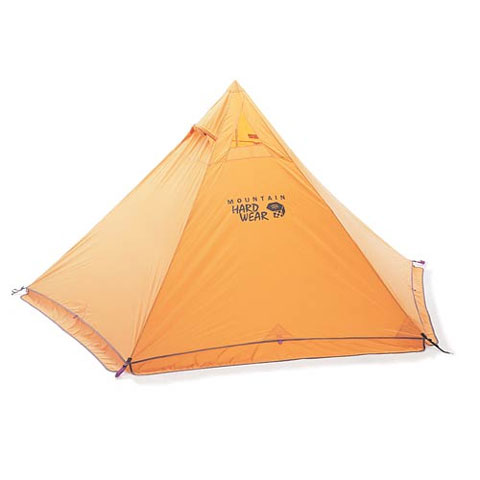 Specs
Price
Historic Range: $134.95-$245.00
Reviewers Paid: $180.00-$225.00

Reviews
6

reviews

5-star:

1

4-star:

3

3-star:

1

2-star:

1

1-star:

0
I take mine even as a one person tent. I don't mind the weight as it's not much more than a lightweight tomb anyhow. The advantage is I can put my sleeping area out, have a cooking area and also get all my kit out and sorted. It's massive! Even with 2 adults, kit and sleeping area there's still enough room!
Design: teepee
Sleeps: 4

I wanted a Kiva because I thought the design would be good for my region and activities (Canadian Arctic-tundra) just got it and tried it in a storm (near home) just to see if it would hold up to some of our regular winter weather. I used rocks to hold it down and the 5 tie downs with a moderate amount of dry shovel packed snow around the base.
The weather was -22 c to -15 c with winds that shifted direction over night and blew most of the night at 40-60 kpm with sustained gusts to 68Kpm. Not an uncommon type of weather for this region. The tent was just fine. Easy to dig the entrance area out in the tent for sitting space and sleeps 2 with large bags in comfort. Pretty impressed with the detail like velcro, buckles, high low vent door, eyelid support and reinforced seems. I used the rope it came with but I honestly did not expect them to hold up like they did. I like that the floor staps can be removed as they would be in the way sometimes if they could not. Did not use the foot print but a canvas tarp under the bags.
My comfort zone increased for taking this tent as a main shelter for winter travel and ease of use. I look forward to seeing how it does in other seasons. I will mostly use it for ice fishing and hunting trips.
Design: 4 season
Sleeps: 3
Ease of Setup: intuitive.
Weight: 4 lbs
Price Paid: $225 USD w/fprint

Love the space and ease of setup! Seam sealing just hasn't worked well yet and the pole slides down on its own. A rubber band fixed that issue though.
R
I use this tent whenever there is more than two of us going backpacking, whatever the weather. You just can't beat the shelter capacity for the weight ... not even with bivvies or with ultralight tarp tents. Divide 6 lbs between four people and it's simply the lightest, toughest shelter you can get.
I use mine with the footprint and I sewed 10 inches of mosquito mesh around the edge to keep out the bugs. At first it's weird not completely sealing out the elements and the critters but we've never had any creepy crawly visitors, not even in the buggiest places like the Zion Narrows (spider heaven).
A couple of tips on pitching: make sure (except in the dead of winter) that there is a little room between the edge of the tent and the ground (extend the center pole a little higher than you think you should, and don't crank the corners all the way down the ground). The vent at the top is not enough to eliminate condensation from 4+ people sleeping inside and breathing. A lot of people think that the tent leaks but it's actually the condensation from pitching it like you're afraid of a bug or a mouse getting inside the tent.
Another tip: bring a small packtowel to wipe down the walls once in a while if you spend a lot of time inside it. It's a small trade-off for the incredible weight savings and relative bombproofness of this shelter. I've used it in howling wind, driving rain, blowing snow, as well as in perfect warm summer weather and it's a great shelter. You just have to adjust how you pitch it for various conditions.
Design: all season expedition tee-pee
Sleeps: 5
Ease of Setup: Medium
Weight: 6 lbs with pole and footprint
Price Paid: Forgot

On our last trek to Philmont Scout Ranch (New Mexico) we elected to take four Kivas as our primary shelters. e spent 11 days and nights in the Rocky Mountains, camping at altitudes up to 11,000 feet. We encountered heavy rains, strong winds, a few mild nights and three bears.
Most of the crew consisted of 15-16-year-old Scouts with limited backpacking experience. The Kivas worked very well for us. Better suited to three people with gear than the four advertised. With a little practice it was easy to set up. Pitching variations allowed from a tight, ground hugging tent to lots of open space and air flow.
Overall a very satisfying design, and one we will use again this year at Philmont. A winning design. Not recommended for a solo camper, excellent for groups of two-three, three being best. It is a little bulky when packed, but then again it does sleep three adults easy, four in a pinch.
Design: 4-season single wall shelter
Sleeps: 4
Ease of Setup: moderately easy, better with practice
Weight: 4+ lbs
Price Paid: $180

Seam-sealing did no good. I just couldn't seal it.
It isn't breathable, so it gets very hot.
You May Like
Recently on Trailspace