Mountain Hardwear Lightpath 2

I have had this tent for a month and could not be more impressed. The Light Path Two is a semi lightweight, two-pole tent that requires four stakes to stand up. It's great for two people on a light four-season and all three who don't mind the snugness of the tent. I would Highly recommend this tent.
Pros
Light weight
Easy setup
Two door vestibule
Perfect for 1 person + gear or 2 people snugly with gear in vestibule
Packs down small with or without compression sack.
Window to check weather with having to go outside
Two poles - non-complicated pole design
Great fly
Cons
Not free standing
Requires stakes
Needs to be staked out for optimum performance
Low interior height
low down on the lightpath 
This tent has preformed very well in all of the situations that I have thrown at it. 
Set up
The tent has two poles with connect easy, after putting these together you lay the body out and stake out the four corners tautly. This is easy to do in almost all environments but it can be quite tricky to get a secure setup in snow. The poles attach easily but you have to clip the left the n the right following this order or vice versa to get a non-stressful pitch on the fabric.  The fly goes on easily enough attaching with six points on the lower and with tow clips on each pole. You then attach the fly to the poles with 4 clips and velcro and by clipping it on to points of the bottom of the tent. Next I stake it out. I has 12 stake out points and I normally use all of them. To see where they are look at the picture below.
* on a side note I used snow stakes in the photo below to stake out the inner
Room and Storage 
The one door was only a minor problem as because the tents set up a a arrow shape you don't have to crawl over any body to get out. The vestibules two doors help with ventilation in summer months. However the vestibule is only enough for about two packs plus boots but given that it is a two person tent this shouldn't be a problem. The tent isn't very tall so in a storm it isn't that conformable if you have to sit up and move around. This could be a problem for tall people in just general use during bad weather when you have to spend any length of time in the tent. The tent is 36 inches from floor to top of the tent inner. I am 5-5 feet tall and I run 33 inches from my waist to the top of my head and my head almost touches the top when sitting , I have about 2.5 inches of clearance to the top of the tent.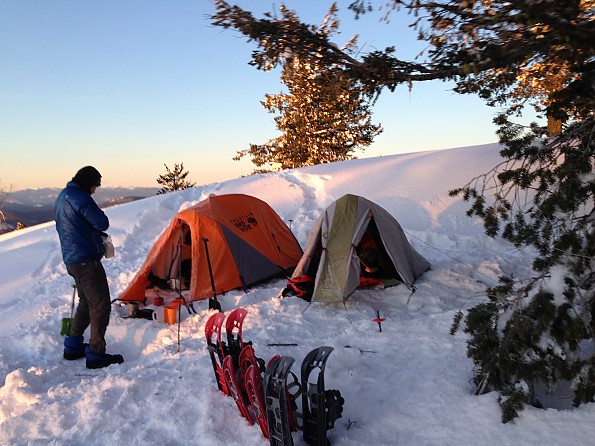 * My Father next to the lightpath, he's 5 foot 9, also the tent to the left is the mountaine hardwear nightview 
Weather Resistance 
The lightpath 2 has great weather resistance in all the testing I've done. I have used it mostly in four season conditions then 3 season and each time I stay dry and safe from wind. Condensation can be a issue in participatory wet environments but this happens with most tents. On my recent trip the high wind from the wind would blow large chunks of hard ice and snow from the tree ,which you can see to the left of the tent , and they would land on my lightpath 2 tent. The tent was fine in the morning and the light snow had all fallen off the tent. In a rain storm the angle of the tent allows water to fall off easily. Under heavy snow loads however I believe this tent would collapse but this is why it's a three season tent. The lighpath two tent could handle any three season storm that doesn't involve tons of snow load.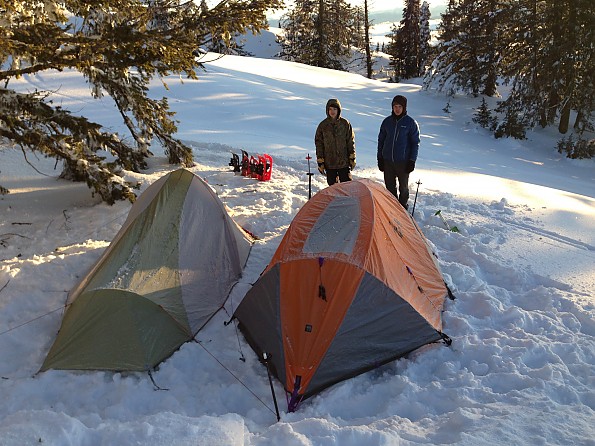 Ventilation

This tent has great ventilation when fully guyed out ( has you should with all tents and especially tunnel tents ) Okay ventilation when not and amazing ventilation with no fly but if its raining you will be wet anyway. The Guy out point at the bottom mid section of the tent , which you can see in the above picture, allows the most cross flow so if you only have two stakes to guy out the fly put them there. In my experience below zero just under the fly has a thin coating of ice  on it and tiny patches of frozen water on the mesh also. However on my recent trip my dad placed his tent to close to mind and I couldn't guy out two points on the left has much as I liked and the fly almost touched the inner. This caused more frost   and ice patches on the inside of tent and if i bumped them my sleeping bag would get wet.  You can see this in the picture's  below.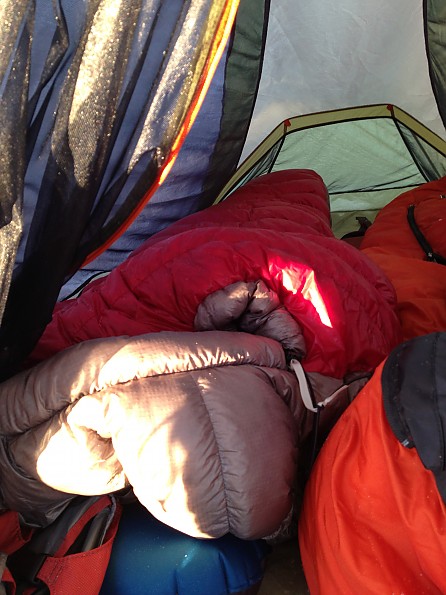 * look to the left of the red sleeping bag at the wall of the tent notice the condensation 
* Zoom in on left side to see condensation

Packability 
The tent packs quite small but the stuff sack it comes with didn't allow to pack it as compact as I'd like. I measured it to pack about 9 liters in the stuff sack it came with and down to 6 when squished a little. I bought a Outdoor Research compression sack ( the 8 liter model ) and use that as it's stuff now I can compress it down to about liters. The poles fit in a stuff sack and are 24 by 4 inches. The stakes fit in a stuff sack and are 11 by 5 inches.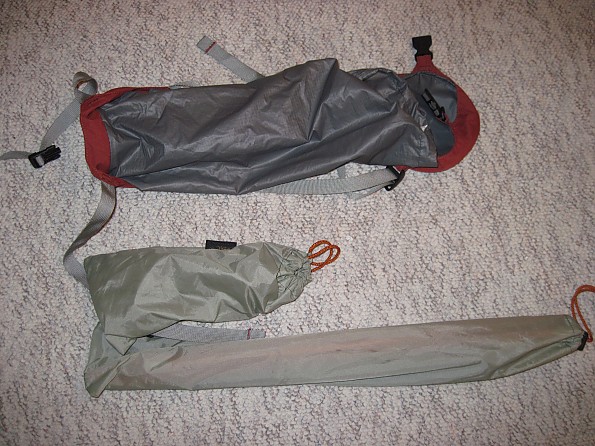 * Apologies for not stuffing the tent into its sack, it just drying after a recent trip 
Ease of use 
This tent goes up fast and comes down fast. In 3 season conditions it can be put up in 5 minutes. In 4 season or I a storm it may take longer. I have had not have too have used the instructions since the first time i put it up and the simple 2 pole  designs makes it even easier to use. 
Summary
Overall this is a great tent and the addition of MSR carbon fiber stakes and or compression sack make it a five starts out of five stars for its intended use. Without these improvements I give this tent four and a half stars out of five because it worked admirably in the condition I threw at it and then some ( four season camping ). 
Source: bought it new
Price Paid: 156 US on sale

This is a great bomb-proof shelter that weighs less than 5 lbs. Surprisingly easy to setup for a non-free standing tent.
Pros
Factory taped seams
Lightweight
Easy to setup
Roomy vestibule
Good headroom
Cons
Tight for two full size people
I purchased this tent earlier this year to replace my cheap 2-person tent. I really got a good deal on this tent from my local sporting goods store given the brand.
This was my first non-free standing shelter and I was really concerned how easy/difficult this tent would be to setup. To my surprise, I was able to set this up even in my living room with ease. 
When I took this for the first time on one of my trips this year, I was very pleased again with how quickly this tent sets up.  The two lightweight poles easily attaches to the inner tent and the fly.  The guylines and stake points are all straight forward and easy to follow.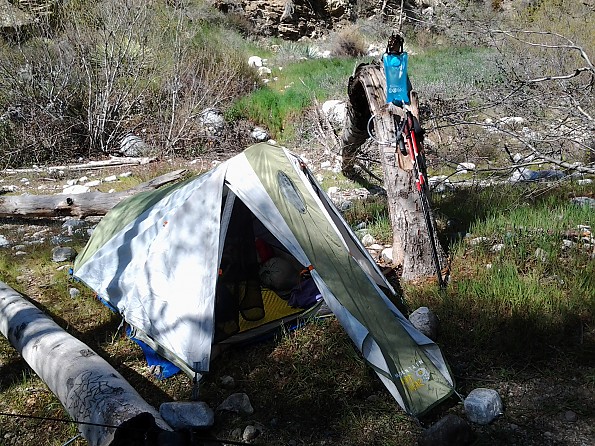 As a solo tent, this shelter had a lot of room for all my gear inside and ample vestibule space for other gear. It offered great ventilation and so far and I have had minimal condensation if any. When packed, this tent can be compressed to the size of a small basketball as long as the poles are packed outside the provided stuff sack.  
Circled below all packed and ready to go...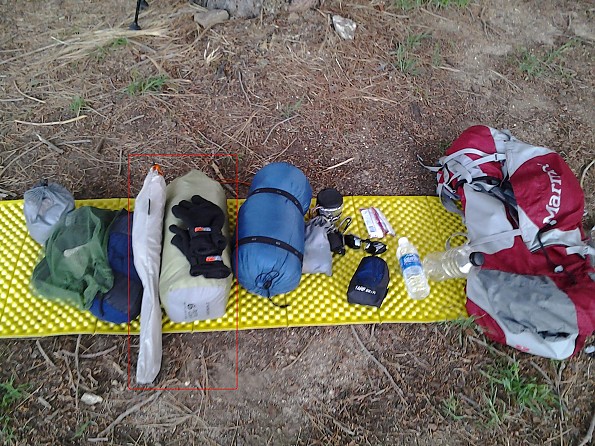 It's a great tent to get and light enough when split between two people. Only issue is, if you decide to share this tent with someone else, make sure the other person is someone close to you...it's quite cozy for two but very roomy for one.
** UPDATE 3/13**
Since this review, I have taken this tent with me on more adventures and I still stand by this review. This tent will stay with me for awhile. Here's a photo of shelter on my last winter trip.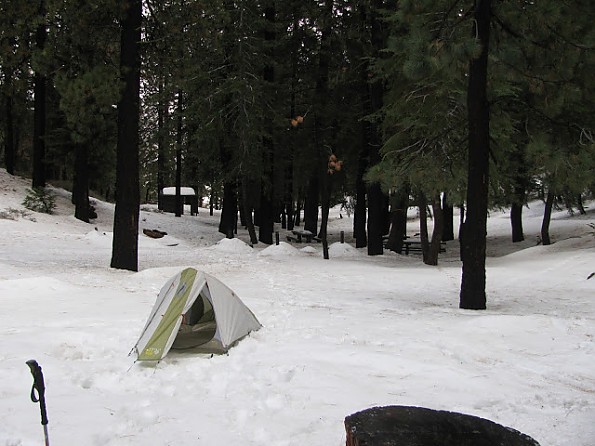 Source: bought it new
Price Paid: $120

Wow! What a great product! I got this tent about two hours ago so I haven't tried it out in the rain, but it looks to be great. There are two small problems, the tent only comes with 12 stakes, but to have it taut you need 14 (16 if possible) and setting it up the first time was a bit of a hit-miss situation.
But, The vestibule is HUGE (9.6 ft2) and there is a lot of no-see-um mesh for good ventilation. The whole thing is seem sealed so it cant get wet on the inside. When packing, it can compress to about half of the bags space if you take the poles out and carry them on your backpack. The floor is very impressive, it is almost impossible to slip on so if you're at an angle, you wont slide (I was in a Kelty Teton 4 and on an angle, I practically felt like the laws of friction did not apply).
Also, some of the details are nice, the large pockets for storing gear, the window so you can see out, and the material that it is made out of is good. This is the first tent that I think that I have ever been in that can actually hold the amount of people in it. Gear would be tight, but the vestibule is big enough for both of your gear.
I could go on forever about this tent, the price, quality and weight. But I don't want to bore you. I will write back after I spend a night or two in it. Buy it, and you'll see what I mean.
Update: June 28, 2008
I just got back from summer camp at Ransburg Scout Reservation today after about 8 days away. The last night that we were there, we got hit hard by about three hours of absolute downpours and wind gusts so fast that you could not walk in a straight line. We were ready to start our closing campfire and then the camp staff evacuated us into the dining hall. We were there for about ten minutes and then the power went out for the rest of the day and the next morning.
While I was in the dining hall, I was constantly worried about my tent (since it is only a two person backpacking tent). When I got back to the campsite I was amazed that it was still standing, all stakes in the ground, and completely dry inside. Meanwhile, our trash can was flung to the other side of the campsite because of the winds!
By now, you all are probably all on the edge of your chair waiting to hear what tent it was. Well, it was a Mountain Hardwear Lightpath 2. So kudos to you, MH for keeping my stuff dry during the worst storm that I have ever camped in.
Ease of Setup: med.
Price Paid: $140

I bought this tent to go camping with my son in the Boy Scouts. It sets up easy is strong and the fly has good coverage. It is light weight and packs small.
One thing I did notice I set my tent up on wet ground with the rainfly on. You will need to open it up if the sun is out to let the moisture escape. But I think this is a very small trade off for the amout of weather protection it provides.
Another thing I noticed is the way the rainfly is designed it will be tough to touch while in the tent and causing a leak.
Update: November 25, 2011
After a year and about 20 nights on the trail I must say this tent has been flawless. It has been in sun, wind, rain, ice, and 6 inches of snow and it is yet to let me down. It shows almost no wear and not a drop of water has come through.
Mountain Hardwear through its great products has made me a lifetime customer.
Price Paid: $179

This is a great tent. Went camping with my 9 yr old son and it was flawless. Easy set-up and plenty of room for the 2 of us. We did of course put our gear in the vestibule which has plenty of room as well. We had a strong wind that night but no problems.
Pros
well built
ease of set-up
Setup was easy, took less than 10 minutes, the pitch was taut and was very stable. We did not have any moisture or condensation the next morning. The gear bags were very helpful. We had plenty of room.
I will use this tent as a 1 man with my gear inside most of the time. The tent and fly will pack down very small if the poles or kept out.
I just purchased the tent and used once so far, but plan many more trips and do not think I will have any problems rain or shine.
Source: bought it new
Price Paid: $120

The most awesome tent I've ever used! In an unforeseen storm the tent held up to one of the biggest poundings by the weather I have ever experienced. As some one else has already said, there is a shortage of pegs. During my night out I managed to sleep 3 people in it, because the storm had destroyed my friends "Gelert" tents, one of the poles was bent a little by the massive winds, but Mountain Hardwear's lifetime warranty means I'm getting it replaced for free, no questions asked.
A very lightweight tent, awesome for long treks and mountaineering. The groundsheet is waterproof all the way, as proven by myself, because I woke up in the morning, and the tent was pretty much in a lake. I was dry, but my gear in the vestibule wasn't so fortunate. I would recommend that you buy a footprint for the tent because the water underneath the groundsheet does make the floor a little damp, but with a good camping mat and a good sleeping bag, it shouldn't be too much of a worry. On the whole an awesome tent!
Design: Three season, all mountain.
Sleeps: 2
Ease of Setup: I managed first time in the dark, and im only 14!
Weight: 4 lbs, 8oz
Price Paid: $150

I spent the weekend with this tent with my 5 yr. old daughter. The tent was extremely easy to set up after a test in the back yard the day before. The tent is everything I need. It packs small, is light, and seems strong. The tent fly was taught throughout the night, and would have surely done well in even the most challenging wind.
My only concern with this tent is that it is small. Just like every other two person tent, this is a one person and gear kind of situation. My daughter and I fit well in the tent, but there was little room for our bags. We did end up putting them in the vestibule.

I had falsely assumed, with a two person tent, that I could fit my daughter and gear inside. I will be using this tent almost solely for backpacking, and will not have to put someone else in the tent. Therefore, this is a very small problem.
All in all, so many positives it is hard to get upset about the size issue.
Design: Three-season backpacker
Sleeps: 1
Ease of Setup: Very simple with some practice
Weight: 4 lbs.
Price Paid: $180

All right.
Pros
Light
Fast setup
Large vestibule
I bought this tent as a space saver for motorcycle camping. It saved space and was very light.
However, I did not know that the ceiling height was so low at 38". I have to kick my legs into the vestibule to take my pants off and put my shirt on and vice versa. It would be a great tent for someone who doesn't mind the limited maneuverability.
Overall, for what it was designed it does a very good job. No way of fitting two people in there.
Source: bought it new
Price Paid: $105

I love this tent, nothing bad about it. No morning dew inside and is waterproof. 
As for wind strength, if put up properly and fully it will not go anywhere. 
Highly recommended.
Price Paid: $220

Your Review
Where to Buy
Help support this site by making your next gear purchase through one of the links above. Click a link, buy what you need, and the seller will contribute a portion of the purchase price to support Trailspace's independent gear reviews.
You May Like
Specs
Price
MSRP: $175.00
Historic Range: $96.58-$210.00
Reviewers Paid: $105.00-$220.00

Capacity
2

Minimum Weight
3 lb 15 oz / 1.79 kg

Packed Weight
4 lb 5 oz / 1.94 kg

Floor Area
30 sq ft / 2.8 sq m

Number of Doors
1

Number of Poles
2

Number of Vestibules
1

Interior Height
37 in / 94 cm

Packed Diameter
6 in / 15 cm

Packed Length
22 in / 56 cm

Pitch Light Weight
3 lb 2 oz / 1.42 kg

Recently on Trailspace