Mountain Hardwear Maestro

#9 in men's External Frame Backpacks
The Maestro has been discontinued. If you're looking for something new, check out the best external frame backpacks for 2020.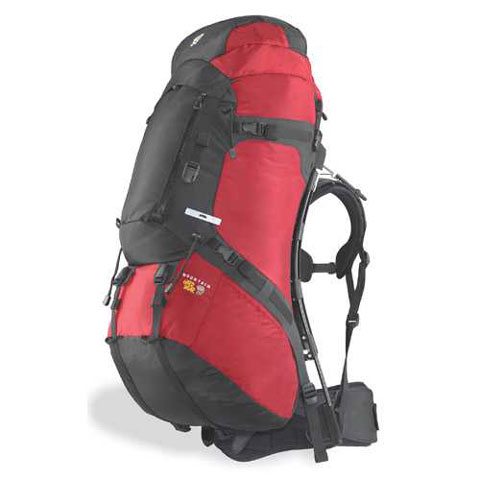 Specs
Price
Historic Range: $170.52-$379.00
Reviewers Paid: $175.00-$379.00

Reviews
4

reviews

5-star:

2

4-star:

1

3-star:

0

2-star:

0

1-star:

1
Great backpack. Wonderful hybrid design. Surprised more backpack manufacturers haven't gone to a design like this. Also surprised MH discontinued this design.
Pros
Very strong and lightweight pack
Very comfortable once adjusted to your body
Cons
Initial adjustment is a bit of a pain
I retired my Dana Design for this backpack. I have used this pack extensively over the last 4 years. It is a little difficult to get dialed in but once it is, it is a wonderful pack. I have packed 50# loads into the Grand Canyon for several days and it has served me well. Very comfortable! 
I love the space it provides between the shoulders and the lower back. It's like air conditioning for your back.  Great feature. I must say this pack is extremely strong too. I have used it on many hunting trips and have literally loaded it with over 100# of meat and packed that several miles with not a single issue. I always worried that I was overloading it but it hasn't failed me yet. 
Great pack. Not sure why MH discontinued this design.
Source: bought it new
Price Paid: $300

This is a very unique pack. I love mine. The design of the pack works great. The Maestro moves with the flow of  your body. 
I highly recommend this pack.  
Price Paid: $175

I want to give this pack more than one star, I really do. My experience with Mountain Hardwear gear has always been very positive. I've purchased a fair amount of gear from them over the years and I've never been disappointed. With that in mind I bought this pack 2 years ago expecting the same.
Once I mastered the somewhat "non-intuitive" - definitely unconventional setup, it was extremely comfortable. I loved it on the trail, it was comfortable, stable, and gave me great range of motion. The bag itself is bulletproof as would be expected from MH.
The problem I have with it is in the adjustment mechanisms. They aren't at all up to par with the rest of the pack. The u-bar broke on the trail, leaving the pack miserably uncomfortable for the remainder of the trip. I tried to rig it up with 550 cord but it still left the bag way off balance.
To MH's credit, they honored the lifetime warranty without question or hassle, the staff was very helpful and friendly and I had it back within a couple of weeks. I never found the u-bar adjustment to be very practical in actual use, its cumbersome at best with its push button activation. There is a crude sort of pulley system to raise and lower the weight of the bag on the frame. I never felt it functioned very well. It wasn't very in smooth operation, the cord lock never held well, and the pieces that snapped to the u-bar to hold it in place popped off constantly. Ultimately the cord broke at the pull ring under a 40lb load.
Another minor issue that came to drive me nuts was the velcro attachment at the top of the frame to hold the u-bar on. It constantly pulled loose and was a pita to hook back up. I can live with the velcro for adjusting and holding the padding in place because it won't have to be changed once you find your sweet spot. But I'm not a fan of velcro for holding gear together. It just doesn't hold up well under under shear and time.
The bottom line to me was that the pack was 90% there. They went outside the box and I admire that, it can lead to great leaps in technology but they fell short on the details and it undermined the whole design. I think the u-bar and lift system were unnecessarily complex and poorly executed. With MH's reputation and price point - this should have been indestructible.
I was sad to see it go, I loved the comfort and had high hopes for this pack but I it and will go back to either another Gregory or an Osprey.
Would I recommend the MH pack? No.
Design: top load internal frame
Size: 3800ci
Max. Load Carried: 40-50lbs
Height of Owner: 5-10
Price Paid: $379

My wife and I have been avid day hikers for years and we finally decided to take our passion to the next level. We had no preconceived ideas about what a pack should be having never carried anything more than an 1800 Cu I daypack. After much research (including reviews on this website), we settled on these packs (my wife bought the Virtuosa pack).
After training with 25 lb dummy loads for a few weeks on a treadmill and local mountains, we hit the Presidential Range in NH's Whites with a little over 30lbs ea. We spent four days traveling 18 miles with a total of 8900 feet of elevation gain on some really tough trails (basically boulder hopping for a number of miles with steep ups and downs).
These packs worked extremely well. No shoulder aches, no back aches, no unstable loads as we hopped or stepped from rock to rock whether traveling up or down...in fact we hardly thought about the loads we carried. We love the fact that the pack sits off our backs allowing great ventilation. Also the harness is practically infinitely adjustable. By simply pulling on any of three sets of straps, we could adjust the pack to fit the terrain we were walking on as we hiked.
And did I mention that the pack pivots at the waist belt? You can even adjust the amount of the pivot! Perfect for scrambling up steep slopes.
The only knock is that the external water bottle pocket is really hard to reach and is a bit clumsy. You are better off using an internal hydration pack (which it is set up to do). We actually gave three short seminars on the trail to inquistitive hikers asking about the design. To a person they all understood the benefits of the design when we pointed them out. A number of sales people we talked to weren't sure about the design. We are so glad we went with our own intuition.
Consider this pack the I-Pod of backpacks. Most people didn't understand what an I-Pod was capable of either when they came out. Now people can't live without them. We highly recommend these packs.
Design: Top Loading, Hybrid Frame
Size: 4000 ci
Number of Pockets: 4
Max. Load Carried: 31 lbs
Height of Owner: 6'
Price Paid: $313.65

You May Like
Recently on Trailspace