Mountain Hardwear Night View

Top 50 in 3-4 Season Convertible Tents
The Night View has been discontinued. If you're looking for something new, check out the best 3-4 season convertible tents for 2021.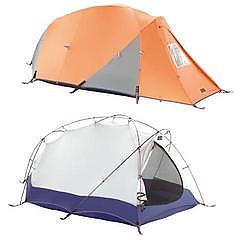 Specs
Price
Historic Range: $220.00-$370.00
Reviewers Paid: $350.00-$370.00

Reviews
6

reviews

5-star:

4

4-star:

2

3-star:

0

2-star:

0

1-star:

0
I have had this tent for several years now, when it first came into the country. The tent is great and has never let me down in any weather conditions. However it is now starting to show its age with water starting to soak through the floor.
But my biggest gripe is with the fly sheet, if it rains the fly sheet sags down over the whole tent. This is fixed by tightening the lower fastenings, but if the sun comes out the fly sheet tightens and starts pulling the stiching appart, I then have to go around the tent loosing the fly sheet again.
The final point is the windows....They look great but the times you need to use them (usually when it's raining outside or first thing in the morning) they are misted up. I have to open the door to look outside.
Overall this tent is great, but with age is becoming more hassle than I would like.
Design: Free standing
Sleeps: 3
Ease of Setup: Very easy
Weight: 4 kg

I have used this tent all over the UK including Scotland in the middle of winter; it has never let me down once. I have recommended this tent to friends, but unfortunately it's not available in the UK now.
Design: 3-4 season freestanding
Sleeps: 2
Ease of Setup: easy
Weight: 7lbs 6oz
Price Paid: £250

I have used this tent for more than five years all over Montana's mountain ranges in all seasons and it is an excellent tent. It has seen all kinds of weather and has never leaked, ripped, or broken in any way. I love its versatility. It does not weigh as much as the majority of the tents in its class, yet it has more room when comparing the stats! It seems to have the stability and durability of Mountain Hardwear's 4-season tents. I highly recommend this tent to anyone for any season. It has been worth every penny that I paid for it.
Design: 3-4 season freestanding modified dome
Sleeps: 2
Ease of Setup: takes a little time, but not difficult
Weight: 7lbs 6oz
Price Paid: $370

When purchasing this tent I compared it closely to the SD Omega tent. The factor that decided the MH for me was its larger floorspace (I'm 6'2"). Construction-wise it is very solid with 4 poles and mucho guy-out points (cords, stakes, etc all provided). I haven't used it in winter yet but it looks good for anything but the most severe conditions. It has as many features as a Cadillac with 2 UVX windows, a large removeable body panel with mesh (one of the UVX windows is right over the panel), door tie backs, a "torsion shelf" (can use for extra storage), lots of side mesh storage, a back zipper for adjusting the fly without going out and adjustable fly tension straps.
I'd recommend guying out the sides regardless of the conditions to minimize the fly touching the body. I've been very dry in this tent since I started doing that (even in Olympic NP).
Because of the many guy-out hooks and straps on the fly (all optional to save setup time) you can set this tent up without the body!
Only cons as far as I can tell are the weight (8+ lbs, ugh) and the fly can sometimes drip onto the bottommost edge of the tent leaving it damp. Some fine tuning of the tension straps might help this. Still I'd say this is a top choice for anyone looking for a tent to cover the majority of 4 season needs. Posibly the best CV tent out there; a most excellent tent!
Design: 4 season convertable dome
Sleeps: 2
Ease of Setup: Moderate
Weight: ~8 lbs
Price Paid: ~$350

I bought this tent last spring when I first saw it. I work in an outdoor retail shop that deals mainly in high end mountaineering and climbing equipment. When I saw this tent I was amazed at the construction of it. The pole structure with the addition of the patented tension shelf made for a very tight shelter. I was also intrigued by the "windows" M.H. uses. There is a large convertible section on the top panel of the body of the tent that can be zipped out for venting when hot. Directly above that is a plastic window that can be seen out of as well as one in the vestibule. Makes it handy to check out the weather or just look up at the stars on clear nights.
The coolest feature for me though was that you could construct a superlight tent using only the footprint, the poles and the fly. Great for summer use or an extra, lightweight shelter when canoing in rainy weather.
Go out and buy one if you need a tent that will work miracles in anything from desert camping to mountaineering in mid winter. You won't be disappointed!
Design: Convertible 4 pole
Sleeps: 2
Ease of Setup: Not bad for a high-tech tent that has held in strong winds and snow loads
Weight: roughly 8lbs.
Price Paid: $370

Great tent. I used it in Canyonlands NP last month, and i loved it. it vented well and withstood some really strong canyon winds one night when we camped in the glen canyon rec area. we were on this bluff and the winds blew in, no big deal, i just pulled the fly on nice and tight and slept very soundly...i can't wait to get this tent into a real storm, i guess that sounds kind of weird, but this tent was a real joy.
-nathan
Design: 4 season
Sleeps: 2
Ease of Setup: easy, clip set up
Weight: 8lbs
Price Paid: $370

You May Like
Recently on Trailspace