Mountain Hardwear Pinole 20°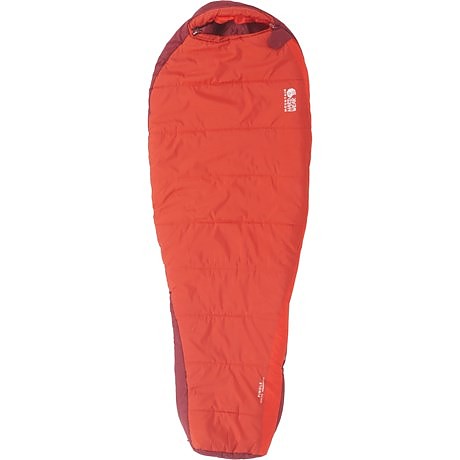 Great bag for the budget backpacker. Compresses well for a 20deg synthetic, and keeps me warm down to rated temp!
Pros
Honest temp rating
Great weight for the price
Comfortable
Cons
Occasional zipper sticking
Not as compressible as down but still compressible
My son and I needed a couple of packable, cold weather bags for backpacking with his Scout Troop.  Considering budgeting for outfitting us both with packs, bags, sleeping pads, and miscellaneous gear, we were looking at less expensive bags. Throw in that we're in the Southeast, where humidity and rain are always in the possibilities, down bags didn't make sense, either.
I put some research into synthetic bags in the 20-30deg range, and narrowed my choices down to three or four bags. I found the Pinhole on sale and that sealed the deal. We bought ours a couple of years ago, so they're the grey/black/yellow color scheme and have Thermic MX insulation. Mountain Hardwear shows the newer version to have Thermal.Q insulation now. I don't know what the difference is.
The bags are compressible down to about 7x12" or so. Not small, but not overly large, either. They re-loft in the tent nicely if you shake them out a bit and toss them in. It takes about the same amount of time it takes our self-inflating pads to inflate, so it all works out well. They're comfortable inside, and ours still look new after close to 50 nights over the past two years, rain or shine, in the field.
Just about the only complaint I have — and I've had this same complaint with every sleeping bag I've ever owned — is the zipper will sometimes get hung on the fabric if you get in a hurry zipping or unzipping. I've never had an instance where it won't just come loose with a gentle tug on the fabric, though, so it's no big deal.
How do they perform? We've slept comfortably in temps from the mid-40s down to just below the temp rating on the bag. Our sleeping pads have an R-value of about 3.5. When it's not too cold out, we sleep in shorts and t-shirts. When it's cold, we sleep in a base layer, wool socks, and a fleece skull cap. 
Two nights that stand out are one during a cold rain, with temps bottoming at 24deg, and winds 10-15mph, with gusts to 30mph, and another with no wind, no rain, but a low of 18deg. Both nights the bags kept us warm and toasty, to the point we did not want to crawl out in the morning!
Are there lighter bags? Sure. Some synthetics, and a bunch of down bags are lighter, but at less than 3.5 lbs for the long bag I carry, these are very packable. You'd have to double or even triple your budget to get into a synthetic with a 20deg rating any lighter, and you'd be at least double and potentially a lot higher, to get into a down bag similarly rated and lighter weight.
I can highly recommend these bags for the budget backpacker or someone just starting out and not sure they want to drop $700-1000 on gear to try the sport. This bag, a good pad, and a base layer, and you'll be toasty warm down below freezing.
Source: bought it new
Price Paid: $50

The Mountain Hardwear Pinole 20 is a fine 3-season sleeping bag.
Pros
Fairly light for a synthetic
Comfort rating is accurate in my experience
Quality materials for the price...
Price
Two-way zipper
Generous cut provides room to toss and turn
Cons
Large stuff size
Weight vs down bags
Zipper can be finicky
I purchased this bag after much research on 20 degree bags. Some reviews had me second guessing. I'm glad that I ended up going with this product. I backpack/car camp/canoe camp in the mountains of East Tennessee and Western North Carolina. For me it made sense to go with a synthetic due to the humidity and moisture that I experience in my area.
 
Ready for use in the ever humid valley of South Fork Citico.


I have spent an honest 80+ nights in, under, or on top of this bag. This has been in temps ranging from the low 20s all the way up to some sweltering nights near 80F. In cooler temperatures I use the bag in conjunction with my ThermaRest Basecamp pad. I also use the bag very often in an ENO DoubleNest hammock (with or without ThermaRest pad depending on temps). I know, I know, I'm supposed to use an underquilt/overquilt... This setup works for me, so I use it!
The Pinole weighs right on 3lbs on my scale. The manufacturer's stated weight is 3lbs and 3ozs. It is filled with 1lb and 15ozs of Mountain Hardwear's Thermal Q synthetic fill. Listed measurements are; 62" shoulder girth, 58" hip girth, and 38" foot girth. The inside length is 78". These numbers are for the regular size. At 5'10" and 195, the bag fits me perfectly.
The manufacturer states the loft to be 5". I have found this to be a tad optimistic. I measure 3 and 1/2" now after much use. The bag hangs loosely on a hanger in my closet. I store it in this manner because it is used almost every weekend. If not in the mountains, I use it at home. My weekend bedroom consists of hanging my hammock on the covered porch and sliding into my bag. This is done year-round with temps ranging from freezing to 70 degrees.
The stuff sack that comes with the bag is fleece lined and doubles as a pillow.

This bag does not compress very small. I use the provided stuff sack along with extra compression straps around it. Without the extra compression straps it measures roughly 7" by 16".
The two-way zipper is great for ventilating the foot area. The zipper, however, can be a bit touch and go. This is my biggest problem with the bag. I've learned from many nights just to be patient and the zipper will work. It has never been more than a slight aggravation that you learn to work with. I've never torn the material or had the zipper to stick, it just takes care to use. If not for this flaw, I wouldn't hesitate to give a 5-star rating.


In conclusion I would say that for a good reasonably priced synthetic sleeping bag the Mountain Hardwear Pinole 20 is a very strong choice. It is not without flaws or drawbacks, but it has done everything that I've asked of it. 
Source: bought it new (Purchased new from Backcountry ($80))
Price Paid: $80

Warm cozy and bulky synthetic sleeping bag that weighs almost as little as a down sleeping bag. Excellent quality and features.
Pros
Quality
Cozy
Relatively warm
Weight
Cons
Not a true 20° F sleeping bag
Bulky
I used this sleeping bag while hiking for two months the Israeli National Trail and I did like it a lot.
I'm a very cold sleeper, with a slim fit, which means finding a good sleeping bag is a nightmare for me, but I did find this bag warm with no cold spots, which was a nice surprise.
I used it in freezing desert nights and misty damp nights, and while most of the other hikers around me were having really cold nights I relatively had a warm sleep, which made me thank this sleeping bag. The fact that this is a roomy bag and I have a slim fit made me worried of cold spots which are sleep killers for me, but there were none! This bag does tend to accumulate lots of condensation on the outside of it, but it also dries really fast and it doesn't seem like the moisture affects its warmth.
As for all sleeping bags, the rating is just far from reality. This bag has an EN rating of 20° F (-7°C), but it did get cold in temperatures around 4°c while sleeping on a 15 mm E.V.A mattress without a tent, with light winds.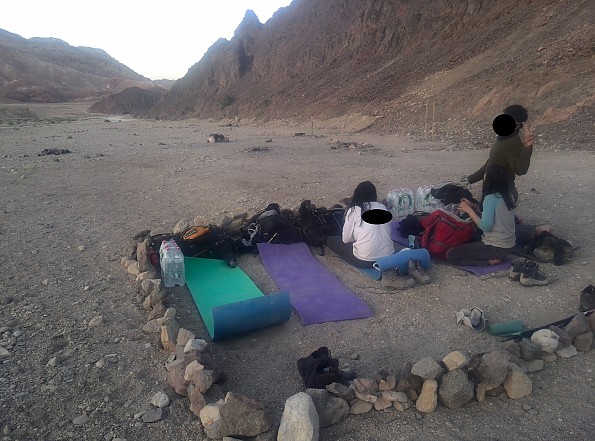 Overall construction and quality is superb. It doesn't compress to a small size, but I used it without a staff sack anyways. The weight of it is outstanding! Just compare it to other similar rated down bags and you'll understand how relatively light it is.
The price is reasonable and it's a great value for the money. I'm looking to buy an ultralight compressible down sleeping bag and it's hard to beat this bag in terms of weight for dollars!
Source: bought it new
Price Paid: 120$

3.3lbs, synthetic, inexpensive, roomy and well made. For the price and the specs, it's a bargain!
Pros
Roomy for big shouldered people
Price-point was exceptional
Stuff-sack has fleece lining for use as a pillow
Cons
3.3lbs is not ultra-light
Okay, so I don't use this bag as much since transitioning into a hammock, but for car or tent camping it was great. It's light enough to hike with, but it's heavier then I want in an ultralight setup.
I've had it in 30ish weather and was fine with it and a Thermarest Scout pad (as long as I stayed on the pad). In warmer weather it was a bit too hot (50-65F).
The extra weight comes from being made with synthetics instead of down, and for the extra room in the knees and the shoulders for comfort. For me, the extra bit of weight was worth the comfort, the lower hassle of making sure it stayed completely dry, and for the $250+ savings in my pocket book.
I've heard reviews on people having problems zipping the fabric into the zippers. I have had no such problems, mainly because I'm an adult who buys his own gear and thus maintains it. anyone who owns light-weight gear knows that you need to take care operating and storing it, the same holds true with this. Operate the zipper as intended (don't spread your arms and let the zipper open that way) just use the zipper correctly and not too fast and it works flawlessly!
I had no condensation issues with the bag, and it lofted well without having to do my normal "Down-Dance".
All in all a great entry-level bag that is a great price.
Source: bought it new
Price Paid: $69.95

Version reviewed: Long
Budget friendly, well-proportioned, warm bag.
Pros
warmth
finish
price
cut of the bag
Cons
weight
bulky
zipper can snag
no footbox vent
I've used my Pinole (long) for about 4 outings now. I have never tested it in cold weather.
The things I like about it are the cut of the bag, the price, the feel and appearance, and the warmth. It has a slightly more generous mummy shape and I have never had a mummy bag before. I thought it was quite comfortable. The footbox is trapezoidal in shape and allowed my feet to rest naturally. I like the colors and the textures of this bag. It's got a fairly tough outer shell and a silky smooth lining on the inside.
The price is what really drew me in. Other sites tend to rate this as a good budget friendly bag.
I think I paid 70 bucks for mine on geartrade.com.
It is a bulky bag and you would want to spend money on a compression sack for this beast. It is also in the 2-3 lbs range, sorry I know that is vague. The zipper does snag fairly easily. I haven't been frustrated by this. I just take my time and it seems okay.
Source: bought it used
Price Paid: $70

Decent bag with some concerns.
I bought this bag because I wanted something a little smaller. Sacrificing warmth I went for a three-season bag with the option of adding a liner. If in higher elevations, as I usually am, some long johns and merino were enough to keep me toasty.
My only issues are the zipper must be carefully opened and closed so as to not get caught, which it is prone to do.
The hood system is simple and effective, but being a spinner when I sleep I tend not to use it or else I get twisted.
Overall it was a good value bag. And in Canada, being cleared out at a decent price!
Source: bought it new
Price Paid: 75 Cdn

Far too cold for the temperature rating.
Cons
Not light
Not warm
Poor zipper
We bought four sleeping bags with the same temperature rating: two from The North Face (NF) for our young children and two Pinoles from Mountain Hardwear (MH). The children sleep warm in -7˚C. However, we feel already cold at about 5-10˚C, even with thermo-underwear, socks, and fleece jackets in the bag.
The bags are roomy, but necessarily so, and always feel cold to the touch. Other issues some people are mentioning such as the zipper are trivial compared to the real problem.
I would say, save the money by spending more on a better bag. 
Source: bought it new
Price Paid: ~$75

Pretty good entry level sleeping bag. If you can get it on sale it's a great deal.
Pros
Great price for the quality
Quite warm, even when damp
Cons
Awful cheap zipper
A little bulky
Actual bag is quite nice, hood fits well around my face. I purchased the Long version. No cold spots or drafts.
The bag is slightly bulky if packed into the stuff sack it's shipped with. Consider putting it in a smaller compression sack.
Again, the zipper is awfully cheap. I don't anticipate it breaking, but it catches on the fabric a lot.
Source: bought it new
Price Paid: $80

This bag is very comfortable it is a mummy style bag that lets you move around and the footbox lets you lay naturally. It has a drawstring at the head that tightens closer to your head and keeps your head warmer. It is a synthetic bag and was in Backpacker magazine in 2010.
Price Paid: $90

Your Review
Where to Buy
Help support this site by making your next gear purchase through one of the links above. Click a link, buy what you need, and the seller will contribute a portion of the purchase price to support Trailspace's independent gear reviews.
You May Like
Specs
Regular
Long
Price
MSRP: $100.00
Historic Range: $49.00-$140.00
Reviewers Paid: $50.00-$120.00

Weight
3 lb 3 oz / 1430 g
3 lb 8 oz / 1580 g
Fill Weight
1 lb 15 oz / 880 g
2 lb 2 oz / 970 g
Loft
5 in / 13 cm
5 in / 13 cm
Temperature Rating
20 F / -7 C
20 F / -7 C
EN Comfort
35 F / 2 C
35 F / 2 C
EN Lower Limit
26 F / -3 C
26 F / -3 C
Fill
Thermic MX synthetic
Thermic MX synthetic
Shape
Mummy
Mummy
Max User Height
6 ft 0 in / 180 cm
6 ft 6 in / 200 cm
Shoulder Girth
62 in / 157 cm
64 in / 163 cm
Hip Girth
58 in / 147 cm
60 in / 152 cm
Foot Girth
38 in / 97 cm
40 in / 102 cm
Price
$85.00 USD
$95.00 USD
Recently on Trailspace