Mountain Hardwear Scrambler 30

The Scrambler 30 has been discontinued. If you're looking for something new, check out the best daypacks for 2023.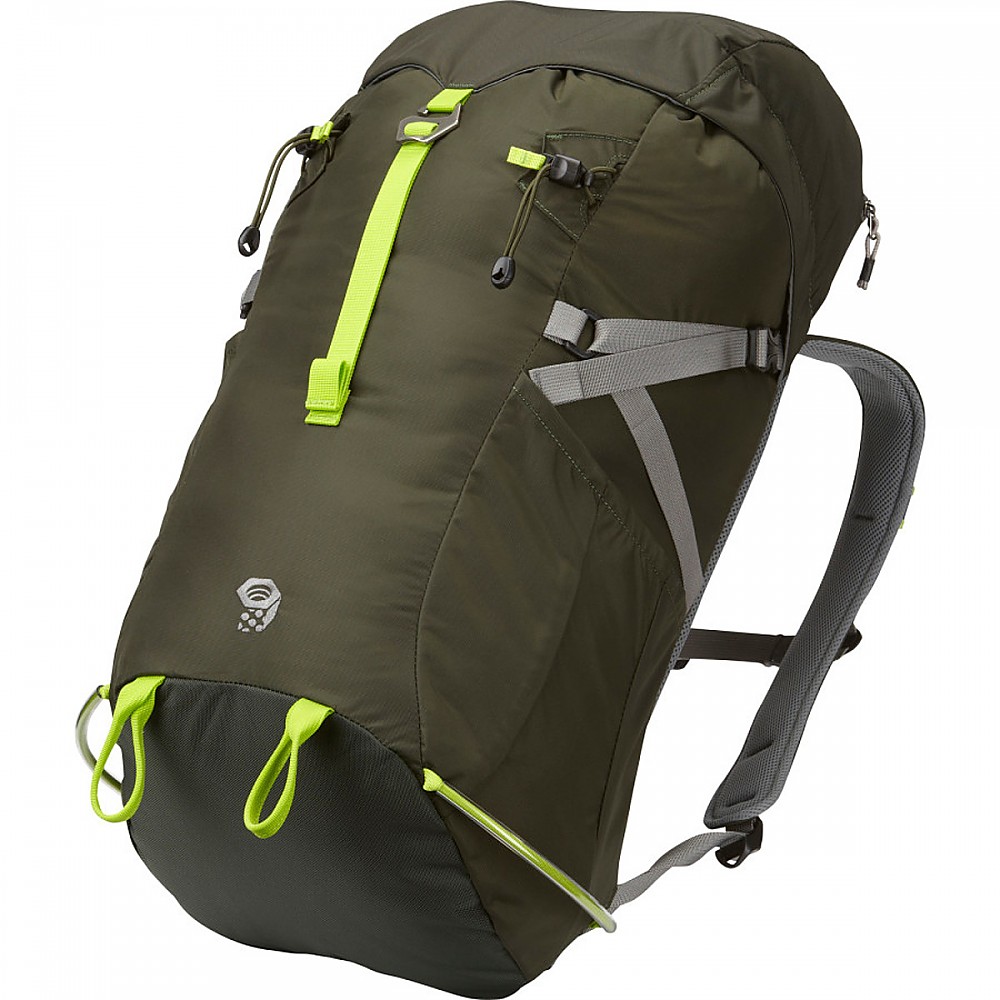 This is a light-but-sturdy daypack with external lashing capability.
Pros
Lightweight
Rugged
External straps
Large capacity
Cons
Flimsy, breakable buckles on waistbelt and sternum belt
Everything you've read and heard about how lightweight this pack is, is true. However, it is also very strong. The only thing you have to watch out for are the frail buckles and snaps on the belts. If you step on one, it will break. Hardware of this low calibre should not be on any kind of a backpack.
If you carry under 30 pounds, though, and can keep your straps off the floor, this may be the pack for you, especially if you don't want the pack to weigh any more than necessary.
The top pocket is huge, the four side compression straps are very useable (for poles, fly, etc.), and it's got two compression cords at the top/front of the pack and one near the bottom. I hang caribiners on the compression straps for extra outside storage.
I'm on my third year with this pack and am actually quite surprised how it has held up to my use (I do not baby my equipment). I have never removed the removable back support. Some do. It has no hydration bladder capability, but that suits me, because I use stainless steel bottles (trying to avoid BPA and other chemicals in plastic).
You can find the Scrambler 30 in black, orange, yellow, and maybe other colors (used to be just the "Scrambler"). If you can find more robust snaps and buckles, and throw out these toy ones, the pack should last many years. I got mine on clearance at R.E.I.
In the current photos at top right, here, you will see several versions of the Scrambler 30. I am reviewing the black one, fourth from the right, with two parallel, diagonal side compression straps (not the one with the bottom side pockets, nor the one with external bungee web).
I frequently carry 25-30 pounds in this pack and the straps are just as comfortable as can be.
Source: bought it new
Price Paid: $50

I bought this pack to replace my beat-up North Face daypack from '98 in '08. It sold me on it because of the price, brand and weight. I have used it in commuting, carrying groceries, and camping.
So far, it has held up great, with the only complaint being the straps, and not the mesh as some people have mentioned, but the webbing keeps sliding up, and thus the pack keeps sliding down. However, I usually like playing with the tails anyway, so I don't mind it too much, but it does get annoying.
The ability to stash it in internal pocket down to a size of a fist is a great feature. For example, I camped two nights in the worst conditions (hike in was a downpour, followed by blowing wind, almost a foot of snow and 15 deg F next day) next to Killington, and brought my 70 L pack with change of clothes, stove, tent, etc.
I rode at Killington all day next day and then the following day, so this pack came in extra useful, since I was able to carry a bunch of stuff with me out, and more stuff in when I came back.
Packing it in the large bag didn't take much space at all, which makes this a great bag for bagging five peaks in a day and coming back to basecamp without having to lug a huge pack with you.
Design: top-loading with lid
Price Paid: $45

Pack is overall a good little summit push pack. I also use it for getting groceries around town. It weighs next to nothing and stashes into one of its pockets (less the pad).
Overtime the silicone covering wears off so it doesn't look quite so flashy but that is to be expected. Also the pack becomes much less waterproof which sort of sucks. I have used mine a lot and it now has a small hole in it but it doesn't seem to be spreading.
Things I like:
1. Weight
2. How small you can pack it
3. It actually carries quite a bit of gear if you want it to
4. Pretty comfy for mesh straps
Things I don't like:
1. The buckle is located under the compression bull bungie, so if you have something like a jacket attached to the bungie you need to take it off to buckle the pack, sort of annoying when on steep terrain!
2. Not so waterproof anymore
Overall it's good .. not a totally disagree with the review that says you can't carry more than 5 pounds with it .. man up!
Bought this backpack for a school bag. The bottom ripped out after about a month of use. I suppose the load was too heavy for it. This would be an excellent daypack for a small load and no abrasive material inside.
Design: daypack
Size: 6600 cu inches
Number of Pockets: 2
Max. Load Carried: 30 lbs
Height of Owner: 5 ft 11 inches
Price Paid: $53

This is a bare-bones pack with a main draw-cord top enclosure with some storage in the lid. The pack itself is very light and functional. But, buyer beware - if you plan to carry anymore than 5 lbs. get a different pack.
The straps are horrible. They are made of MESH. That's it. No padding and very thin. I bought it as a slightly larger alternative to a school backpack to haul groceries when riding my bike. One bag of groceries made the pack USELESS. The thin mesh straps roll over and basically feel like two pieces of rope. Quite painful.
I guess it'd be good for carrying a fleece and some snacks - that's about it. For me, a waste of $48.
Design: Top Loading, internal EVP sheet "frame"
Size: One Size
Number of Pockets: 3
Max. Load Carried: 10lbs.
Height of Owner: 5 foot 10 inches
Price Paid: $48

Your Review
You May Like
Specs
Price
Historic Range: $29.99-$110.00
Reviewers Paid: $45.00-$53.00