Mountain Hardwear Way2Cool Tank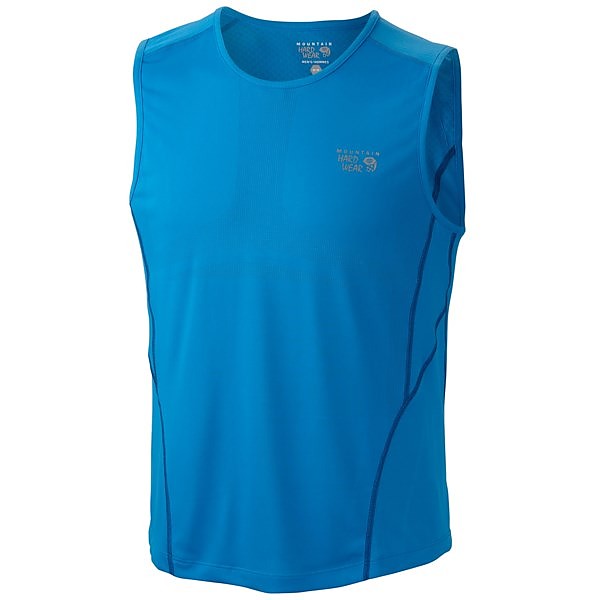 The Way2Cool Tank is a running top made with a fabric using Cool Q ZERO ("a cooling agent") it is also finished with an antimicrobial agent. Its partial mesh knit helped me stay cool and comfortable. Weighing only 3.6 oz. / 101 g. it was easily stowed away, dried quick, and the reflective logos can help make you visible after dark. I would recommend this tank top to runners — or hikers, bikers, and paddlers wanting a cool lightweight top.

Pros
Very soft, stretchy, and light
Once wet it is very cooling.
Wicks and ventilates well using a partial mesh fabric.
Antimicrobial
Cons
Tank top offers less protection from the sun than a shirt.
A little more reflective trim would have been nice for a running top.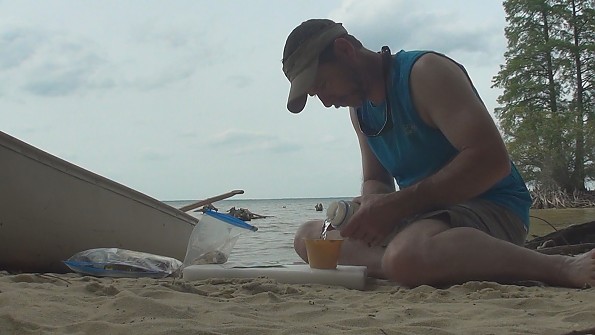 Living in the Southeast U.S. I have always been one of those people who looked forward to cold weather, and dreaded hot weather. During summer I'm always looking for a shady spot, or a place to go for a quick swim, or complaining about all the direct sunlight beaming down on my head — and don't get me started about the humidity either.
So I was quite intrigued when I was given the opportunity to review three different pieces of clothing by Mountain Hardwear made with a new fabric technology they call Cool Q ZERO which they claim helps to keep you cooler. Aside from the Way2Cool Tank, I also tested the men's Chiller Long Sleeve shirt and the men's Way2Cool Sleeves. Mountain Hardwear offers shirts, hats, tank tops, and bandannas made from various fabrics using Cool Q ZERO.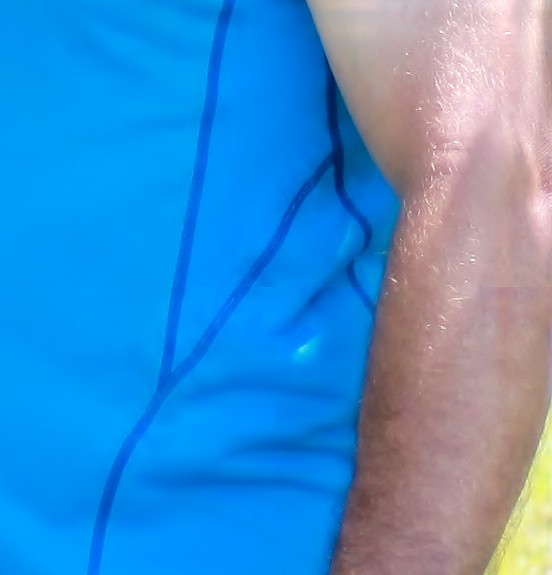 These side panels are stretchy and made with mesh. 
I don't normally wear tank tops since I prefer shirts with sleeves that offer more protection from the sun and insects. Even so, I don't mind trying new things and lots of times I end up at least learning something, this time was no exception.
Watch this video for a basic overview of the Way2Cool Tank.
Fit and feel
My Way2Cool tank came in the mail packaged with two other garments.
The tank was a men's medium in a nice blue color (Static Blue), soft and lightweight like you would expect a light synthetic shirt to be. I have a slender athletic build and I would say the fit to be slightly on the small side but not snug, people with a larger build may want to go up a size if they want a loose fit.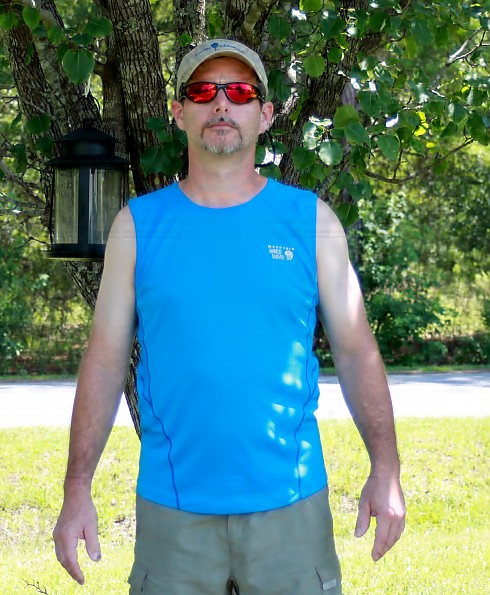 Me - just a couple days before the first of three trips with the tank.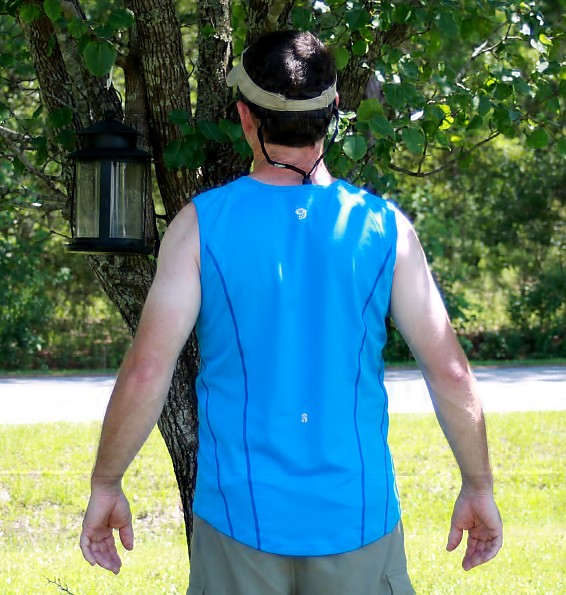 The fabric is very soft, silky, and stretchy with mesh sections weaved into each panel without extra stitching.

On the right you can see through the mesh.
Mountain Hardwear calls the fabric MCZ Engineered Venting Jersey with Micro Climate Zoning. A lot of big words there for a simple Carolina boy but the fabric design is actually pretty neat whatever they want to call it. The tank has reflective logos, one on the left chest and two smaller ones on the back.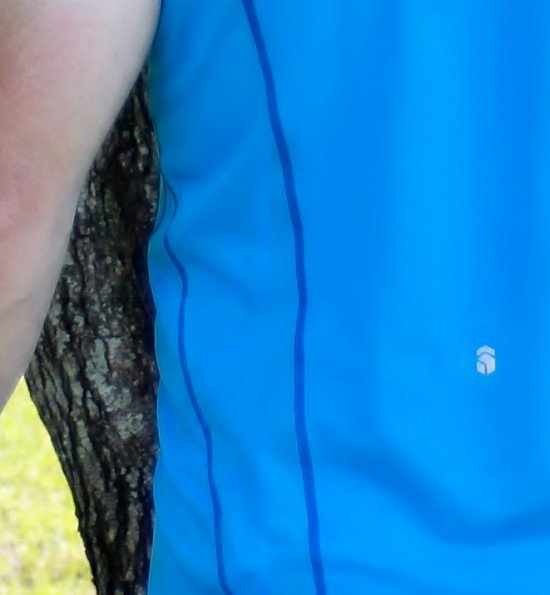 The panel down the left side is mesh, and you can see the silver reflective logo on the right. The wide blue lines are all stitching.
According to the tag certain panels on the shirt are 100% polyester while others such as the back panel are 92% polyester / 8% elastane. The tags also say the tank can be washed cold water, gentle cycle, no bleach, tumble dry low remove promptly.  I always just hang up my synthetics so I didn't dry the tank in the dryer.
Both the arm holes and the shirt bottom have nice flat hems. There are a minimum amount of seams and they are all made using a very comfortable Flat Lock seam.
Functionality
I used the Way2Cool tank on three trips, one backpack trip into a muggy, buggy swamp and two canoe trips to islands on a local lake.
I have always preferred a shirt with sleeves when I'm exposed to the sun, but since that is a personal choice I had to review this tank based on what it was designed to do. It is a running shirt, designed to be light, airy, and help you stay cool using Cool Q ZERO, an applied cooling gel.  It also has an antimicrobial finish to help control odor and I figured that might be nice.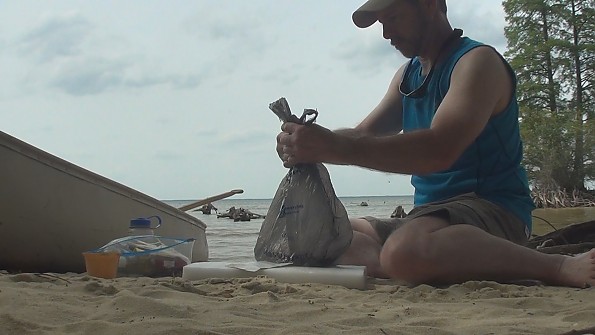 Even though the Cool Q ZERO fabrics have a cool sensation when you put them on, their cooling properties are really noticeable when you start to sweat. If you look at the inside of the fabric closely you will see small circles, it is in these small circles that the magic happens.
According to Mountain Hardwear:
"Its tiny circles are filled with a lightweight, sweat-activated cooling agent that lowers the overall temperature of the fabric, accelerates the wicking process and helps your body minimize heat and maximize energy."
I don't know exactly what's in the circles, but it does work. Obviously, the bigger principle at work here is Evaporative Cooling. As water on our bodies evaporates it carries heat away with it leaving you with a cooling sensation which is even more noticeable with a nice breeze.
This water can be sweat, from a water bottle, or rain, or from a dunk in a pool. We've probably all enjoyed this cooling effect whether we understood the principle behind it or not. When it is cold outside this is the same principle that can lead to hypothermia.
It seems that Mountain Hardwear is trying to use this "cooling agent" to leverage the effects of evaporative cooling a little farther.
After using the tank for several days including a mile run, I felt like it did function as intended, I could feel the coolness of the fabric as I sweated; I had great freedom of movement with no chaffing or binding.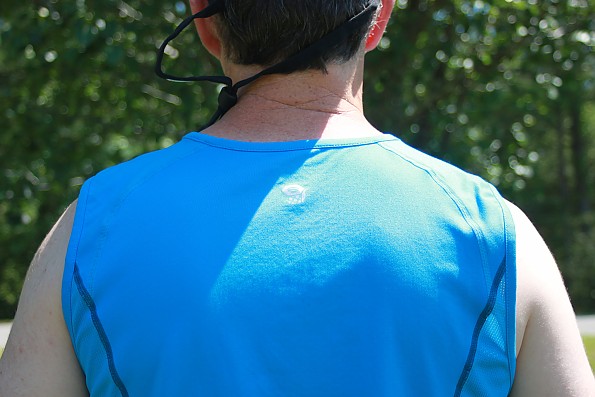 In the middle you can see the top silver reflective logo.
However I was surprised to experience a benefit I didn't really expect until it happened.
I was wearing the Way2Cool tank while island camping one afternoon when I decided it was time for a nap (I love naps), I was still a little sweaty from hiking around on the island when I climbed into my hammock to lie down. The lake always has a breeze and one of the benefits (or drawbacks) to a hammock is that you get air flow under the hammock, good in the summer but not so much in the winter.
Between the cooling effect of the Cool Q ZERO material and the nice lake breeze around the hammock I was surprisingly cool. I really hadn't expected that.
Later in the day it got a little buggy which isn't much of a problem while you are running (mosquitoes only fly around 1 – 2 MPH) but I had to take the tank off and switch it out for a long sleeve shirt which I bet most cross country runners carry anyway, or at least a light jacket. No biggie, but it was part of my experience while testing the tank. Although I always carry a hat, the tank could also be worn on your head for sun protection and to keep you cool in a pinch, I know I tried it.
Overall I was well pleased with the Way2Cool tank, it was comfortable, helped me stay cool, and didn't restrict my movement in any way. I found it to be very quick drying and remained comfortable.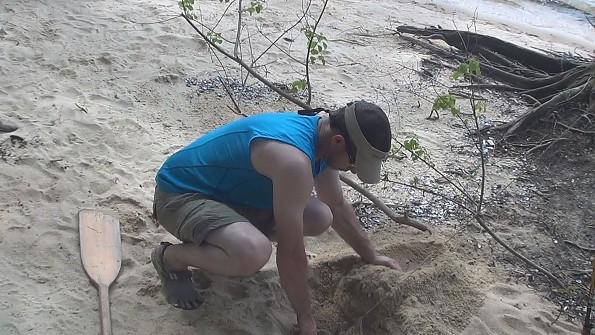 Setting a guy line in the sand using a dead man. The shirt really stretched with me.
The tank top weighed only 3.6 oz. / 101 g.  It was easily packed into a side pocket on my pack or could be stuffed anywhere on a hydration pack.
Construction quality
As with the other two Mountain Hardwear garments I tested, the initial quality was good, no loose stitching or hanging thread to be trimmed. Whatever type stitch it is, it seems more than adequate. The garment I tested had several long tags all sewn solid into one of the seams near the bottom of the shirt, I found them to be irritating and cut them out with my camping knife one afternoon while cooking.
After several washings the color stayed fast, and the reflective logos still looked the same, not peeling or anything, and the fabric remained very comfortable.
Testing information
Testing of this product was done in the outer coastal plain of South Carolina on three separate outings.
Locations:
Wambaw Swamp in the Francis Marion National Forrest - this was an 11 mile (total) weekend backpack and fly fishing trip.
Lake Moultrie – two separate 3 day canoe trips to two different islands where I went day hiking away from camp exploring the islands.
Conditions:
The daytime temps were in the high 80's with one day in the low 90's.
Night time temps were in the 50's 

The swamp was mostly shady, but stuffy and buggy.

The lake islands were windy with direct sunlight while canoeing.
  • Humidity was around 60% to 70% most of the time. 
Thanks for reading and go get out there.
Source: received for testing via the Trailspace Review Corps (Sample provided by Mountain Hardwear for testing and review)

Your Review
Where to Buy
Help support this site by making your next gear purchase through one of the links above. Click a link, buy what you need, and the seller will contribute a portion of the purchase price to support Trailspace's independent gear reviews.
You May Like
Specs
Men's
Price
Historic Range: $14.73-$57.95

Women's
Price
Historic Range: $11.81-$58.00

Recently on Trailspace