Mountain Hardwear Chiller Long Sleeve Shirt

Top 25 in Hiking Shirts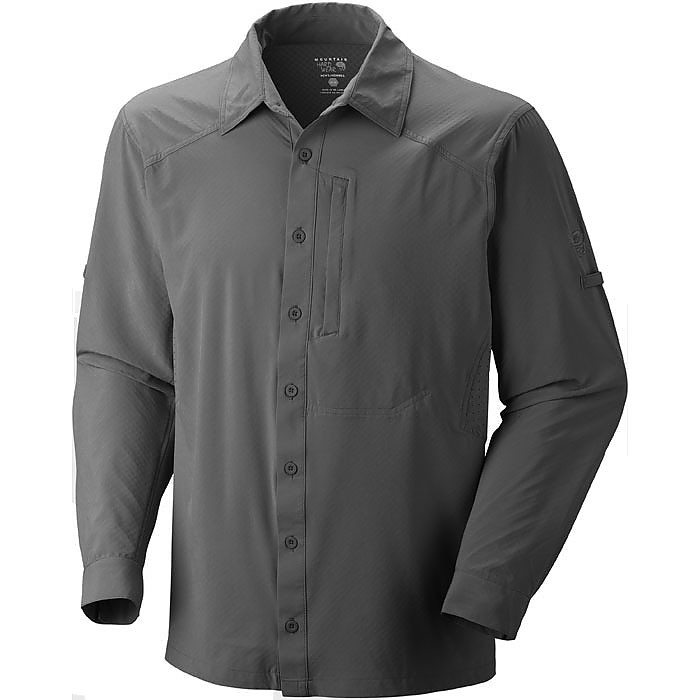 The Chiller Long Sleeve shirt is designed to help you stay cool when it is hot out while providing SPF 40 protection from UV rays. At just 9 oz. /255 g. its special cooling fabric with ventilated panels, roll up sleeve tabs, and special collar make this highly functional shirt great for backpackers, hikers, bikers, paddlers, or fishermen. The quick drying, packable shirt kept me cool and comfortable, while providing protection from the sun and bugs – I would recommend it without hesitation.
Pros
Cool Q ZERO cooling agent on the fabric keeps you cool when you sweat.
Large vented panels on the sides & underarms
Flip-up collar w. extension for protection from the sun
SPF 40 protection from UV rays
Roll-up sleeve tabs with snaps
Large zippered pocket outside and large pocket inside
Shirt is soft, comfortable, and wicks well.
Cons
No lapel buttons, or extra buttons
Both pockets in same place — see video.
Sleeve cuff could use another button.
A little pricey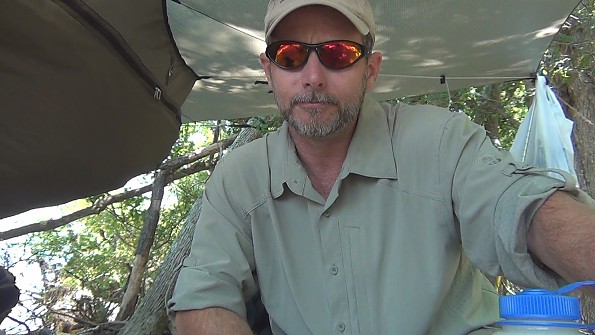 Me getting ready to take a nap in my hammock.
I've never been one to shy away from unpleasant conditions like heat, cold, sweat, mud, snow, or bugs in order to enjoy the great outdoors; having said that I dislike heat and humidity the most. During the hot summer months I can most often be found looking for a shady spot, or experimenting with ways to keep cool.
So when I was given the chance to test out three garments from Mountain Hardwear that use a new fabric technology designed to help keep you cool, it peaked my interest to say the least.  Besides the Chiller Long Sleeve shirt I also tested the Way2Cool Sleeves and the Way2Cool Tank which are part of a larger product line that includes multiple shirts and hats, plus sleeves, and a bandanna.
They call this technology Cool Q ZERO.  The question is — does this fabric really help you stay cooler?          
To find out for myself I set off on three separate wilderness trips: an 11 mile backpack into a buggy black water swamp, and two canoe trips on a local lake where I camped on a beautiful, breezy island.
Watch this video for a basic overview of the Mountain Hardwear Chiller shirt.
Fit and Comfort
After receiving the Men's Chiller Long Sleeve shirt in the mail (grey – green) I tried it on at home just a couple days before my next backpacking trip. I normally wear a size medium and this shirt like a few others I own was a size medium, but with a fuller cut.
Standing in front of my mirror it looked a little baggy and the sleeves were a bit long. My Columbia Sportswear fishing shirts and my Ex Officio shirts are cut the same way. I have learned from experience that shirts with a fuller cut are generally cooler and more comfortable than tighter shirts are when I am hiking, fishing, scrambling rock, or any other activity in the warmer months that requires freedom of movement.
If you desire a tighter fit it may be possible to go down a size with this shirt depending on your build and size. The Chiller shirt has a very soft and supple hand that is also cool to the touch. The neck / collar is cut large enough that I had ample room around my neck without feeling constricted at all. Even though the collar was comfortable I think it could have benefitted from lapel buttons, or hook and loop fasteners, in order to give it a neater appearance. This is something I would probably add myself.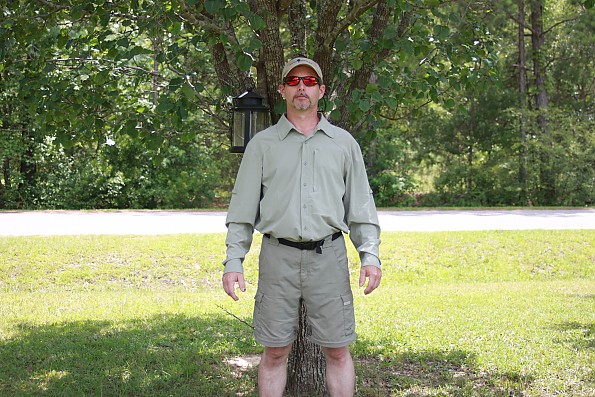 At my home before my first trip out with the shirt.
The seam work on the ventilated underarm panels and on the rest of the shirt is sewn with a very comfortable Flat Lock seam, and since one of my pet peeves is poor seam work I really appreciated the seam work on the Chiller Long Sleeve shirt. According to the shirt tag the fabric is 86% polyester and 14% elastane. The elastane gives the shirt a good bit of stretch. Mountain Hardwear calls this Flex Stretch. Overall this is a very comfortable shirt with good freedom of movement.
Functionality
So let's talk about how well this shirt performed for me during the course of my testing. I consider myself to be rather finicky about clothing and if I find something irritating it will just gnaw away at me until I fix the problem or get rid of the garment. I also expect a lot from a shirt that promises a lot, I think that's fair.
The Chiller Long Sleeve shirt promises a lot.
From the Mountain Hardwear website:
 "The coolest hiking shirt ever made—in every respect. This shirt's Cool.Q™ ZERO technology, once activated by sweat, will actually work to lower the fabric's temperature. Besides actively keeping you cool, this wrinkle-resistant, quick-drying, hiking shirt blocks out harmful UV rays with UPF 40 protection."
So what is this Cool. Q ZERO technology? Looking closely at the shirt you can see tiny blue circles on the inner side of the fabric - Mountain Hardwear says:
"Cool.Q ZERO's little blue circles position an active cooling agent next to your skin that reacts with your sweat to lower the temperature of the fabric and accelerate wicking, creating an instant and prolonged cooling effect. Those little blue circles embedded in the fabric use energy from sweat to actively cool the wearer and enhance performance. Cool.Q ZERO is an industry first. It's a visual technology and it feels great next to the skin."
I can honestly say that the shirt, once wet, does provide a more noticeable cooling sensation when compared to other shirts I had with me at the same time. Obviously the bigger principle at work here is evaporative cooling; as water evaporates from our bodies (or clothing) it carries body heat away with it. This is the same principle that can lead to hypothermia in cold weather.
Mountain Hardwear is leveraging evaporative cooling a bit farther by using a cooling agent on their Cool Q ZERO fabric.
Some of the other features of this shirt are:  
The top of the collar has a 1" extension that provides your neck with additional protection from the sun when it is flipped up.
Large ventilated panels in the sides and underarms help with airflow. When backpacking this works much better than shirts which are ventilated in the back.  
A large side zippered chest pocket measuring about 4 x 8 inches, the zipper is smooth and sewn in a way that helps keep the surrounding fabric from being snagged. There is also a slightly larger top loading pocket inside the shirt in the same location. I would have preferred the second pocket placed on the other side of the shirt due to the bulk of two loaded pockets in the same location.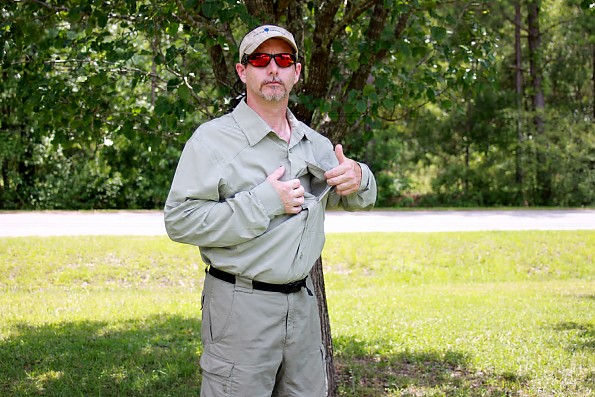 Side zippered chest pocket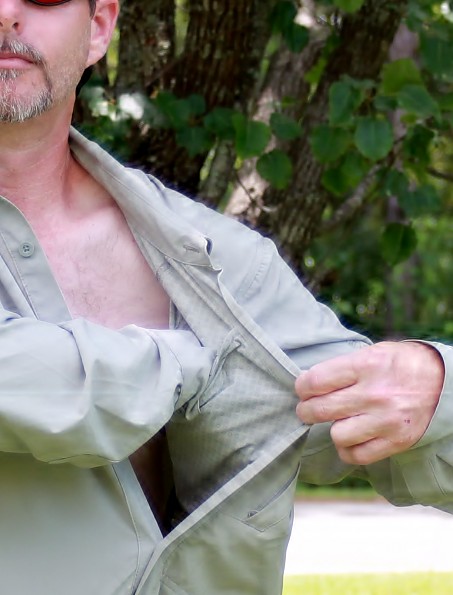 Inside top loading pocket.
The sleeves have roll up tabs and snaps to hold the sleeves up at the elbow. I find that snaps are easier to fasten than buttons when using only one hand. The sleeves were easy to roll up and stayed put.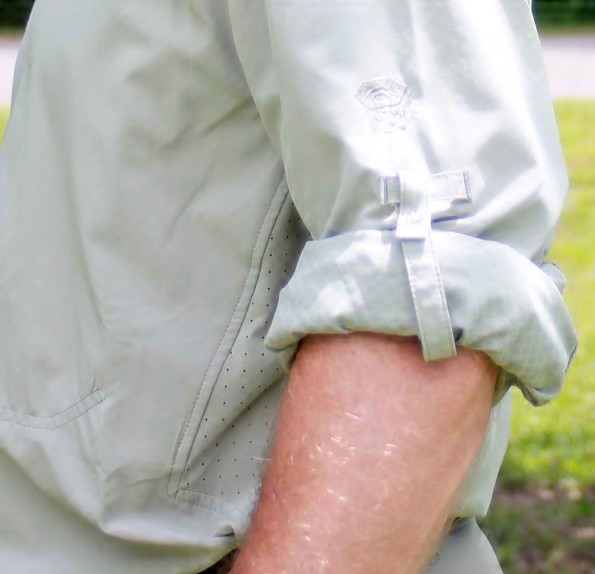 I found the fabric to be breathable, very quick drying, and fairly wrinkle free. The tag states machine wash cold gentle, tumble dry low. I like to hang dry all my synthetics and the shirt stayed soft when dried that way. The bottom hem is straight not tailored, so the shirt can be worn tucked in or un-tucked.
The Cool Q ZERO fabric can be safely treated with Permethrin (an insect repellant) according to Mountain Hardwear.
I thoroughly enjoyed testing this shirt, aside from a couple of minor complaints (pocket placement, lack of lapel buttons) I consider its functionality to be excellent.
As far as this shirt being "The coolest hiking shirt ever made – in every respect" I think that is going to be subjective.
I can say it's the coolest, best wicking shirt I have worn myself.
Construction Quality
I think most people expect a quality product at this price point, especially in a shirt designed to be worn while out hiking, paddling, fishing, etc.
I thought the Chiller Long Sleeve shirt appeared to be well constructed and held up well to walking through thick brush, being washed in a creek and hand wrung several times, packed away wet once, and so on. I did get a couple small holes in the fabric from walking through some sticker bushes.
All the seams and stitching were neat and tight with no hanging threads. The buttons are flexible not hard and brittle and should hold up well. I laundered the shirt at home multiple times and it was colorfast, cleaned up well (sweat, swamp mud, food stains, fine sand), and stayed soft and supple. I had no problems with the buttons, snaps, or pocket zipper. Overall I was well satisfied during the limited time I used it.
Testing Information
Testing of this product was done in the outer coastal plain of South Carolina on three separate outings.
Locations:      
 • Wambaw Swamp in the Francis Marion National Forrest - this was an 11 mile (total)  weekend                    backpack and fly fishing trip.
• Lake Moultrie – two separate 3 day canoe trips to two different islands where I went  day hiking away from camp exploring the islands.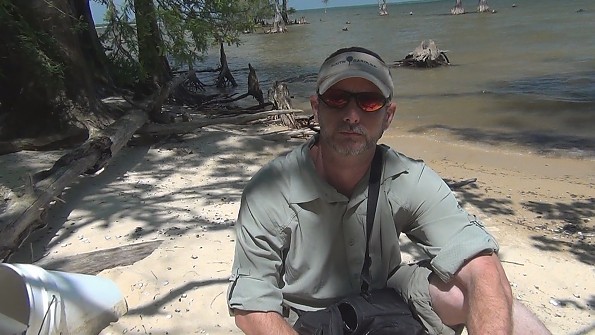 Me taking a break about 1/2 mile from camp.
BTW - The bucket was already there!
Conditions:           
• The daytime temps were in the high 80's with one day in the low 90's.            
• Night time temps were in the 50's            
• The swamp was mostly shady, but stuffy and buggy.           
• The lake islands were windy with direct sunlight while canoeing.                    
• Humidity was around 60% to 70% most of the time. 
Thanks for reading, and get out there!
Source: received for testing via the Trailspace Review Corps (Sample provided by Mountain Hardwear for testing and review)

Your Review
Where to Buy
Help support this site by making your next gear purchase through one of the links above. Click a link, buy what you need, and the seller will contribute a portion of the purchase price to support Trailspace's independent gear reviews.
You May Like
Specs
Men's
Price
Historic Range: $49.98-$99.95

Women's
Price
Historic Range: $27.00-$100.00

Recently on Trailspace