Mountainsmith Circuit 3.0

The Circuit 3.0 has been discontinued. If you're looking for something new, check out the best expedition packs for 2023.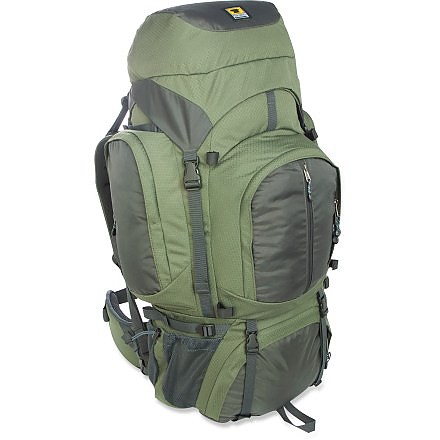 Purchased from the REI Outlet website this past spring to replace my larger (mid-90s) Gregory pack. Craftsmanship is excellent, seems bombproof. Used it on a couple of trips this summer and it fit well, had good balance and easily fit what I needed for three days.
Pros
Well made
Easily handled 47 lbs
Adjustability is easy
Was able to purchase at around $85
Cons
Wish this version had the pass through sleeves like the original had
Wish the top lid had the waist belt like the earlier version had
Waist belt storage pocket would be nice
I happen to see this pack on the REI Outlet website one day and it was listed for around $85 so on a whim I quickly purchased it. My older Gregory is really heavy (7700 cu in) and I was looking for something is the 5000 cu in range. I guess I got really lucky because just a few days later REI had changed the price to $135 and that was the same price I saw on several other sites (Clymb, etc.).
The product description seemed to be based on the original version of this pack, because it said there was a waist belt on the lid and there were pass-thru sleeves behind the side pockets for tent poles or other long items. When the pack arrived, neither of those features were on this pack. Upon investigation, I found out the earlier version did have those features but I was impressed enough with this "special purchase" edition that I didn't want to send it back.  
The pack has a nice layout of accessible pockets and the bottom storage area is large enough to fit my sleeping bag, my Kelty inflatable pad, and my small tarp. I do recommend using a storage bag with compression straps to make the sleeping bag as small as possible.
I'm 6'3" and 215 lbs so certain items I use are on the larger size. Sleeping bag, pad, clothes all take up more space and I was really happy that this pack could handle all these items plus other gear (single person Kelty tent, small tarp, food, cooking stuff,...) which weighed out just below 50 lbs.
This pack is labeled as Discontinued, but if you can find a lightly used one on ebay or a consignment shop I highly recommend it.
Source: bought it new
Price Paid: $85

Great pack at a great price. I was needing to upgrade from a military CFP 90 pack that I had used for the last 15 years. The things I liked most about the CFP 90 was the size, external pockets and sleeping bag separation. The Circuit 3.0 matched these requirements and exceeded my expectations.
I did an early spring backpacking trip with my 12-year-old in the Red River Gorge of Kentucky and figured I'd load this baby down with more than enough snivel gear and comfort items to make sure his first foray into cold weather camping was an enjoyable experience.
Pack weight was between 60 and 70 pounds and it felt like I was carrying only half that much weight. The waist belt and shoulder straps were well padded and provided a plethora of adjustments to get that "just right" fit and allow you to fine tune the fit based on terrain.
The only downside to this is the detachable lumbar pack. A nice "extra", but a little too awkward for carrying essentials on a day hike.
I'm looking forward to several more trips with this pack and I will follow up with other reviews as I get more "strap time".
Design: top-loading internal w/ sleeping bag divider
Size: 5370 ci
Number of Pockets: 5
Max. Load Carried: 70 lbs
Height of Owner: 6'0"
Price Paid: $139

Great pack, great value. It's got a Savages approval.
Pros
large
many pockets
good recycled material
I got this pack when I was young and just getting into the outdoors. And I can't think of a better way of doing it than getting a great pack. This pack was an upgrade from a small frame pack that I had out grown, the fit is excellent considering that I have really broad shoulders. This pack can carry really heavy loads but I don't advise it the pack is comfortable up to around 56 lbs after that it is constantly adjusting the straps. though I have been up to around 70 lbs somewhat comfortable.
This pack has a huge amount of space in it most of the time i hit around 45 Ibs and the pack is still not even over the overflow compartment. plus there are so many pockets that organization is just that easy. one day for scouts this pack had a coat and two extra Jackets as well as two sleeping bags and the rest of my cold weather setup. just grabbed a snack bag and was off to the cold.
There is one thing that I just love on this pack, I am not worried about them breaking in the future either and those are the zippers they are made of super strong material and don't snag.
This pack has been to a couple of lakes in the east Idaho area as well as Philmont has been rained on, snowed on, been through thick brush, and is still looking sharp.
It's a bummer they are not selling this item anymore. It is a real nice pack and I think that I am going to continue to use it in the wilderness for as long as it will stand.
Source: received it as a personal gift

I just received this bag yesterday and I was thoroughly impressed with the quality of the fabrics used and the general ease of use design of the bag. I immediately filled it with a hodge podge of hicking supplies and went for an 8-mile walkabout to test it out with 40 lbs. Wow. This thing is a great fit and is probably indestructable from the feel of it.
Pros
Good strong fabric
Well thought out organization
Easy access to your gear
Cons
Compartments don't zip off to create a smaller bag when desired
Zippers are a bit hidden in the fabric.
It's awesome for the $
Source: bought it new
Price Paid: $129

I've owned this pack for a few months now, and have taken it out on four treks -- three weekenders, and a five night trek in the Colorado Rockies. A drawstring can be pulled tight to create two compartments, or loosened for one large compartment (I prefer two compartments).
Fully loaded the pack rides comfortably on the hips, and does not pull on the shoulders. The pass-through sleeves, which are behind the side pockets, allow you easily carry tent poles or similar close to the pack. Outfitted with several compression straps, your gear will remain in place throughout your trek.
I did not expect to ever use the detachable lid, but we dropped our backpacks at the treeline, and the lumbar-pack/lid came in handy on a summit assault. I have the Mountainsmith rain cover which was used for one day. As expected, all of my gear remained dry. Folks that tried to use trash bags did not fair so well.
This is a very economical and versatile pack. I have no regrets purchasing this pack.
Design: front and top loading internal
Size: 88L
Number of Pockets: 5 - 2 side, 2 front, 1 lid.
Max. Load Carried: 40 lbs
Height of Owner: 5' 8"
Price Paid: $129.95

I use this pack for multi-day trips into Wilderness. It is extremely comfortable and easy to adjust without stopping.
Pros
Comfort
Cost
Large and easy to access
Cons
Hip belt adjustment is almost not small enough.
I am with a federal agency. I am also a wildland firefighter and I use this pack when I take the "pack test."
Loaded with 45 lbs I can do three miles in less than 45 minutes with no pain or strain with the Mountainsmith Circuit 3.0. After 30 years of backcountry travel and backpacking this pack feels better than any I have used or owned!
Source: bought it new
Price Paid: ? $250

Is quite large and appears well made. Can hold all your lightweight gear or most of your old starter gear.
Bought this to go camping with my Boy Scouts. Is large enough to hold all of my basic, old school gear. As I aquire newer UL gear, it will hold it all plus some of the smaller scouts gear.
Source: bought it new

This is a great pack, not too big but good enough. Lots of pockets including two that are waterproof. I have used this for day hikes and for ten days at a time and after a year and a half it still looks great.
I have had problems with other packs hurting my shoulders and back but this one has never hurt at all. If you're looking for a strong pack with good comfort this is the one for you.
Design: front-loading
Number of Pockets: lots
Max. Load Carried: 65 lbs
Height of Owner: 6 feet
Price Paid: $70

You get a lot of pack for the money, and this thing is bullet proof. It's a little heavy, but it's huge. I was looking at packs for twice the money, but for as little as I get out for an actual overnighter it's well worth the compromise compared to a three hundred dollar pack I use twice a year.
Design: internal
Size: 5300 inchs
Number of Pockets: too many
Max. Load Carried: 40 pounds
Height of Owner: 6'
Price Paid: $127

It's a well made piece of gear. Greatly reinforced above and beyond in some areas.

Pros
Very well made with quality material
I'm just now trying to get into backpacking and haven't had a chance to try this pack out. I'm very pleased with the craftsmanship and customer service. I just opened it up 20 minutes ago and couldn't find the straps to use the lumbar pack. They are in the process of getting back to me now and I hope to take it on a trip next week. I'd recommend this one to anyone (as long as they're not ultalighters).
Source: bought it new
Price Paid: $140

Your Review
You May Like
Specs
Price
Historic Range: $95.37-$178.95
Reviewers Paid: $70.00-$250.00

Recently on Trailspace