Mountainsmith Haze 50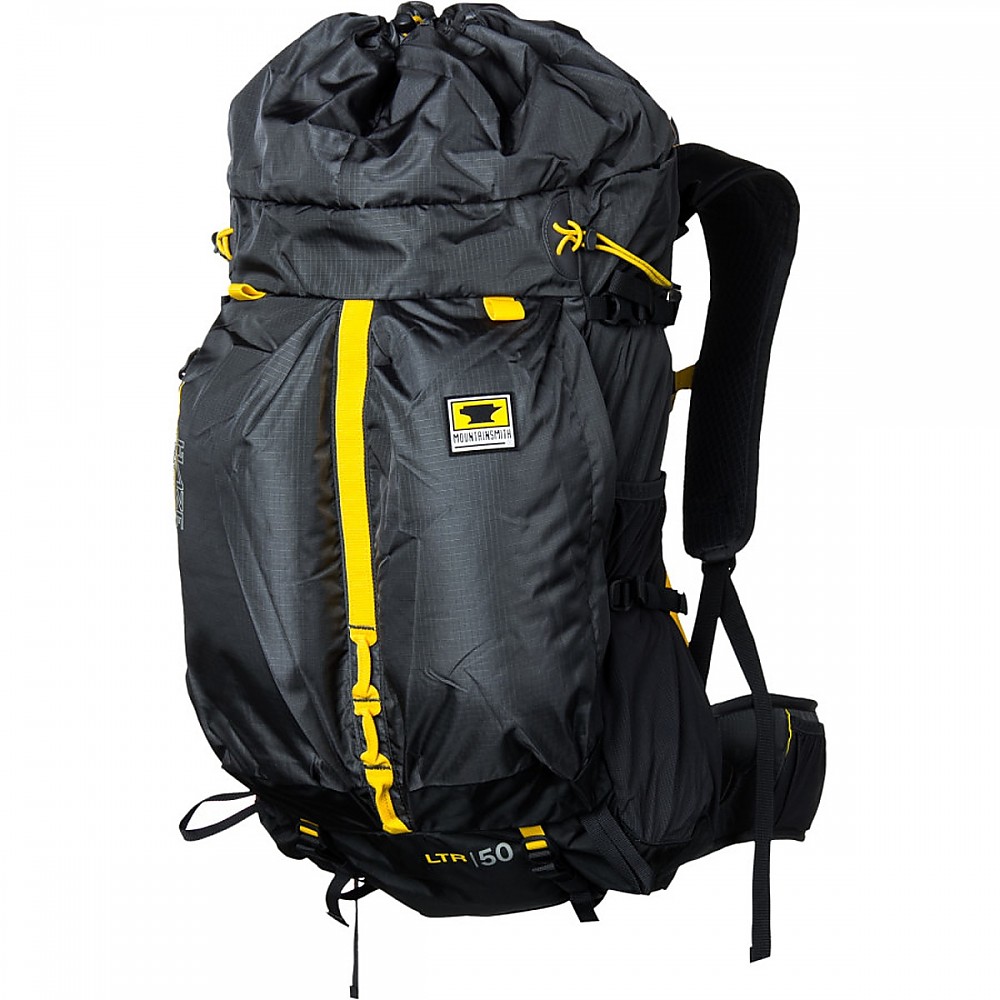 Mountainsmith's cavernous 50L frameless top-loader is one of the most competitive entries into the "starter pack" market, weighing less than two pounds and costing less than a hundred bucks. This the second of three packs I've owned, and only was returned because it was too much capacity for my personal needs. While not perfect, few packs out there can meet the high volume (53L) and low weight (1 lb 15 oz) this one offers.
Pros
Lightweight (< 2 lbs)
Large capacity (~53L)
Affordable to entry-level backpackers (< $100)
Insanely roomy main compartment
Deep side pockets fit tall water bottles
Cons
Lower side compression straps overlap side pockets
Only offered in two sizes: S/M and M/L (conflicting for us mediums!)
Only one small, single hip belt pocket
X-shaped hip belt cinches difficult to adjust
This made Backpacker Magazine's latest issue, not because of the opinion of the publication, but the opinion of its readers.
I'll gladly admit I was one of the people who voted for this pack.
While not without flaws, it's one of the best packs available in its price range.
PRICE AND PURCHASE
First things first? Comparison shop, folks. Log onto Google, search the item, and filter by price (low-high).
It's the easiest way to pay no more than you should, and possibly have it shipped for free.
Backpacker magazine lists this pack at $130, without shipping factored in.
BackcountryEdge.com is selling them for $97.45 with free shipping, and that comes with their 1-year, no-questions-asked return policy. They'll take it back and give you a full refund, less $4.99 shipping (or free shipping with exchanges). Even REI can't beat them, there.
That makes this truly a < $100 pack.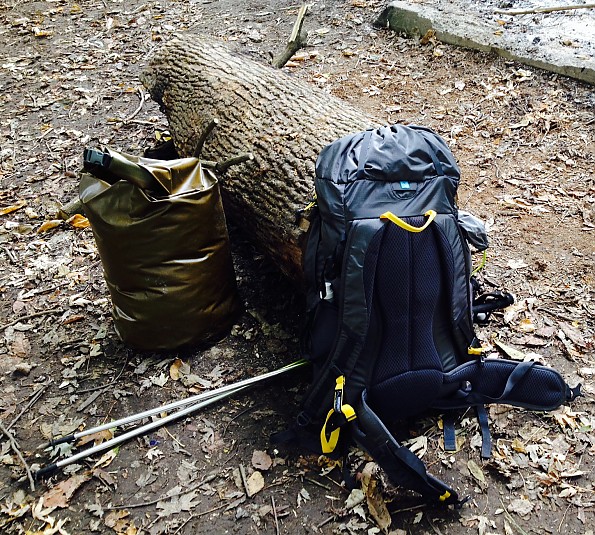 BASIC SPECS (M/L Size)
Style: Frameless
Access: Toploading
Size: 23" x 11.5" x 7"
Weight: 1 lb 15 oz
Fits Torso Lengths: 18" - 22" (Medium-Large Size)
Volume: 3234 cu in (~53L)
Max Weight: 35 lbs
Materials: 210D Duramax Ripstop Nylon/420D Duramax Nylon/210D Ripstop Liner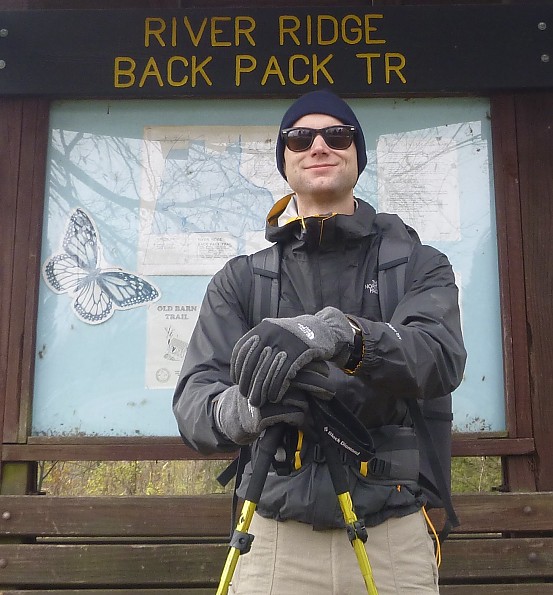 FIT
MS makes the mistake of only offering this pack in two sizes, a S/M (for torso lengths between 15" and 18") and a M/L (for torso lengths between 18" and 22").
I'm 6' tall, 150 lbs, with an 18.5" torso lenth and a 30" waist.
Shoulders of a linebacker.
Waistline of a prom queen.
Clothes shopping, or shopping for anything with sizing involved, is not my favorite thing to do.
By the measurements given above, I'm a M/L only by a half inch.
The trouble with packs sold in limited sizes? Hip belts grow proportionately with the increased torso length.
While the M/L was a proper fit for my torso length, the hip belt was too large for my 30" waist: even cinching it all the way in, the belt rode a little too loose, and a little too low.
If I'd a way of combining the M/L pack with the S/M hip belt, these problems would likely have been remedied. 
COMFORT
Frameless.
A slim 'n trim physique that foregoes an internal frame in favor of an EVA framesheet.
The amount of foam here is a perfect balance: just enough, without becoming too much. The diamond airmesh foam breathes well (the back panel and waist belt are treated with an anti-sweat DWR finish) and while I did my fair share of sweating while wearing this pack, my back never felt uncomfortably warm or stifled.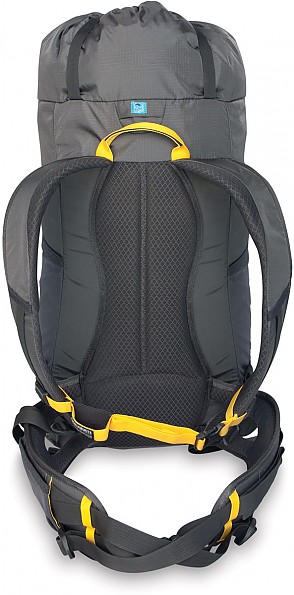 BACK
The back is well-cushioned and holds up well against the contents inside the pack, maintaining a smooth and uniform back cushion that doesn't become lumpy if or when you become indifferent about your packing technique. Oftentimes minimalist packs encounter one of two problems: using a hard plastic sheet that creates resistance against your back, or using so little material your back feels where everything is packed. This suffers from neither of those problems.
HIP BELT
The [ICS Cup] hip belt is well-padded and does literally "cup" the iliac crest, hugging around it instead of digging into it. The X-shaped adjustment at the front holds well, but is neither quick nor easy to adjust.
Why an X-shape? It takes the front stress, flips it backward, and redistributes it into the lumbar region. They claim this, in conjunction with their "Lumbar Control Point Pad" makes for a stable and centered load. While I can't vouch for the effectiveness of this design, I will say the pack does distribute the load evenly without favoring the load onto the shoulders or hips.
STERNUM STRAP
The sternum strap is a simple and serviceable one. Interestingly, it's made from an elasticized material that has more stretch than I'd have expected from a sternum strap. My guess is this was a cost-cutting measure: when you only offer a pack in two sizes, you need to find ways to make as many things as adjustable as possible.
SHOULDER STRAPS
The shoulder straps are surprisingly substantial for a lightweight pack. While there aren't load lifter straps to help compensate for some of the load, these straps do hold up under the weight of the filled pack, and don't flatten like some UL pack straps do. Not as beefy as the ones on my former Kelty Coyote, but thicker/firmer foam than my current GoLite Jam. 
CAPACITY, ORGANIZATION, and ACCESSIBILITY
More than enough for weekend or shorter multi-day hikes. Maybe even more than that.
Here's where this pack excels: the top-loader and lid-less design makes it one giant compartment.
And heck, there're so many loops and straps on the exterior, what you can't fit inside you more likely than not can fit outside.
There are two front side pockets, and two side pockets, but the majority of this pack's capacity comes from its main compartment. This pack held everything I needed it to, but this blessing ultimately became a curse for me. I found myself packing "luxury" items I wouldn't otherwise take, and needlessly increasing my pack weight simply because I had extra room.
Ever go to a buffet and over-eat simply because you could? Same idea. 
Interior Storage
1.) Main Lid-less Compartment
Huge. It could fit anything I threw into it. I'm sure there's a car full of clowns in there I've forgotten about. 
Crazy as it is to say it, I had to return this pack eventually because it was way more room than I needed. 
2.) Front Panel Zippered Pockets (X2)
I've heard of several uses for these, but it's up to you what you store in them.
They're neat because they're a cylindrical barrel shape, and the panels curve out from the pack (more room while maintaining the same footprint against the side of the pack).
A downside of a top-loading pack is that you're creating a layer cake, and you better be darn sure whatever you're putting at the bottom isn't something you're ever going to need in a hurry. Access is from the top only, and there is no front access pocket to reach bottom-packed items.
That's where these pockets come in handy, as they enable quick access without disturbing the rest the pack.
This is a good place for rain gear, if you're not keeping it at the top of your pack.
I personally used them for cooking gear and food, allowing me to stop and snack or cook a quick meal without having to pry apart everything else to get at them. It will barely fit the diameter of a JetBoil Zip, so while not wide, they are tall (could have probably stacked two JB units atop another in a single pocket).
Tip: the tighter you pack these pockets, the harder they are to unzip. 
3.) Mesh Side Pockets (X2)
Single biggest design goof on this pack.
The lower side compression straps overlap the side pockets.
(You can see that the straps bisect the middle of the water bottle in the picture below)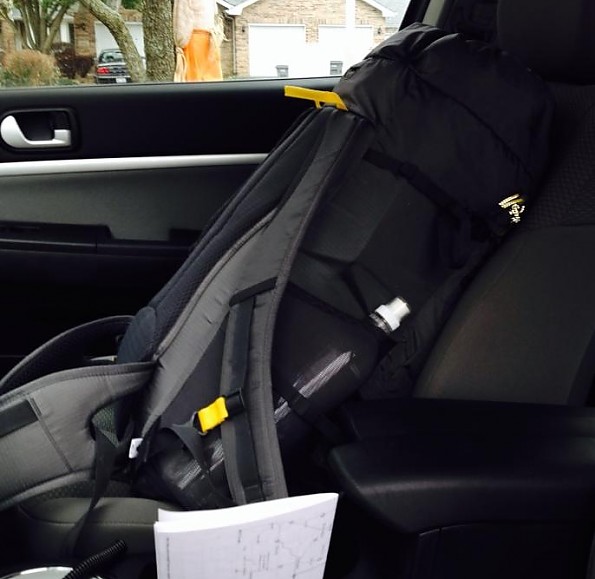 This leaves you two choices:
A.) Cinch the straps down and forfeit the ability to use the pockets
or 
B.) Leave the bottom straps undone to accommodate water bottles (and sacrifice compressibility)
It's a lose-lose situation, either way, and it still bugs me they produced these packs without recognizing this problem. All they had to do was either raise the strap or lower the pocket. It's an easy design fix.
4.) Mesh Hip Belt Pocket (L side)
Trouble is, it's too small for anything beyond a small pocketknife or compass, and the only closure it has is an elastic band along the top opening. The smallest items are the easiest ones to lose, so I've no idea why they couldn't have done so much as given this pocket a velcro-affixed top flap, if not a zippered closure.
Exterior Storage/Compression
1.) Top Compression Straps (X-shape for compression, ran parallel for load-carrying)
This is probably the trademark feature of this pack.
Lid? Heck no!
Zippered closure? No way, dude!
Roll-top closure? C'mon! Mountainsmith ain't got time for that!
It's a cinch-top with a dust flap. 
It gets interesting when you consider the versatility of these two top straps. 
You can tighten those suckers down far enough to bring the top of the pack level with the straps.
Or you could leave enough slack to pack the top as full as possible.
Tip: Be sure to have them crossing exactly on center, and tension them evenly to avoid an unevenly-packed top.
That's if you're running the straps in an "X" shape, crossing them over another, and connecting the metal hooks on the diagonal.
If you run the straps parallel to another, you open the top of the pack up for carrying an additional load, like a sleeping pad, tent, what have ya. 
Careful, though: those metal hooks only stay on because of friction. There's nothing to keep them from falling off the ends of the nylon compression straps and if ever you're using them in a hurry, make sure a silver hook doesn't go flying off amidst your haste.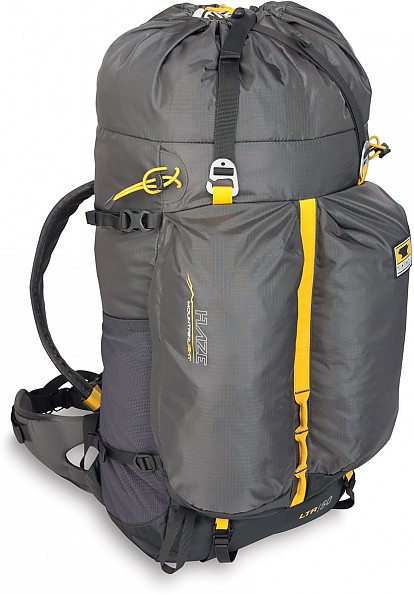 2.) Side Compression Straps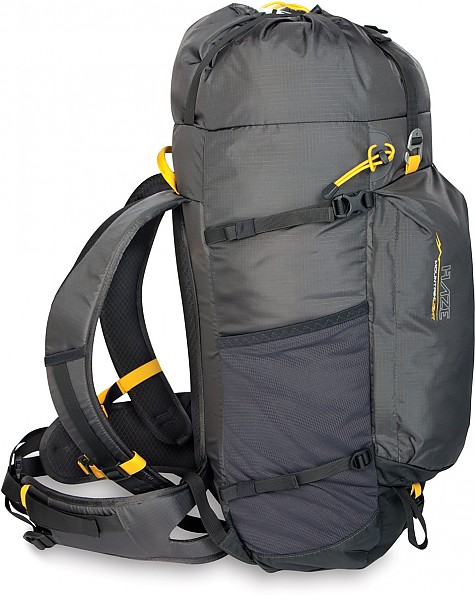 Standard, run-of-the-mill compression straps, with plastic buckle attachment points.
The only difference?
MS has elastic bands attached to all their compression straps. Insert the excess strap through the loop, and slide it toward the side opposite the buckle as far as it will go. I really liked this feature a lot, and was a little sad knowing my next pack wouldn't have them. When you're a skinny guy, you're used to excess strap material. I don't like trimming mine down (in case I have to sell the gear down the road) and this enabled me to store them out of the way.
3.) Bottom Compression Straps
If you can fit it beneath the aforementioned straps, you can carry it.
CCF sleeping pad up top? Sure.
Lightweight tent on the bottom? That, too.
Ironically, the number of storage options exceeds the number of pounds this pack can carry. I wish they'd either scale back the unnecessary features and cut the overall weight of the pack, or beef up the suspension and allow this pack to carry a weight greater than 35 lbs. 
RIDE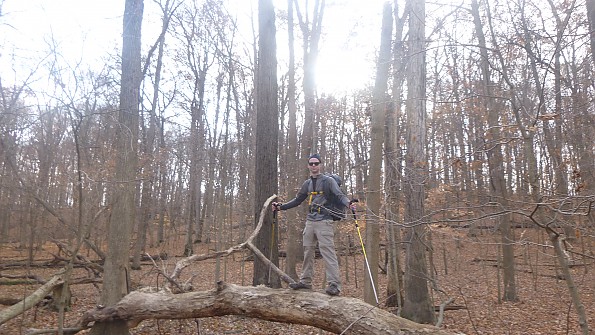 Despite useless lower compression straps (packing a sleeping bag loose at the bottom will suck up that space and keep the pack firm), the pack does feel firm when fully packed. Take advantage of the capacity, here, and use any extra space between things to pack additional gear inside. 
As far as weight goes, the lighter, the better.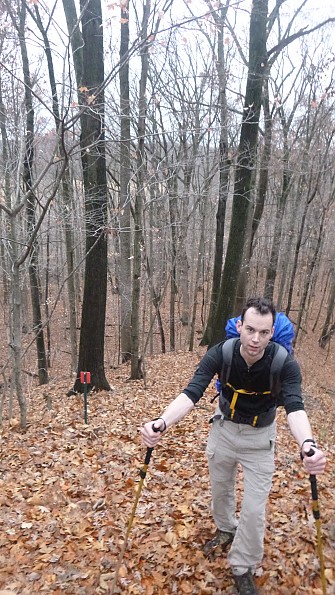 It can handle probably up to 25 lbs before growing uncomfortable. While the shoulder straps are more comfortable than most "minimalist" style packs, they still are minimalist, and aren't built for full-capacity loads. I carried between 15 and 30 pounds with this pack: while it does distribute the load evenly, the straps and suspension aren't robust enough for heavier load. This isn't any different from other minimalist packs, but something to note, nonetheless.
EASE OF USE
Simple, with large and roomy compartments in lieu of specialized, weightier features. 
Side pockets are deep enough for tall water bottles (even one-liter-sized SmartWater bottles fit well).
Front panel exterior pockets comfortably fit food and cooking gear (or rain gear).
One big-ass main compartment fits anything (and everything) else.
And more exterior straps than you can shake a stick at - just in case you needed an excuse to buy extra gear.
(Don't tell your significant other I told you - but just sayin')
FEATURES
Hate to say it, but you could just as well title this section "Dead Weight."
Built-in hydration sleeve and access port? Didn't need 'em.
Daisy chain? Didn't need it.
Ice axe and trekking pole loops? Didn't ne...eh, you get the point.
If you look for these things in a backpack, my apologies, but it seems including features like these begins to contradict the ability to call this a "minimalist" pack. 
CONSTRUCTION AND DURABILITY
I've no complaints, here.
This pack didn't take so much as a single scuff mark, and dirt wiped clean from its surface with minimal effort.
Two large mesh side pockets are an obvious liability for anyone in the Eastern Woodlands (or a similar environment) and while mine never ripped, all it would take is one encounter with a thorn branch to do them in.
MY $0.02
No, it's not perfect.
But if I had to do it all over again, I would've skipped straight past my first pack (a bloated 78L Kelty), and gone to the MS Haze.
The price point is unbeatable for a lightweight and higher-capacity pack. It offers enough room for beginners but it also limits the load to 50L, forcing the user to start being mindful of what he or she is packing into it. For the amount it can carry, it does carry the weight well, if not comfortably.
When I returned it, I gave it one last look before packing it into a shipping box.
It looked good as the day I got it, and it is a pack I'll miss. If I needed the capacity (which would justify carrying a pack heavier than a pound), I'd have stuck with this one. However, as I transition into UL backpacking, this pack was biting off more than I wanted to chew. Hopefully that pack finds a good home, and maybe even yours, if you're lucky enough to come across one of these.
TESTING CONDITIONS AND LOCATIONS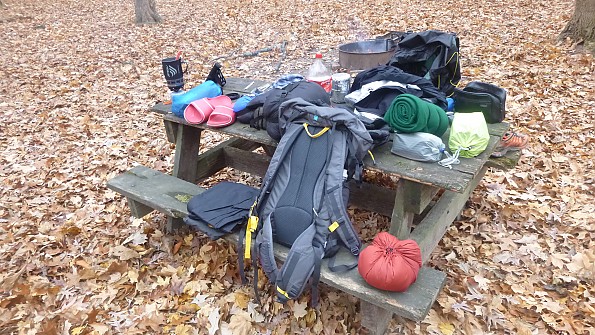 Weldon Springs State Park (Clinton, IL)
Salt Creek Backpack Trail
October 2013
Forest Glen Preserve (Westville, IL)
River Ridge Backpack Trail
November 2013 
Moraine View State Recreation Area (LeRoy, IL)
Tall Timber Backpack Trail
April 2014
Source: bought it new
Price Paid: $97.45

Lightweight and a comfortable fit. If you are looking to shed weight from your hike/pack load this pack is a great choice. There is a great quality-to-cost ratio with this pack. For under $100 you can get a 50L pack that weighs in at under 2#.

This pack is perfect for the weekend hiker, or even the long through hiker that knows how to function on the bare min.

I recommend this pack to anyone on a budget that is looking to break into light to ultra-light backpacking.

Pros
Lightweight
Excellent load distribution (under 30#)
Comfortable fit, shoulder and waist padding
Large 50L
Well thought out design
H2O compatible
Cons
Dust flap too small to be useful
No load lifters
Issues with waist cinch (see details)
30# max weight for a 50L pack
I had been looking to acquire an ultra-light pack for a while now. I could not justify the cost of most packs. When I came across the Mountainsmith Haze 50 I was initially concerned about quality and fit. How good can a pack be that is around half the cost of most competitors? I pulled the trigger and purchased it on sale from backcountryedge. With a no questions asked return policy and a cost of under $100 I couldn't pass it up.
Initial impression at unpack was positive. It felt sturdy in my hands. The material and stitching at the seams were of high quality. It is also a very nice looking pack. Looks like a scuba tank all loaded up. (My friends kept asking me where I got it.)
I loaded it up as I would for a weekend trip. My packed weight came in at 25#. I was able to easily load my complete hammock setup, clothes bag, cook set, some extras, water bladder and food in the main compartment. The huge tube-like zippered pockets on the front held my rain gear, toiletries, water filtration and some odds and ends easily. The two large mesh pockets on the sides held a 1L Platypus and my camp mug, etc. And I still had room to spare. As with any top loader minimalist bag you need to be conscious of organization.
The Haze's maiden voyage was an 8-hour day hike with the above load. It sat nicely on my hips and was comfortable for all of the hike. Having the sternum strap and no compromise on hip belt/shoulder strap padding made it feel nice on my back. It was easy to take off and put on. Since I had played around with packing it, and also used to a top loader I had no issues retrieving my gear.
Overall I am very happy with this bag and feel like it's going to see a lot of action over the years.
Now for the Bad:
This by no means ruins my positive impression of this pack, just my opinion. The dust cover on the top seems like a waste of material and weight. It's so tiny that if by some chance you did load this bag to the top it will NOT cover the entire opening. This is a roll top, so once rolled, gear is covered.
Load lifters - None! Not a big deal. I have learned to adjust pack weight by adjusting the waist and shoulder straps so not a big deal for me. The waist belt cinch system. I bought the small/med pack I am generally a 32-ish waist. I literally had this belt as small as it would go. So I don't think this will work well for people with tiny waists.
Again, ~30# max weight. I don't think I would even go much more that 25-26#. If you are considering this or any UL pack remember — There are no stays in the back. Learn how to cut your weight before moving into UL packing. Once you've gotten your pack contents weight down below 30# then start looking into an UL pack otherwise I don't think you will have a comfortable ride. This thing holds up to 50L, that could be a lot of gear.
Again, I love this pack.
6/12/2014 UPDATE:
I went on a 3-day 2-night trip into the Allegheny National Forest. With a total pack weight of 28.6#(13kg). I stand by the fact that this pack is great for organization, quality construction, and gear accessibility.
The issue with the waist belt came into play: not being able to cinch it down any more on my ~32" waist created slipping. The pack has a noticeable decline in stability at this weight as well, although under the 30# rating. I was constantly readjusting and pulling the pack up.
Like I mentioned in my initial review, I wouldn't exceed 25-26# with this pack. Without my cold weather insulation I would be under that weight, but the nights were around 30 degrees. So either a 1-2 day pack or a summer bare bones pack would be the ideal situation for this pack. As summer progresses I generally trim up around my waist so I will likely send the pack back :(
So keep in mind, the small is touchy around that 32" waist mark and anything smaller would be a problem.
Source: bought it new
Price Paid: $99.95

This pack is well made and carries its intended load well.
Pros
Well made
Good price
Good hip belt
Cons
One flimsy hip belt pocket
I used mine on a 3-day, 50-mile loop and was pleased with the pack overall. This pack has no real internal or external frame but is rigid enough for loads up to 25 pounds. The hipbelt is very supportive and is where this pack shines for me. 
This pack is very simple and intended for lightweight backpackers. It has a simple rigid foam insert for a back panel with no stays. I was pleased with the way a large fit me and the hipbelt had lots of adjustment for larger waists. There are 2 compression straps on the bottom 2 per side and 2 over the top. This arrangement makes it simple to attach large items to the pack.
Source: bought it new
Price Paid: $103

Incredible construction, awesome pack!!!
Pros
Lightweight
comfortable
Excellent construction
Awesome price tag of $95 @ amazon
Another quality product made by Mountainsmith! I have looked @ many ultra lightweight packs I.E. Gossamer, ULA, etc.
Very light, excellent construction, and extremely comfortable pack!!! Well worth the small price tag of $95 from amazon. Quality and construction is right up there with the $200 and $400 dollar big boys. Buy it if you're looking to cut 3 to 4 lbs  just in pack weight!
Source: bought it new
Price Paid: $97.95 Including shipping

Your Review
Where to Buy
Help support this site by making your next gear purchase through one of the links above. Click a link, buy what you need, and the seller will contribute a portion of the purchase price to support Trailspace's independent gear reviews.
You May Like
Specs
Price
Historic Range: $103.96-$129.95
Reviewers Paid: $97.45-$103.00