Mountainsmith Tour

Very comfortable convenient lumbar pack for day hikes and touring.
Pros
Well made
Made of recycled material
Excellent comfort
Well designed pockets and straps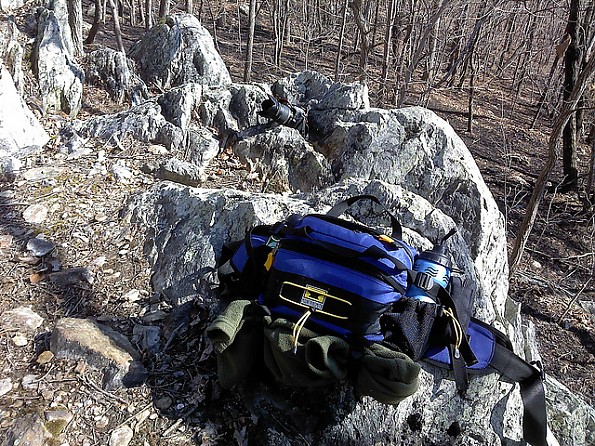 If you are looking for the ideal day pack but, enjoy full freedom of movement, then a lumbar pack may be a good choice for you. I enjoy the comfort and convenience of my Mountainsmith Tour Lumbar pack.
Comfort:
I find it ideal for warm weather day hikes because the pack fits snugly against the small of my back leaving my upper body completely free and ventilated. I have used this on all kinds of hikes and even a 20 mile day hike with absolutely no comfort issues.
Fit:
This pack is super stable and if you carry water bottles no bigger than 20 oz, then you can even run with this, however I would not recommend serious trail running with this pack. When mounted and sungged up correctly, this pack is extremely comfortable. 
Design:
There are many design features on this pack that I love.  I like the sleeve between the lumbar where you can store a bandana or eve a rain cover. There are two straps under the bottom that are perfect for a jacket or a even a small pad. There is a main compartment and a separate front pocket.  The front pocket has a bungee strap for even more gear attachemnt. 
The total capacity of this pack is 8 Liters according to the specs.  The pack also comes with a well made shoulder strap that buckles to two rings on the top next to the carry handle, making this pack even more versatile, you can use the shoulder strap to carry like a bag, or for extra support if your load is a little heavier. I have never used it. 
On each side there are two water bottle pockets that can fit up to a 1L Nalgene bottle on each side. I find that 20 oz bottles fit best.  There are two cinch straps on each side, one for stabilizing the pack body and one for bringing the load in closer to your hips.  The hip belt is 2 inches wide, with exactly the right amount of padding and secured by a high quality buckle. Once all points are cinched tightly, you have a super stable excellent fitting pack ready to see you through any hiking situation. 
Versatility:
For the photographer, there is an accessory called the Kit Cube that fits this pack and is basically a padded insert that you can install in the main compartment of your lumbar pack turning it into a very nice camera bag. The bag will hold a camera body and up to two lenses securely.  The nice thing about this accessory is that it is easily adaptable to your other packs and you can use basically any pack to safely carry your precious photo gear. 
Summary:
This lumbar pack is a high quality product made from recycled materials, that will work very well for many of your excursions. 
Source: bought it new
Price Paid: $25

This pack is very well made, with just the right size for both short hikes, weekend, and in town use. There is enough room to carry two small water bottles, a light jacket or sweater, a book, a packed lunch, wallet etc... I esp. like the Smart Phone storage area in back and brighter interior.

The only downside is I wish they made a women's version of this pack, for those with smaller waists, because I've got excess strappage whenever I click the strap, and I'd like to find something to keep it out of the way! Love the Navy blue and royal blue colors. Recommended for larger waisted people!
Pros
Sturdy material and zippers
Great size and colors
Sufficient pocket options
Cons
Too much strap at waist for smaller people
Unisex design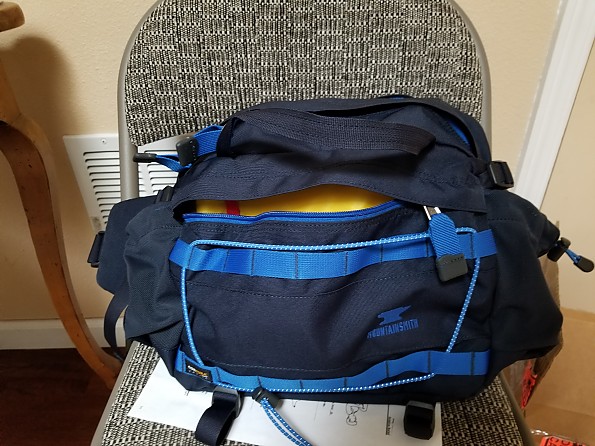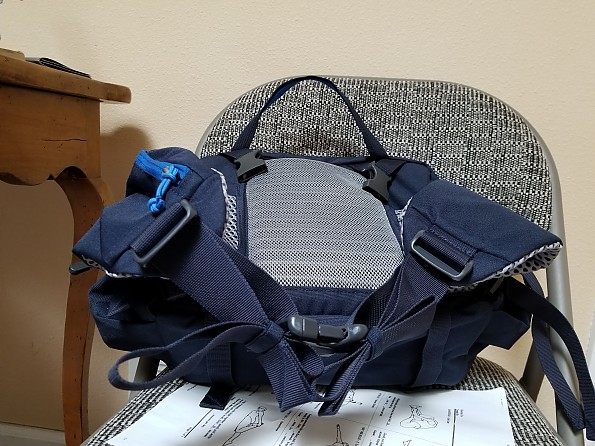 This comfortable pack is very well made, with just the right size for both short hikes, weekend and in town use. There is enough room to carry two small water bottles, a light jacket or sweater, a book, a packed lunch, wallet etc... I esp. like the Smart Phone storage area in back and brighter interior.
The only downside is I wish they made a women's version of this pack, for those with smaller waists, because I've got excess strappage when(see photo) ever I click the strap, and I'd like to find something to keep it out of the way!
Love the attractive navy blue and royal blue colors. Recommended for larger waisted people!
Source: bought it new
Price Paid: $70

With this review I can truly say that I have run this through the ringer for four years and it has never disappointed me. Built sturdy from recycled materials this pack is a great all around bag. The versatility of the Tour with its numerous pockets is astounding.
The design is basic, having a main access zippered pouch that has a smaller incidentals pouch contained with in. The outside has a small pouch on the center front that is more than enough room for trail snacks and a small camera among other things. Each side of the bag has a bomber mesh pouch made for water bottles, and the elastic draw cords make it possible to completely close off the pouches should you have other items stored in them.
But Mountainsmith didn't stop there, they added four gear loops to the front two top/two bottom of the bag as well as webbing to bottom for additional exterior storage.
The padding on the back of the bag is supple and allows you to carry bulky items with out great discomfort. The Tour comes with a single shoulder strap that is decent, but nothing extraordinary and unfortunately the pad on it seems to always shift onto my back or chest instead of staying firmly on top of my shoulder. I never picked up the dual shoulder harness however I am certain that it would simply further my enjoyment of this bag. By not only making it more stable on my back but also allowing more items to be secured to the top of the pack.
I have used this bag as an everyday man purse as well as a overnight pack. This is my primary go to bag when ever I travel as well. I have traveled extensively with this containing all of my gear. On a recent overnight trip I was able to fit my tarp tent, food, stove, water, extra clothes etc... and was not feeling that I was lacking anything.
While it is not the best for long miles (it shifts a bit) it is a perfectly capable bag for almost anything.
Mountainsmith is an outstanding company that is dedicated to improving there products through environmentally sound means. So much so that they were awarded the Backpacker Editor's Choice Green award in 2008!
If you are on the fence about spending the cash for one of these bags, my advice to you is STOP WHINING get the pack. You won't be disappointed! It is well worth the money and should be looked on as an investment to be enjoyed for years and years to come!
Size: 488 cu.in.
Number of Pockets: 5
Max. Load Carried: 8 lbs

First, I'm a day hiker only, no overnights. I check out many backpacks and listen to everyone on this site.
My main concern was water, I stuck with my first statement that I wanted to carry 64 oz of water. I know that I use around 16oz of water per hour. I also wanted to carry my GPS, camera and binoculars. I keep the 10 essentials, plus few extras.
The Tour has a zippered front panel which I keep my first aid kit, sunscreen, chapstick, bug spray ect.. The larger zippered main compartment I keep socks, bags, food, gps, camera, etc. The Tour has two compression straps under the bag that I can strap jacket, or anything I want. The back has elastic rigging that more clothes can go on, or gear.
The feel of the pack is great, very little weight on my hips and I jump around trying to shift the bag and it stayed put. I keep two 32 oz bottles, I'm able to remove left or right bottle with one hand and put it back with no problems, the space is big enough to put 40oz bottles, I know this works because I tested it out at REI.
I got the strapette with this bag and I'll write a review for this item later. If you don't plan to carry larger loads in this pack I wouldn't buy the strapette, I would use the shoulder strap that comes with the bag, but when you get to the 15lb or greater I would use the strapette.
I practice putting on and taking it off before I went on my first hike, it was dark and I found it very easy to put on, the only thing I would recommend is to remove the water bottles when putting it on. I did this in the dark, it took just a few seconds and I was on my way. The waistbelt has two points were you can put more gear, I put my knife on the right side.
This bag fits my needs. There is just a few things I'll add, one is a GPS holder on the Strapette and maybe carabiners for the water bottles and/or gear. I went on a 6 mile hike with no problems, I have enough room for my gear, and if I got the Day version I feel it would have been too big.
The workmanship seems to be very good, and it has a lifetime warranty. I can't ask for more. here is a link https://www.youtube.com/watch?v=E_-9B4B53gs
Design: 2 compartment, Top load.
Size: 488 inches
Number of Pockets: 2 compartment with zip bag in main compartment
Max. Load Carried: 15 lb
Height of Owner: 5' 10"
Price Paid: $54.95

i bought this in brand new condition at a yard sale for $2!
the owner was in jail on a DVC and his ex was selling off all his stuff...
plus side, i got it cheap!
downside, i cannot get comfortable with more than a minimal amount of gear...
even the 10 essentials are marginal as far as comfort goes..
quality is typical mountainsmith, excellent thruout...
it seems that lumbar packs and myself cannot get along...
why, i don't know...
by the time i add 2 - 1 liter bottles i really begin to notice it...
the weight of the windshell made it a complete pita...
plus side, lots of adjustments for fine tuning the fit...
downside, the wasist belt constantly undoes itself from the fittings...
the ends were not sewn over, which allows them to work loose...
i cannot fault the quality of the materials or construction except for the waist belt problem...
i understand they've made some changes so the latest packs may be significantly different...
i will give this a 3.5 overall because it is way above the other lumbar packs i've seen/tried...
the shoulder straps might make a difference, but i am too cheap to risk the $$$...
like anything else, try before you buy, if i had paid full retail i would be seriously PO'd..
if you want a light, low profile pack this is a good place to start...
Price Paid: $2

The Mountainsmith Tour Day Pack is perfect for a day hike. With the ability to keep your weight in the center of your back it keeps you balanced for all terrains. Perfect for a quick day hike or a long day of exploring a city center.
Pros
Multiple straps to secure bag to body
Easy carrying ability
Perfect size for all occasions
Cons
Sometime the bag can be too small
Doesn't expand as much
We love our Adventure Bag. It's perfect for all occasions. Backpacking across Europe is easy with the pack being able strap to the front of your pack. Great bag for carrying what you need without have the extra space.
Source: bought via a "pro deal"
Price Paid: $64.99

I am currently living and working in Germany therefore my friends and I get a lot of travel time in during the weekends. I've had my Mountainsmith for over two years now and literally 'wouldn't leave home without it!' It can be used over the shoulder like a purse, carried like a briefcase or lumbar pack, worn like a backpack (with optional straps)...or even attached to your main backpack when on-the-go.
It has room for money, point-and-shoot camera, passport, water bottles etc. I have NEVER had anything taken from me while wearing it...waist strap holds it secure and I put a small padlock through the zipper closures when in crowded situations...no problem.
My dog ate one of the side bungies and the company repaired and returned it before my next trip! Wear and tear...hardly noticable and it's been all over Europe, the US and Puerto Rico several times!
Design: Tour
Size: 660 cubic inches
Number of Pockets: Main, front, two side mesh side pockets and smaller pocket in the main (holds my passport)
Height of Owner: 5'2"
Price Paid: $70

A good knock around pack, for when a backpack is too much.
Pros
Lots of storage space
Quality construction
Cons
A bit tough to fit properly
This is my first lumbar pack having only used backpacks for mountain adventures. This pack is surprisingly rugged, good looking and will do the job of transporting a lot of stuff.
I wouldn't recommend it for a long hike as it can carry only so much water, but overall this is a solid pack. One quibble, it really doesn't rest "flat" against my back so I often use the strap that comes with to balance it out. I definitely might be doing it wrong though ;)
Source: received it as a personal gift

Best lumbar pack I have ever owned; been hiking since 1995. Provides enough space for all the essentials, my rain jacket, hat and anything else I might need. Plus it cinches down to almost nothing when empty.
Pros
Sturdy construction
Internal storage pockets
Adjustable shoulder and lumbar straps
Lumbar support
Quality Mountainsmith fabrication and you can't beat the price or the warranty! Great product for beginner to expert outdoor enthusiasts. 
Source: bought it new
Price Paid: $75

Perfect for day hikes. Great size.
Pros
Comfortable
Tough
Adaptable
I was debating between this and the larger Day model. I am glad I went with the Tour. It can store plenty of gear for day hikes and is still compact enough. Everything I was looking for.
I place the shoulder strap pad on my neck and wrap the strap around the front of my shoulders, kind of like a backpack. With it just barely snugged it takes some weight off the hips with heavy loads. 
Source: bought it new
Price Paid: 55$

This is an extremely comfortable pack. It has a large omni belt with delta stabilizers to secure a load to your body. This pack is great for mountain biking and hiking because it stays close to your body, and doesn't move around. It is a little spendy, but well worth the price.
Design: lumbar pack
Size: 700
Number of Pockets: 3
Max. Load Carried: 10 lbs
Height of Owner: 5'9''
Price Paid: $72

Your Review
Where to Buy
Help support this site by making your next gear purchase through one of the links above. Click a link, buy what you need, and the seller will contribute a portion of the purchase price to support Trailspace's independent gear reviews.
You May Like
Specs
Unisex
Price
Current Retail: $43.30-$89.95
Historic Range: $33.88-$89.95
Reviewers Paid: $2.00-$75.00

Women's
Price
Historic Range: $39.73-$74.95