MPowerd Luci Explore

Top 50 in Battery-Powered Lanterns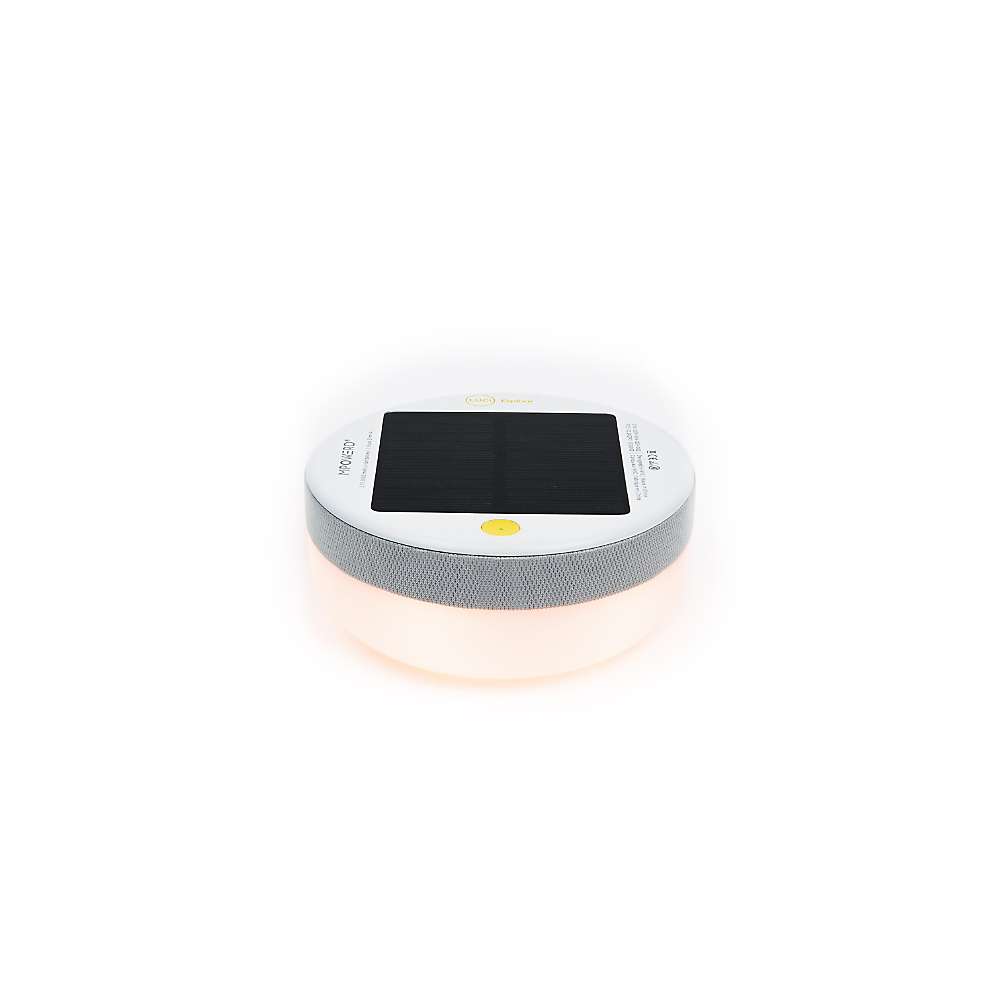 Specs
Price
MSRP: $74.95
Current Retail: $74.99
Historic Range: $51.93-$74.99

Weight
9 oz / 255 g

Lumens
lumens

Diameter
4.7 in / 11.9 cm

Height
2.1 in / 5.3 cm

Reviews
7

reviews

5-star:

1

4-star:

5

3-star:

1

2-star:

0

1-star:

0
Combo light and bluetooth speaker works well around the campsite and the house, BUT it really needs a way to hang it up!
Pros
Bright light
Solar charging
Portable sound
Cons
Slow charging
Initial setup can be glitchy
Uses USB A-A cord
No way to hang it up!
This is a bluetooth connected speaker and light that may be charged via the solar panel or an included USB A-A cord. And let's get the power issue out of the way first...who uses a cord like that? If you misplace it, as I did once, you'll be scrambling to figure out another way to charge it if it dies after dark. At least it's white so you can find it easily.
Charging via the solar panel will take you 3-4 days to get a full charge and even with the USB it will take 6 hours. So there's opportunity for improvement there. It also claims to be able to be used as a mobile charger, but I tried it with my Samsung Note 9 and it indicated it would take 4 1/2 hours to charge from 42%. Plan to use it for mobile charging only as a last resort.
The light itself is among the brighter ones in the Luci lineup, coming in at 220 lumens (the original offers 65, Outdoor 75, the Pro 150, Core and Connect 250, Base 330) and one of two that will connect to an app on your phone. Personally, I think their lineup could be streamlined with some clearer indications of the differences among them (give me a chart already!). 
I have an Android and couldn't get the phone to connect initially via the Bluetooth settings. When I installed the app, it recognized the light feature, but the speaker isn't controlled via the app. I then restarted my phone and the Luci Explore showed up and has connected without a problem since then via the Bluetooth.
The app is intuitive, didn't need instructions, and it let me know what features the Explore has without having to look them up. With the app you can change colors, set timers for the light to turn off or create a schedule so it will come on. The alarm feature gives you the option of adding sound; I added the ocean sound because there was no way a light was going to wake me up.
There are several default colors you can scroll through with the power button, or you can customize it via the app. I found the red/orange/yellow colors were more intense than the ones at the other end of the spectrum. Choose a red color to preserve your night vision if you want to go stargazing. It's also a fun light to use for some light painting in your night photos.You can also adjust the brightness and check specific battery life via the app; the power button gives you a green/yellow indicator. 
As a speaker, it works well at both loud and quiet volumes. It can get very loud, so check your volume before you connect! I blasted myself and my neighbors for a moment one night at the campground. I took it to a river and didn't have to worry about it getting wet or not being able to hear it over the sound of the running water, if that's your thing. I also lowered it enough to a point where I could still hear it clearly, but wouldn't disturb my neighbors while listening to a book at my campsite. I've used it primarily for books and podcasts. True audiophiles may find the quality lacking.
My biggest gripe is that there is no way to hang it up. It's great if you want to put it in the middle of a table and create ambience and some visibility, but sometimes you want/need to be able to direct the light downward (also better for light pollution). This seems to be the one light in the Luci line that doesn't have any way to hang it. I understand during the day that you want the solar panel facing upward, but at night, it might be more useful to have it facing downward or sideways and I couldn't do that. 
I probably wouldn't take it backpacking, but it's nice for car camping and going off the grid when you might want the solar charging. Put it on your table while eating or playing games at night; take it to the field or water when you go play during the day. At home, I love being able to take it with me wherever I am working on a project so I can play music, podcasts, or a book while I work.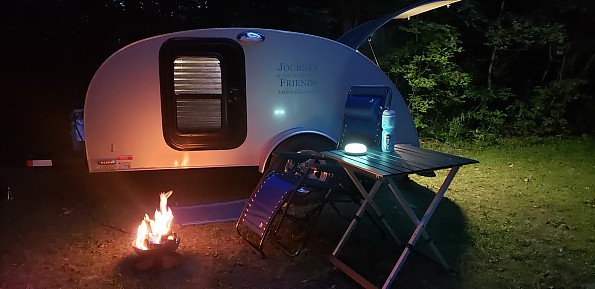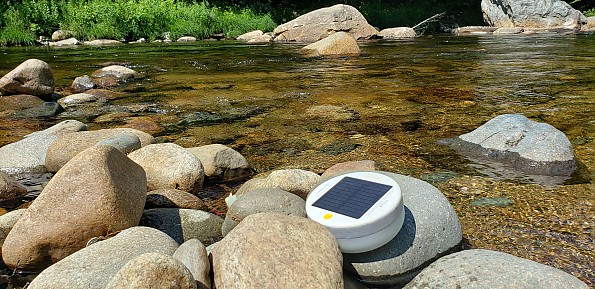 Experience
I've had this for a month and taken in on a couple of car camping trips with my tiny teardrop trailer. I've used other bluetooth speakers and flashlights, both around my home and while camping.
Source: tested or reviewed it for the manufacturer (Kept it)

Disclosure: The author of this review received a sample of the product from the brand or its representative in exchange for a review.
We tried the Luci Connect but THEN found the LUCI Explore. It's made by the same company, BUT has a few more useful features.

I love the creativity of the team at Mpowerd. The Explore is a solar powered, light/speaker that can charge your electronic devices. It is perfect for people who love the outdoors but have kids who love their technology!
Cons
It can not charge devices, act as a smart light / speaker.
The Explore option is a much more practical/versatile item than the Connect. We love it! The kids can listen to music and charge their electronics while we enjoy the outdoors and use the light to illuminate our tent.
We are always looking for places to charge stuff when we're out camping and this is a great option.
Source: tested or reviewed it for the manufacturer

Disclosure: The author of this review received a sample of the product from the brand or its representative in exchange for a review.
Lightweight, compact, and functional!
Pros
Light, phone charger, and speaker all in one
Wide range of lighting options
Lightweight and compact
Solar or USB charged
Cons
Speaker is just okay
5-6 hour charge time for USB, and 24 hours for solar
I love how lightweight and compact this is. I can just toss this into my backpack and be set in terms of lighting, music, and phone charger. The wide range of lighting options are great and the mood setting is a nice bonus.
The sound is okay, so this won't replace your bluetooth speaker, but it's a nice added feature. Durable, functional, and eliminates the need to pack a bunch of extra cords, which I appreciate.
Source: tested or reviewed it for the manufacturer (Kept it)

Disclosure: The author of this review received a sample of the product from the brand or its representative in exchange for a review.
If you're looking for a reasonably priced Bluetooth speaker and light that can be charged by solar power, this light is a good deal. Audiophiles might have an issue with the sound quality, but it does the job. I used this light in several situations to test it out. Since I tend to travel in the Southwestern states in a Class A RV, there's plenty of solar power to make this light shine. On a scale of 1 to 5, I rate the Luci Explore as a 4. The app is where the Luci Explore falls short for me, and my rating reflects that.
Pros
The light is lightweight and compact.
Once it's fully charged, the standard light (without moods and shifting colors) is enough to keep going for a long time.
It survives (and still works) in light winds.
Cons
The app needs a lot more work.
Charging the Luci Explore via solar takes a long time.
Due to the compact and lightweight nature of the product, it could easily be misplaced or stolen if left unattended outside.
The Luci Explore is enough to provide light for a picnic table outside or gently light up an area inside a tent or RV.  I tested the Luci Explore in Amarillo, which is billed as the windiest city in the US. I left it on a picnic table during 8-12 mph winds, and it stayed put while still working. However, if there are wind gusts, it will get blown off. I'd recommend putting it in a safe place if wind gusts over 20mph are expected. Even though mine did get blown off a picnic table, it still charges and works as intended.

If you want a (relatively) fast charge on the light, use the provided USB cable. It will fully charge the light in 5-6 hours, instead of the 19-25 hours it requires in full sun.
I wish the app was a better experience.
I'm not sure if the original app was for a different phone OS (I'm using the latest iOS on my iPhone XS Max), but the placement of some of the UI elements means I'm repeatedly stabbing sections of the app trying to get the feature I want. The UI elements are too close to the top and edges.
While the Moods are cool, I wanted just a little more guidance. How many colors can I use? Can I set the transition time myself?
It also seems as though the app does not remember the previous brightness level if you turn the light off, so you end up having to reset to your preferred brightness level.
The battery level percentage is not real-time. I've checked it to find 54%, and a few minutes later, the light was no longer on. I'm not sure why it isn't updating correctly.
Overall, I'd recommend it to others, but I hope they improve the app. 
Experience
I have several solar powered items I use while full-time RVing, but this is my first combination light with speaker product.
Source: tested or reviewed it for the manufacturer (I tested or reviewed it for The Dyrt.)

Disclosure: The author of this review received a sample of the product from the brand or its representative in exchange for a review.
Great for car camping, backyard hangouts, or boating. I would love it even more if it had a way to hang. I give the Luci Explore a 7/10!
Pros
Charging capabilities
Mood lighting
Easy to use
We were very excited to try out the Luci Explore as we already have the MPowered String lights and love them! As avid car campers we love to really deck out our campsites and lighting can make or break an evening while camping! I really enjoyed being able to change the color of the Luci and even set my own collection of colors to create a mood.
We did test out the solar charging feature and found it took a few hours in direct sunlight to get a decent charge. The feature of being able to charge other devices with it is a big bonus too! The app is easy to use and pairing it simple!
The speaker is not the greatest in the world as far as sound quality goes but at close range it gets the party started! We brought the Luci out on an evening boat ride, enjoyed playing some sunset tunes with mood lighting.
Fun for personal dance parties.
Experience
This is our second Mpowered product and we like the products a lot for outdoor activities!
Source: tested or reviewed it for the manufacturer (Kept it)

Disclosure: The author of this review received a sample of the product from the brand or its representative in exchange for a review.
Fun, colorful all-in-one.
Pros
Lots of color and brightness options (bright white option and great ambience light settings)
Speaker and light in one
Customizable light sequence settings
Solar and quick charge options
Offline app controls
Cons
Speaker is for smaller settings
Alarm function not straightforward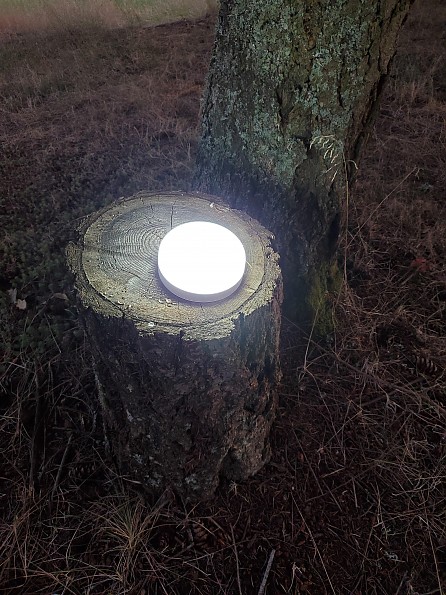 We love our other Luci light (the Solar String Lights) for camping and the backyard, so we were excited to try out the Luci Explore.
Something that drives me crazy about camping lights is when they put off a blue or bright white light instead of a warm glow. A nice thing about this light/speaker is that you can pick precisely the color and brightness you want. And honestly, the option to have the bright white light on the Luci Explore is also pretty handy for unpacking the car and more utilitarian purposes that require brighter light, so it has the best of both worlds in that regard.
For low music at the lake or the campground, the speaker will do just fine. At louder volume or deeper bass, you might want a more heavy-duty speaker, but frankly if you're just trying to get music for your own campsite this speaker is enough.
I didn't have the issues with the app that other reviews have mentioned, so the developers may have worked out the kinks. I was able to connect my phone to the Luci Explore easily, select music, choose colors, and make custom color sequences.
The alarm function was a little clunky and trickier to use (it kept saying I had two alarms set and wouldn't let me save) and you can't test the alarm sounds. You could use the light as a sunrise alarm clock by setting a light schedule that gradually gets brighter, but it's a little more work than if you have a dedicated sunrise alarm clock. For these reasons, the alarm is the weakest link on the Explore in my opinion.
It's a neat little all-in one and I like the option to have a warm orange glow later in summer when real fires are no longer permitted. It's nice that it can be charged by solar or a charge cable, as in Portland sometimes the skies just don't offer enough sunlight.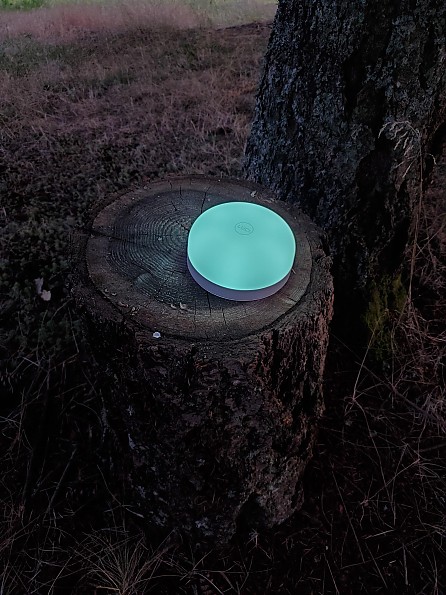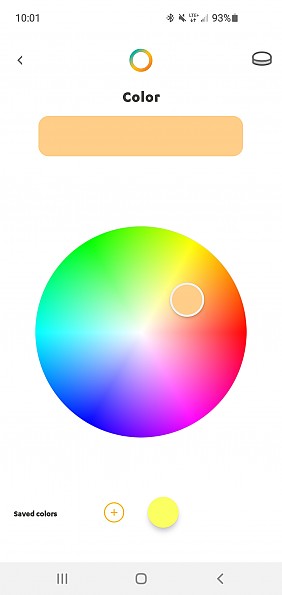 Experience
I love this line of lights, especially the solar string lights that are a staple on our camping trips, so I was excited to test this product. It's a fun addition to our camping box and I would recommend it to others. We've owned it for about a month and it is easy to use in the backyard or at a campsite. We play lots of games at the campsite and it's nice to be able to adjust the lighting to what is needed to see the games/cards.
Source: tested or reviewed it for the manufacturer (kept )

Disclosure: The author of this review received a sample of the product from the brand or its representative in exchange for a review.
A lightweight, fun, solar rechargeable light with the perks of being a Bluetooth speaker and backup phone battery! Great for use as a lantern at dinner or adjust brightness and color to add ambiance to your campsite.
Pros
Bright and fun
App was easy to use
Solar charging
Charges other devices
Cons
Speaker distorted at just louder than a modest volume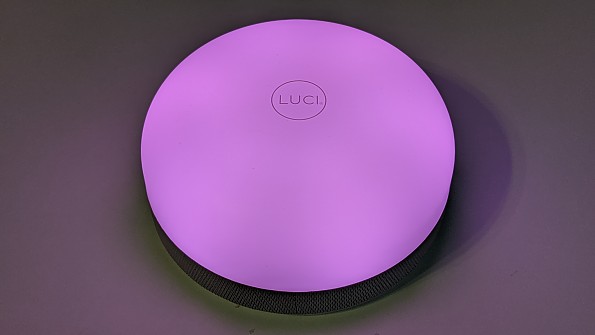 This new light from MPOWERD is plenty bright enough to replace a camp lantern or brighten up even some of the biggest tents. The color changing aspect is also very cool. The color along with the brightness controls and the "timer" function on the app could certainly be used to sooth a nervous toddler to sleep in the wilderness.
Speaking of the app, it is on par with other major home lighting control apps I've used. It is pretty easy to use (see a few screenshots). The color changing ability is moderately precise for a device in this price point and for one that you get to take with you, presumably, on your camping adventures.
There is a brightness control, a schedule to turn it on and off automatically, and if you have more than one Luci Light, you can group them and control multiples at once. You can also set swirling "moods"—series of colors that rotate to create a particular atmosphere.
The speaker is the only reason this gets 4 stars, not 5. The speaker can get garbled at volumes over about 65-70% (on my Pixel 4xl anyway.) It is fine for me (I don't generally blast my music anyway), but I can see how someone would be annoyed by it.
I didn't get a chance to use the Solar Panel yet, but you can use the USB A port to charge the device from a power source or your cell phone if you need to, so that's a bonus.
Overall, if you are looking for a lightweight, fun, solar rechargeable light the Luci Explorer is a great one with the perks of being a Bluetooth speaker and backup phone battery!
Experience
I am a Scout Leader. The kids come with all sorts of different lights and lanterns. This one is pretty unique. I've had it a couple of weeks. I tested it on an RV trip to the Grand Canyon.
Source: tested or reviewed it for the manufacturer (MPOWERED)

Disclosure: The author of this review received a sample of the product from the brand or its representative in exchange for a review.
You May Like
Recently on Trailspace