My Trail Poncho UL Tarp

My Trail is no longer in business, and the Poncho UL Tarp has been discontinued. If you're looking for something new, check out the best tarps and shelters for 2023.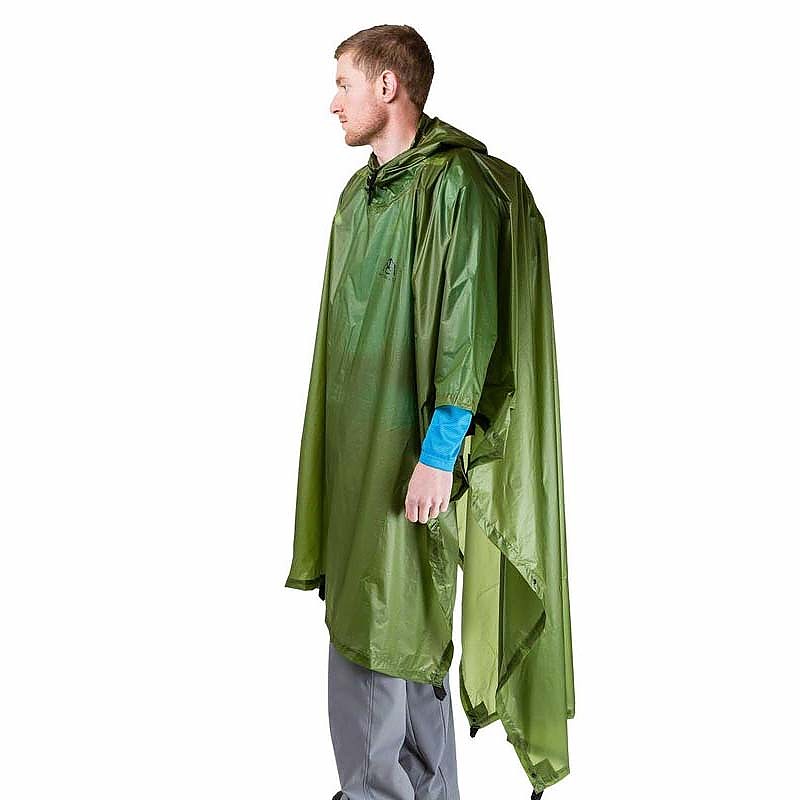 For those willing to accept compromises in the pursuit of a low pack weight, the Poncho UL Tarp provides a reasonably durable, value option for rain gear, pack cover, and shelter—with a few important caveats.

The Poncho UL Tarp is at its best as rain wear, pack cover, and shelter in more moderate conditions, but high winds or sustained heavy rain can make the user vulnerable to the elements. However, due to its versatility, it is an ideal multi-use item for day packs, emergency bags, etc.
Pros
Very light (7 oz)
Easily packed
Durable, quick-drying rain barrier
Simple, versatile design
Cost-effective, three-function item
Cons
May be compromised as rain gear in high winds
Material sags in the elements, becoming a shelter vulnerability
Hook-and-loop closures leak (they are not sealed)
Small size yields little margin for error as shelter in inclement weather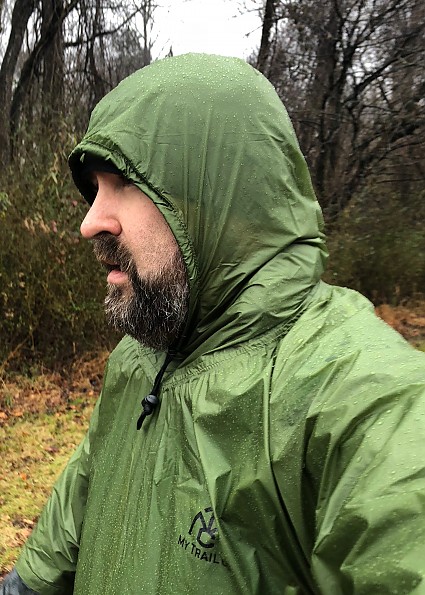 What It Is
The Poncho UL Tarp is described by My Trail Company (hereafter "My Trail Co") as a "triple duty" item—rain poncho, pack cover, and three-season shelter.
My Trail Co was founded by the original founders of GoLite (a name which has now been relaunched in 2018 under new ownership), and thus this product falls in line with the original GoLite's reputation for ultralight gear.
Measuring a claimed 8 ft. 6 in/ 2.59m by 4 ft. 7 in./ 1.4 m and weighing in at just a claimed 7 oz/ 198 g, the Poncho UL Tarp is intended for those who seek multi-use pieces of gear as a means of maintaining a low base pack weight. The one I received for testing for Trailspace measured an inch/2.54 cm less in length and weighed 6.6 oz/ 187 g compared to the listed stats.
The Poncho UL Tarp comes only in an Evergreen color—more or less military olive drab.
My Trail Co claims that it is "easily adjustable to accommodate any pack, or none at all," and notes that "[a]s a tarp, it can pitch in a variety of ways, with various combinations of stakes, guys lines and trekking poles, so you can optimize your protection and ventilation depending on your conditions." Moreover, My Trail Co claims that the "nylon stops the rain and snow while providing great ventilation through the side and bottom openings."
The garment comes in a mesh bag with drawstring and cord lock that measures 5x10 in/12.7x25.4 cm and which weighs .1 oz/3 g (pictured below with my own Zing-it lines, not included).
The design is simple but flexible: it is comprised of a rectangle of 15 denier ripstop nylon fabric. This fabric is double-coated for water-resistance: the inside has a PU (polyurethane) coating and the exterior has a silicone coating.
A second piece of fabric forms the hood, and the seams that connect the hood to the body of the poncho are taped for waterproofness. This is especially useful when wearing a pack that might lift the tarp higher than one's shoulders, causing rain to run down around one's neck: the sealed seams here keep the water out of a potential vulnerable spot. A drawstring with cord lock secures the hood about the face when needed or desired.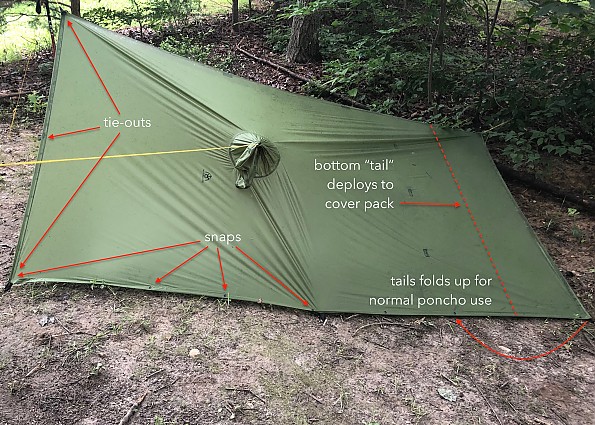 Three sets of snaps per side of the garment secure it around the arms and body (locations indicated on one side, above). These snaps are made of plastic. A double piece of fabric is folded beneath each snap location to reinforce the stress points.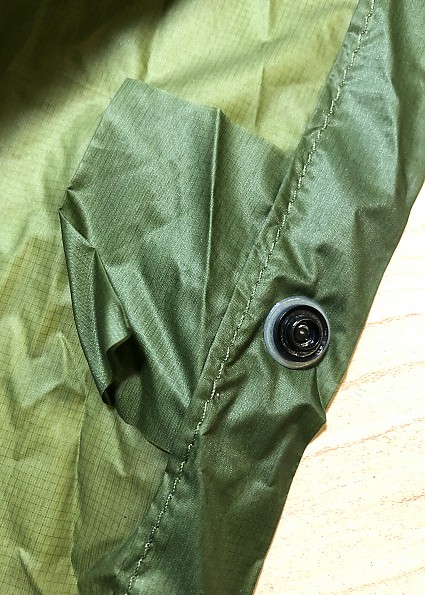 One set forms an arm opening; the second pulls the two sides together on the lower body; the final set holds up the sides of the extra long "tail" of the poncho, an extra length of fabric that allows the Poncho UL Tarp to easily cover packs of any size. These can be snapped in different combinations if needed to accommodate a pack. In the image below, a set of snaps (male and female) are snapped together around my arm to form a "sleeve."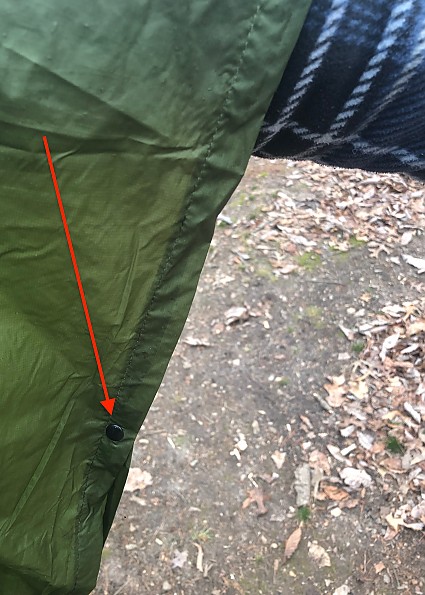 The middle of the "tail" is held in place with two hook-and-loop attachment points that are sewn into the back edge seam; these fasten to corresponding locations sewn into the back of the fabric of the poncho.
Additionally, the garment has 1 in/ 2.54 cm grosgrain ribbon tie-outs at each corner and in the midpoint of each side to secure the garment when it is used as a tarp (see also the annotated image, above, where some of these locations have been identified).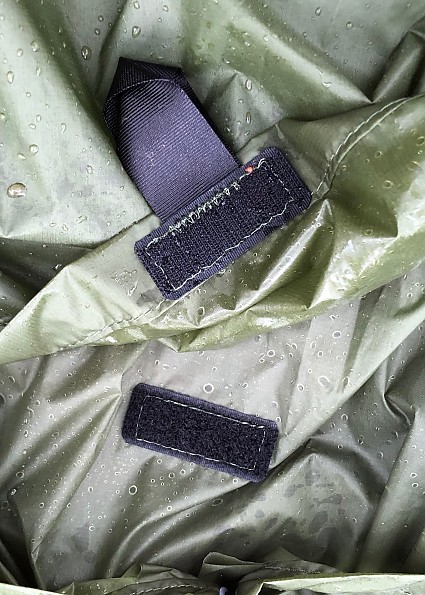 Testing

I tested the Poncho UL Tarp for over a year, using it as protection from precipitation in rain and snow, testing it as a poncho/pack cover, and trying it as a shelter in various setups, including the two shown on My Trail Company's site.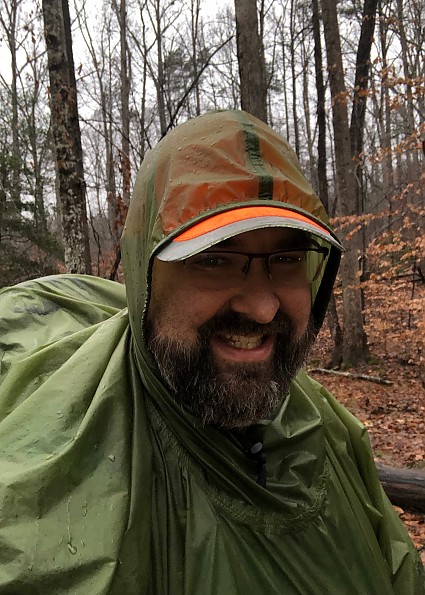 I also set up the Poncho UL Tarp as shelter to endure periods of heavy rains over multiple days to test how resilient it was in harsh conditions and to see which setups endured the rain best. I used light cordage, aluminum stakes, and my trekking poles to pitch the shelters, items not included with the Poncho UL Tarp. I tested this piece of gear in summer heat, tropical Costa Rican moisture, fall winds, and winter snow.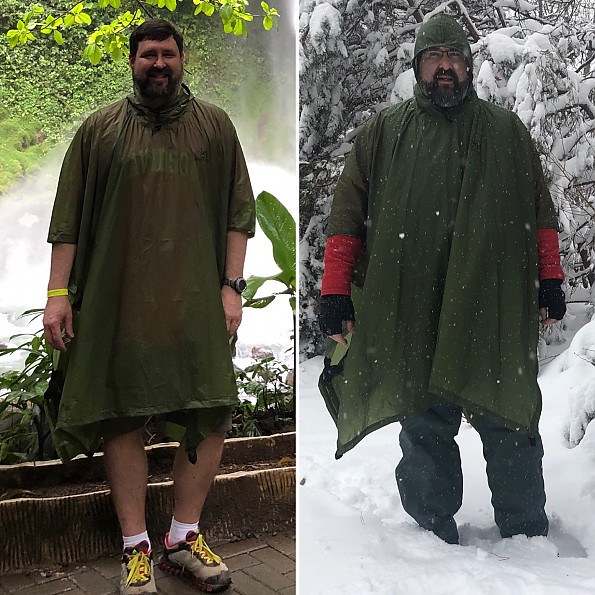 Durability

The ripstop fabric held up nicely despite occasional snags along trails. Silicone actually permeates fibers, and consequently any snags have their force distributed over multiple fibers, increasing tear strength. Thus, the flexible nature of the material, its ripstop structure, and its silicone/PU coatings kept it in good shape during my use.
Coverage & Precipitation Protection
The Poncho UL Tarp generally feels capacious, sheltering most of my 6 ft. 2 in./ 1.88 m body, including my arms from just below my elbows up and my legs from just below my knees and up.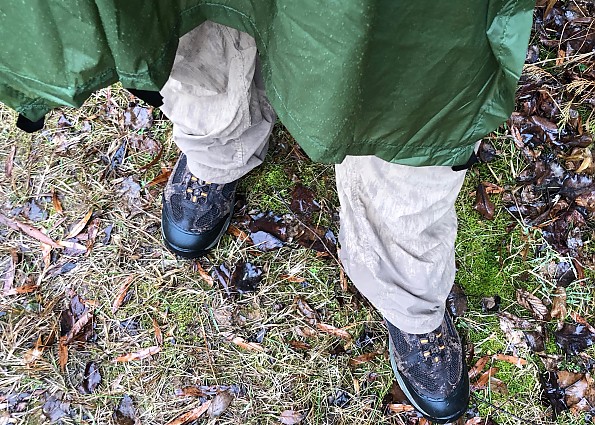 This extra coverage is nice, especially when sitting in camp during a light rain where one can sort of withdraw into the shelter of the poncho.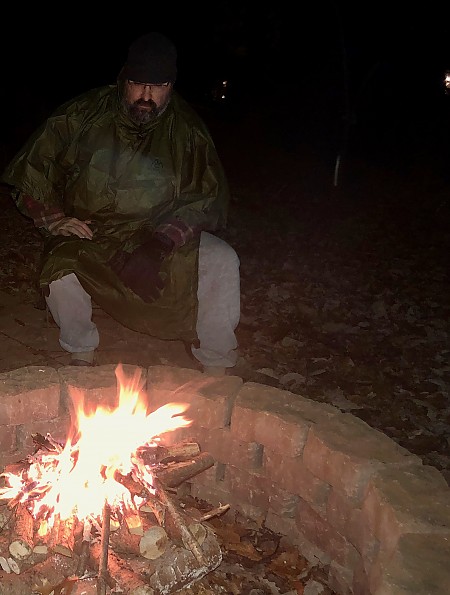 With the "tail" deployed, the Poncho UL Tarp can easily cover large packs: I used it with a fully loaded 65L pack with brain bag in place, bulking up my load with twin Nalgenes in side pockets and a torso-length closed-cell foam pad. While it was a bit tricky to get the Poncho UL Tarp over the brain and to have it fall evenly around me and the pack, once I managed this feat, there was plenty of fabric to cover all, a nice feature of the deployable "tail."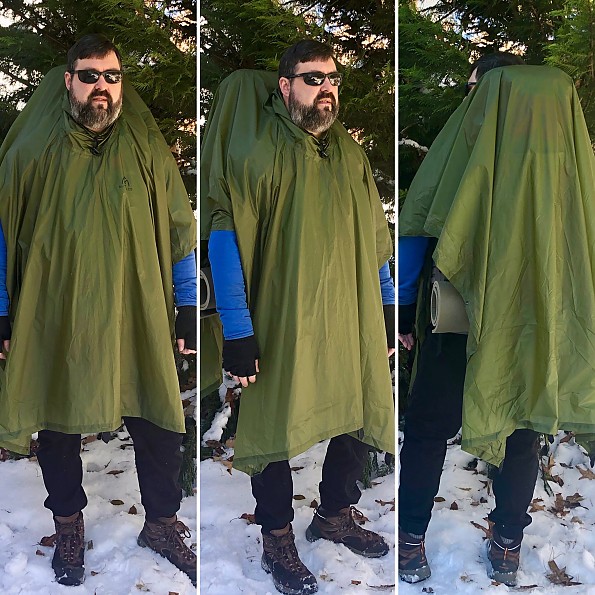 The hood was snug on me, yet it provided a visor of sorts to keep rain out of my eyes and swiveled nicely with the movements of my head. The sealed seams prevented leakage along the hood seams. I found I never used the drawstring given the snugness of the hood.

The garment repels moisture well, be it rain or snow, owing to its hydrophobic silicone treatment. Water tends to bead on its surface, rolling off easily as one moves.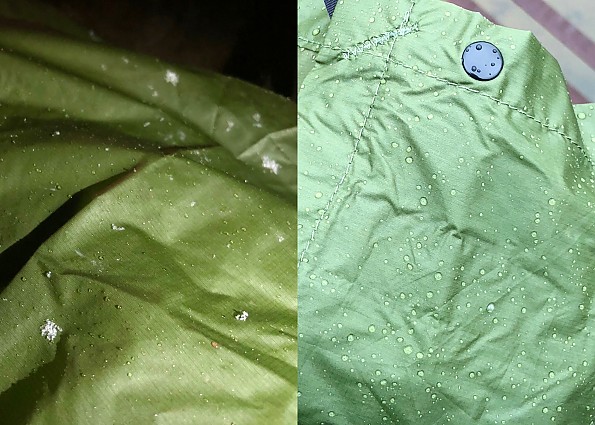 Snow can be easily brushed off. This also means the garment does not pick up water weight, a boon for those striving to keep weight down. Anyone who has had to carry a soggy raincoat, tarp, or tent will recognize that this is a significant benefit. However effective the double coating is as a water-repellent surface, it is not the most breathable one: silicone coatings, which permeate the fibers of the fabric, do not breathe.

Ventilation
The lack of breathability of the fabric is mitigated by the open sides and bottom that allow the garment to ventilate. This ventilation is considerably more noticeable and beneficial than underarm vents on most conventional rain jackets. The sides allow air to circulate as one moves, and a good portion of body heat can be dissipated by this means.
If it is raining, though, moisture can creep up under the "sleeves" during movement: the forward swing of my arms with trekking poles exposed them to rain, and this moisture subsequently went under the poncho when my arm was lowered. I did notice during vigorous backpacking that a light sheen of sweat developed on the interior of the garment, but this also dried quickly.
Awkwardness
Let me here acknowledge an aspect of general awkwardness about ponchos I've always experienced: taking one off always requires pulling it over one's head, drawing it up and over one's back, bunching fabric that—if wet—can somehow manage to spread moisture to the user or the inside of the poncho as one wriggles free and water follows the dictates of gravity. A wet mess can result. For me, this is just something that comes with the territory, a tradeoff of poncho use that is not limited to this product but which I mention now for the benefit of anyone who may be considering poncho use. Almost any rainwear has some drawbacks. In this regard, the Poncho UL Tarp is no exception.
Fortunately, one is presumably finished with using the poncho if one is removing it, and a strong point of the Poncho UL Tarp is that the double coating allows it to dry very quickly, especially after being given a snap to shed excess surface moisture.
I mentioned capaciousness earlier. There is one exception to the Poncho UL Tarp's capaciousness that can add awkwardness to one's exit: the opening for the head is only 9 in/22.9 cm in diameter. I wear a 7 ½ in fitted hats; I generally wear XL hat sizes. Pulling the Poncho UL Tarp over my head is always tight and virtually impossible if I am wearing a beanie or glasses.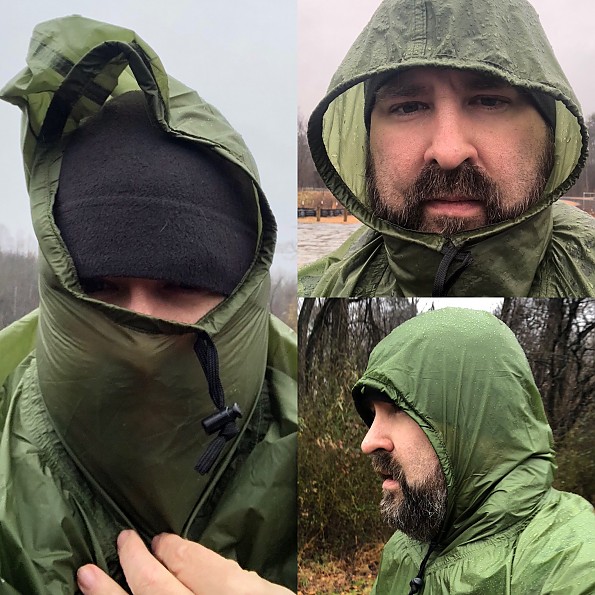 Moreover, having the drawstring under my chin is likewise a snug fit, so I took to have the "collar" of the poncho pulled up over my chin at times, a method of wearing it that proved most comfortable for me. This small head and face opening in the garment would likely not be a problem for those of smaller stature than me, but for any of larger stature, the Poncho UL Tarp might prove to be too small to be useful. It is definitely intended for folks of smaller stature. Once I had ascertained that the hood was functional if snug, I opted for my Tilley rain hat in lieu of the hood.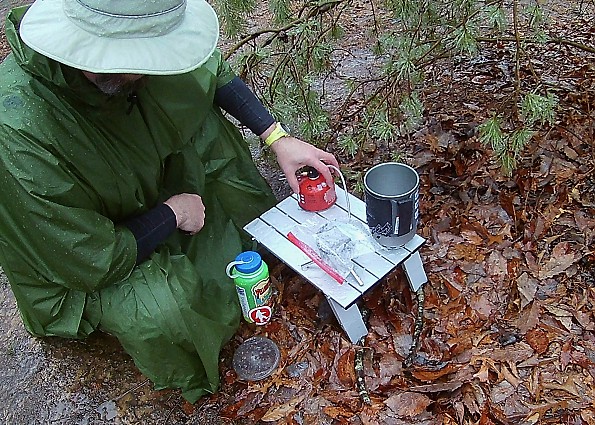 Wind
The loose, open design of the Poncho UL Tarp does mean that gusty winds can prove problematic: I found the combination of active movement and wind could result in snaps popping open, especially when wearing a pack that doesn't always move just as one's body does. One-handed closing of these snaps after they popped open can prove challenging. The doubled layer of cloth intended to reinforce snap locations sometimes folded over the snap, especially when wet, thwarting my "blind" reach-around efforts to close the snap.
Because the poncho is only secured around one's body and/or pack with snaps, gusting or persistently strong winds can easily get under or in it and wreak havoc, exposing one to the rain at inopportune times. On one twenty-mile trek I undertook, I encountered long hours of heavy wind and rain. These severe conditions were more than the Poncho UL Tarp could readily handle: the wind pulled the snaps loose, then sent rain gusting in horizontally. My torso remained covered, but my arms and the sides of my thighs became soaked. However, in my experience this can often be a general issue of lightweight poncho use. I recommend using this in conditions with mild to moderate winds or in sheltered locales that block the wind.
Shelter
Note: Using tarps as shelters requires more gear than what comes with the Poncho UL Tarp as well as a requisite knowledge of tarp setup principles, directional placement based on weather concerns, knot tying, etc. The Poncho UL Tarp does not come with directions on tarp setup, nor does it come with stakes, poles, or lines one generally needs to set it up as a shelter. In keeping with the lightweight theme of the product, I used my own titanium tent stakes, Zing-It line, and my trekking poles to set up the tarp.
My Trail Co claims that "you can optimize your protection and ventilation depending on your conditions" by pitching the Poncho UL Tarp "with various combinations of stakes, guys lines and trekking poles." Their website conveniently offers two images of tarp setups, inaccurately labeled at this time, as the images for "tarp version 1" and "tarp version 2" appear to be identical setups that are just shot from different angles. The second setup concept offered is simply labeled "tarp setup." I tried both of their recommended setups, my own guess at a two-pole tarp setup My Trail Co said should have been pictured on their site, a basic A-frame pitch, and a basic lean-to setup attached to a ridgeline between two trees.
During significantly rainy conditions (more than passing showers or misting), all shelters sagged as the wind blew and fabric or tie-outs stretched. This proved problematic, especially when using My Trail Co's suggested pitches, which appear to anchor the tarp to the ground. If the roof pitch was not optimal, the drooping tarp could collect rainwater, resulting in ponding and further tarp sag (see image, below, of a simple two-pole setup when I was experimenting with different pitches).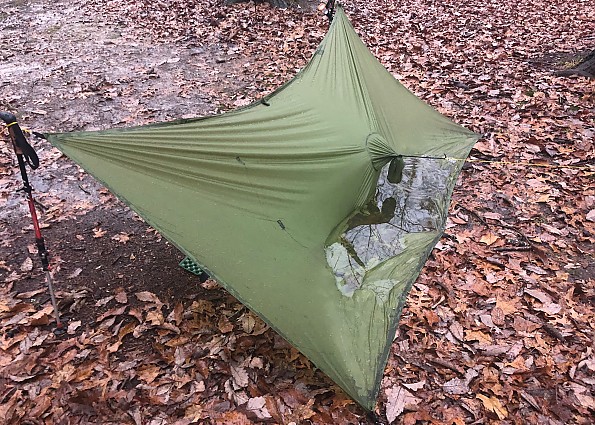 In other words, this is a finicky shelter option in truly adverse conditions. I strongly recommend trying the Poncho UL Tarp in your backyard for multiple nights under inclement conditions to find what works and doesn't work for you given your preferences and body size.
The Lean-To
I tried the lean-to setup first because it is perhaps the most instinctive, most simple, and perhaps the most versatile setup for this particular product. It can be pitched at different heights with various degrees of air flow allowed beneath, what My Trail Co references when speaking of optimizing protection and ventilation. Knowing which direction might bring inclement weather is obviously key.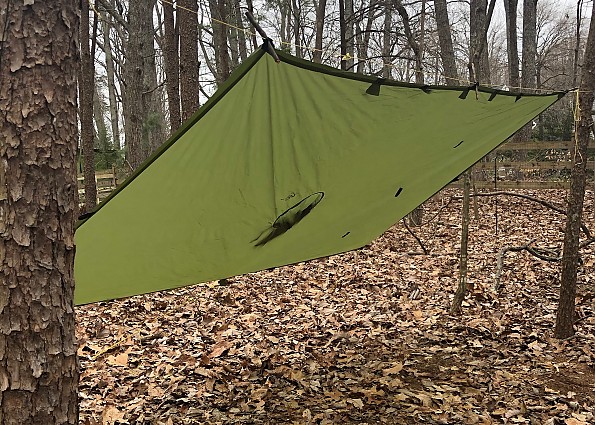 While I got a little wet setting this up for the image below, I was delighted to get out of a cold rain once I had it set up. This setup requires a ridge line and suspends the tarp via guy lines off the ground, allowing rain runoff to drip from its edges (see image, above, of the lean-to setup).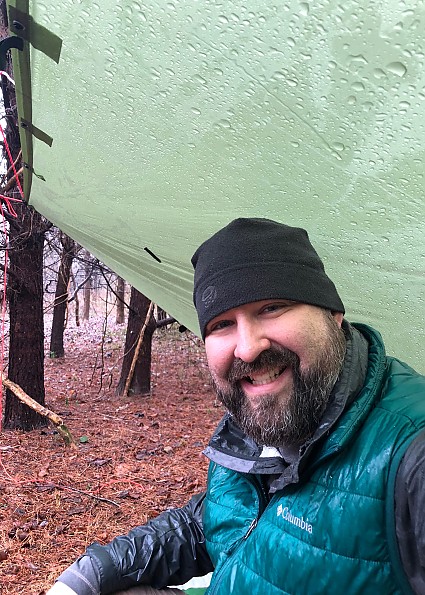 I found that the lean-to pitch was ultimately my go-to pitch quick deployment mid-hike. The lean-to is also the quickest to erect in the event of a sudden weather shift.  It can serve as a wind break or a quick roof under which to shelter during a passing storm. By varying the pitch of the tarp, one can also create more or less coverage beneath the tarp, although if the rain is sustained, fabric stretching can cause water to collect on pitches of insufficient angle. Obviously, the closer to the ground the tarp is pitched, the more shelter one has but also the less headroom.
A-Frame
Only slightly more complicated to set up than the lean-to, the A-frame I approached a bit leerily because it seemed to me there would be a small margin of error with the A-frame setup: the 4 ft. 7 in./ 1.4 m width just doesn't give one much room (unless, I suppose, one is of very, very diminutive build).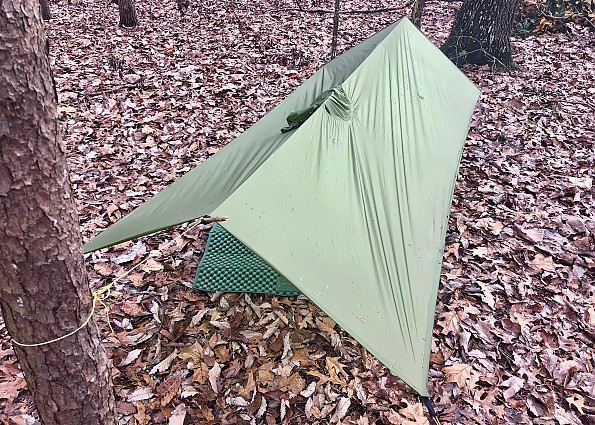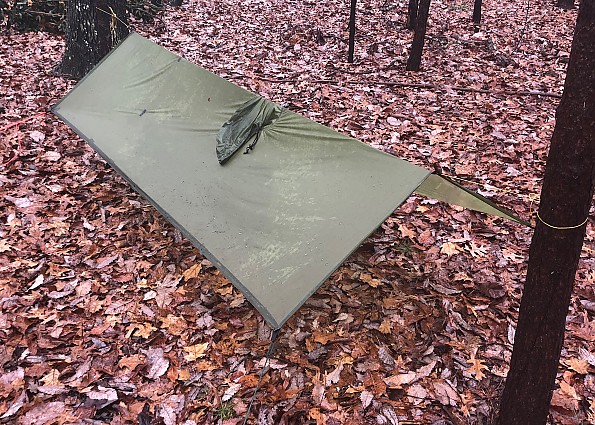 My leeriness was merited, but the A-frame is also probably the Poncho UL Tarp's most reliable pitch. Yes, it sagged in heavy rain, but by virtue of being suspended via the ridge line and guy lines off the ground, it remained a serviceable shelter in this configuration, albeit one that could allow mist or blowing rain to encroach under the tarp's edges. You can also lower the leading edge that faces incoming weather and raise the opposite side for more ventilation as needed.
Note that with this pitch, the hood is left slack. Tying off the hood to create more headroom (with any pitch) requires care because a hasty job of it can result in the capillary action of water filling the hood, as seen in the image below.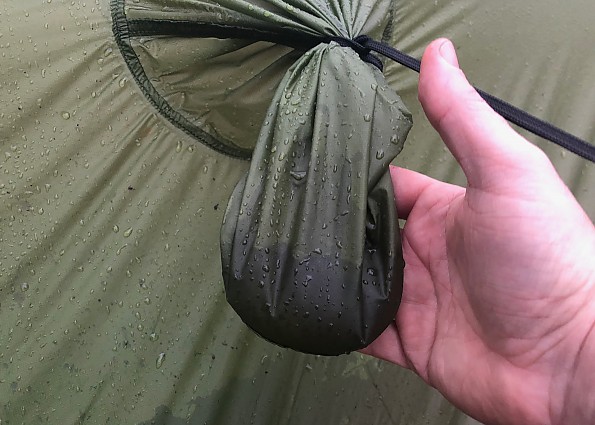 Tarp Setup 1 (and 2)
The first setup My Trail Co shows on their site—"tarp setup 1," at this writing also mistakenly labeled on their site as "tarp setup 2"—offers protection on three sides. It appears inviting, an ingenious three-wall solution to the shelter problem. Seven ounces never looked so inviting!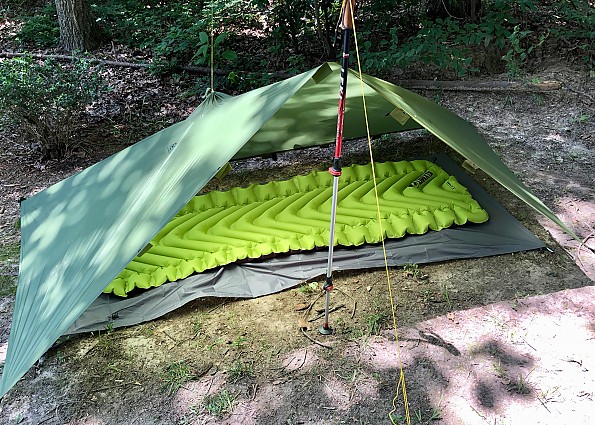 Theoretically, one might lower the trekking pole height to provide more shelter in inclement weather, but I found this problematic given my own height—any lower and I would have not been able to get inside readily. The pitch also limits both foot and headspace: my hips were the part of my body situated to enjoy the greatest room beneath the tarp.

This setup offers the psychological and physical security of three walls, but in use it also exposed one of the significant design issues of the Poncho UL Tarp: the hoop-and-look fasteners sew through the tarp are not sealed. As I lay on my sleeping pad during a storm, I felt the dreaded drip of cold water on my face and opened my eyes to see a drip of water had collected in the hook-and-loop fastener: the tarp had been stretched taut, but the water did what water does and insidiously followed the thread holes through the tarp.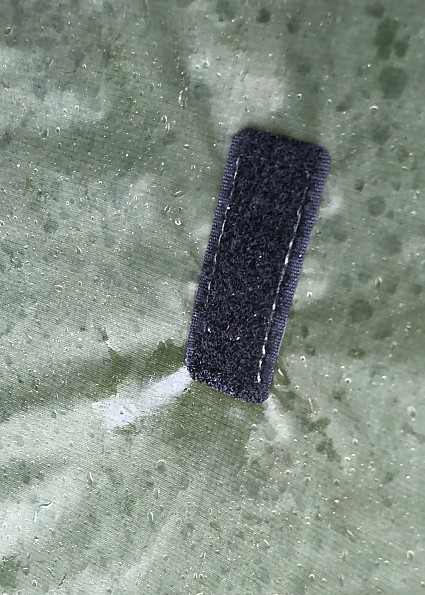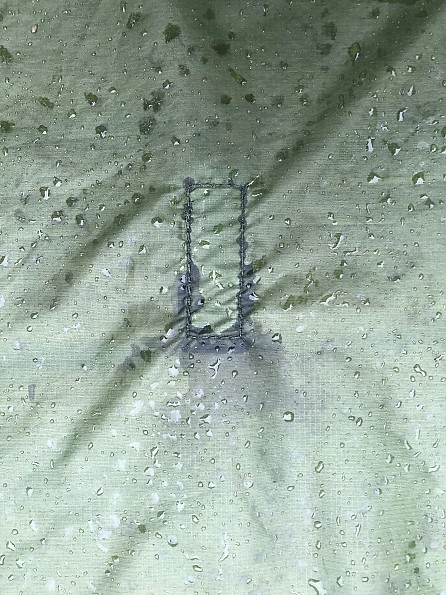 Note: edge seams are also not sealed. This is problematic with certain pitches in heavy, sustained rain, which causes water to penetrate the stitching and run down the inside of the tarp.

A shift in the wind also caused heavy raindrops to splash water and dirt into the shelter so that the edge of my sleeping pad was covered in dirt splatter. This inviting-looking shelter was proving a bit problematic.
Morning revealed another issue with using the Poncho UL Tarp as a shelter: it stretches, and therefore it sags (see image, below; note, too, the leakage through the hook-and-loop seam in the top center, left).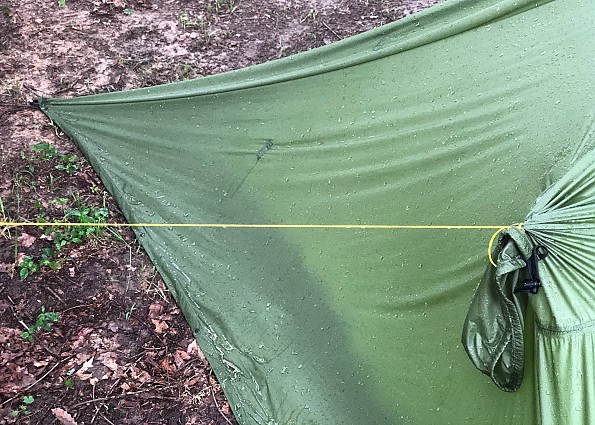 What had been nicely covered by the tarp the night before had become exposed to rain as the fabric sagged, a common issue with non-catenary cut tarps. Rain had run from the tarp onto the light ground cloth I had used on the damp ground; now it was ponding in places. Had I thought about the non-catenary aspect of the tarp's design, I would have brought guy lines with shock cord loops to maintain tension on the tarp, but as it was I woke to a wet and dirty mess.
Another Tarp Setup
The second recommended tarp setup provides two more or less to-the-ground sides of the shelter and two open to the elements (I've lifted the front left corner for a little more foot room).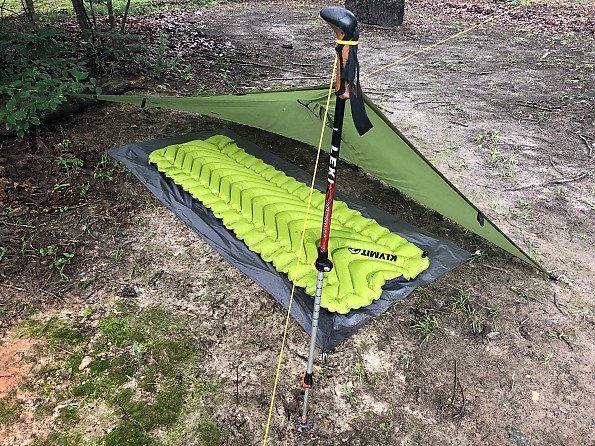 This setup was perhaps even more inviting than the previous one: it offers the expansive openness and connection to nature that tarp campers often savor. I liked the leg room that sensibly tapered down from my hips toward my feet.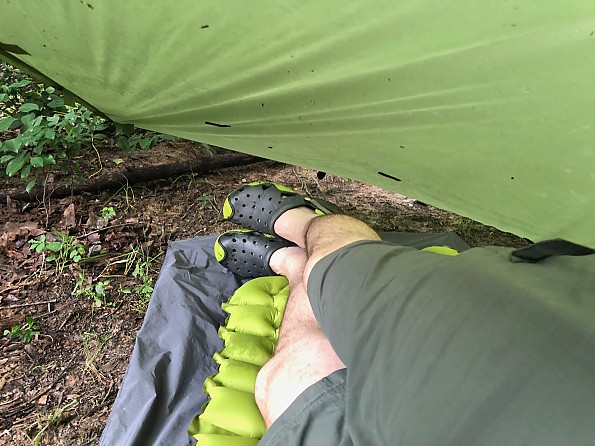 I could prop myself up on an elbow beneath the shelter and remain protected (albeit still weary from the day's exertions!).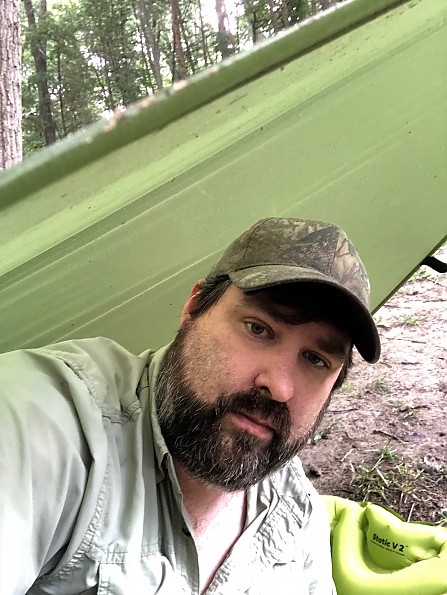 As with the previous setup, it had risks, too: the hook-and-loop closures remained weak spots in the shelter's waterproofness, and more wind resulted in more splashing of rain and dirt onto my sleep system at night.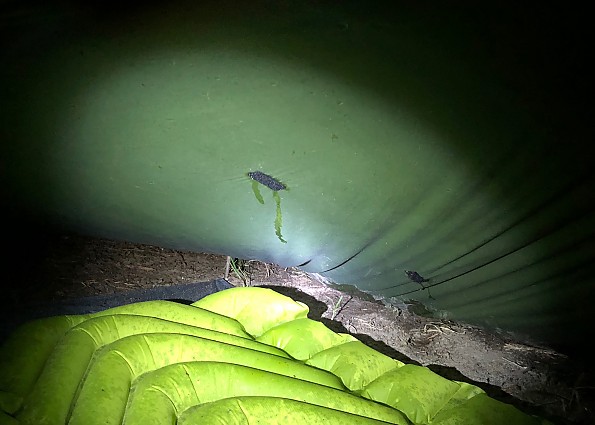 This experience reinforces the need to remain constantly vigilant when one's shelter is small and the margin of error between being truly sheltered and being partially vulnerable hinges on such things as location, setup, and weather--lots of variables to keep in mind.
Experimenting at home prior to using the Poncho UL Tarp for shelter in the field is definitely warranted!
Conclusions
For those interested in keeping pack weight low, the Poncho UL Tarp offers a multipurpose option for rain gear, pack cover, and shelter—with some caveats.
As rainwear, it serves admirably in conditions with light to moderate wind. It covers a larger portion of one's body than a raincoat, and it can easily accommodate even sizable packs, keeping them dry and out of the rain. In non-windy conditions, it checks the box as a pack cover, too. I found it worked well in moderate and intermittent rain, sheltering me and my pack for the most part and drying quickly when the rain stopped.
That said, don't forget to take the precaution of stuffing everything in your pack into a trash bag: like any poncho, the Poncho UL Tarp is vulnerable to wind, and the ultralight plastic snaps can pull loose when snagged or when one's own movements or those of the pack put pressure on the snap. This can expose one (or one's pack) to the elements. Re-snapping the snaps in gusting wind is trying at best, and on one or two occasions I resigned myself to just getting wet when Mother Nature was simply too powerful. 
While the fabric does not breathe, the Poncho UL Tarp ventilates reasonably well, sheds water well, and dries quickly, resisting the tendency to add water weight from a wetting. It mitigates the lack of breathability with generous side and bottom ventilation. During my use of the poncho, I was generally very comfortable and did not suffer badly from the sort of "sliminess" that inadequate breathability of raincoats can produce during vigorous exercise.
Can the Poncho UL Tarp serve as overnight shelter? Yes, but I would term it finicky with little room for error. The more knowledge and experience one has, the better. Its small size and its tendency to sag creates real issues in heavy rain. This, to me, is part of the inherent compromise of adopting a lightweight, multipurpose item. My advice?
Know how best to situate a tarp given existing weather conditions (prevailing wind, likelihood of rain, etc.). Then be prepared to adjust the tarp if it actually rains. The 4 ft. 7 in./ 1.4 m width can feel small very quickly under adverse conditions, especially for bigger folks like me.

Anticipate the need to seam seal the hook-and-loop fasteners (and perhaps the edge seams) to prevent leakage. Otherwise, whatever is beneath the hook-and-loop closures will get wet. 

Consider carrying guy lines with shock cord loops attached to maintain tarp tension when the fabric stretches (or use a similar strategy to address this issue). Sagging makes a small shelter smaller. Don't forget your trekking poles and stakes, either.
As with some other kinds of ultralight gear, one must often be willing to accept some compromises if one opts to use this as a triple option for rain gear, pack cover, and shelter. The Poncho UL Tarp isn't as convenient to take on and off or as immune to wind as a traditional raincoat, but it ventilates better and covers more of one's body in moderate conditions.
As a pack cover, it can be a little tricky to pull it over one's pack after one has shouldered the pack and may be vulnerable to wind.
As a shelter, it offers a viable but finicky option the benefits of which are hardest to secure for those individuals who are the tallest or largest. One would be well served to experiment thoroughly in one's own yard before going into the wilderness with the Poncho UL Tarp as one's primary shelter.
Given its versatility and price point, though, it is admirably suited as a multi-purpose option in a day pack, emergency kit, or the like.
With a little aftermarket seam sealing and some added equipment and experience, the Poncho UL Tarp could serve as a very light, reasonably durable triple-threat option. At an MSRP of USD $100 (but, seemingly, invariably sold for $59), the Poncho UL Tarp offers a high value option that is cheaper than the combined costs of a raincoat, pack cover, and tarp for those who are adept at dealing with its compromises and who seek the weight savings it could provide.
Background
I used this product over the course of a year, using it as rain gear, pack cover, and shelter. I used it as rain gear/pack cover in all four seasons, in rain and snow, in temperate deciduous and tropical rain forests, and on multiple day hikes, overnighters, and multi-day backpacking trips. I used it as shelter under the same conditions in spring, summer, and fall.
Source: received for testing via the Trailspace Review Corps (Sample for testing and review provided by My Trail)

Your Review
You May Like
Specs
| | |
| --- | --- |
| Price | MSRP: $100.00 |
| Weight | 7 oz |
| Area | 39 sq ft |
| Length | 8' 6" |
| Width | 4' 7" |
Recently on Trailspace