Mystery Ranch Terraplane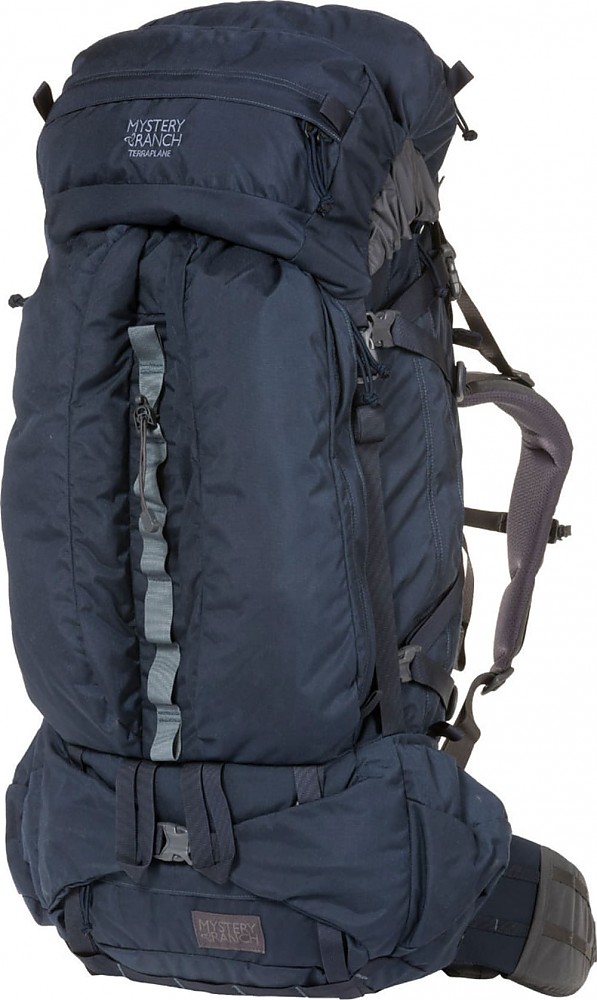 The new Terraplane is an excellent pack for expedition use and other "heavy hauler" users, where it is necessary to haul loads up to 80 or more pounds and still be comfortable. The various Terraplane versions have developed a well-deserved reputation for stability and comfort for these situations.

Best used for expeditions, and other extended backpacking uses where heavy loads will be carried.
Pros
Very comfortable and stable with heavy loads
Very well laid out with pockets, daisy chain, other features really usable
Top flap has 2 large pockets, crampon bag attachment, and can be used as a fannypack
Cons
No map/notebook pocket (my old Terraplane OK had one).
Lacks easy way to attach shovel. (Beavertail accessory for original Terraplane doesn't fit)
Would like sleeping bag compartment a bit larger (my Feathered Friends -40° bag plus NeoAir mattress are a tight fit together)
Weight: 6.8 lb/3.1kg
Capacity: 5000 cu-in/82 L
List Price: $485
Background: Note: At the request of a number of readers, I have added a pair of photos comparing the front and back sides of my old 1995 and new 2014 Terraplanes below.
The first question many people ask about is what size pack should I get, ultralight or big hauler?  The simple answer is to first gather what you are planning to put into the pack, then select a pack large enough to contain what you are taking. But, how do you figure out what you will be taking?
The answer to that is take only what you really need and is adequate for the conditions you will encounter. You really need very little for a weekend backpack in good 3-season weather conditions in most of the US or for a thru-hike of the Pacific Crest Trail – a tarp or ultralight tent for shelter, maybe some raingear, a sleeping bag adequate for the conditions, a small stove, a cook pot, and a few other items. Your base pack weight would be about 10-15 pounds.
But if you are going to high mountains, the Alaska Range, Antarctica, or other places where the weather can be fierce winds, sub-freezing temperatures, and remote, the requirements are greater. You might be carrying 50 or more pounds base weight including the climbing gear. The following video is a quick overview of what you need for such an expedition and under what conditions you might need a heavy hauler pack.
I have to admit to a bit of bias here. I bought my first Terraplane in 1995 when I needed a big hauler expedition pack to head off into the big mountains. It was a Dana Designs Terraplane OK (OK stands for "OverKill", mainly because it is made with 1000 denier fabric). I began using it on mountains like the Cascades (including Rainier) and the Mexican Volcanoes, as well as extended High Adventure hikes with the Boy Scout Troop for which I was Scoutmaster (carrying the "Scoutmaster's 20", the extra gear needed for the youth who forgot some of their gear or got it sopping wet).
It was amazingly comfortable with weights up to 60 pounds. As time went on, it went with me to Antarctica, Denali, and the Andes, as well as technical climbing in the backcountry of the Sierra, Canadian Rockies, and the Tetons — basically whenever I need to carry a lot of gear and food into a remote location for a long time. My spouse got her Terraplane 10th Anniversary Edition in 1998, also finding big loads comfortable (though she does not carry as big loads as I do).
I should mention here that I have about a dozen packs, ranging from ultralight (GoLites) to full-on expedition packs. The largest heavy hauler is a Kelty Sherpa, an external frame with a huge bag and the capability of hanging gear from the frame. Plus a couple of haul sacks that have pack straps. My spouse has about a half dozen.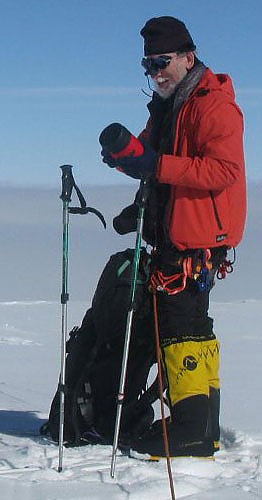 My old Terraplane OK in use in Antarctica
In short, my original Terraplane worked so well and has been so comfortable with heavy loads that it was with a bit of trepidation that I started looking at the new Terraplane. But, a spoiler, I have been delighted with the new Terraplane overall, with just a few minor complaints.
After many expeditions and passages through the tender mercies of the "baggage gorillas" at the airports on my way to and from Alaska, Antarctica, South America, among other destinations, my Terraplane started showing signs of wear to the point where I was thinking about replacing it. This was despite my always protecting it in heavy duty duffels.
Dana Gleason, the founder and owner of Dana Designs, sold the company to a conglomerate shortly after we got my spouse's Terraplane 10th Anniversary. A few years later, he started Mystery Ranch (2000). I met him at one of the Outdoor Retailer Shows, and talked to him at a number of following ones — two old geezers sharing stories of expeditions and climbs. Somewhere around 2010, I commented to Dana that I was starting to consider finding a replacement for my Terraplane.
At that time, because of the terms of the sale of Dana Designs, Mystery Ranch could not make a new version. The Big Conglomerate which had purchased Dana Designs eventually stopped using the "Dana Designs" name and dropped most if not all the original Dana packs from their lineup. In the meantime, Mystery Ranch was designing and producing high quality big hauler packs for hunters, the Navy Seals, and other groups needing those high capacity packs.
A couple years ago, at another of the ORShows, as I was mumbling yet again about wanting a new Terraplane, Mr. Gleason said "Just you wait!"  Then one day at yet another ORShow, I heard a rumor from a friend with whom I had been on a couple expeditions. I scurried over to the Mystery Mountain booth and asked Dana about this. He allowed as how there was a prototype. A couple OR Shows went by with only hints.
Then at a later show, he mentioned they were considering field tests. I suggested that as a fan and loyal customer, I would be eager to replace my old Terraplane, er, I mean, help with testing. The younger Mr. Gleason (Dana's son, who now runs the company), Dana, and I had a further discussion and reached an agreement.
The agreement includes that I will use the pack in a variety of conditions and situations, and report my unvarnished opinion and evaluation, along with providing photos of the pack on me in operation (which is the same requirement that Trailspace has for Gear Review Corps reviews). I listed it in this review as a "gift", though it comes with conditions.
Criteria: Any pack, and especially a big hauler, has to meet certain criteria. To repeat the criteria that I use:
Capacity to match my intended use
Designed for the conditions (rock climbing, big wall, glacier travel, winter, etc)
Comfortable at the maximum load intended
Accessibility – you can get at the contents needed when you need them without unpacking the whole pack – change of clothing, food, navigation gear, etc
Water resistant to match the conditions (summer rains, tropical rains, desert dust storms, etc)
No interference with hiking, climbing, skiing movements, etc
Durable enough for the conditions and longevity, yet not overly heavy
Cost is not outrageous.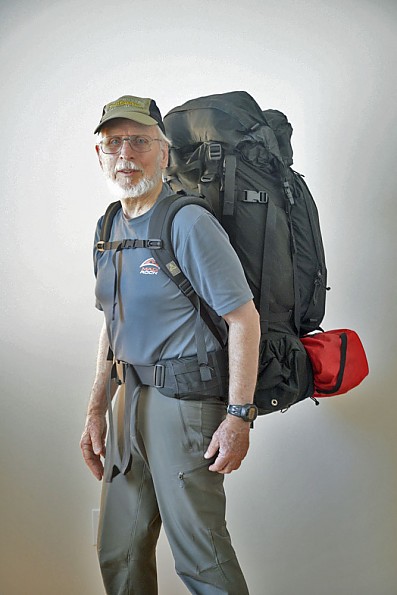 The new Terraplane - first loaded try-on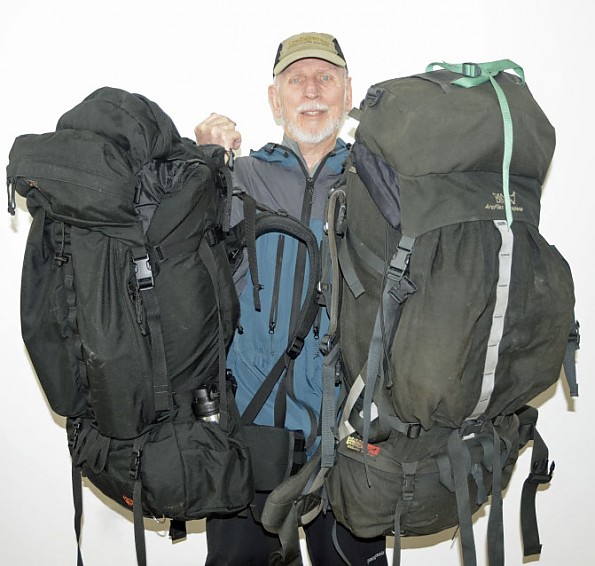 Front View of my  new (left) and old (right) Terraplanes


Back view (side against my back when carried) of my new (left) and old (right) Terraplanes.

Details: On receiving my new Terraplane, I examined it in detail, discovering a number of minor and a couple significant changes from my 1995 Terraplane OK and my spouse's 1998 Terraplane 10th Anniversary Edition. The basics were the same – volume listed as 5000 cu-in/82Liters, weight measured on my scales at 6.8 lb/3.1kg vs 8.0 lb/3.6kg for my old Terraplane OK. I got the Terraplane in black, same as my original Terraplane OK. You can now choose "Moss" if you would rather not have black.
The Mystery Ranch website lists the intended uses as "Expeditions, Extended Backpacking, Hiking, Multi-Day Backpacking, and Weekend Backpacking". Although my old Terraplane was certainly used for all of those, I think I would say that, unless you are training for an expedition or, wearing my old hat as a Scoutmaster, carrying the "Scoutmaster's 20", the Terraplane might be more than needed for a weekend backpack. The exception would be a weekend backpacking in snow country when a major storm is imminent.
The website lists features as including a Guide Frame, contour lumbar wrap (the hip belt is certainly impressive), daypack lid with waistbelt strap (my old Terraplane required removing the hip belt to use the lid as a fanny pack – good improvement!), Speed Zip sleeping bag compartment (more comment on that below), hydration reservoir compatible, and a couple other items. The "haul range" is given as 50 to 80 pounds.
On inspecting the pack, I found a couple of interesting labels inside: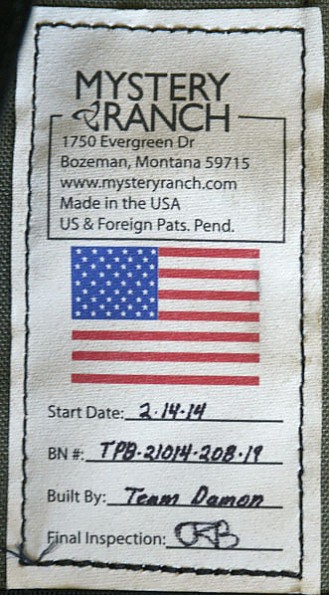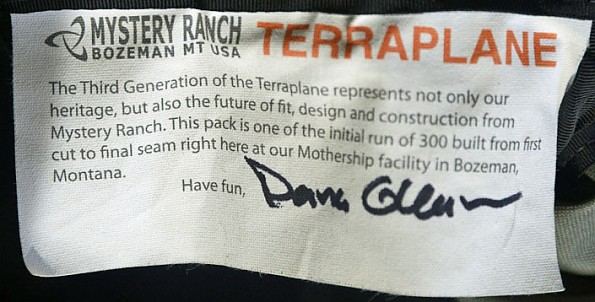 Unlike much outdoor gear these days, the Terraplane is "Made in the USA". Since the label says "from first cut to final seam", I assume that the fabric is imported. The zippers are the very strong and durable ones from YKK, which originated in Japan, but has a large presence in the USA as YKK-USA. I looked closely at the label. Dana's signature looks very much like it was indeed signed by Mr. Gleason with a Sharpie, not printed (there is some ink leakage – I have been watching Pawn Stars too much and have learned a tiny amount about authenticating signatures).
Most of the features of the new Terraplane are the same as my Terraplane OK. One that has changed is the sleeping bag compartment. When I first saw it, I had a bit of skepticism about how it would work. The zipper is now a single slider which is called a Speed Zip, vs the OK which had a double slider. The inside has added a triangle-shaped sheet with a compression belt.
The compartment is slightly smaller, such that putting my Feathered Friends -40° bag and NeoAir inflatable sleeping pad in is now a tight fit, even with the compression belt. Using my Western Mountaineering 0°F bag and the NeoAir is an easy fit. One other change is the double clip from each side — with the gear in the compartment, you slide the single zipper closed, then bring the two clips together to fasten. Although there is no compression strap on these clips, it does help narrow the width of the pack.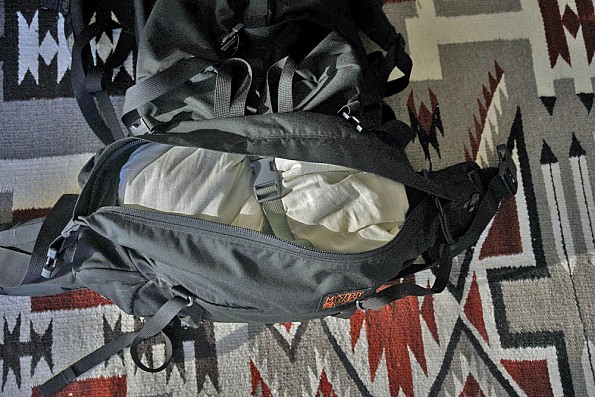 The new sleeping bag compartment design
Another change is the highly useful side zipper, providing a very convenient and useful extra access to the main, top-loader compartment. The OK had these side zippers on both sides. I have long lost track of the many times I have been waiting out a storm in the Alaska Range or Antarctica and wanted to get something out of the main compartment or put something in it. Usually with a top-loader, you can often end up emptying more than half of the main compartment, something sure to provoke objections from your tentmate about your intrusions on his/her half of the tent (it is worse when you have crammed 3 of you in, even if the tent is nominally 3-person).
My first reaction to finding only one side zip was that two were surely needed. A little reflection made me remember that only rarely did I use the second zipper. And having only one side access zipper does reduce the weight a bit.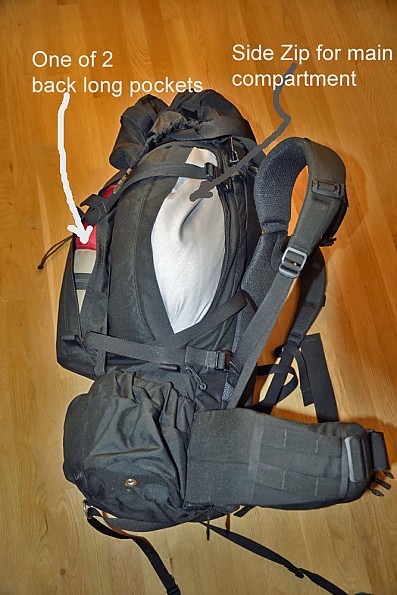 Single main compartment side zip provides access to main compartment.
The main compartment also has a pouch for a hydration bladder, with a passage hole to the left shoulder strap, which has a Velcro fastener tube to place the hose in a handy location. The very comfortable and easily adjustable shoulder straps also have several loops that can be used for clipping a GPS receiver, small camera, or other items.
The long two back pockets continue unchanged. I usually use one side for a water bottle and a 0.5 liter thermos, with the other used for fuel bottles plus the bathroom necessities – WAG bag, toilet paper, and such. A bit of trivia: Pack makers usually refer to the side of the pack away from your body as the "front" of the pack. Most users (backpackers, skiers, climbers) refer to this as the "back" of the pack; it is behind you when wearing the pack, after all.
One of the modifications that Mystery Ranch introduced into its packs when the new company was formed was the double pocket on the lid. The lid is changed in several other ways as well. In my OK, as in the new Terraplane, the lid can be removed to serve as a fanny pack. However, now the waist belt is integral with the lid, whereas on the OK, you had to remove the padded hip belt from the main pack.
This has meant that the map pocket on the bottom of the lid in the OK has been sacrificed, something I miss very much, although the climbing pants I use these days does have a dedicated map pocket.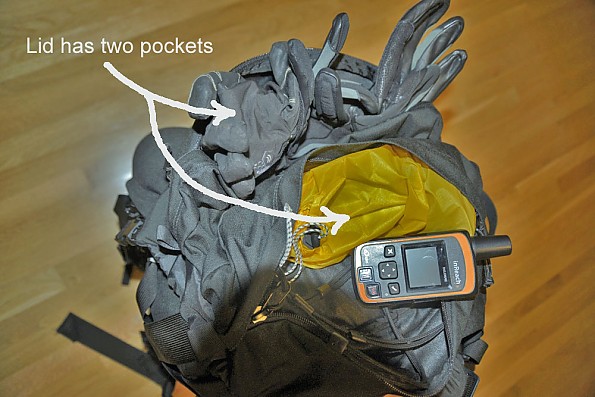 The double compartment lid/fanny pack
One other feature of the new lid is that you can carry a small hydration bladder in one of the pouches. Perhaps more likely in this day and age, you might carry your entertainment electronics in the pouch and use the hose opening to feed the wire for your earbuds.
My general practice for the two pockets is to use the two pockets to separate the items into separate categories. One pocket is used for gloves (including a spare pair) and head-warming gear (my Trailspace toque or balaclava). The other pocket is used for headlamps, inReach Explorer communication device, spare batteries, and other items. Snacks usually reside in one or both as well.
There are elasticized side pockets on both sides at the bottom, as in the OK version. These are larger than the ones on the OK, and are now large enough for a Nalgene in a cozy. If you are flexible enough, you can reach the water bottle without having to take the pack off, or you can get help from a friend to get and replace the water bottle.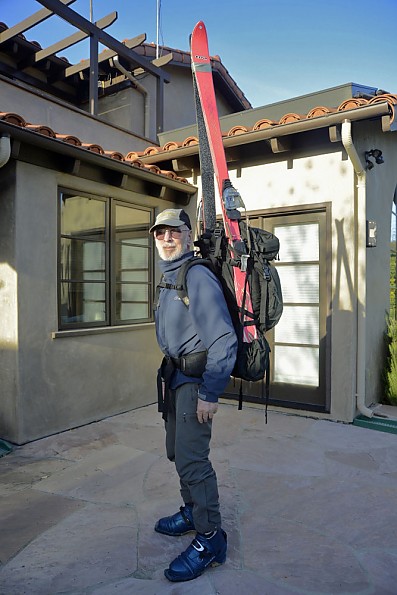 Side pockets can carry skis, wands, pickets, or water bottles.

Alternatively, the pockets form a perfect place to carry a set of wands, pickets, or skis. Both pockets have drain holes on the bottom to allow rain or snow melt to drain off. Yes, the skis in the photo are Big Easy, a wide ski when I got them, narrow by current standards and much longer. Hey, at least they aren't the truly skinny skis of the 1980s and earlier. My AT skis are much fatter.
Features: The following video goes over a number of the features of the new Terraplane in detail:
Field Testing:
I have used the new Terraplane over the past six months mostly on local hikes with a large load to get a feel for how stable it is, as well as getting my regular training. Most of those day hikes were on the order of 10 miles and an accumulated ascent of 2,000 to 3,000 feet. In large measure, this was dictated by the drought we have been having here in California for the past 3 years.
Finally in November, we began to get a series of heavy rainstorms, though for the first few passes, this did not translate into snow in the Sierra. My next scheduled trip with the American Climber Science Program to the Andes is not until next June, six months away.
I did take advantage of one of the heaviest storms to do an overnight in the backcountry of one of the Scout Camps for the local Council, for which I do volunteer work related to the maintenance of a healthy forest. Normally, the hike is by a scenic trail among giant Sequoias with a moderate altitude gain over a pass.
The storm changed the character a fair amount. My load was on the lighter side, since I was also testing an ultralight tent, but made up for a lot of the reduced weight by adding some luxury items and gallon jugs of water. The trails were much rougher than usual, with the trail itself being a full running stream in many places plus the fallen (and falling) trees across the trail in a number of places.
I was well pleased that the Terraplane was quite stable and did not flop around as I clambered over several trees across the trail. Despite the heavy rains, the Terraplane remained dry inside.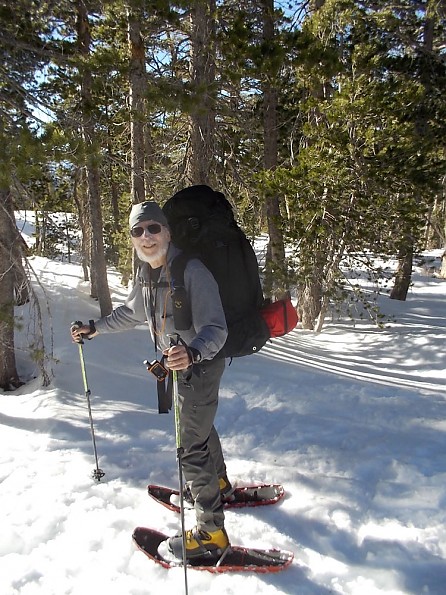 The new Terraplane in action on a snowshoe backpack
Since snow was now accumulating in the Sierra, a week later, I headed to Carson Pass to hike in to Lake Winnemucca at 10,000 feet altitude on snowshoes. Again, I was pleased to find the stability of the pack, this time with 50 pounds of load. The weather itself was somewhat warmer than I expected, getting down only into the 25°F range overnight. Nonetheless, the snow surface was quite icy, though other hikers without snowshoes or skis were breaking through the crust.
Although I do not have as much hiking, snowshoeing, and climbing with the Terraplane as I would like before writing this report. I have had no surprises with the pack. It was almost like putting on a well-broken-in pair of leather boots — the feeling was like the new Terraplane was custom-made for me.
My OK was a Large, and the new Terraplane is a Medium (men 5'6" to 6'2") with a Small belt (30" to 34" waist). The reason for the change in my height is one of those things age does to you. Carrying heavy packs tends to compress the cushions in your spinal column (despite using a good hip belt). So I have shrunk a bit over an inch in height.
The pack is as comfortable with a load as my OK ever was, which is to say, much more comfortable and stable than any other pack I have or have had over the years, including light daypacks.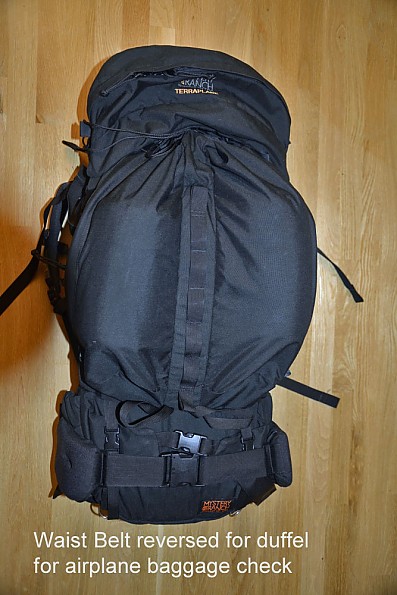 The new Terraplane packed and buckled for insertion into a duffel
There are a couple things still to mention. When traveling to distant realms for expeditions, I, like most others, go by air. It is unwise to just hand your stuffed pack to the check-in counter at the airport. Like most traveling climbers, I put the pack into a heavy-duty duffel. With the OK, I could readily take the waist belt off and lay it flat in the duffel along with my trekking poles, ice tools, and other loose items. The new Terraplane's waist belt is not so easily removable, at least as far as I have found. But the belt is articulated enough to fold it backwards around the full pack as in the photo.
Another thing to mention is how the pack hauls a sled. As in my avatar, on expeditions when you are on snow or glaciers a lot, you are often hauling much more than 50 or 60 pounds by the time you add all the food and fuel needed for a month on the mountain. Some people add a waist belt for pulling the sled in addition to the pack waist belt and their climbing harness. This adds a lot of uncomfortable clutter around your waist. The alternative that I and most of the people I climb with use is to wrap the sled's harness around the pack at a moderate height above the pack's waist belt. This makes for a much more comfortable haul.
I have not yet used a hydration bladder with the Terraplane. But I have carried bladders in subzero weather. There are several "secrets" to success to keep the bladder and hose from freezing. Since the bladder itself will go in the pouch inside the Terraplane, hence insulated on the one side by the pack's contents and toward your back for warmth on the other side, it should remain liquid. The weak link is that the hose is out in the open.
You can use the old "blowback" approach of blowing the tube clear back to the pack. The usual practice is to keep the hose inside your clothes, but this is not possible with the bladder being inside the pack and the hose coming outside even for a short distance. The neoprene insulation sleeve that is available for many hydration bladder hoses is completely inadequate for keeping the water liquid in the hose at temperatures more than a few degrees below freezing (32°F/0°C), though the "blowback" method will often work.  I note that on Mystery Mountain's website, they show a 2 liter and a 3 liter Camelbak hydration bladder.
A minor deficiency is that there is no provision for attaching a shovel, a valuable tool. I still have the beavertail for my OK, though that will not attach to the new Terraplane. You can fit the blade inside your pack or make use of the daisy chain between the two long pockets on the pack.
I also still have the very nice and clever rain cover that I got for my OK. Unlike most rain covers, this one includes a hood that reduces the amount of water that would get between your back and the pack.
Summary:
The first question is "How well does the new Terraplane meet my criteria for a heavy hauler backpack?" The answer is that as far as the testing I have been able to perform, the Terraplane does very well. Schedule and the unusual weather patterns have prevented more extensive testing in a wider variety of conditions.
However, extrapolating, based on seven decades of experience in the outdoors, ranging from backpacking in the Sonora Desert to pleasant days in the Sierra, to multiday storms in Antarctica and Alaska, I feel I can confidently recommend the new Terraplane to experienced backpackers, climbers, and expedition members who are headed to exotic places, those who will be carrying heavy loads of gear needed to accomplish the purpose they have set for themselves.
It is not a pack for the casual weekend backpacker, although it will serve well for that purpose if they need to and are willing to carry a big load. Although the Terraplane is heavier (due to the heavy-duty material) than many 70-80 liter packs on the market, at 6.8 pounds, it is only slightly heavier than many of them and rides (on me, at least) much more comfortably.
Always keep in mind when buying a new pack, no matter what the capacity, it has to fit your body. Just like boots, different makers use different ideas of the human body shape. If their "ideal human" is your shape, the fit will be comfortable. Most packs, especially the big haulers, are very adjustable over a fairly wide range and, with the aid of an experienced, trained pack fitter can be made fairly comfortable. But some will always fit you better than some others. And like me, you will probably find some packs by quality manufacturers that do not fit you.
The new Terraplane fits me like a tailored pair of custom gloves.
Source: tested or reviewed it for the manufacturer (kept it )

Your Review
Where to Buy
Help support this site by making your next gear purchase through one of the links above. Click a link, buy what you need, and the seller will contribute a portion of the purchase price to support Trailspace's independent gear reviews.
You May Like
Specs
Price
MSRP: $485.00
Current Retail: $319.96-$449.00
Historic Range: $179.99-$449.00

Weight
7 lb 7 oz / 3.37 kg

Capacity
5,000 cu in / 82 L

Dimensions
28 x 12 x 9.5 in