Nathan Intensity 6L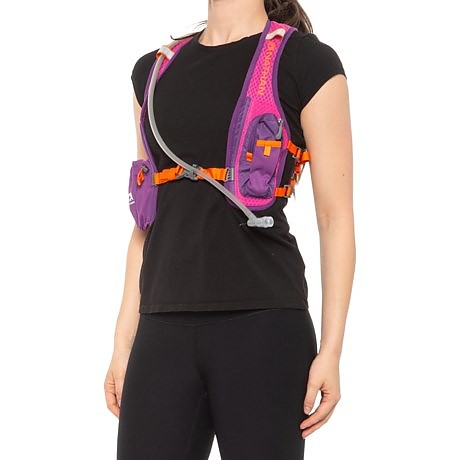 The Nathan Intensity running vest is an excellent woman-specific pack for running medium to long distances. With a 70-ounce reservoir and pockets for gels and chews, it has plenty of capacity to cover several hours on the run year-round. Plus, it's comfortable for hours and stable with no bounce.

Best For: I highly recommend the Nathan Intensity to other women who run at least several hours at a time on trails or roads. Men may want to check out the HPL 020 model.

Pros
Comfortable
Stable
No bounce
Women-specific design
Convenient for drinking on the run with reservoir tube
Convenient for fueling on the run with gel pocket
Cons
Fit is great, but hard to adjust on the run without taking off pack
Excess straps can flop around
Hydrapak reservoir is not my favorite, but can be switched out
Right chest pocket can flop a little
Fit
The Nathan Intensity is a comfortable, stable running vest specifically designed for women. I've been using mine for about three years and appreciate it for its good, snug fit with no bounce. Once on, I rarely think about the pack while I'm running.
The Intensity can be adjusted for fit based on different layers and body types. There are straps to adjust the bottom of the shoulder straps to the back of the pack and the sternum strap is adjustable and can be slid up or down for your best fit across the chest.
I don't find it easy to adjust the straps on the run itself and need to take off the pack to do it properly. And, sometimes the excess straps can flap around a bit, which I find annoying if it happens over and over… However, Nathan's newest version boasts a "new easy-adjust system for faster on and off," which may address those issues.
This Intensity is designed specifically for women and it fits me well. Of course, fit is personal. If you have a long-torso this pack may not be for you, but I like the snug, high fit (I've got a 17-inch torso). Men may want to check out Nathan's HPL 020 model.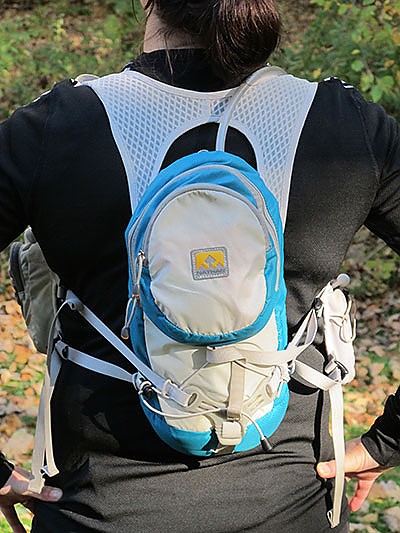 Comfort & Ride
Once adjusted, the Intensity is very comfortable to run in and has practically no bounce. I rarely think about the pack itself once I get moving.
The back of the pack is soft and lightly padded to wick away sweat. The shoulder straps are smooth and comfortable.
You can build up some heat and sweat on your back if you wear this when it's overly warm and/or humid, but the pack does a good job of wicking away sweat and venting. And I find having it on my back is a minor tradeoff for having good capacity, a comfortable fit, and stability with no bounce.
For comparison, I've tried running with a women's small Gregory Maya 5 hydration pack in the winter when I wanted extra capacity and went crazy by the bouncing of the reservoir and load while on a long run. Plus, I hated the relatively longer torso that reaches down to my waist. I did not use it ever again for running.
On shorter runs, I use a single 20-ounce water bottle in an Ultimate Direction Access waist pack with a small pocket for gels. On rare occasions, I use one of those water bottles as a hand-held.
Different options have their pros and cons, but for me the Nathan Intensity is the most stable option overall with the best ride, comfort, and capacity.
Chaffing
I tend to sweat a lot when I run (especially when it's very warm and/or humid). That means I can also chafe, even with the help of BodyGlide and appropriate clothing.
The Intensity causes minimal to no chaffing. It is very comfortable in this regard.
If the pack is adjusted properly there should be minimal movement.
I've occasionally noticed slight chaffing at the small of my back after a run, but nothing that bothered me while running.
Sometimes my arm swing causes chaffing on the inner part of my upper arms from where I brush against the chest pockets. If my sleeves cover my arms there, there's no problem though.
A word of warning, I would not wear this pack or a similar one with a tank or sleeveless top. It is likely to rub you the wrong way on bare shoulders. (I was away from home and had to use this pack with a Patagonia running tank top for a 5-mile run one August day—ouch.)
For me, the Intensity minimizes the risks of chaffing, especially when worn with short or long sleeves, and helps prevent chaffing, though I don't think anything is 100 percent chafe-free.
Capacity & Organization
The Intensity is a race vest and is not designed for carrying large loads. However, it does an excellent job of storing the basic running essentials in a small, compact package.
Nathan lists the current version's capacity:
6.55 L / 400 cu in without bladder

4.92 L / 300 cu in with bladder
Nathan also says the pack is designed for two to three hour runs or so, but I've used mine for longer runs up to four or five hours with resupplying my hydration.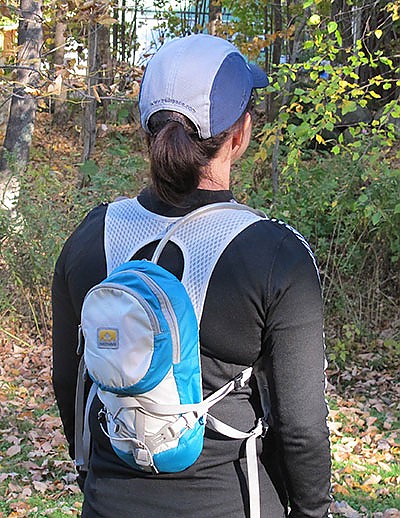 Here's the pack's compartmental layout.
Main Pocket: The main compartment holds a 70-ounce (2-liter) reservoir, with a port at the top for your tube to exit. The tube can go over either shoulder; both have a strap to hold it in place. The end with the mouthpiece is then clipped to your sternum strap.
Most of the main pocket will be filled by a full 2-liter reservoir. However, I can also fit a thin windshirt or baselayer and an EpiPen in the main compartment by packing carefully.
For its current version, Nathan says a "repositioned bladder tube now exits from top of pack to eliminate skin contact." I never had an issue with my bladder tube, but apparently this has been updated.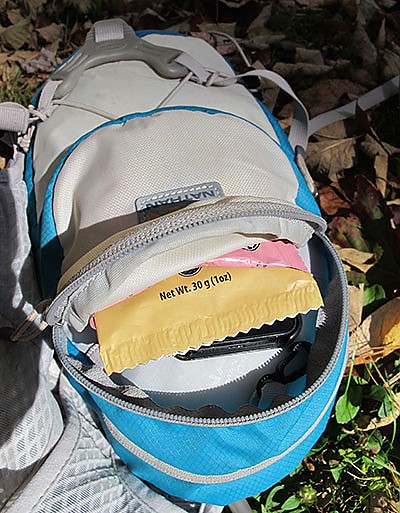 Back Pocket: A smaller, high back pocket can hold keys (there's a key clip), my iPhone, and a few larger snacks (like a few packets of Honey Stinger Energy Chews and Organic Waffles) that won't fit in the gel pocket.
This back pocket is handy for extra storage, but you'll obviously have to take off the pack to access any of it while on the run.
Straps: A small set of straps on the lower back let you strap on a shed windshirt and/or a set of Kahtoola Microspikes. They stay on securely when tightened, and I haven't lost anything yet. (Yes, I put an EpiPen and traction devices near my reservoir—use some common sense in your packing.)
On the front there are two chest pockets.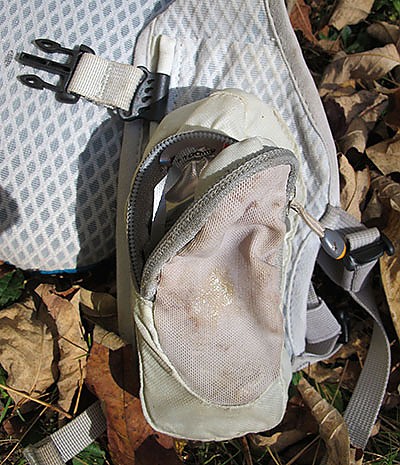 Left Chest Pocket: The left zippered pocket can hold about four to five gels (and maybe one more if I really jam it in there). This pocket is not big enough to hold Honey Stinger chews or waffles though, so I need to take off the pack to get them out of the back pocket. That said, no other gel pocket would fit them either.
(Note the current model updated this pocket to a zippered phone pocket with a gel stash pocket outside. Mine is simply one zippered mesh pocket for gels.)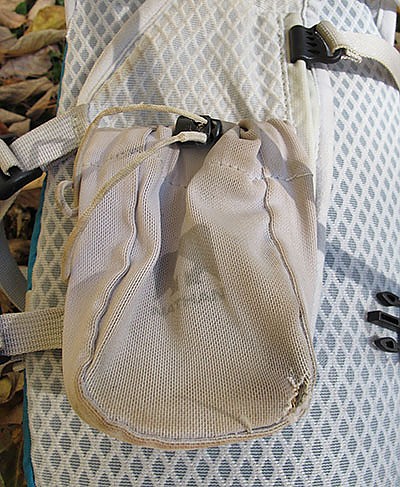 Right Chest Pocket: The right pocket is open with a drawcord to hold a 10-ounce bottle. I don't carry a water bottle in it, but use it for my iPod on long road runs (not on trail runs though). With the weight of the iPod this pocket can bounce a little sometimes. It's pretty much the only thing that ever bounces on the whole pack.
General Capacity Notes: For longer runs on hot days I'll need to resupply my water, but 70 ounces is a good base load for most runs in Nathan's stated 2-3 hour range.
In winter, you may need more capacity for layers. I can store that extra layer and traction devices on the pack, but not much more.
And, if you're going deeper into the backcountry, you'll want more capacity for the essentials.
You can certainly find running packs and vests with more and/or less capacity, but I think the Intensity hits the right middle-of-the-trail balance. It holds more than water and a few gels, and I can use it year round for most of my longer runs with some careful packing and planning.
Reservoir
My Intensity came with a 2-liter Hydrapak reservoir. I don't love it.
I find the on-off twisting action at the mouthpiece to be finicky and difficult at times. Likely due to that, I occasionally have some leaking drops while running until I make sure it's really off.
Also, the little plastic strap at the top of the reservoir broke, but that's inconsequential.
But, hey, it's a free reservoir, so I don't fault the pack for it. I do like the wide mouth for filling. You can switch out the Hydrapak if you don't like it for another 2-liter or smaller reservoir of your choosing.
In winter, I use a CamelBak reservoir with an insulated tube I already had (though I still need to be careful of ice buildup).
Construction & Durability
I've been using my Intensity pack for three years and it has held up very, very well so far. It gets used about once a week or so, usually on a longer run of two to four hours on average.
There's almost no sign of wear on the pack, except for some dinginess and a small hole in the front right pocket (see picture above), where I sometimes put an iPod. That hole started developing only this past summer.
For three years of regular use, I think the Nathan Intensity is holding up very well. I would recommend and try other Nathan packs based on the Intensity's construction and durability.
Care
The front left gel pocket can get quite sticky from stuffing my used gel wrappers back inside while running. I'll rinse off the gel pocket so it's not sticky.
The back of the pack can get smelly after numerous sweaty uses, but that's what happens when you run for hours in a vest pack.
Nathan recommends hand washing the pack. However, every so often I've simply put the whole pack in the washing machine with the zippers closed and washed it on cold/gentle with Woolite and then hung to dry. It has turned out fine so far.
Conditions & Use
This is a running vest pack and that's how I use it year round in New England for my longer-training runs on trails and roads. When I need more hydration and fuel than I can carry in a single 20-ounce bottle and pocket (generally 1.5 hours or longer runs), I use the Intensity.
I have also used it for short mountain biking and cross-country skiing outings, and it performed fine for those secondary uses, as long as I didn't need to carry very much.
While this is an excellent running pack, I use it mainly for training runs. While I have run some 50Ks and one 50-miler, I do not use this pack in actual ultra races for several personal reasons:
In a race I don't want to carry more weight than necessary, so I stick to one bottle in a waist pack and resupply at aid stations or swap bottles at handoffs.
I don't want to risk overheating in a race setting by having something I don't need on my back.
I had a hyponatremia incident post-ultra once (not due to this or any pack) and I don't want to risk thoughtlessly overdrinking by carrying more than I need.
That said, I've seen other women using the same Intensity pack at ultra races, and if you want a hydration pack for a training and racing the Intensity is an excellent option, as long as it works for you in training too.
Conclusions:
$100 MSRP seems like a lot for a small running pack to basically carry some hydration and fuel. But the Intensity is worth it. It's comfortable, stable, has no-bounce, and is a great all-around running vest.
Mine is still going strong after three years of regular use and has many more miles left in it.
I'd absolutely buy the Nathan Intensity pack again. If I could have only one way to carry hydration and some fuel when I ran, I'd pick this pack. I highly recommend it to other female runners who want to carry hydration and fuel comfortably and stably for several hours on the run.
Men can check out Nathan's HPL 020 model.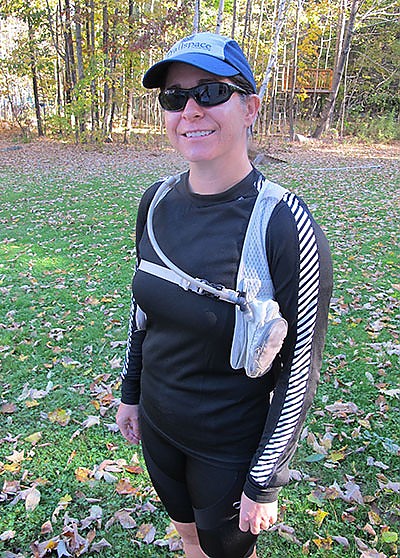 Source: bought it new
Price Paid: retail

Your Review
Where to Buy
Help support this site by making your next gear purchase through one of the links above. Click a link, buy what you need, and the seller will contribute a portion of the purchase price to support Trailspace's independent gear reviews.
You May Like
Specs
| | |
| --- | --- |
| Price | Historic Range: $59.93-$99.99 |
| Weight | 13 oz |
| Storage Capacity | 6.55 L / 400 cu in without bladder, 4.92 L / 300 cu in with bladder |
| Bladder Volume | 2 L |
Recently on Trailspace