NEMO Cosmo Pillowtop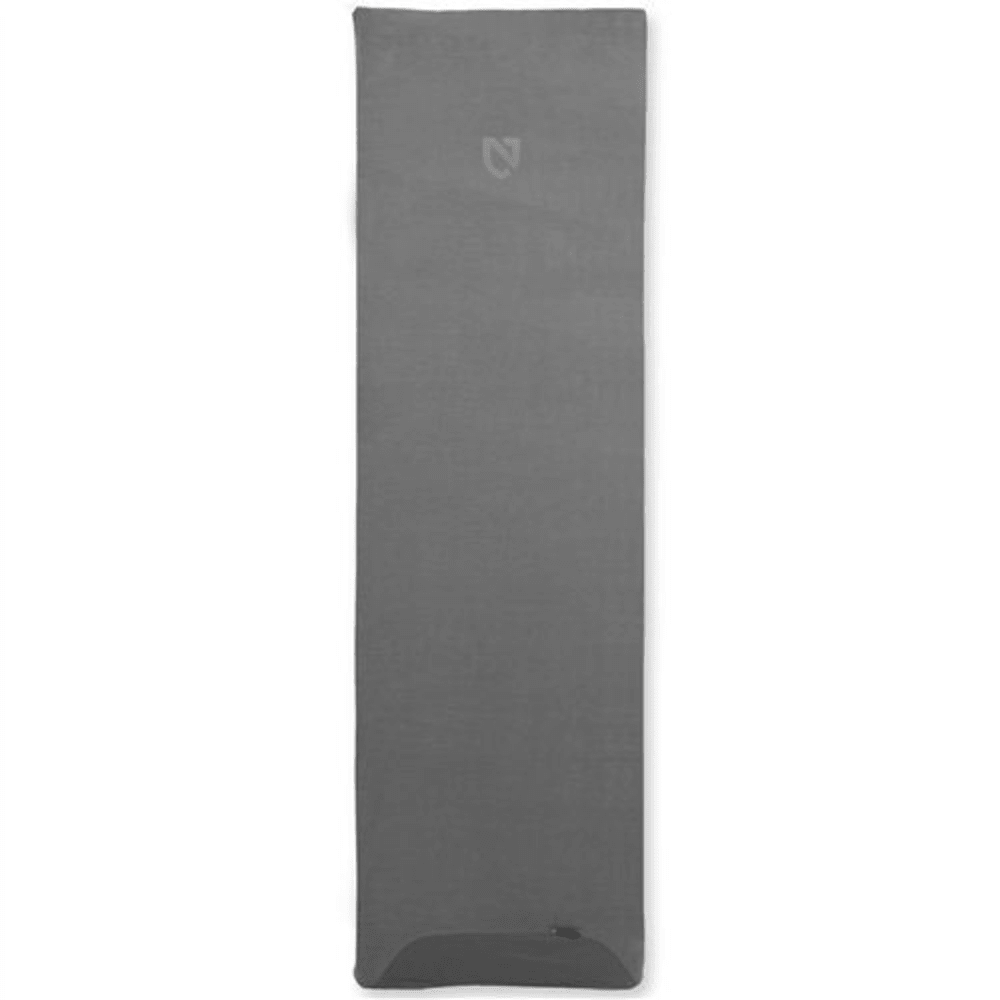 The Nemo Cosmo Pillowtop is an amazingly plush, luxuriously comfortable addition to your Nemo Cosmo series mattress pad.

I recommend this product to anyone with a Cosmo series pad that wants to add serious comfort to their pad, or wants to adapt their pad to other uses besides backpacking.
Pros
Inexpensive if purchased as a combo with a pad
Well designed and built
Warm, soft, and plush
Increased warmth and comfort outweigh the cons
Cons
Expensive if purchased separately
Fabric seems to attract dirt/debris
Tedious to roll up with a pad
Tedious to insert/remove a pad
*Reviewer notes: I have already reviewed the Nemo Cosmo Air and Pillowtop 1P sleep system combo. This review is of the Nemo Cosmo Pillowtop 1P SE by itself, and is, basically, identical to my other review, but without the parts about the pad.
Also, Nemo has made several different versions of this pillowtop over the last several years, with various changes to the fabric, construction, price and design. Although the same product, it has carried slight differences in name throughout its life.
It is, and/or has been, known as;
Nemo Pillowtop 1P Padded Mattress Cover

Nemo Pillowtop Padded Mattress Cover

Nemo Pillowtop Mattress Cover

Nemo Cosmo Pillowtop 1P SE

Nemo Cosmo Pillowtop 1P

Nemo Cosmo Pillowtop

Nemo Pillowtop 1P 25L

and some other various combinations of the above.
This review is of the older "coyote" colored Nemo Cosmo Pillowtop 1P SE version, which is still available, but now only as a combo with the pad.
Do not confuse this product with the Nemo Slipcover, which is just a washable piece of fabric that slips over your Nemo mattress pad (no foam).

Manufacturer Specs;
[on product]
"Cosmo Pillowtop SE a plush cover for your Cosmo Air SE that adds 25F of warmth. Features a removable 1" layer of comfort foam nested in a washable microsuede top.
Weight: 2 lbs, 1oz / 922 g
Width: 25 in / 64 cm
Length: 76 in / 193 cm
Thickness: 1.0 in / 2.5 cm
Pack Size: 11.5 x 8 in dia / 29 x 20 cm dia
Fabric: Washable Polyester Microsuede
Top 85% Polyester + 15% Nylon
Filling 100% Polyurethane Foam
Bottom 84% Polyester + 16% Spandex
Mesh 100% Polyester"

Now the good stuff: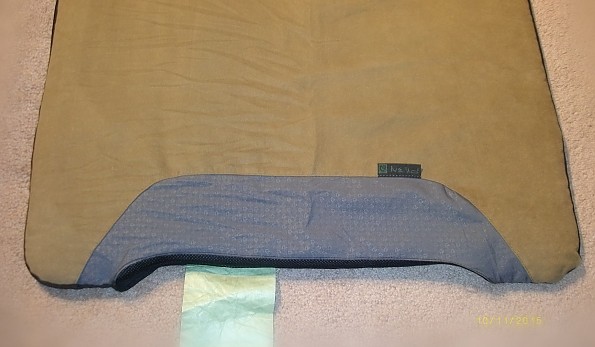 This is the foot end of the pillowtop, where the foot pump of a matching Nemo mattress would be.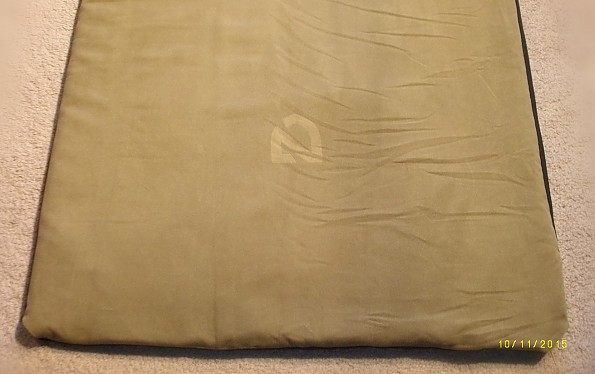 And this is the head end of the pillowtop, where the adjustment valve (on the left) and the dump valve (on the right) of a matching Nemo mattress would be.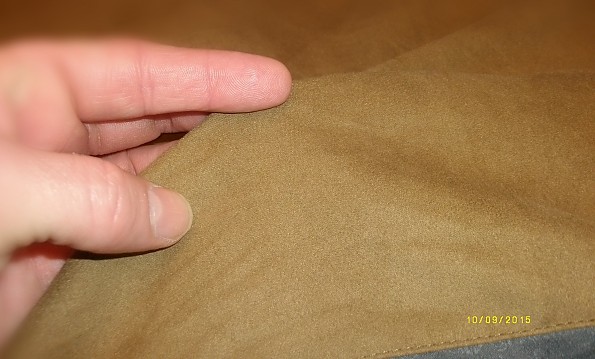 The top of the pillowtop is a very soft, comfortable fabric that feels similar to a brushed velour. Nemo calls it a "Washable Polyester Microsuede" on this version.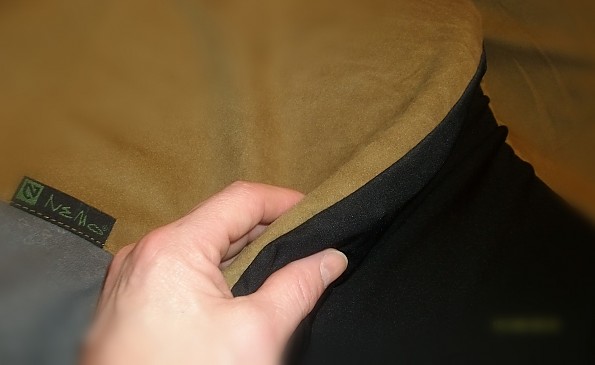 Here you see the side and seam of the pillowtop, with the seam marking the transition between the different top and bottom fabrics.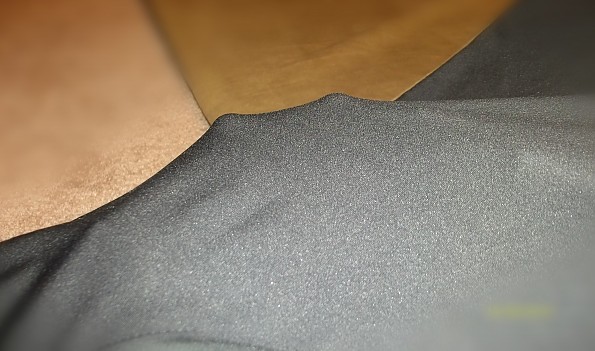 The bottom fabric of the pillowtop is a stretchy fabric, not unlike spandex pants.
(84% polyester and 16% spandex explains that)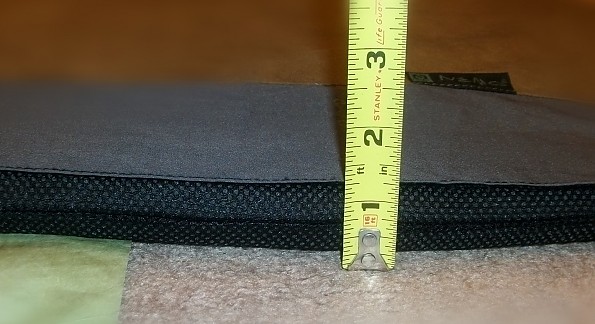 Here you see that you are actually getting a bit more than the stated 1-inch thickness of foam.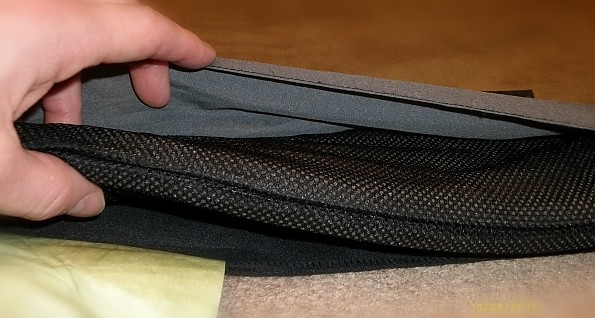 This photo gives you a better idea of all the layers that make up a sleep system using this pillowtop. Added all together, it is like a multi-layered sandwich, that goes like this:
(You)
(sleeping bag liner)
(sleeping bag)
microsuede top layer
mesh
foam
mesh
(mattress pad)
stretchy bottom layer
(tent floor)
(ground sheet)
(Earth)
You are looking at some serious separation, and protection, between you and the ground! What's not to like about that??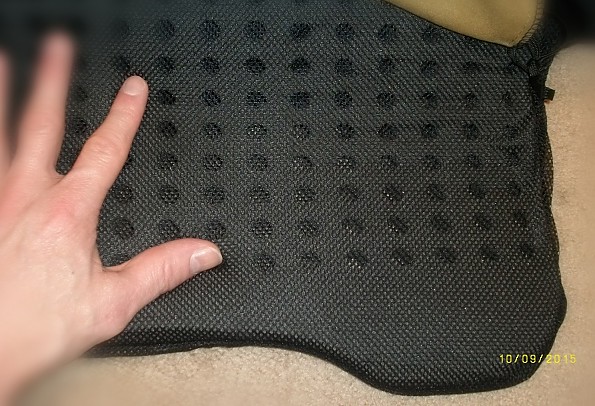 Here is a better look at the foam inside the pillowtop. Notice the pattern of holes in the foam. This provides breathability, and (at least in theory) uniform compressibility.
The foam (with its mesh 'bag') is removable from the outer layers, to allow the exterior to be washable. I haven't tried this yet, but I can already tell that it may be a tricky process getting the foam in and out.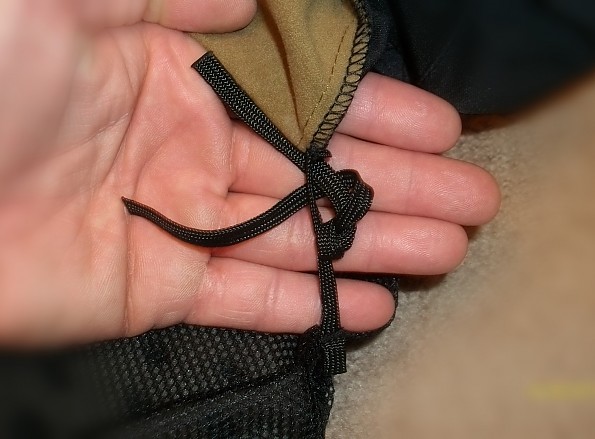 The exterior cover, and the inner foam with mesh, are tied together. So, assuming you take them apart, I guess having tie-out points to line up would help in reassembling it.
Putting a mattress pad inside of the pillowtop can be a little tricky...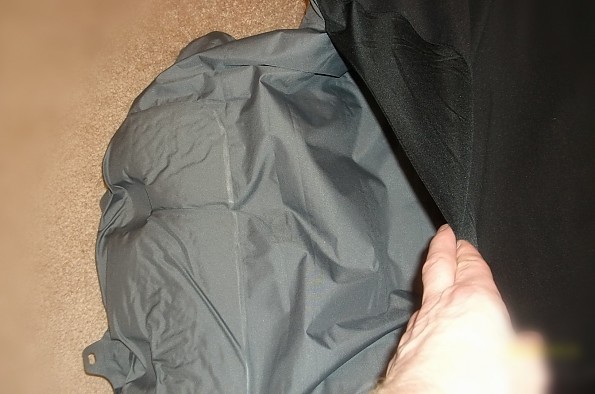 ... and is best accomplished by inflating the pad slightly, and flipping everything upside down. You also want to ensure that you insert the pad between the foam, and the bottom (stretchy) layer. Having everything top down helps to make sure you get it right.
Of course, also make sure you put the correct end in first! Insert the head end (with dump valve and small adjustment valve) first!

Use:
In the following photos, I paired the pillowtop with its mate, a Cosmo Air 25L mattress pad, and placed them inside of a tent, as they would be used. Actually, I DID use the pillowtop and matching pad, in the tent shown, that very night.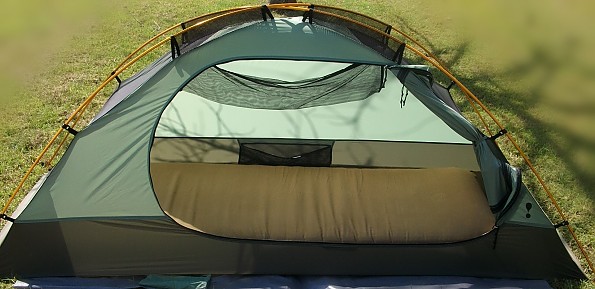 The tent is a Eureka! Backcountry 1. This tent measures 8' x 3', and as you can see...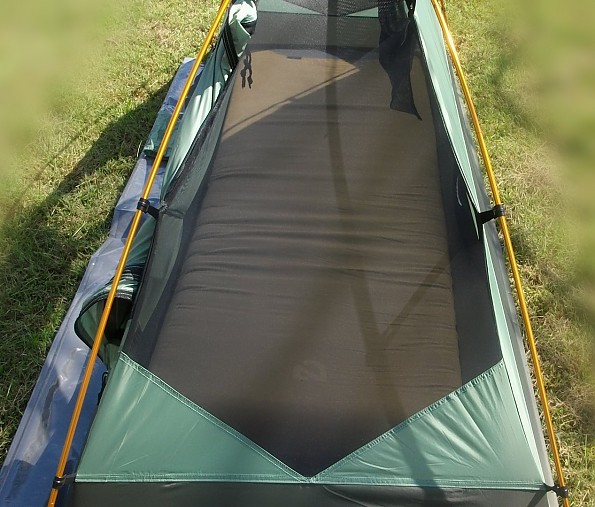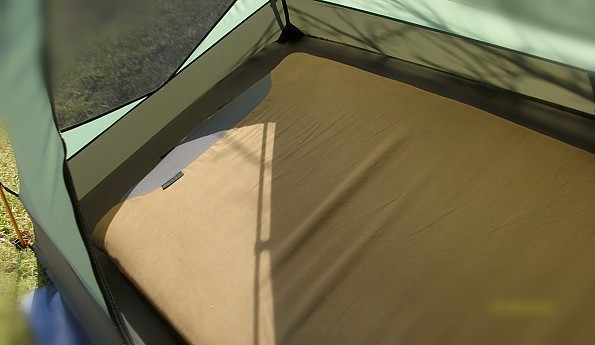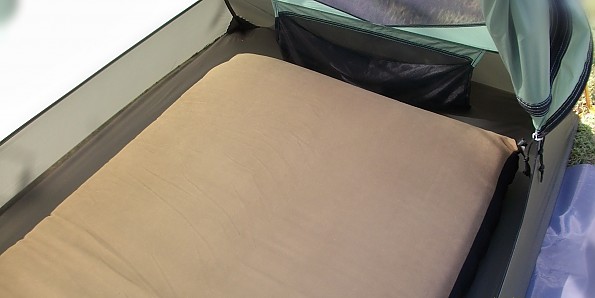 ... the pillowtop with pad takes up quite a bit of the floor space. At 25" x 76", this is not a minimalist sleep system. It is made for plush comfort.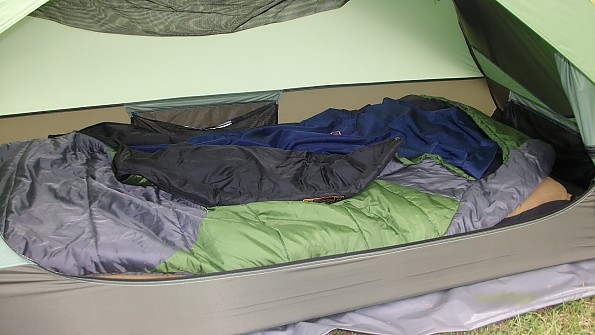 The morning after! Ahhh... there is nothing like sleeping outdoors- especially on such a luxurious mattress pad/pillowtop combo!
Pictured with the pillowtop and matching Nemo Cosmo Air pad, in the Eureka! Backcountry 1 tent, are a Chinook Pongee Mummy Liner and a High Peak E-Z Pak 1000 Sleeping Bag. (please see my reviews of those, as well!)

The Downside:
Dirt, leaves, grass, etc. clings to the fabric on both sides, and is a bit difficult to remove.
(a shop vac, or a lint brush/roller are the best ways I have found)
It is tedious to roll up and pack the pillowtop together with a mattress pad.
It is also tedious to insert/remove a pad from the pillowtop.
I can see (but have no firsthand experience) that removing/replacing the foam from the outer cover could be tricky.

Conclusion:
I can't comment on its durability yet, as I haven't used it enough. Nor can I say if it will repeatedly handle the abuse of backpacking. The majority of my use has been car camping and indoor use, which is what it is most likely intended for. But, so far so good.
Regardless of the "negatives", when paired with a matching Nemo mattress pad, the Nemo Pillowtop 1P is an amazingly comfortable sleep system!
It is warm, soft, and plush. It is well designed and built.
If you are looking for luxurious comfort, without thought to weight, then I really can't think of anything that even comes close to the Nemo Cosmo Pillowtop 1P.
At $143 WITH the matching Nemo mattress pad, you simply can not beat this for plush comfort!
If you already have a Nemo Cosmo series mattress pad, the pricing for the Pillowtop is dependent upon size.
Prices range from $89.95 for the 20R, to $99.95 for the 25L, and $129.95 for the 30XL.
Nemo also makes a version for the Astro 20" pad (currently $39.95), as well as a version for the Zor/Tuo Standard pad (currently $19.95).
This is a great addition to your Nemo mattress pad, and you will not regret purchasing it!
Good luck and get out there!
:-)
And if you liked my review, please vote it up! Thanks!
Source: bought it new
Price Paid: $143 with matching pad (combo)

Your Review
Where to Buy
Help support this site by making your next gear purchase through one of the links above. Click a link, buy what you need, and the seller will contribute a portion of the purchase price to support Trailspace's independent gear reviews.
You May Like
Specs
| | |
| --- | --- |
| Price | Historic Range: $26.97-$169.95 |
Recently on Trailspace