NEMO Fillo

Incredibly comfortable, but bulkier than some air mattresses.
Pros
Very comfortable
Relatively quiet
Removable / washable cover
Foam + Air combination
Integrated storage bag
Integrated bungee cord backing
Cons
Bulkier than some air mattresses
Heavier than some air mattresses
The Nemo Fillo is a great pillow if you have trouble sleeping on a rolled up pile of clothes and don't mind carrying along 10.7oz of extra weight. While I love the Fillo, it's just too heavy and bulky for me to carry around.
If, however, you take out the air bladder and internal foam padding, the cover itself comes in slightly lighter than the stuff-sac pillows I was able to find at REI. Rather than carry the full Fillo, I will use just the cover and fill it with my down jacket at night. This gives me the soft / quiet exterior of the Fillo paired with a down, multi-purpose, and lightweight interior!
CONSTRUCTION
I have never had any issues with Nemo's materials / construction and the Fillo is no exception. Everything about it feels well designed and well implemented. The felted cover is the perfect level of soft (some camp pillows go overboard and feel like you're sleeping on a sheep!), while the water-resistant backing acts as a stuff sack and keeps your Fillo from soaking up too much dew / rain / etc.
As I mentioned above, the weight was too much for me and so my Fillo only came on two backpacking trips before I retired it. When I took it out (over a year later) again for car camping, I found that the foam bounced back after only about 5 minutes, the felted cover had somehow survived a year in a musty basement without picking up too much mildew smell (one quick spray of vodka / water mixture solved the issue once and for all), and overall the Fillo appeared to be as good as ever!
PACKABILITY
Packability is both a strength and a weakness with the Fillo. It comes with an integrated storage pouch in the cover, which is nice and convenient. Getting it to fit into said cover is a bit of a wrestling match. The Fillo's air bladder and cover will easily fit, but the foam takes some convincing. And either way, the stowed pillow is larger than my current Therm-a-Rest NeoAir mattress (and comes in at 3.4oz heavier)! It's really hard to justify a pillow that takes up more room than your mattress.  
In the end, I found that I could split the difference by leaving the air bladder and foam behind and filling my Fillo with my down jacket at night.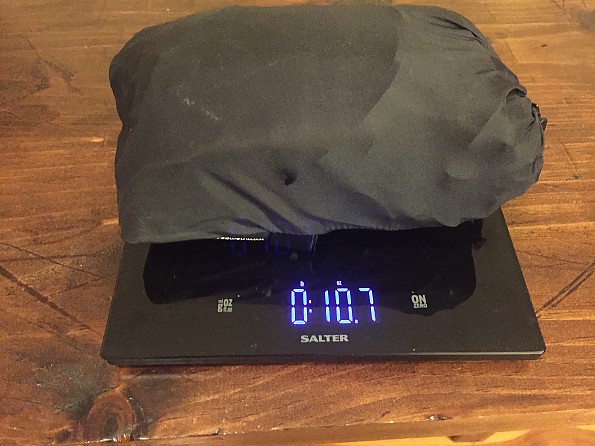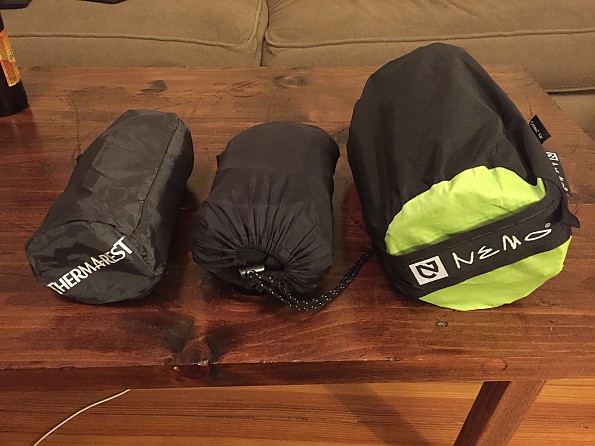 (Fillo in between a Therm-a-Rest NeoAir mattress and a Nemo Cosmo Air mattress—the NeoAir looks to be about the same size, but that's just the stuff-sac. When packed, it takes up much less space. The Fillo, on the other hand, is bursting at the seams.)
COMFORT
Here is where the Fillo really shines.  I've never really been a fan of air pillows before. Sure, you can adjust how much air is in them, but that doesn't really adjust firmness, just where your head sits relative to the rest of the pillow.
The addition of foam in the Fillo is the missing component. This was the first air pillow I was ever able to sleep on comfortably. Granted, I no longer use the foam or air, but that is purely because of weight and packability, not because of comfort.
Another thing I should really mention here is how quiet the Fillo is. Some pillows sound like you're sleeping above a tarp factory as every minor move causes crinkling and popping. The Fillo's air bladder does make some noise, but it's quiet enough that you don't notice it after a few minutes.
USES
The Fillo's best use (as-is) would be for car-camping or people who don't mind hauling a 65+ liter pack through the woods. If comfort trumps all else, then this is definitely your pillow.
If, however, you're like me and want your gear to be as lightweight as possible, but don't want to sacrifice comfort, leave the air bladder and foam behind. You'll do just fine with the cover and some clothes.  At 2.1oz (If you remove the bungee cord - 2.5oz if you leave it), the Fillo's cover is as lighter-weight than some stuff-sac pillows, does the same job, and is quieter / more comfortable.  
However, unlike a stuff-sac pillow, the Fillow's cover doesn't make a good stuff sac for clothes as the felt doesn't have a true backing. It also has a small hole in the corner where the air valve is meant to go. This means you can't turn it inside out to use the whole thing as a stuff sac. Rather, you would have to use the attached stuff sac for the Fillo cover AND your clothes (I found this to be large enough for two pairs of boxers and one pair of socks).
Source: bought it new

Traveling, hiking, and napping are great with this Fillo. I sleep with a narrow pillow, and filling the Fillo only partially works wonders. I sleep soundly every time with it. When you try it out, it may not feel fantastic, but I sleep UN-interrupted using it, so my sleeping self loves the feel of it, I guess you could say.

I would recommend it to anyone who travels, hikes, or naps. No air loss in the morning. Easy to clean. if you are a side sleeper, fold the Fillo over, to double the height. It can be more comfortable for side sleepers that way.
Pros
Comfortable
Adjustable
Foldable, but just as easy to store flat and deflated.
Cons
If you roll over onto your side, your head will push the air out of the side of the pillow under your head, until you get your inflation correct. You can also double it over, to increase the support.
You can store this Fillo in its sack (4 x 6 inches), or just push the air out of it and store it flat, as it is compressible and takes no space storing it flat. Please read my review above. 
The only thing I would add is that there is a bit of "sticker shock" at the price at first, but believe me, I really value a good night's sleep and the Fillo is worth much much more than its full price. I have no question about that. Try it at different levels of inflation until you find the one that lets you sleep the best, and the longest.
For best use, store it flat and the valve open, without using the attached sack. The Fillo seems to wear best that way, but keeping it in the sack will not harm it or scar it. The thing just pops out into the full flat shape without hesitation.
Excellent travel, hiking, napping, airplane pillow. And worth every penny on sale or not. I just get the best sleeps on it, and that makes tomorrow's hike or trip, all the more enjoyable. After trying it at home, I can tell you that it does not feel as great after a number of days. A few days fine, but not three weeks fine.
-Longhand
PS:  Having used it now for two or more weeks, if you sleep on your side, this Fillo is not the best. I say this because if I turn on my side, my head pushes all the air out from underneath my head until my head lies on just the memory foam, which is only about 1 inch in height. All the displaced air is pushed to the other side of the Fillo, where my head isn't.
This is what happens when I only fill it partially. Things might be different if I fill it up more, but for me, I am looking for a pillow now that is not inflated, and am going to fiddle around with the amount I inflate the Fillo, to see if that helps side sleeping.
Source: bought it new
Price Paid: Full price after reading reviews online

The Best inflatable camping pillow. Second to None. Your significant other will thank you when you wake up the next day and you got a Big Grin on your face. Then you will go out and buy another one because it was confiscated from you.

It's small enough to even take backpacking.
Pros
Comfortable
Height adjustable
Wide
Cons
Heavier than some UL pillows
Your significant other will wonder why the Big Grin on your face the next morning. Then you will go out and buy another one because it was confiscated from you by her. (Nemo better pay me for this review.)
It's small enough and folds flat to even take backpacking though for my UL needs it's a bit too much. It's also wide for a blow up pillow and the contour and design of it ensures your head is not wobbling over the air bladder.
The 1 inch of memory foam tops off the comfort and breathability of this piece of borderline glamping piece of equipment. I wouldn't hesitate to use it at home either. Fill it at about 80-90 capacity for the most comfort. Oh did I mention it's height adjustable too? Add some clothes to the straps to adjust the height
Only downside is the fabric side where the memory foam lies. It will soak up your facial oils. Put a bandana or shirt over it or sleep with your headwear when you use it.
Source: bought it new
Price Paid: $39

I hunted for this pillow and I do not regret it. It has the best of both worlds: comfort and packability. It combines air inflation, memory foam and sort of a stuff sack pillow.  Oh and it packs into its own 4x6" stuff sack! 
You can add extra height underneath and not have to worry about sleeping on a lumpy shirt.  I got it on sale but I'd pay full price for it if I had to.
Price Paid: $32

I bought the Nemo Fillo because I was in the Navy and had to bring my own sleeping stuff to work when I had Duty. I decided on this because of its space saving ability.
When I received it, I was concerned that the memory foam would be destroyed because of how small it was packed but every time I have used it since, it has been just as comfortable as the day I got it and always springs up to its full form every time.
This pillow is so convenient and small I have taken it to concerts, camping, picnics, everywhere. I leave it in my vehicle for those spurious star gazing nights.

Design: Rectangle 17 x 10.5
Fill: air with memory foam top
Temperature Rating: n/a
Weight: 10.8 oz
Price Paid: $39

I love this pillow! I go backpacking 3-4 times a year, and a sore neck from sleeping is usually my only issue. I've experimented with several other products and set-ups, but this is by far the best.
The features are great - it packs down to next to nothing in the attached stuffsack, the bungee on the bottom is great for raising it up a bit, and the memory foam/fabric combination is really comfortable. And I've never noticed any signs of air loss in the morning.
Great pillow!
Price Paid: $39

Your Review
Where to Buy
Help support this site by making your next gear purchase through one of the links above. Click a link, buy what you need, and the seller will contribute a portion of the purchase price to support Trailspace's independent gear reviews.
You May Like
Specs
Price
MSRP: $44.95
Current Retail: $39.95-$44.95
Historic Range: $17.98-$44.95
Reviewers Paid: $32.00-$39.00

Weight
10.8 oz / 0.31 kg, 5.1 oz w/o Memory Foam

Dimensions
17 in x 10.5 in / 43 cm x 27 cm

Packed Dimensions
6 in x 4 in

Recently on Trailspace