NEMO Moonlite Reclining Chair

Top 25 in Camp Chairs
A compact camping chair that comes in under 2 pounds, making it an option for backcountry use or most commonly, an easy to haul option for those times in the frontcountry when you need a chair (car camping, backyard cookouts, beach trips, and more).
Pros
Adjustable seat (reclinability)
300 lb. weight limit
Useful storage bag
Easy to clean and fast to dry
Breathable mesh
Cons
Squeaky feet on hard surfaces
Frame setup takes a little getting used to
Conditions: 
I've used the NEMO Moonlite Reclining Camp Chair for nearly four months, from late spring through summer and now as we head into the early days of autumn. The chair has been used during weekend camping trips, day trips to the beach, at several backyard cookouts, and pulled out of the trunk at the trailhead when I'm back at the car after a strenuous hike (I love sitting it in to take my sweaty boots off and enjoy a moment of rest before getting back in the car). It's been used primarily by me (6'2" and 200 lbs or 1.88m and 90.7kg), but also my 2-year-old daughter took a liking to it because she could easily get in and out of it without it tipping over.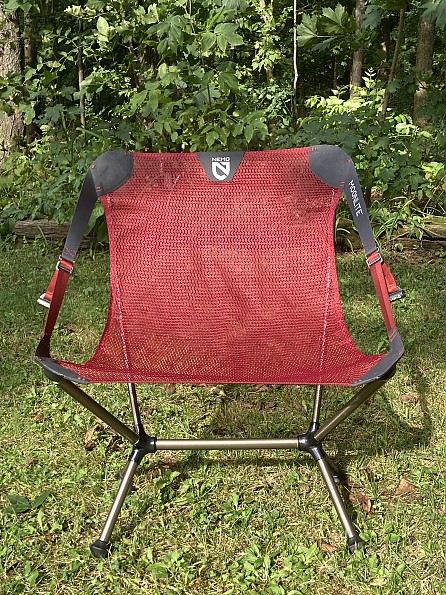 Specs:
Carrying Weight: 2 lbs. 1.7oz (listed as 1 lb 14 oz) or 955 g (listed as 850g). The manufacturer may be referring to weight without the carrying case, but it would be impractical to carry it without the case. 

Weight Limit: 300 lbs (or 136 kg)
Construction and Durability: 
After using several different camping chairs, I've come to realize every manufacturer has their own take on the category. Some go for minimizing weight, some go for comfort, some go for looks, some go for easy setup, some go for using sustainable materials, you get the picture. I think NEMO takes a swing at all the major categories with the Moonlite and for the most part, hits on just about all accounts.
In terms of how the chair is made, the thick aluminum tubes are larger than many others I've seen, especially for a chair of its size. This likely adds a little bit of weight, but it's needed to support 300 pounds (a fairly high limit for the category) and maintain durability. The main support tubes directly under the seat are also slightly oval-shaped, instead of the normal round shape, which I guess was determined by some product engineer to be stronger. Who knows?
There are two parts about the frame's construction I don't particularly care for. First is the fact that two back legs are riveted in place, meaning that they don't detach like all the others. This is the only chair I've ever seen with this frame approach, which can make for a confusing tear down since not all legs collapse into the frame. I'm not sure if the reason for this design is for space savings or stability or for some other reason, but I have to think it must be there for some reason, otherwise why annoy users when tearing down the chair in the dark and thinking that the legs are stuck while pulling and pulling at it. It's not intuitive, that's for sure.
The other aspect I don't particularly care for is the squeaky noise that the chair's feet produce, typically only when on a hard surface though. They seem a little loose/wiggly, so that is likely the cause of the squeak. I'm a bit nervous taking this into the woods for hunting purposes, with those squeaky feet, but I'll give it a try and if they squeak, I'll take a backup option.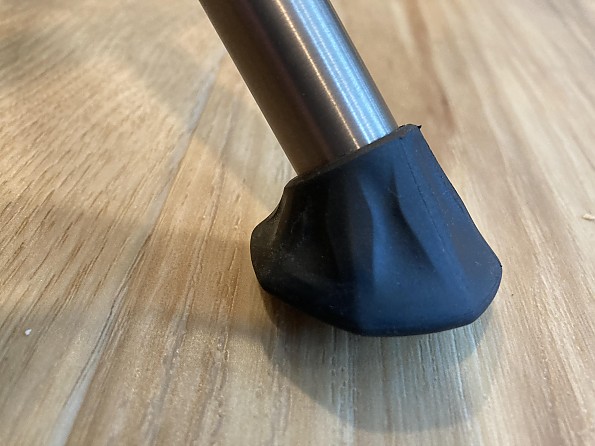 The actual fabric seat part (not the frame) is made of an "asymmetrical mesh" that is unlike anything else I've experienced with a camp chair. Instead of adding the usual breathable panels, the whole seat is breathable. Fully mesh made me a little nervous at first, as I wondered if it would be strong enough or prone to snagging, but after four months of regular use, I've found that my worries were unwarranted. It's very comfortable, breathable, and dries very fast when needing cleaned.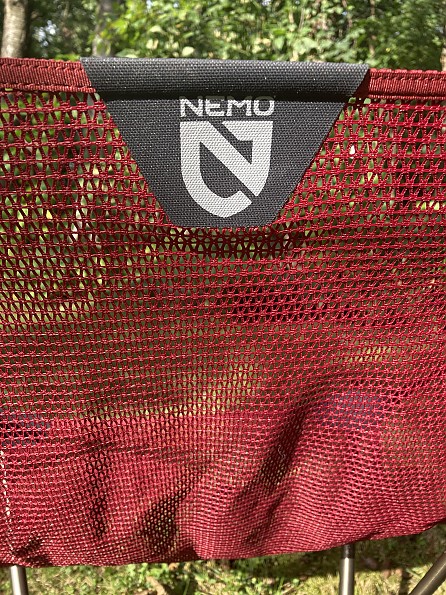 The connection point between the fabric and the frame is also a pretty unique approach. Instead of the usual reinforced sleeve for the frame's arms to slide into, NEMO has gone with "Y-molded ball-and-socket connectors" which snap into place. I wouldn't say they are any easier or any harder to take on and off, but they are unique and may give the fabric more flexibility since the connection spots can pivot more than a traditional sleeve can.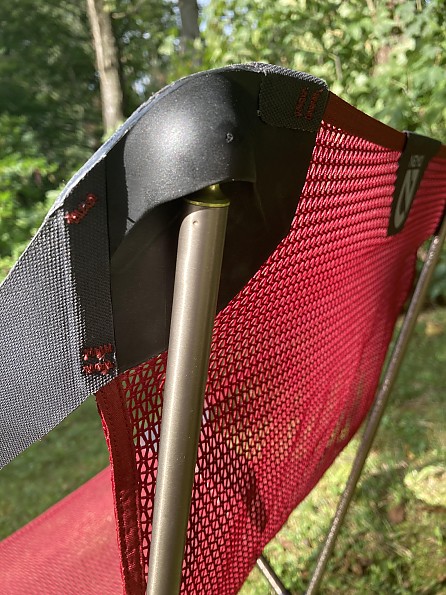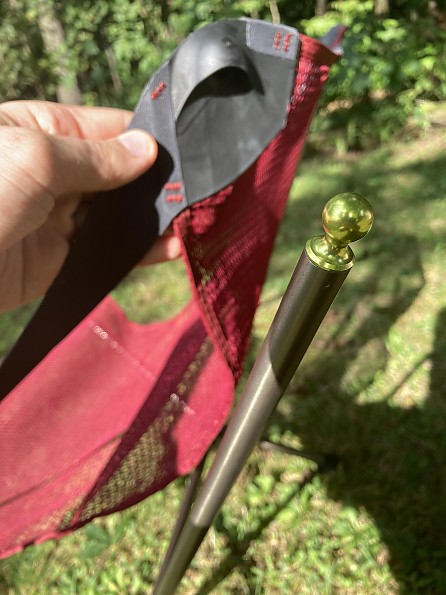 The mesh, edge binding, and webbing is all made from 100% post-consumer recycled materials and the mesh and reclining hardware are bluesign approved, which is an industry-leading sustainable textiles rating. 
Set-Up and Tear-Down:
Like many of the shock-cord frame chair setups, this one is built on collapsible aluminum frame with shockcord running through it. The aforementioned two rear riveted legs make for a slightly different teardown, but it's essentially the same collapse and stash approach as most other lightweight camping chairs…with one caveat, you can actually set this up incorrectly. On a few occasions, I've got the middle frame tube twisted and after inserting all the tubes, I realized that the two sides of the chair face in opposite directions (i.e. half right side up and half upside down). It's fairly easy to do, but it's also easy to fix. Just undo one of the middle frame tube and twist 180 degrees and reset the tube into its holding place. While not a big deal, I mention this because it's the only chair this has happened to me with, and it's happened more than once.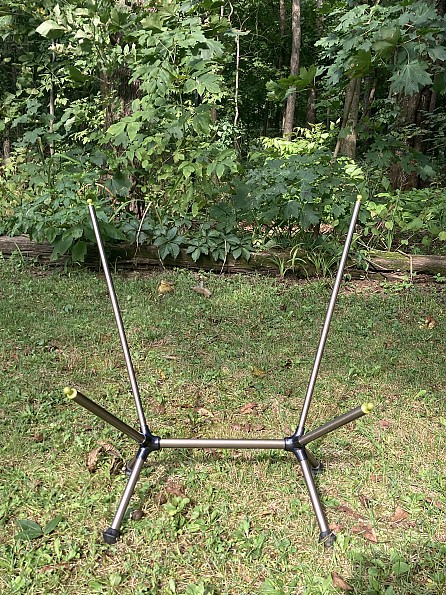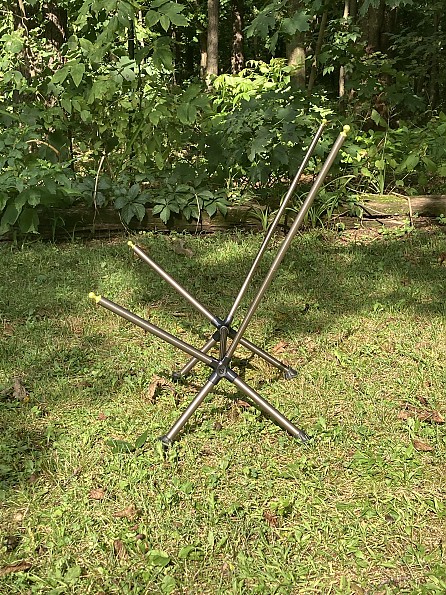 As for the carrying case, it's probably the best designed of the ones I've used. The zipper is functional, the material is sturdy, and the capacity is just right for the chair, making the frame and seat easy to stow.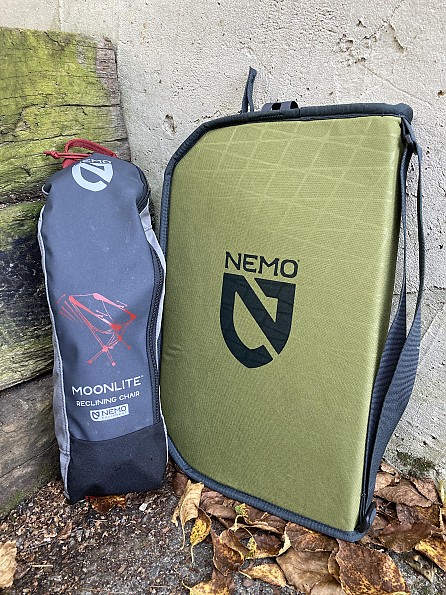 Comfort: 
Comfort is a fairly subjective aspect of any chair, but this one is on par with most other chairs I've owned and used. The seat has a slightly lower back than some others that I've used, but the back adjusts from fully upright to slightly reclined, which does add to comfort given how I want to sit. More on the reclining aspect in the next section…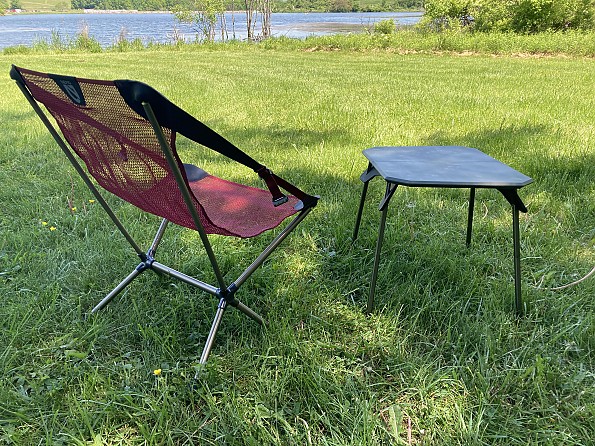 Reclinability: 
The reclinability of the chair comes from the adjustable toggles and straps that allow the user to either cinch them so the chair sits more upright or relax them, so the chair reclines a bit. The nice part is that it is not an either/or scenario, as you can tighten or loosen the straps anywhere in between to find the most comfortable sit. I personally find myself not using the "fully reclined" mode very often, as I prefer a more upright seat—about two-thirds of the way to fully upright is my ideal spot. The adjustability is super easy to do while sitting in it. No need to get up to make adjustments. 
Stability:
Stability is perhaps the area of most concern when I think about taking a chair into the woods or around a firepit, especially if my 2-year-old child is using it. The NEMO Moonlite has been stable enough for her to squirm around on. It's also stable enough for my much larger frame to sit, but I haven't sat continuously for more than a couple hours at a time. I'll be interested to see how it goes when I introduce it to the rocky hillsides and long sits of an autumn hunting season.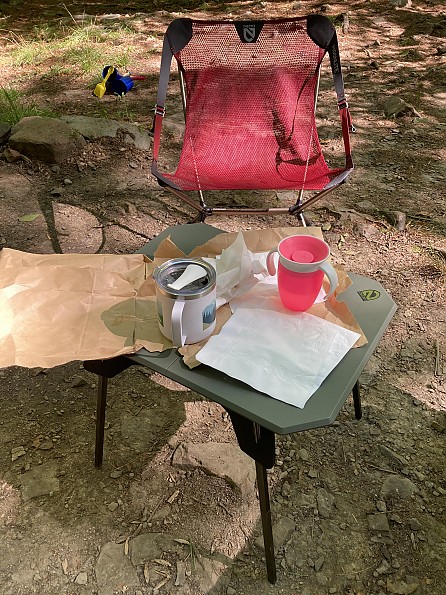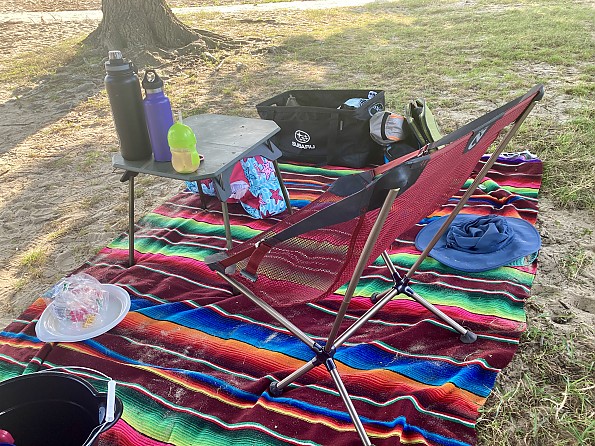 Cleaning and Storage: 
Maybe it's because we've had a very dry summer, but the chair has stayed mud-free, and we've only spilled a drink here or there on it. I've spot cleaned the fabric and it dried remarkably fast. The feet are also easy to wipe off and don't cake in the soil, so that makes packing it back up quicker and cleaner.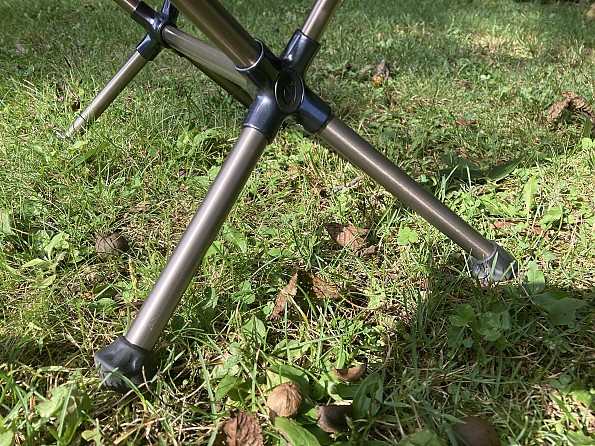 Comparison to Other Chairs: 
While I've used a variety of other outdoor sitting devices (stools, inflatable chairs, etc.) as well as comparable folding chairs, I'll stick to comparing the NEMO Moonlite only to the chairs I've owned. 
NEMO Moonlite Reclining Chair:
What I Like: Adjustable back positioning

What I Dislike: Most difficult/least intuitive to set up and tear down (although not particularly difficult once you get the hang of it)
What I Like: Swivel feature and durability

What I Dislike: Weight
What I Like: Easiest and most intuitive set up

What I Dislike: Knobby feet are a pain to keep clean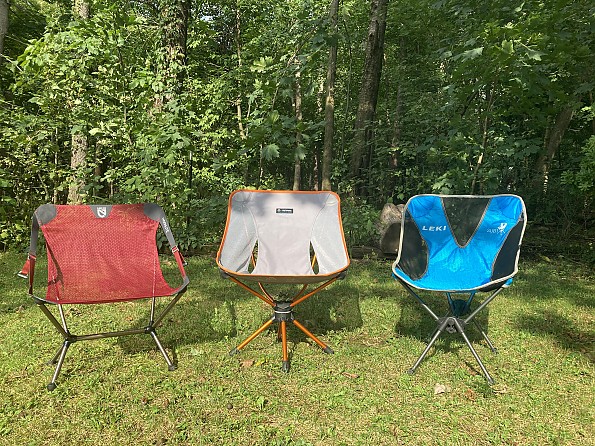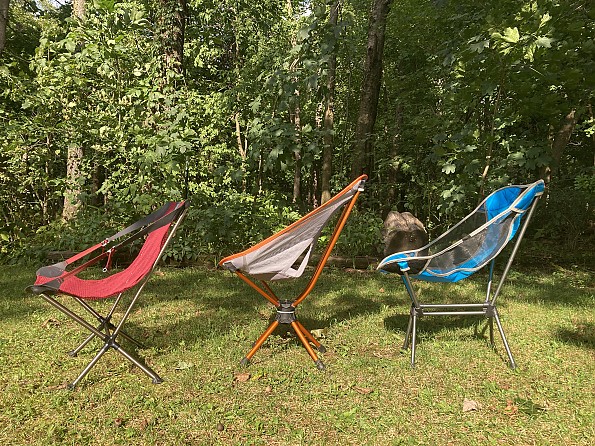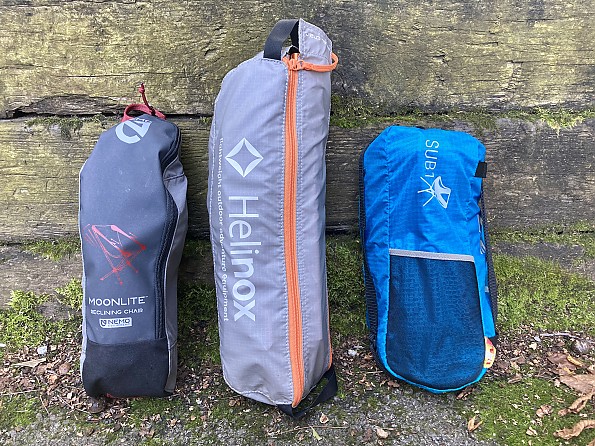 Accessories
While the NEMO does not currently offer any add-on accessories for the Moonlite chair, like a drink holder or different feet options, it does have some complimentary products that theoretically go with the chair, including the Moonlander Dual-Height Table (which I reviewed simultaneously with the chair) and the Victory Patio Blanket and Victory Screenhouse (neither of which I reviewed). Each item is sold separately.
Overall Recommendation: 
I think that NEMO has made a very useful camp chair with the Moonlite. The fact that it has some moderate adjustability to recline and its relatively low weight makes it an option for someone who has the space in their pack and is okay with taking the nearly 2-poiund chair into the backcountry. Besides that, it's perfectly practical for campground camping, backyard cookouts, and beach trips, not to mention kid's outdoor sporting events, as no one really enjoys lugging around heavy chairs to those events.
Experience
I've used a variety of camping chairs, stools, and inflatable pads for backcountry sitting for many years including when camping, hunting, and day trips.
Source: received for testing via the Trailspace Review Corps (Sample for testing and review provided by Nemo)

Your Review
Where to Buy
Help support this site by making your next gear purchase through one of the links above. Click a link, buy what you need, and the seller will contribute a portion of the purchase price to support Trailspace's independent gear reviews.
You May Like
Specs
Price
MSRP: $149.95
Current Retail: $74.95-$159.95
Historic Range: $74.95-$159.95

Packed Size
4 x 4 x 14 in / 10 x 10 x 35 cm

Dimensions
20 x 20 x 26 in / 52 x 51 x 65 cm

Frame
Premium forged 6061 series aluminum hubs and oversized 7001 series aluminum tubes

Materials
100% post-consumer recycled materials are used in asymmetrical mesh, edge binding, and webbing — asymmetrical mesh and reclining hardware are bluesign approved

Recently on Trailspace