NEMO Obi 2P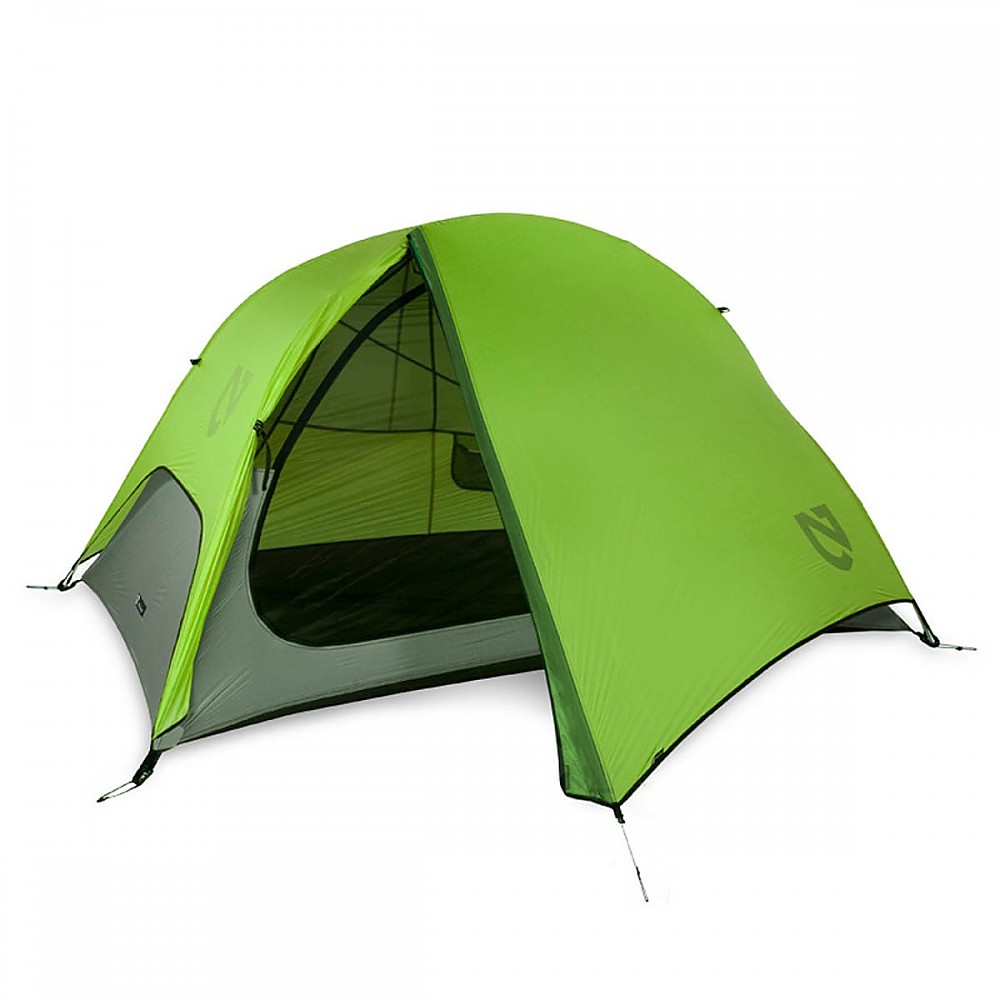 Decent tent. Pitches and adjusts quickly and easily (10 minutes tops), is very lightweight, compresses in its stuff sack to the size of a loaf of bread. The poles stow in their own, separate pouch.

I'm 6'3"/225 lbs. and I really fill up the interior. No room inside for another person or much gear, especially a pack and boots. Two doors, one on each side. Each door has a fly-vestibule big enough to keep gear out of the weather.

Okay shelter, but cramped for a big dude like me. All the 2-person tents I've seen (and I've only seen a few) are really 1-person.
Pros
Lightweight
Pitches quickly, easily and adjusts tightly
Two side doors and a fly-vestibule for each
Attractive green color on the tent fly
Cons
Cramped-one person only
Interior small gear pocket is not deep enough
Pretty spendy
Condenses with the fly closed.
Gimmicky plastic corner connectors
I've used this tent only twice. The first time was an early October solo into the North Idaho Selkirks.
A nasty, unpredicted snowstorm developed overnight. I had to get up twice during the night to sweep the snow off and tighten the fly. The snow weight was pushing in the walls. My hands were freezing when I pitched and it was difficult manipulating the plastic corner connections on the fly, footprint, and pole sockets (jakes feet). It's only a light 3-season tent, so that's to be expected. With a little practice, this should improve.
I just returned from a multi-night trip into the Cabinet Wilderness. The tent was fine. It pitches quickly and tightly. The stuff sack that comes with the tent has compression straps that really cinch the tent up to a small, loaf-of-bread size. My head and feet touch the tent at each end, so it's cramped. That's the price you pay for light weight.
I really like and use interior pockets in a tent. The mesh pocket in this tent isn't deep enough. I tend to put my watch, eye glasses, sunglasses, paperback, flashlight, map, writing material, etc. in the tent pocket. I bought a couple REI tent pockets that I hang from the interior loops and they're helpful. Tent makers should make the door zippers glow in the dark so senior eyes can find them during the night.
Nemo should give better pitching instructions. The Nemo logo on the fly can be misleading because the shiny side of the logo installs on the underside. That doesn't seem logical and can cause some initial pitching problems when deciding which side faces out and which side faces in.
Another item I'd like to see is a bear spray pocket inside the tent on the wide end where you can find it quickly in an emergency. Label the pocket to identify its function. I'm going on a week-long trek in Glacier in a few days, so I may have more observations on this tent.
All in all, this is a decent tent for those in the market for a really light shelter. My hiking buddy has a Big Agnes Fly Creek 2-person and they're pretty comparable. The BA has a tad more room but one door at the tent end. I think I like the two door, two fly-vestibule configuration better. One door for entering and leaving and one door for accessing gear under the vestibule. Getting in and out for a big, old relic like me is probably easier in the BA though. 
I like the green color of the Nemo, too. The BA's beige and copper color is kind of blah. Knowing what I know now, would I buy it again? No, I wouldn't. I'll know more after Glacier.
Update 10/2014
Okay. I've used this tent now on several extended trips. No big changes since my initial review. I still say it's a one-person tent. No way another person could fit in it with me! My head and feet still touch the tent's ends. If your tent site is not level (are they ever?), and you slide a few inches while sleeping, your feet push very hard against the foot end of the tent. Then the foot of your sleeping bag gets wet from condensation. Again, I'm 6'3".
I'm still not crazy about the hinky plastic tent-fly-footprint connectors on the tent's corners. If you step on one of the plastic gizmos and it breaks, you'll be forced to create an on-the-trail fix. When I got home and cleaned and aired-out my Obi, I noticed one of the plastic connectors on my footprint is missing. Damn!
My hiking buddy used a Mountain Hardwear Drifter 2, which I like better. It has simple tent pole ends that fit into tent corner grommets; easy and fool-proof and much easier to handle with very cold hands and fingers. Also, a bit of rain during the night and a little ice build up on the plastic jakes foot corners and connectors made it even harder to get them apart.
My buddy looked at my Nemo and says the plastic corner connectors are too gimmicky. I agree. I leave the footprint attached to the tent all the time. No need to remove it after every break down. If I don't leave the fly open, it condenses inside, even with the vents open. I haven't heard of a double wall tent that doesn't do that though. However, I repeat that it is light and takes up minimal pack volume.
Conclusion: If you're a tall, wide person, shop around for a longer, wider, higher shelter. You'll wind up with a tent approximately 2 pounds heavier, but you'll sleep better and have more comfortable space to move around in, to sit up, get dressed, enter, exit, etc. Again, Nemo should've made a larger interior pocket or added one or two more. 
Update 6/2015:
I've used this tent a couple mores times since I last reviewed it and I've come to the conclusion that it's just not a good tent. The problem is the corner connection points where the tent, fly, and footprint all connect. What a terrible design, a jumbled mess!
From now on, when I buy a tent, I'm going to focus on a simple design, like a pointed tent pole that inserts into a corner grommet. No plastic gizmos (of which I'm missing one) and dinky tabler tightening buckles, hooks, jakes foot, whatever.
This is the second Nemo tent I've owned that I've disliked. No more overpriced Nemos for this backpacker. Buying tents online sight-unseen is a risky proposition. Never again. It appears Nemo has discontinued making this model tent, just like the first one I owned. No surprise.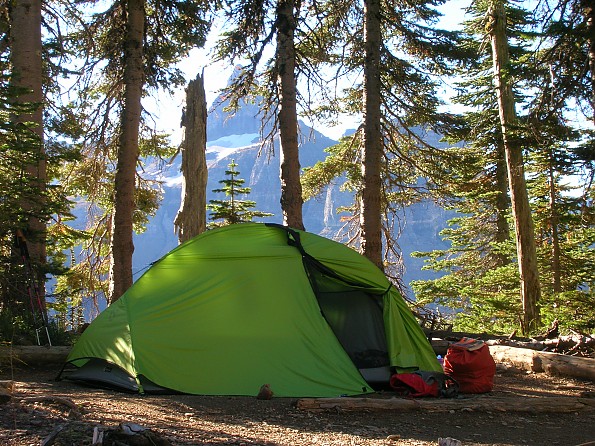 Source: bought it new
Price Paid: @$350

This is a great, two-person, backpacking tent that packs down small. It was easy to put up and easy to pack. I used it backpacking a section of the Appalachian Trail in August. We experienced heat, cold, wind, mist and hard rain all in one trip. The tent performed well and I would recommend it to any, one person under six feet tall.
Pros
Lightweight
Packs down small
Easy to assemble
Easy to pack
Good weatherproofing design
Cons
Expensive
Not for tall people
Not well vented when it rains
The Nemo Obi 2P is a lightweight, backpacking tent made for three seasons. It weighs only 3lbs, 10oz fully packed and takes up very little space for a tent. The tent body packs down into a stuff-sack (included).  Packed, is a cylinder, 7.5 inches long with a 6 inch diameter. The poles are packed separately in a 17 inch-long pole bag.
There is a door on both sides of the tent, each in its own vestibule. The fly reaches down to 3" or 4" from the ground, all the way around. The waterproof sides of the body go well above that, so rain won't get in, even in windy conditions.  The body of the tent is mesh over most of the top.  The fly has good venting, but the vents must be closed, if it is raining.  That is a little unfortunate, but bearable.
Setup is easy. The poles are DAC, featherlight aluminum and it is one piece. The four pole ends snap into these neat plastic clips.  The tent body is then hung on the poles by clip hooks; no sleeves to slide the poles through.  The fly is draped over the top and clips into the same plastic clips as the poles.  Steak out the sides and you're done.  I did use all six steaks; four on the body and two on the fly.  That kept the tent stable and tight against the wind and rain.
Packing up the tent was even more easy. No complicated rolling or folding to get it back into its bag.  Lesser tents come with bags that seem to be an afterthought; not the Obi.  It came with a stuff-sack as well constructed as the rest of the tent.  Pick up the fly and body, shake them out, fold and roll them up and stuff them into the bag.  Pack in the six small steaks and the one-piece pole and you are done.
It rained hard on our last night and it was quite windy.  The tent held up well against the wind and rain.  The vents at the top of the fly could not be opened in the rain, so condensation built up inside.
I am 6'3" and did not fit well inside this tent.  Even laying diagonally, I was always touching at head or foot. That would not have been much of a problem, if it hadn't been for the condensation I mentioned on our last night.  If you plan to share this tent, you have to share it with someone you don't mind cuddling.
Overall, the Obi is a great tent that I would definitely recommend. The main reason I would not buy one is the cost. For me, the $370 price tag should buy a tent with a little more room.  It would be perfect for anyone shorter, looking to invest in a good lightweight tent for backpacking.
Source: rented it

I am a huge fan of Nemo as they tend to get better with each evolution/new model of their tents. Do they have problems? Yes. Are they resolving them? In my opinion, yes. I have used my Obi 2P for several years and overall I have enjoyed it. I have found a few minor faults, however I have found Nemo works to improve their designs with each evolution.
Pros
Lightweight though not ultralight
Easy to set up, especially if you pre-attach the footprint.
Dual entry doors
Durable material
Easy to clean
Cons
Short and not enough room for taller people
Not well ventilated especially during storms
Zipper easy to catch
I have owned my Obi 2P for several years now preferring it over several others I have bought in my search for "the one." Like other reviewers I have had my minor issues.
One I am tall (6'2") and there is not exactly a lot of room for a tall person, especially if you tend to move during sleep. I have found myself on many occasion pushing the end of the tent with my feet because I have either slipped down or moved down during the night. This is likely something I could correct however with little room top to bottom to begin with.
The other minor to mention as well is ventilation. The inside gets quite toasty during warmer nights, especially if a rain comes. I have found myself many a time burning up due to lack of air movement. I will say though during late fall or early spring when the mornings are crispy that extra warmth is well desired.
Overall I have completely loved the Obi 2P. Nemo does state it as a 2-person tent, but I have only used it as a one person and it has provided me more than enough room with extra left over side to side. It has been a perfect 1 person tent for me and I have liked being able to utilize two vestibules (call me spoiled), but I can set up my tent, put my pack in one vestibule along with my hiking shoes from the day, and use the other vestibule for ingress and egress, putting my end of day shoes before going to sleep.
With my pack in the other vestibule I can easily access it from outside should I need something and I do not have to climb inside my sleeping area just to get something. I also do not have to wrestle with it in the middle of the night or early morning when I am trying to get out of the tent. 
I did have a slight snafu with one of the vestibules in which the zipper caught on the flap resulting in it getting stuck. Stuck to the point that I actually had to rip it out of the flap and ultimately off its tracking. I attempted several times to repair, but with no fix.
I called Nemo and spoke to their customer service and eventually their manager (directed up to them) to see if they could help. I really was looking to see if I could just purchase a new rain fly but they were discontinued in preparation for the new NEMO Hornet 2P (which is my new purchase, review to come soon!!!) but worked with me to fix.
They even offered the option of sending it back to them so they could look at it and hopefully repair. I declined but was impressed by their commitment to keeping customers happy. Kuddos to the folks at Nemo. I figured I could fix it long enough to hold out for the new evolution and I did that with good ole duct tape (green mind you). I am unable to use one vestibule, but who cares. The Obi 2P has done its job and provided me many a backpacking trip with success and great enjoyment. It is time for it to rest. Onward and upward with a Hornet.
I do not think there is much need for further review as this model indeed has been discontinued in preparation for their newer models. I only wanted to convey my impression of my time with my Obi 2P and the experience I had with Nemo Customer Service. 
Source: bought it new
Price Paid: $390

Lightweight freestanding tent with two vestibules. Easy to set up and pack away. Great for spring-fall hikers on a budget.
Lightweight tent that sets up quickly and handles rain and wind very well. I use this tent for section hiking the AT mostly in the early season. Only complaint is don't try to fit two people and a dog into it!!! Perfect for one person and a dog when paired with the Pawprint for this tent.
Source: bought it new
Price Paid: $260

Your Review
Where to Buy
Help support this site by making your next gear purchase through one of the links above. Click a link, buy what you need, and the seller will contribute a portion of the purchase price to support Trailspace's independent gear reviews.
You May Like
Specs
Price
MSRP: $389.95
Historic Range: $258.96-$399.95
Reviewers Paid: $260.00-$390.00

Minimum Weight
3 lb 0 oz / 1.4 kg

Packed Weight
3 lb 10 oz / 1.6 kg

Floor Dimensions
84 in x 50 in / 213 cm x 127 cm

Interior Height
40 in / 102 cm

Floor Area
27 sq ft / 2.5 sq m

Packed Size
7.5 in x 6 in / 19 cm x 15 cm

Tent Shell Fabric
No-See-Um Mesh / 20D PU Nylon

Fly / Vestibule Fabric
20D PU Nylon

Floor Fabric
30D PU Nylon