Next Mile Meals Buffalo Ranch Chicken

Top 25 in Meat Entrées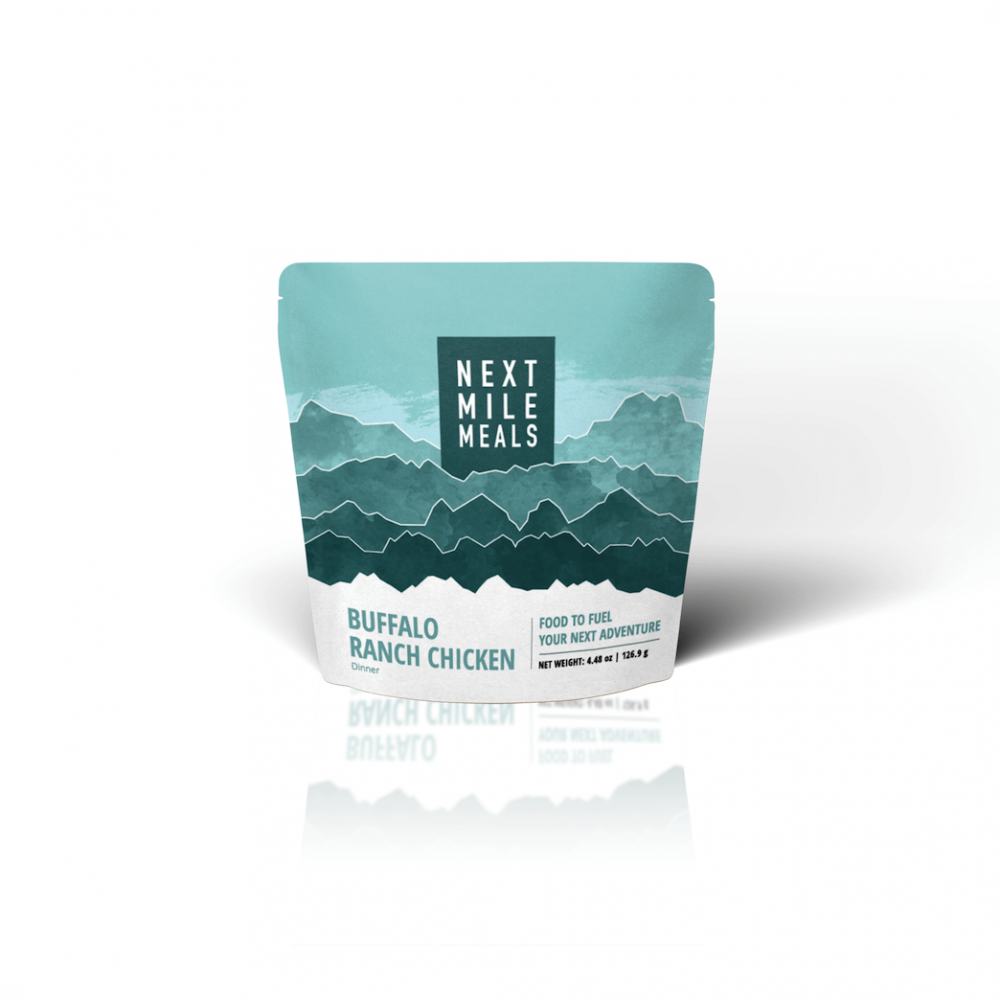 Specs
Price
MSRP: $14.00
Current Retail: $14.00

Macros
540 calories, 26g fat, 66g protein, 11 carbohydrates, 3g fiber, 8g net carbs

Ingredients
freeze-dried white chicken, ranch dressing packet, heavy cream powder (sweet cream solids), dehydrated hot sauce powder (distilled vinegar, aged cayenne red peppers, salt, water, canola oil, paprika, xanthan gum, natural butter type flavor, and garlic powder], maltodextrin, rosemary extract [as a preservative], and silicon dioxide), dehydrated celery, freeze-dried red bell pepper, salt, paprika, Meal also comes with optional packet of ranch dressing.

Reviews
1

review

5-star:

0

4-star:

1

3-star:

0

2-star:

0

1-star:

0
Next Mile Meals are made low carb for folks following a ketogenic diet, but omnivores will appreciate them too. The Buffalo Ranch Chicken Dinner has a lot of meat swimming in a flavorful, but not overly spicy sauce. Bits of celery and peppers add nicely to the solidly meaty meal.
Pros
Delicious!
Nicely textured chicken tastes like chicken
Veggie bits add color and flavor
Balanced sauce with moderate spice
Moderate packaging
Cons
Seemed too wet when made as instructed
Premium price
High sodium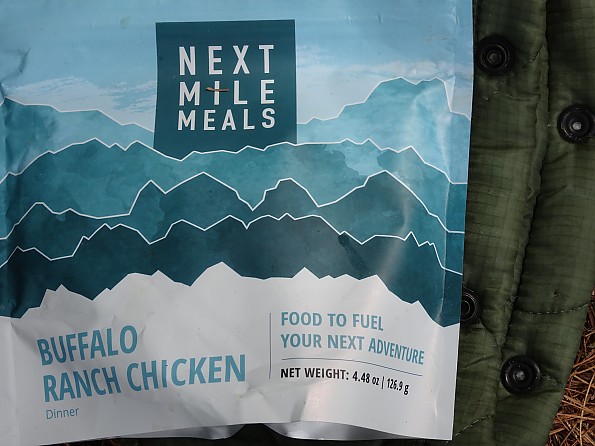 Next Mile Meals specializes in low-carb meals for the ketogenic adventurer because it grew out of one hiker's attempt to stay on the diet while hiking the Pacific Crest Trail back in 2017. The meals she made for her hike were well reviewed by other hikers along the trail mooching bites. After the hike those meals were tweaked into the products they sell today. I reviewed their Italian Meatball dinner a while back and will be covering their Denver Omelette breakfast soon, but today we'll take a look at the Buffalo Ranch Chicken dinner.
Prep: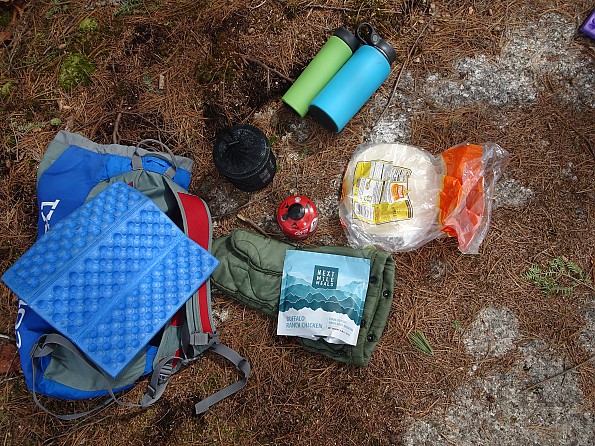 We decided to do a family test feast for lunch on a local day hike. I wanted to explore my theory that the Next Mile Meals bag o'meat concept, while intended for carnivorous keto folk, might work well for scooping into tortillas and sharing. In the name of science I brought along a bottle with a measured amount of water.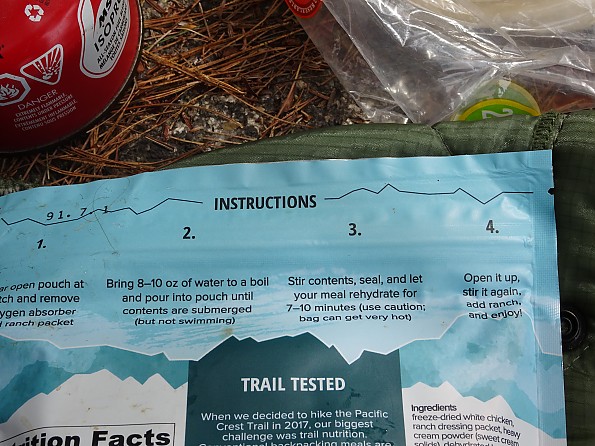 I followed the instructions, first removing the packet of ranch dressing and the oxygen absorber while my 10 ounces of water came to a boil. We were patient and let the bag soak tucked inside an insulator for what seemed like an hour, but was really ten minutes. We were excited to get to the fun part of testing based on the initial smell.
Ingredients: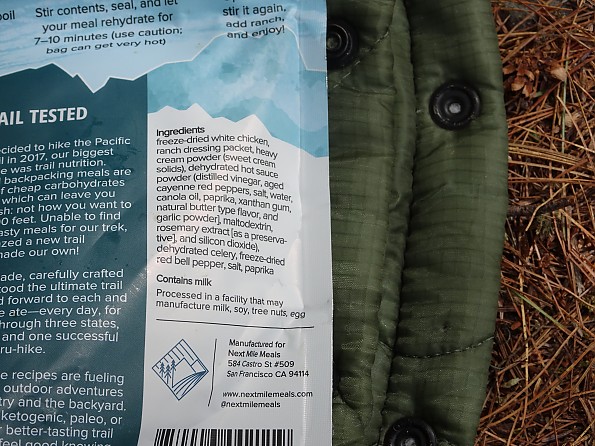 Despite all the text in that ingredient list, the Buffalo Ranch Chicken dinner is pretty much just that: Chicken, Buffalo Sauce, and a packet of Ranch Dressing. There are some small bits of celery and red pepper as well, but chicken and sauce are the vast majority of the meal.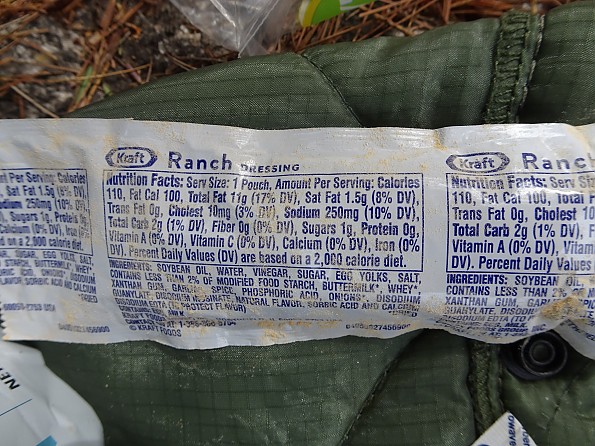 The ranch comes in the form of a packet of Kraft ranch dressing. There are more ingredients in the ranch dressing than the rest of the meal. Adding this is totally optional and folks who don't intend to use it might want to take it out before hitting the trail.


Nutrition: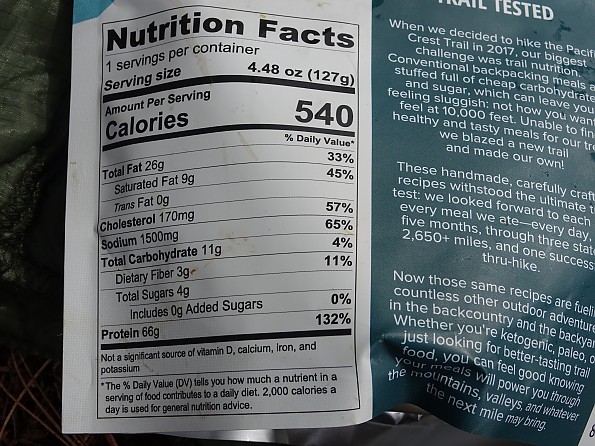 Right away you'll notice that this is not your average, balanced diet sort of meal. Carbs are avoided as much as possible in a ketogenic diet as it is based on the concept of forcing the body into a fat-fueled state. That is why fat plays such a heavy role in the nutritional balance.
While I don't follow the diet, I do employ fat-fueling techniques on trail. For those unfamiliar, these numbers will look pretty scary, but they make fat and protein fans smile. Do note the amount of sodium. That number needs to be taken into account when planning an overall diet on trail.
The keto diet intentionally puts the body into ketosis in order to burn fat. Along with that the body excretes more sodium than usual, so folks following the diet increase their intake. Folks not on the diet will want to be aware and reduce other sodium input accordingly to meet their dietary goals on trail.
Taste & Satiety: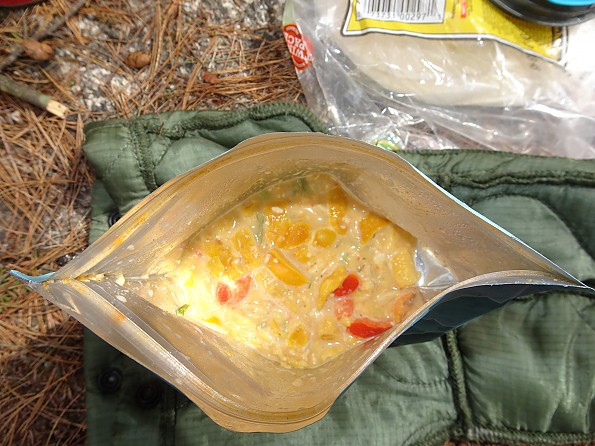 Regretfully this is the only picture I have of the rehydrated meal. Despite my years of training as a member of the Trailspace Review Corps, I lost focus and we devoured the entire meal before I remembered that I was supposed to be documenting this test. I blame the aroma and flavor of the Buffalo Chicken, which all testers agreed, was really darn good.
The chicken pieces had a wonderfully realistic texture and flavor. If you are selling a bag of meat it makes sense to use good quality meat to start and Next Mile Meals has done just that. The buffalo sauce had that traditional flavor you expect and a nice hint of spice without being actually spicy. Those who desire more kick could always add some hot sauce or cayenne pepper to the bag. The tiny bits of celery really added a lot of flavor despite their small size.
We chose not to add the ranch directly to the bag which would have dampened the spice for anyone feeling overwhelmed, but I doubt such folks would eat something called Buffalo Chicken in the first place heh.
Again, sorry I don't have pictures, but we spooned the chicken into tortillas and crammed them into our faces fast so they didn't drip too much. We squeezed a little ranch on each one and the entire bag disappeared before we knew it. We each had two tortillas for a total of six and everyone felt like they'd had a good lunch when we were done.
Packaging:
I described the packaging as moderate earlier because I always want it to be less. Most of my meals are eaten from freezer bags so commercially-packed single meals always seem bulky to me. Next Mile Meals seems to have used only what is needed to do the job. There isn't a lot of extra packaging around the edges with the exception of the bottom. They did something there that justifies the extra materials used.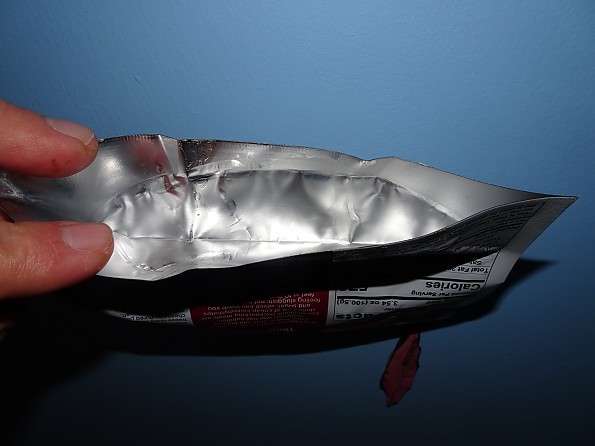 Bottoms up! I found the Next Mile Meals bags easy to empty with my spork.


Instead of a gusset that traps food, they used a raised seam across the bottom that seemed to trap less food. It lets the remaining material spread out to support the bag upright, but keeps the food closer to your hungry face. Less trapped food means carrying less in your garbage bag. I weighed the used packaging when I got home. The bag, with meal remains, but not the oxygen absorber came in at 14 grams or about .5 ounces on my scale.
The bag seemed to retain heat well enough, though as mentioned conditions dictated using insulation while it hydrated. When I picked it up again I could feel heat on the outside of the bag which tells me I made the right choice. The short bag depth was easy to plumb with my spork without getting my fingers in the bag.
Testing Conditions: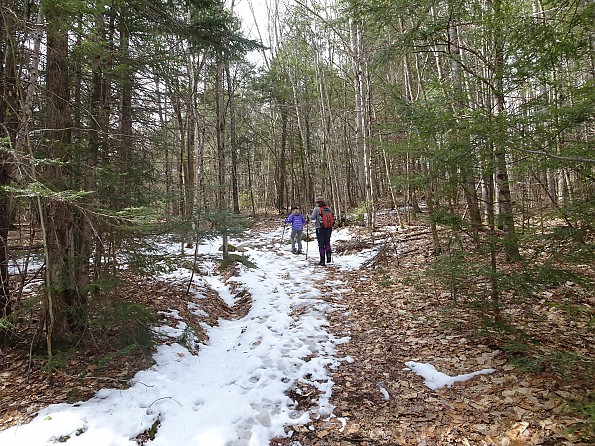 The entire Stranger family testing team headed out on an early spring day hike to field test this offering from Next Mile Meals. We did our traditional out-and-back traverse of the preserve before heading up to Cox Pinnacle, the highest point in all of Brunswick, to conduct our test feast.
Conclusions: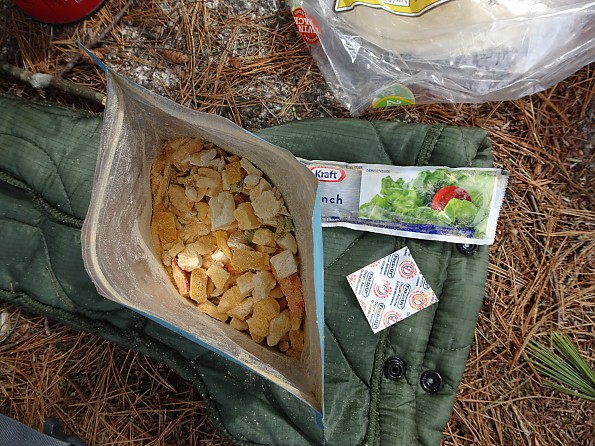 The Next Mile Meals folks are making a product for a specific niche market. Ketogenic meals are by nature extremely unbalanced to perform an intended dietetic role. Does that mean you need to be following a keto diet to appreciate and enjoy them? Absolutely not!
These meals can be used in various ways by different people. We found, as suspected in my Italian Meatball review, that using tortillas a single bag could be shared between multiple people. I'd use less water next time if going this route, though I'm guessing that sauce helps wash down the chicken if you are just tucking into the bag of meat.
Nutritionally, it is important to note what your body will get out of this sort of meal. On trail it is about the balance you achieve with your overall intake and meeting the goals of your meal plan. For keto folks these meals are going to make it easy to hit your targets. That sodium number also needs to be taken into account when planning a trail diet.
In terms of quality and flavor this Next Mile Meal again impressed me. These meals are a bit of an investment, MSRP $14USD for the Buffalo Ranch Chicken dinner, which makes sense given the ingredients. A bag of meat is different from a bag of noodles. That and the sodium content make me think of this as something I'd add to my food bag, but perhaps not have every meal. That is a personal thing though.
Folks needing to hit a dietary target will appreciate this as a tool to help them meet that goal. That doesn't mean the rest of us can't enjoy a hearty bag of meat while out on trail just because we want to. As I mentioned in the Italian Meatball review, I'm seeing these Next Mile Meals dinners as something that I can use to stay on trail longer. I'm often beset by an uncontrollable cheeseburger urge after six days or so on trail. Dosing myself with one of these bags of meat every few days might keep me out of town longer.
I am curious to see how their Denver Omelette turns out. Look for my review in a few weeks, but based on their dinners I have a feeling I'm in for another treat.
Experience
Years of experience eating other commercially prepared trail meals as well as my own home dehydrated meals. While I am not following a ketogenic diet I have been fat fueling on trail for several years now.
Source: received for testing via the Trailspace Review Corps (Sample for taste testing and review provided by Next Mile Meals)

You May Like
Recently on Trailspace