Next Mile Meals Denver Omelette

Top 25 in Breakfasts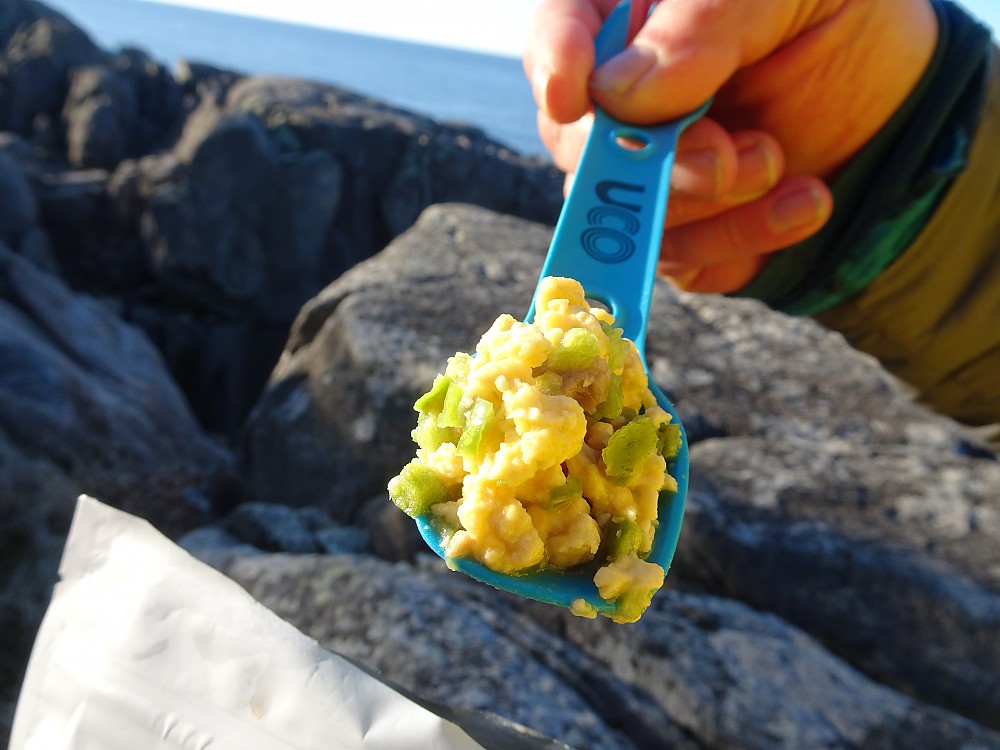 Specs
Price
MSRP: $9.50
Current Retail: $9.50

Macros
480 calories, 30g fat, 38g protein, 7g carbohydrates, 2g fiber, 5g net carbs

Ingredients
freeze-dried eggs (whole eggs, non-fat milk, soybean oil, modified food starch, salt, xanthan gum, citric acid, butter flavor, pepper), freeze-dried cheddar cheese (pasteurized milk, cheese cultures, salt, enzymes, annatto [vegetable color]), freeze-dried diced beef (cooked beef dices, salt), freeze-dried green bell pepper, salt, granulated onion, black pepper

Reviews
1

review

5-star:

0

4-star:

0

3-star:

0

2-star:

1

1-star:

0
Next Mile Meals are made low carb for ketogenic dieters, but omnivores can add their own carbs to create a hearty meal for one or enough to share for two. While I enjoyed test eating the dinners I've previously reviewed, this breakfast offering came up short for me. Flavor and texture turned me off as I'll describe in the detailed review.
Pros
Visually appealing
Pleasant aroma
Moderate packaging
Cons
Bland initial texture
Giving way to a mouth full of pepper bits
Denver omelette with beef instead of ham
Generally lacking in flavor other than green pepper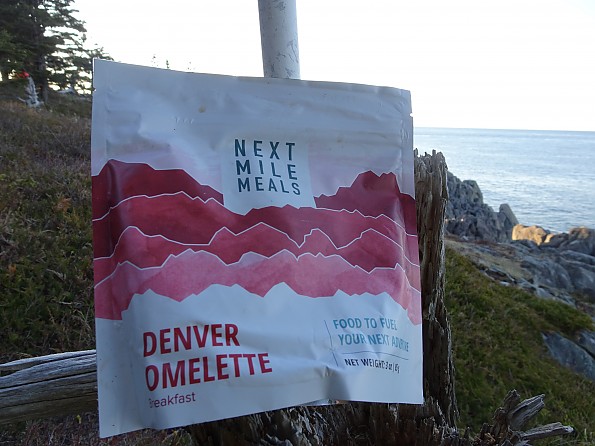 Next Mile Meals specializes in low carb meals for the ketogenic adventurer because it grew out of one hiker's attempt to stay on the diet while hiking the Pacific Crest Trail back in 2017. The meals she made for her hike were well reviewed by other hikers along the trail mooching bites. After the hike those meals were tweaked into the products they sell today. I've previously reviewed their Buffalo Ranch Chicken dinner and an Italian Meatball dinner, but today we'll dig into their Denver Omelette breakfast.
Prep: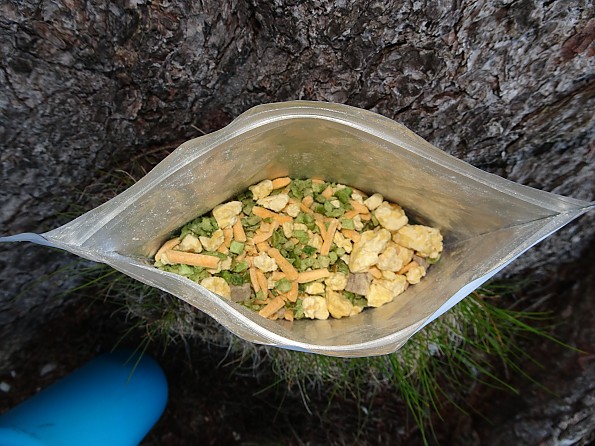 I'd been up since 4 a.m. setting up cameras to capture sunrise on a trip to the far reaches of the Down East coast of Maine, so I was ready for breakfast when I broke open the Denver Omelette bag. There was a nice aroma in there hinting at the green peppers. Visually it looked pretty good for dry kibble that hadn't been soaked yet.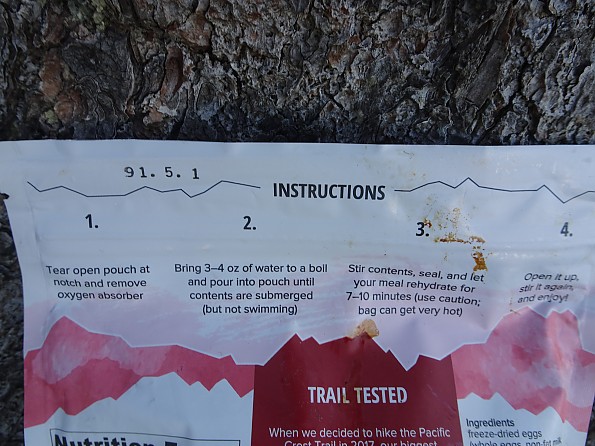 Per instructions I went really light on the water using just enough to get it wet, but not floating. Then I tucked it away into my insulated food glove and waited to dig in.
Ingredients: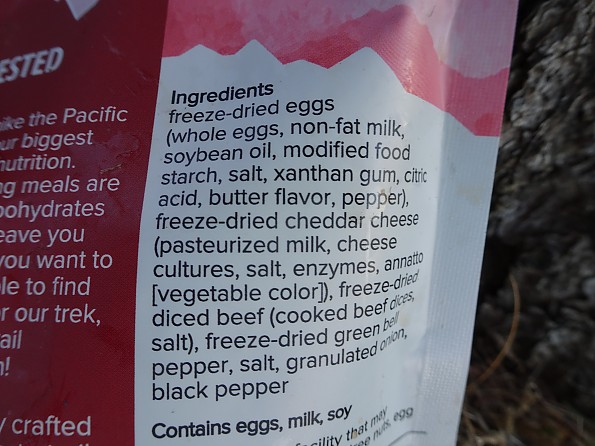 Reading the ingredient list while I waited I was a bit surprised to see that Next Mile Meals used beef rather than the ham which is traditional in a Denver Omelette. They did follow their pattern of keeping the recipe simple with the bag basically filled with eggs, cheddar cheese, beef, and green pepper.
Nutrition: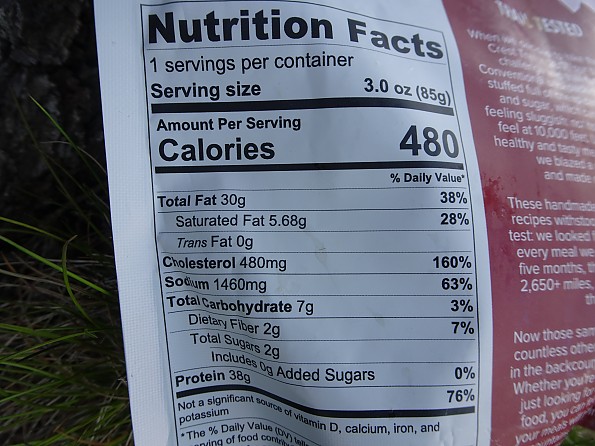 As with their other meals we can see the nutritional balance is skewed toward the ketogenic diet. The high fat and sodium are intentional as going keto leaches a lot of sodium from the body. The cholesterol is just a side effect of eggs being the primary ingredient in the bag. For folks who aren't going keto these numbers are important to keep in mind when putting together your food plan.
Taste: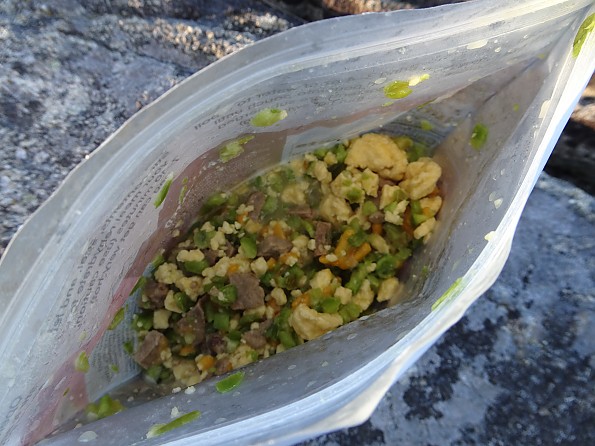 When first opened after soaking I was again struck by a tempting aroma. The eggs were firm nuggets, the beef cubes meaty in the normal freeze dried way and the peppers seemed to be the highlight of the bite with good flavor and texture. Then each additional bite became more difficult to chew and swallow. The more I ate the less flavor I found and while chewing I seemed to be left with a mouthful of tiny bits of pepper skin. I really like green peppers, but the skin pieces that remained were texturally unappetizing.  In the end I was unable to force myself to finish the entire meal as it seemed too much effort for too little reward. Given that I won't speak to the satiety and energy of this meal.
Packaging:
I described the packaging as moderate earlier because I always want it to be less. Most of my meals are eaten from freezer bags so commercially packed single meals always seem bulky to me. Next Mile Meals seems to have used only what is needed to do the job. There isn't a lot of extra packaging around the edges with the exception of the bottom. They did something there that justifies the extra materials used.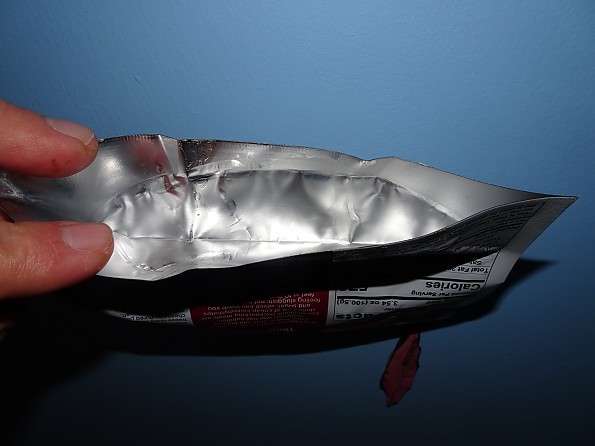 Bottoms up! I found this bag easy to empty with my spork.


Instead of a gusset that traps food, they used a raised seam across the bottom that seemed to trap less food. It lets the remaining material spread out to support the bag upright, but keeps the food closer to your hungry face. Less trapped food means carrying less in your garbage bag. On previous tests where I ate the entire meal I weighed the used packaging when I got home. The bag, with meal remains, but not the oxygen absorber came in at 14g or about .5oz on my scale.
The bag seemed to retain heat well enough, though I habitually use insulation while meals hydrate. When I picked it up again I could feel heat on the outside of the bag which tells me I made the right choice. Inside the meal remained a pleasantly warm eating temperature for some time.
Testing Conditions: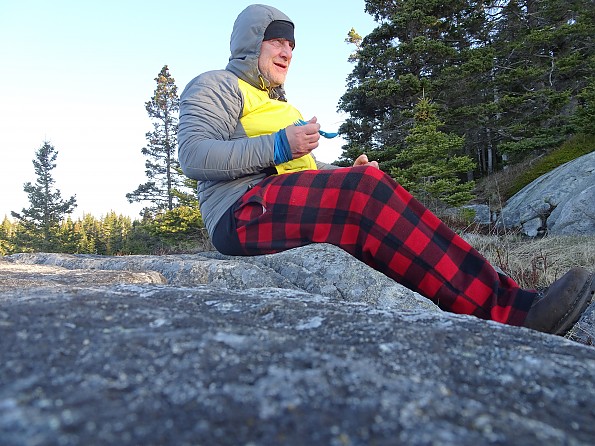 I tested the Next Mile Meals Denver Omelette in one of my favorite places to eat breakfast. On a cliff overlooking the Bay of Fundy I watched the sun come up over the ocean then settled down to enjoy what I'd hoped would be a great breakfast.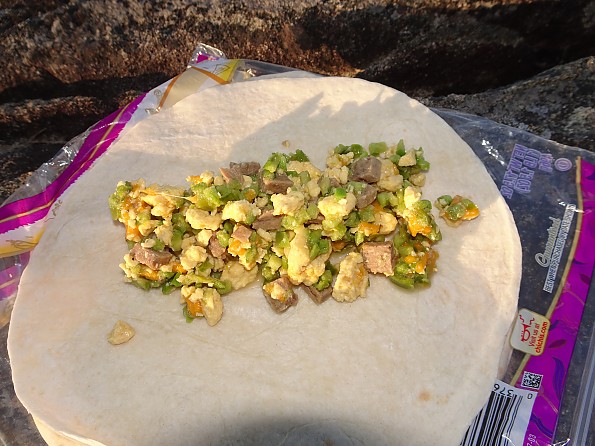 After the first few bites off a spork I decided to try putting some of the omelette into a tortilla.  Usually I can eat anything if you wrap a tortilla around it, but in this case it seemed to accentuate the blandness. I crammed this one down, but then resigned myself to testing the rest on its own.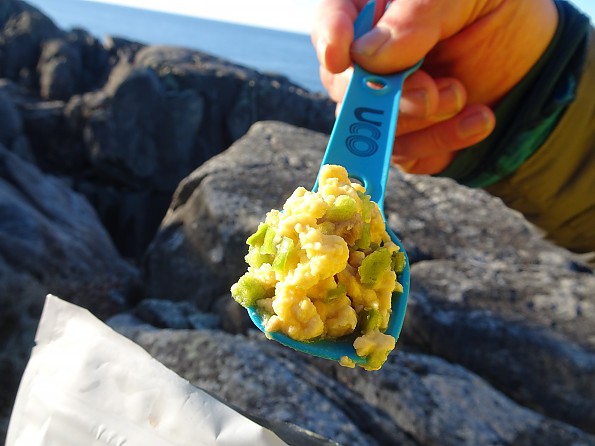 It was a bit frustrating as it looked and smelled as though it would taste good, but the issues I had with lack of flavor and unpleasant textures continued until I abandoned the test.
Conclusions:

I really enjoyed the Next Mile Meals dinners I tried previously so I assumed the breakfast would be a joy as well. Given all the other terrible dehydrated and freeze dried breakfasts I have eaten over the years I should have known better. This meal just didn't work for me on all the levels that are important. If you are the sort that appreciates a good dried breakfast then certainly give this a try. If you are the sort that never likes dried breakfasts then you won't like this one either.
Experience
I have tried various breakfast bags over the years. They have usually made me sad.
Source: received for testing via the Trailspace Review Corps (Sample for testing and review provided by Next Mile Meals)

You May Like
Recently on Trailspace