Ortik Heat-It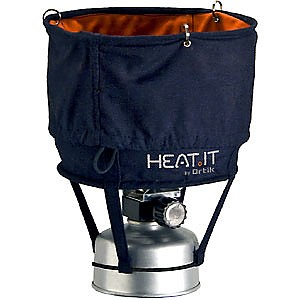 I just got this new to the market stove shield but I am going to go out on a limb and call it an instant classic must-have for any extreme weather stove user, "HANDS DOWN!"
Catchy headline: this is the coolest thing since the MSR Expedition stove. I would have mentioned the Isobutane stove, but this thing is revolutionarily simple to use, and at the time, the MSR was also.
Initial Impressions:
This is a lightweight modern (forward thinking) alpinist's solution to a time old problem; heating your goods in tough elements better, and saving fuel and weight while doing it. You can hang it or stand it up, and close the drawstring cover to make an oven, how cool is that! A 3 year old can put it together and hang it up and light most modern stoves, so keep it packed away responsibly.
Ortik, a self described bunch of outdoor professionals and engineers (and looking at their products, like the Tupek emergency shelter I believe them), put a tag on the Heat-It limiting the fabric exposure temperature to 80 degrees Farenheit for the temp of the fiber. I am sure it has a higher tolerance but perhaps is set low on the product for legal reasons.
A sample demonstration on the packaging of the physical thermal properties of this textile would go a long way in convincing potential customers.
Alpinists and big wall people (Ortik's intended market) are a hard sell, and they typically modify everything they get their hands on to make it better, sometimes to the point of making it worse, and then buying another to attempt again on improving on the idea...again (Hardheaded? YES!). Core alpinists and climbers like to reinvent the stove or the wheel or the fork or the tent to no end. Just look at how many reliable backcountry stoves are on the market. You can find the options a bit daunting.
Is it High Tech?
The flame resistant cloth it is made from (sewn with) is deceivingly high tech. Otherwise it is simple and effective. I can say after only four uses for coffee and tea that I like it A LOT! It now lives on my stove in my minute-man pack (prepacked in my pre-mission staging area) so I can have it ready at a moment's notice and will never forget it.
Admittedly, the Heat-It will be a tough sell for hard core alpinists who have to place their lives into the ability of their gear (a cloth stove shield on a portaledge in high winds half way up El Cap is a steep proposition for any man). However, if you go out into blizzard conditions for a few days at a time on the ground, this thing is MONEY! And if you use it frequently enough you will easily see that it is actually safe enough for an extended big wall mission. This thing is so ahead of its time it should be used on extended special forces camping missions.
Recommendation:
Use this product at home frequently to prove to yourself that it is safe to use and work out the nuances with your stove system (sort of like setting up a tent for the first time before going out into no-mans land during hellish weather; you are all the kind that does this right?).
I have used this Heat-It so far about four times under mild conditions (initial break in period), and I am sure it is safe to use in harsh conditions on a portaledge suspended half way up El Capitan by someone with half a brain! In harsh conditions your stove and its wind shield will be the least of your worries, unless you are low on fuel and it looks like two days of relentless freezing blizzard.
The package recommends a low heat setting on the stove, and this makes sense both to conserve fuel, and to prevent flareups from shifting fuel, as well as to limit the air temp in the stove chamber.
Compatibility:
With its simple hole, and collapsible supports, it looks to be compatible with every compact isobutane stove system on the market. The valve and starter of most units stick out of the bottom of the hole while the stove head remains up in the protective bucket of cloth.
NOTE:
Some stove systems have their valve and piezo electric starter located close to the burner or built into it (mine is a Jetboil Flash that has this issue). In that instance you will have to push down the Heat-It around the stove like a pair of pants in a toilet stall around your knees, so you can reach the goods to work the valve and push the igniter before you pull up the stove's trousers and get on with business (hope it is not seriously windy). But other than that should work well in windy conditions, even with a Jetboil system.
How well remains to be seen.
If you have an older or recent model isobutane stove body that screws on to its fuel canister, this single piece of lightweight gear could improve your old stove's performance and get you amped to use it again...soon...and frequently.
Scott McClarin grew up in Northern Utah snowboarding since 1988, and enjoys hiking, camping, fishing, and rock climbing.
His views and opinions come from extensive outdoor testing as a Winterstick snowboard factory team member and test rider from 1994-2001, as well as his active outdoor life.
Despite traveling and living abroad (Holland, Northern Marianas Islands) and recently moving back to Utah in November 2009, Scott still snowboards close to a 100 days a year and hikes Wasatch backcountry in the winter.
You can expect a more in-depth interview of this product by me after I get it into harsher winter conditions this next month. At that time I will show burn time comparisons in the updated review with a more detailed product analysis.
I will also note any mods I make to it, if any are necessary.
Thanks for reading.
S McClarin
Price Paid: product sample for testing

I've bought one at the OR 2007 in Salty Lake but I think they also sell it by e-mail.
I've used it with my MSR PocketRocket and it worked perfectly. It's heated much faster than usual and I cooked inside the tent. First time I felt secure to do something like that...
In the end the pot and the rest of the stuff went inside the heat it. It's also a very lightweight bag!!
Looking forward for more stuff from Ortik!
I tried for years to get one of these and last year I finally got my hands on one from Mountain Tools in Carmel, CA. The price is $79.95.
This thing is awesome! Put your stove into it and hang it up somewhere and it cuts heating time dramatically even when it's not windy out. I would never take the chance on cooking in the tent before I got this but now there are no worries.
Yeah it's expensive and not completely necessary for my use but it cuts down on boil time fuel usage and is totally cool to boot. If you are trying to boil water on a wall somewhere I don't know how you could go wrong with this setup.
Price Paid: $79.95

Your Review
Where to Buy
Help support this site by making your next gear purchase through one of the links above. Click a link, buy what you need, and the seller will contribute a portion of the purchase price to support Trailspace's independent gear reviews.
You May Like
Heat-It is an "all weather cooking system" you use with your current backcountry stove and cookware setup to increase energy efficiency (up to 40% in non-windy conditions, even more in cold and windy conditions). The company, Ortik from Portugal, claims the Heat-It system will let you boil 12 liters of water in 7 knots of wind with 100 grams of fuel.
Made from a fire retardant textile, the Heat-It looks like a soft cook pot, and can be used on the ground or as a hanging system for big wall climbing or inside a tent. It has a drawstring closure on top for extra wind protection or to close the top making it a mountain oven for cooking bread or cakes. It'll also store your stove and cookware in your pack for transport.
Specs
Price
MSRP: $65.00
Reviewers Paid: $79.95

Weight
138 grams (4.86 oz)

Recently on Trailspace