Osprey Archeon 30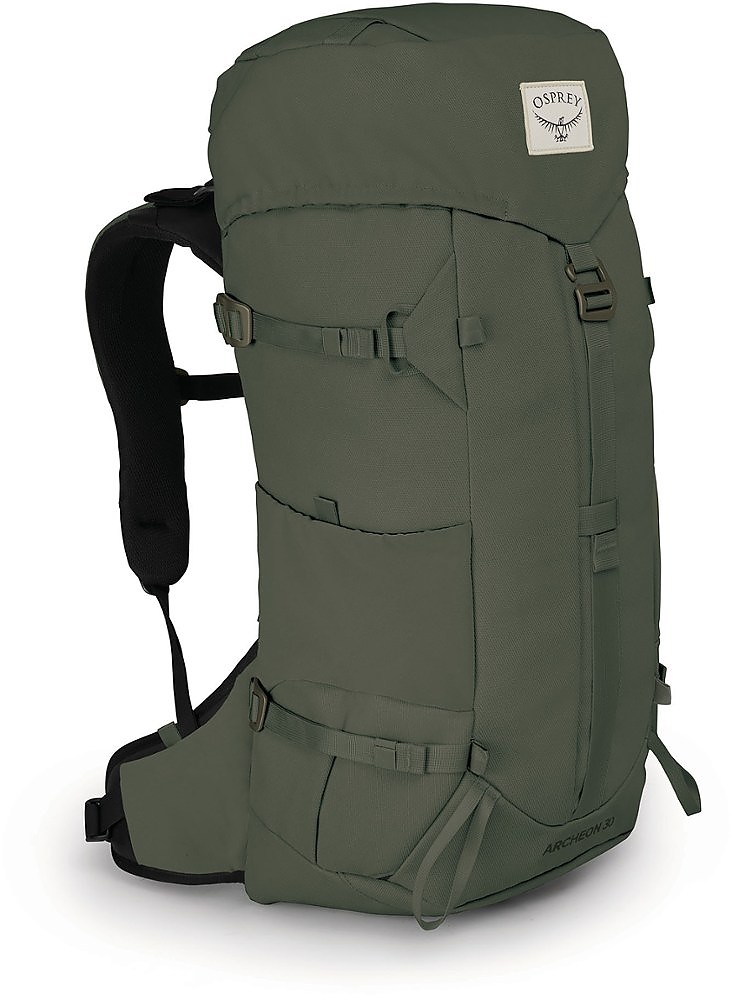 Osprey's Archeon 30 daypack is equally happy heading up a mountain, commuting, or traveling. Made from robust, 100 percent recycled nylon pack material. Exceptional durability means it's heavier than most comparable day packs. Carries comfortably up to 25 pounds and has useful features such as zippered full length access, good-sized side and lid pockets, and a hydration sleeve. Get this backpack if you favor comfort, durability, sustainability—ultralight fans should look elsewhere.
Pros
Bomb-proof construction and fabric
Sustainable, made from recycled nylon
Full zip access, roomy lid
Comfortable
Good crossover pack for travel
Cons
Weighty (four pounds)
Side pockets not easy to reach when using the hip belt
INTRODUCTION
Give the Archeon 30 a good look if you value hiking gear that lasts, looks great, functions well, and makes a smaller impact on the environment. Made from 1880 denier, 100 percent Bluesign certified recycled nylon, manufactured without CFCs, and built to minimize the use of plastics, this backpack is as tough as the highest-grade ballistic nylon you can find.
The pack meets the Global Recycle Standard (GRS) for its use of recycled materials, which is an indication of Osprey's dedication to manufacturing a sustainable backpack—"sustainability" in this case means building a backpack that serves today's needs while minimizing the impact on the environment for future generations. Osprey offers the Archeon in 25, 30, and 45 liter sizes for both genders, and a 65-liter for women/70-liter for men. Features vary a bit for the various sizes; this review focuses on the 30-liter men's pack.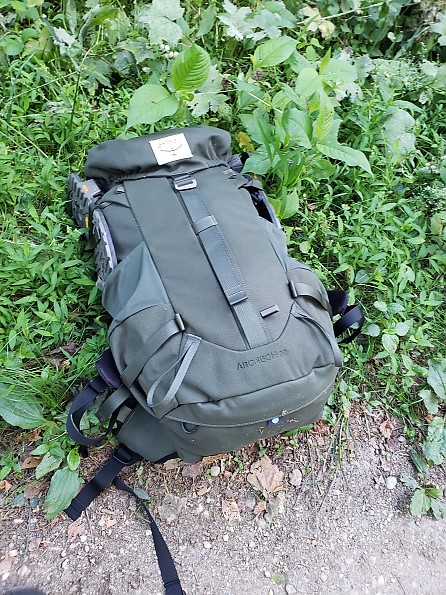 See the small zippered pocket with the blue dot near the bottom of the pack? That is where the included rain cover is stored. This also shows the ice axe loops, the one-strap closure up the center, and I used the top side compression straps to stow my Bedrocks. 



Good view of the hip belt and back panel. See the two small metal grommets at the bottom? They're for drainage, a smart detail with the rain cover stored there. This also shows how I extended the shoulder harness up a few inches.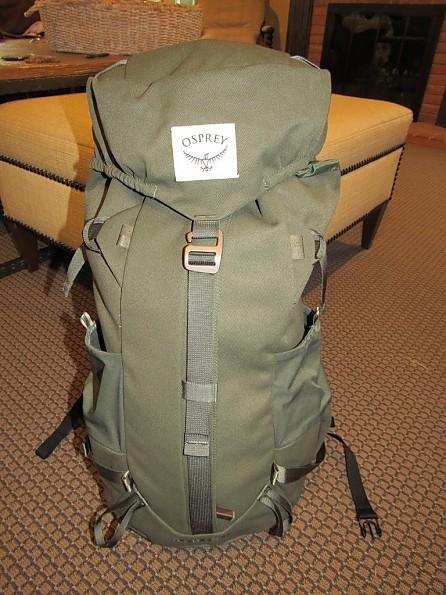 The Osprey logo at the top is a stitched-on fabric square. Old school. The lid cinches down via the one center strap and metal hook. The only plastic clip on this pack is on the hip belt.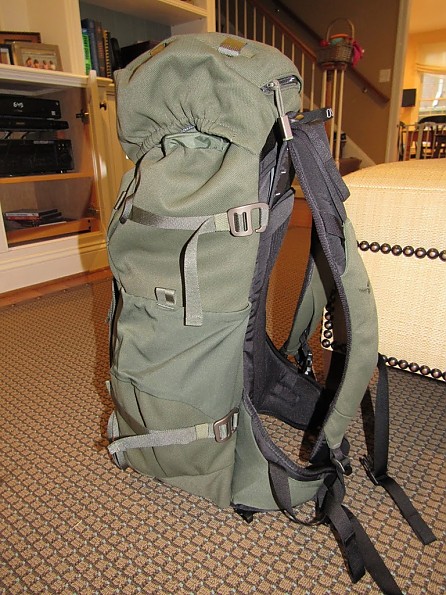 The pack bears more than a passing resemblance to Fjallraven's Bergtagen 30, a technical mountaineering design. I speculate that Osprey emulated the basic design—shape, strap configuration, metal hooks—but included side pockets, a better hip belt, and some internal storage options that give this pack wider appeal for travelers and commuters as well as hikers. 
BASIC DETAILS AND FEATURES
The Archeon 30 weighs 4 pounds. The frame consists of a polyethylene frame sheet with two integrated aluminum stays. The back pad and short hip belt sections are made from firm foam covered by mesh. Thirty liters is roughly 1800 cubic inches, so this is a good size for day-long outings. Hardware is heavy duty—big, easy-to-grab zipper pulls; a solid-feeling grab loop at the top of the suspension; a beefy flap that snaps to cover an equally bomber front zipper; thick nylon canvas for the main body of the pack; and metal hooks for both the main closure and each of the compression straps.
The pack has a generous-sized lid pocket for storage with an internal zippered mesh pocket and key clip underneath. The lid can hold a full-size 35mm camera, rain shell and pants stuffed in, lots of snacks, or your wallet, sunglasses, passport, headphones, and other stuff you would want to reach for quickly while traveling.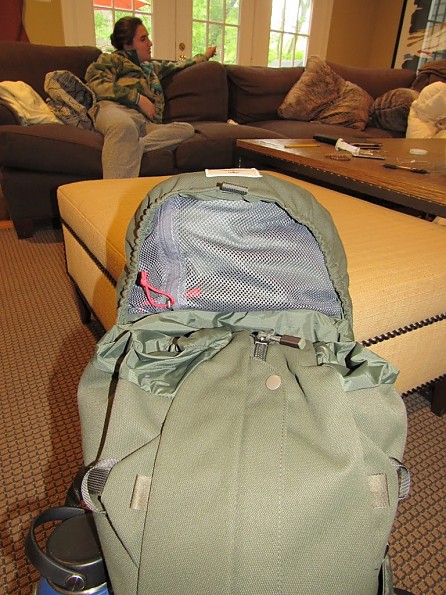 Note that the lid and front have multiple lash points.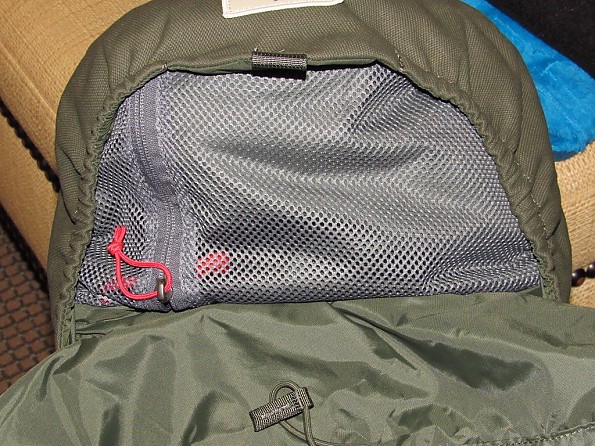 The main pocket closes with a cord that is easy to pull tight and loosen up, though I found myself mostly accessing the interior via the zipper, which opens from both the top and bottom and provides easy access.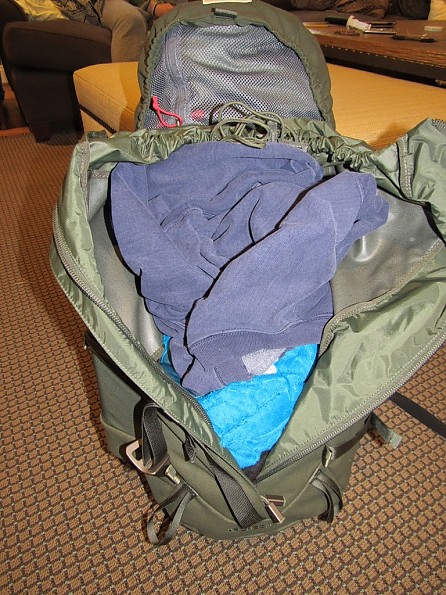 Photo above shows the pack open, a couple of fleece jackets inside. Below shows better detail of the pack empty, with the top cord to pull it shut and the hydration sleeve. Note the port just above the sleeve—your hose goes through there. You can access the hose from either side.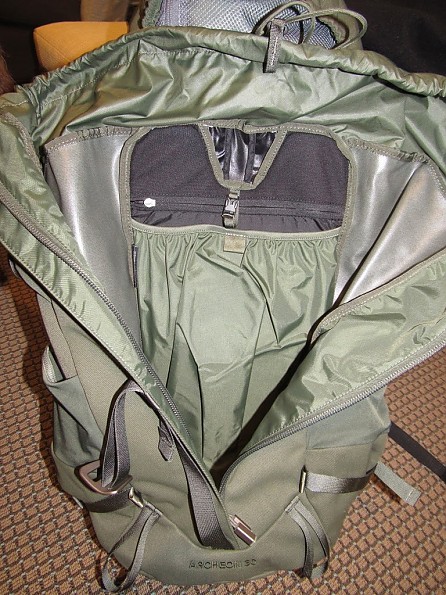 The hydration sleeve above is made from sturdy materials. My 12 inch laptop, tablet, and charging cables easily fit inside. 
Winter hikers will appreciate:
twin ice axe loops with matching nylon webbing even with the upper compression straps to keep your axes in place
heavy gauge side pockets and dual straps to tote skis, snowshoes, or trekking poles
narrow profile for full arm range of motion
integrated pack cover: stores in a small zippered pocket at the bottom, and attached to a toggle so it's easy to unzip and cover the pack while keeping it attached at the bottom.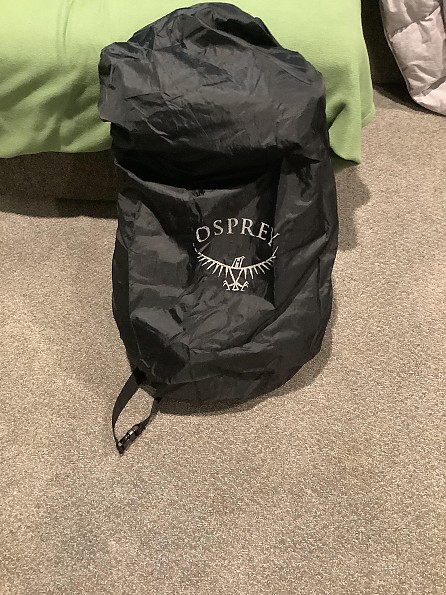 The rain cover fits well and has a shock cord that prevents the cover from getting blown off. The sternum strap has a plastic clip with built-in whistle. It's pretty easy to adjust the sternum strap up or down along the shoulder straps.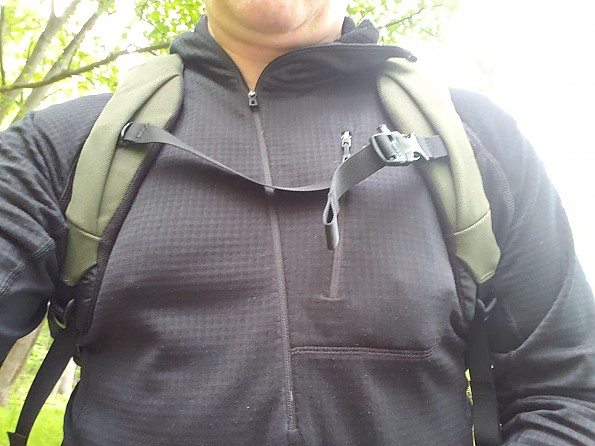 If there are any weak points, the stretchy "pockets" on each hip belt flap are really small. They will hold some small sucking candies or a chapstick, a clif bar at the most. Also, though the side pockets can swallow a liter-sized steel water bottle, they were not easy to reach. I could not reach the pocket and grab the bottle or my phone without unclipping the sternum strap and moving the pack to one shoulder. Finally, the lid is not removable.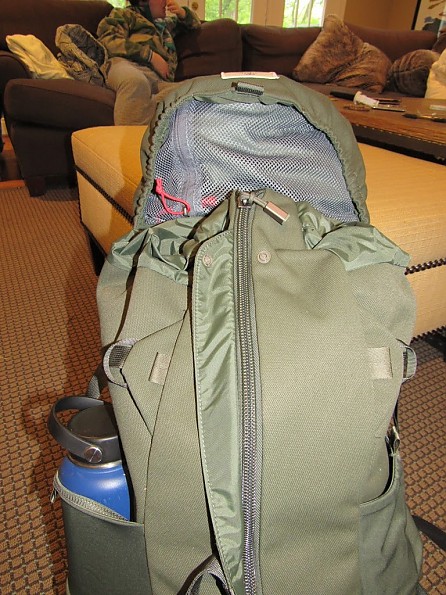 Note the heavy gauge zipper, covered by a flap that snaps up, and how well the liter-sized bottle fits. The photo above also shows a number of lash points.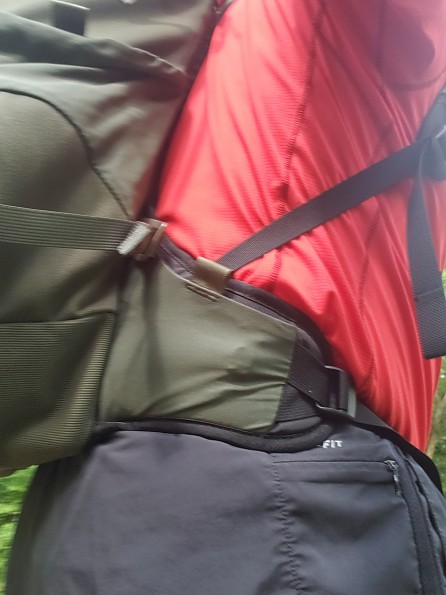 The photo above shows the hip belt, including the little stretchy pocket, with the larger side pocket behind it.  
FIT AND CARRY
The Archeon 30 comes in one size, no small or large sizes with different torso lengths (there are men's and women's versions), but the sternum strap and shoulder harness offer a great deal of adjustability. The shoulder harness moves up and down and secures via a two- to three-inch wide hook/loop section in the center. It was straightforward to fit the first time I wore it. The shoulder harness can adjust 2-3 inches for different torso lengths. The hip belt has a much wider range because the side pieces are so short—I'm a 37-38 inch waist, but I think this would accommodate anywhere from 30-42 inches. That's an estimate, I didn't measure that.  
The shoulder straps are medium wide and thickness, the padding is fairly firm. The back is contoured so it sits well against the lower back, with foam that is firm but bumpy—lots of raised areas, covered by mesh, which allows a bit of air flow. My back felt damp after some hikes, but the design has some ventilation. I spent a few hours out on a particularly steamy day last week, 94 degrees and high humidity in a good wicking shirt, and I felt the ventilation made a difference.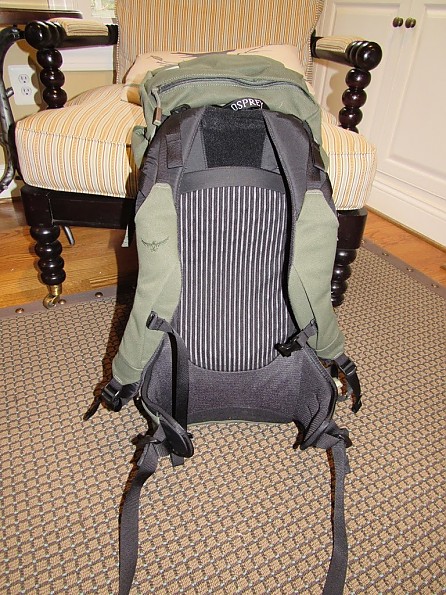 The hip belt sections or flaps are short and only reach around your hip bones. They sit well on my hips. Because they are fairly short and narrow, and because the foam is thin and firm, the hip belt supports weight up to a point. 
Osprey's literature says that this pack's optimal carry weight is 10 to 20 pounds, which I think is reasonably accurate. Most of the time, I hiked with a pack weight around 15 pounds and felt the pack easily handled the weight. I loaded it to 25 pounds on a few hikes and 30 on one to test the carry capacity. The pack felt fine at 25 pounds and pushing it at 30.
The frame wasn't the issue; between the HDPE sheet and aluminum stays, it's fairly rigid. The shoulder straps are reasonably well-padded too. The hip belt lacks the length and width to comfortably handle loads over 25 pounds in my view. Users who want more weight-bearing capacity that is still in a smaller-size package should consider the Archeon 45, which appears to have a wider, more cushioned hip belt (and, incidentally, larger hip belt storage pockets). 
I think it is worth a paragraph addressing the carry capacity. For some hikers/backpackers, a pack this heavy should be able to tote major weight. Conversely, some might not like a four-pound backpack that maxes out carrying 25 pounds comfortably. There are certainly fine, lighter-weight alternatives that can hoist a lot more gear and weight. I'm guessing this will outlast many alternatives, particularly if you are hard on your gear, and that this would also have more appeal as a crossover bag for commuting to work and traveling due to its less technical appearance and rugged exterior—a lot of travel bags and briefcases are made from ballistic-type nylon like this.    
ORGANIZATION
Many of Osprey's backpacks offer very diverse pockets and organizational options. The Archeon 30 is a simpler design. Happily, the lid and side pockets are spacious, and the lid has a zippered pocket underneath that's great for things you care about but don't need to access quickly—wallet, keys, etc. As noted already, they small pockets on the hip belt can stow small snacks, but definitely not a smart phone or GPS unit. Good photos of all that above.  
If you are thinking about this for cycling or taking public transportation to work, it's worth checking the hydration sleeve. My laptop is a pretty small and slender 12 inches, it fit easily including a low-profile sleeve; if you have a larger laptop, say 16-inch, it's worth seeing if it fits.  The sleeve isn't padded, but one side is protected by the frame sheet, and the other side by whatever fleece, shell, or gym clothes you might carry.  
HYDRATION
For the most part, this pack knocks hydration out of the park. For a water bottle user, the side pockets are great. I included a few photos above with the pack open, showing the hydration sleeve, and with a Hydroflask liter-sized bottle in the pocket. For hydration systems, the pack has an internal sleeve that easily holds a three-liter reservoir and has a hook on top for reservoirs that can attach to it. The hydration port is in the center, right behind the grab loop, so you can have the hose on the left or right. The shoulder straps don't have a dedicated loop or means to attach the hose. I found the easiest place to put the hose was tucked in under the sternum strap. 
OBSERVATIONS FROM USE
I used the Archeon as my primary day-hiking backpack for the past few months. Loads ranged from very light (under 10 pounds) to 30 pounds, and I used it in weather ranging from the high 30s to mid 90s, occasionally in the rain. It didn't rain hard enough for me to bother with the included rain cover, so I photographed that inside. With lighter weights, I sometimes didn't use the hip belt. It's a comfortable backpack to wear, and for the most part, it keeps stuff you want accessible. I used the large side pockets for phones, an iPod, and snacks. I found it was easier to reach that stuff if I shifted the pack to one shoulder—they are located kind of high and back for me to reach them otherwise.
I'm glad to see Osprey making a pack from 100 percent recycled nylon, minimizing the use of plastics and CFCs, and making something that will last for years, even if one uses it hard.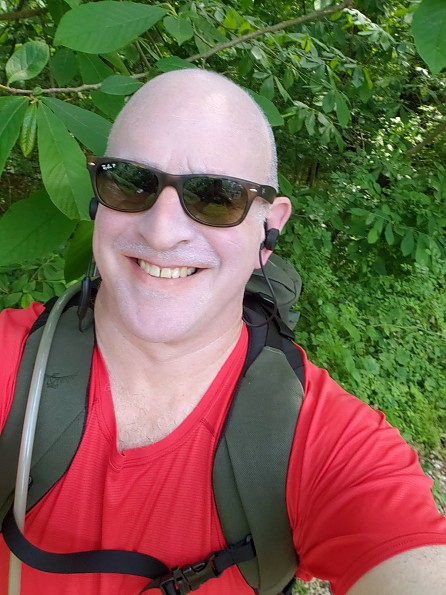 Travel and commuting were eliminated from my regular work life during the testing period. However, as I touched on occasionally during this review, the combination of function and good looks would be at home trekking through airports or cycling to work. The hydration pocket swallowed my laptop, tablet, and charging cables and has a stretchy top to keep things from jumping out.  
Some design features I particularly like are the full zipper, for easy access; the capacity of the lid pocket; and the small hip belt. At the carry capacity for this backpack, a larger, more padded hip belt isn't necessary. It's a backpack with equally good options for bottles and hydration systems, I used it both ways.  Needless to say, the backpack isn't showing any wear and tear.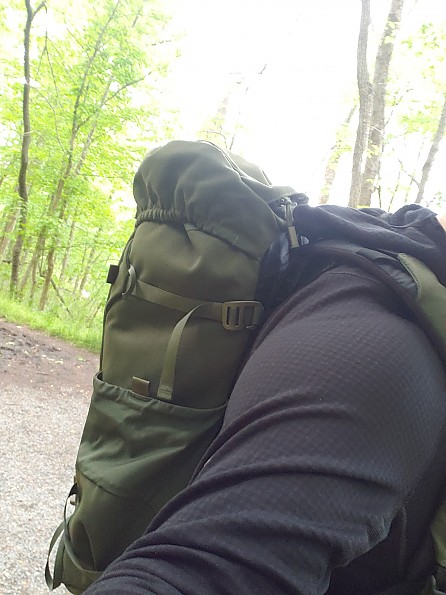 It's a comfortable backpack to carry. The back pad is nicely formed to hug your back. Some might find the side hip "fins" a little too hard for their liking, particularly if they use the backpack to carry weight at the high end (or above) of manufacturer recommendations.  
I tested the pack during the spring, and COVID-19 limited my access to some of my favorite local rock scrambles and eliminated any longer trips, so it didn't get scuffed up as much as backpacks I used normally do. 
CONCLUSIONS
There is a lot to like with the Archeon 30. Durable, sustainable, simple in some ways but well-stocked with features to adapt to a variety of situations. This is a great small backpack for four-season day hikes, rock scrambles, bushwhacks, tossing in your canoe and carrying during a portage. Though it's a bit heavier than I would normally choose as a summit pack for longer winter trips, I'm tempted.  
Highly recommended.  
Experience
Many walks and short day hikes over the course of a few months. Most longer hikes in our area were closed due to COVID-19. Carried between 10 and 25 pounds. Shoulder season, so temperatures ranging from 30s to 80s°F.
Source: received for testing via the Trailspace Review Corps (Sample for testing and review provided by Osprey)

Your Review
Where to Buy
Help support this site by making your next gear purchase through one of the links above. Click a link, buy what you need, and the seller will contribute a portion of the purchase price to support Trailspace's independent gear reviews.
You May Like
Specs
Men's
Price
MSRP: $240.00
Current Retail: $155.97-$239.95
Historic Range: $119.50-$240.00

Weight
4.02 lbs

Volume
1831 cu in / 30 L

Dimensions
25.98 x 11.81 x 9.45 in

Load Range
10-20 lbs

Material
1880D Recycled Nylon Canvas

Women's
Price
MSRP: $240.00
Current Retail: $143.97-$240.00
Historic Range: $119.93-$240.00

Weight
3.82 lbs

Volume
1831 cu in / 30 L

Dimensions
21.26 x 12.2 x 9.45 in

Load Range
10-20 lbs

Material
1880D Recycled Nylon Canvas

Recently on Trailspace