Osprey Atmos 35

The Atmos 35 has been discontinued. If you're looking for something new, check out the best overnight packs for 2023.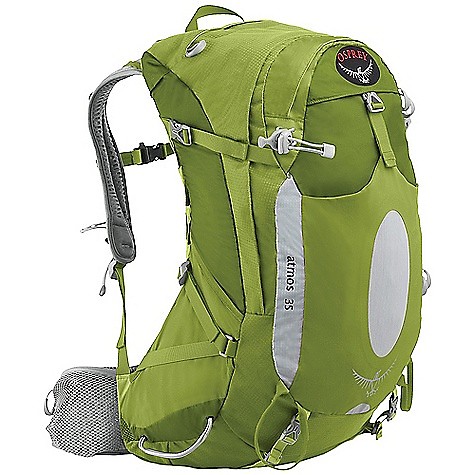 Outstanding performer especially for those who prefer a breeze across their back. I continue to watch the newer Ospreys, but this Atmos 35 is hard to beat.
Pros
Light
Comfortable
Carries up to 25 lbs VERY well
This lightweight pack is no longer sold by Osprey, which is too bad. It is a really great balance of functionality and weight. 
I should say that I generally am the guy on the trail prepared for anything, including being stuck out overnight in freezing conditions. Also, a condition for my wife hiking with me is that I carry her water, lunch, and sometimes extra clothing. This means I need a slightly larger pack than most hikers.  Also, I prefer using water bottles rather than water bladders.
If I need to live out of my pack for many days (say a multi-week trek in Nepal), I take the Atmos 50. But for long dayhikes, I prefer the lighter, smaller Atmos 35.  Both packs have the wonderful, airy mesh against my back.  The 50 has more pockets, more space and a wider hip belt.  But of course it is heavier. 
I've courted the newer Stratos 24 and Stratos 26 packs (bought them, returned them) but I find myself going back to the larger pockets of the Atmos 35 because it can easily carry one-liter bottles whereas the Stratos series can only handle 3/4 liter bottles in the side pockets.
I continue to watch the newer Ospreys, but this Atmos 35 is hard to beat.
Source: bought it new

I have been traveling around the world with my Atmos 35 for a few years now, several continents and lots of countries. It fits in overhead bins on airplanes perfectly, even going straight in, not sideways like the flight attendants asks you to.
Very comfortable, love the air suspension, great for long camp trips in all conditions, climbing peaks, all your fun sports.
Only negative is the hip section is a little narrow for me, but hard to ask for perfection, but they got pretty close.
I have been giving this bag a good beating for a while and still no tears or any problems.
Size: 30
Number of Pockets: about 6
Max. Load Carried: 40 lbs
Height of Owner: 5'8"
Price Paid: $90

This is by far the best backpack I have owned. The size makes it a super versatile pack. I have used it for traveling overseas as a carry-on, camping, backpacking, and cruising around town on my bike with groceries. It is unbelievably light and super comfortable.
I used it for a winter snowshoe/camping trip and it was almost too small for all my gear, but it handled the load just fine. I have used the Atmos 35 as my carry-on when flying, and it fits in the overhead compartment perfectly. It does not, however, fit under the seat. The pockets are all placed nicely and the top load main compartment is nice and roomy with zippers that unzip all the way down so it is easy to get to your gear.
If you are looking for a pack, I highly recommend this one.
Design: Top Load
Size: 35L
Number of Pockets: 3
Max. Load Carried: 30
Height of Owner: 5.10
Price Paid: $158

I wanted to wait until I put some mileage on this pack before I reviewed it. And after having used it for about 40 miles on my last 4 day hikes, I can only say that this is the best pack I've ever owned!
Last week I went to Mount Tammany and Sunfish Pond on the AT in New Jersey. This entailed about 11 1/2- 12 miles. The trails I followed also necessitated two ascents and descents of approximately 800 vertical feet per ascent and descent. I carried 5 liters of water, my Primus stove, Brunton cookset, Garmin Etrex, digital camera, first aid kit, food, extra shirt, and of course my mascot, Einstein. I probably had about 20 pounds along and hardly ever noticed the pack on my back.
I have a Mountainsmith Dayhiker which I reviewed a couple months ago. Nice pack, but it doesn't feel nearly as comfortable on my back. The Osprey moves as you move and fits like a glove. The mesh storage in the hip belts gets a big "thumbs up" and the Airspace mesh back is an absolute joy. I also own an Atmos 65 which I absolutely love, but hey, let's face it, because of work and domestic confines,I'll get more use out of the 35.
If you're looking for a capable and comfortable day pack, you can't do much better than this baby!
Design: front loading
Size: 35 liters
Number of Pockets: 5?
Max. Load Carried: 20-25lbs.
Height of Owner: 5'11"
Price Paid: $79.98

Version reviewed: 2009 version
I used this pack on a few long days in the mountains of New Mexico in sunny to partly cloudy conditions and mountain breezes. The pack is designed for ultralight overnights, and had a little more volume than needed for a dayhike.
Good points: Great ventilation that catches every little breeze. Perfect organization features and it can hold a lot of volume. The fabric looks like it will wear well over the years and it's a nice looking pack.
Bad points: Not much load transfer so pack light. Slits in the side pockets kind of defeats the purpose of the pockets. Squeaks from the frame.
Design: Top zipper access
Size: 35 liters
Number of Pockets: 6 including a back stretch pocket
Max. Load Carried: 15 lbs
Height of Owner: 6 ft
Price Paid: $139

I have come to really loathe this pack. It's fine and airy for light loads, but as soon as you put something substantial in there, the packs bounces around on the trampoline suspension, reeking havoc on your spine and sanity.
In their defense, Osprey explicitly designed the pack to move around during active pursuits, but I think the whole approach is wrong-headed. To me, it feels much better to be climbing / skiing, etc with a pack that's secured more firmly to your hips (like a Gregory of the same size).
To add insult to (literal low back) injury, the design of the pack doesn't allow for easy access to the side pockets, or to the main compartment, without undoing a few, annoying straps. Osprey's travel bags are great--I'm starting to suspect their packs are more focused on gimickry and aesthetics.
Max. Load Carried: 35 pounds
Height of Owner: 6 feet

I've used this pack in the Gorge, to climb (hike) Mt St Helens in winter, climb and scramble all around Mt. Ranier, Mt. Adams, Mt Jefferson, and Mt. Hood. I also use it for backcountry ski trips. I carry the gear for two people as my wife has a bad back. This is the third Osprey pack I've owned.
Good - Very comfortable fit (I'm 6'4"). The hipbelt pockets are quite nice, my Canon digital camera fits well along with a whole side of Fig Newtons! I've never experienced any chafing or pressure points with the hip belt or shoulder straps. I carry up to 30 pounds max.
I mainly use it for winter sports so I can carry and/or stash extra clothes and gear. The two side pockets carry two bike bottles very well. Because I have long monkey arms I can grab a bottle from the side, but those of lesser stature may not be able to.
Cons - Unlike my two older Osprey packs, the bottom is the same lightweight material as the rest of the pack. A strip of extra duty material would make the bottom more bullet proof. The main compartment zipper config. is a little funky and it takes two hands to get into the main compartment. Also, my gear gets wet in rain or wet snow so a pack cover is the go in these conditions.
Design: Front loading
Size: L-35L
Number of Pockets: 1 main, 1 small, 2 hipbelt
Max. Load Carried: 25 lbs
Height of Owner: 6'4"
Price Paid: $129 something

Everything about this pack screams "light" and "breathable", and it achieves this very well. Perhaps too well, at the expense of other factors.
First, the good. Everything mentioned in all the advertising is true. It's very cooling, very breathable, and lighter than most packs of the same capacity.
BUT...
The biggest sacrifice I noticed was stability. The pack is supported on the lumbar area by the trampoline like mesh, stretched taut across the hourglass shaped frame. It is not stiff enough to hold the pack securely. There is no load stabilizer straps on the waist belt, and since the waist belt is sewn onto the mesh, it allows a lot of movement of the pack no matter how tight it is around the waist. The pack leans outwards, putting a lot of pressure on the front of the shoulders.
The waistbelt rides up the waist when I move, and the straps seem to slip through the buckles, so I had to keep adjusting the pack as I moved.
The air space is nice, but do you really need 3.5 inch of air space? The shape of the frame, to create this air space, make the interior a very odd shape, very difficult to pack. There is an option to put you water bag inside the air space, but doing this nulls the effect of the mesh, at least at the bottom of the airspace. Also, to put the waterbag into the air space, you need to access through the main compartment, meaning you still need to open the pack every time you need to refill. With the already odd shape of the interior, if you put your waterbag inside the main compartment, there is only space for slotting all other stuff vertically down both sides. And is hydration pocket inside the main compartment is very narrow, compared to the shape of most hydration bladders.
The durability of the pack also questionable. After some trail bashing during just 1 trip, the stretch fabric has had bits of fiber pulled out, forming a loop. The base is made of the same 210D nylon as the rest of the pack, instead of a thicker, more abrasion resistant material. It's already starting to show signs of abrasion wear.
The shoulder straps and waist belt are sewn directly onto the mesh, so I'm skeptical how strong it is.
The zippers to the main compartment are made such that it only closes to the middle, and folds backwards the the top, so it's troublesome to close. You probably need both hands to close each side of the zippers one by one. then there is a flap which buckles to the front stretch pocket. Meaning you have to undo the buckle every time you open the pack.
I would give it 2.5 stars if there is half stars. Buy the pack only for what it is advertised to do. To keep you cool. Use it in the cities, not out in the wild.
Design: Front Loading
Size: 35L

Super utilitarian pack, I travel by both foot and bicycle and the Atmos 35 works under both applications. I love the hydration compartment being separate from the pack interior. And even in the rain my gear stays dry.
Design: Single compartment front load style
Size: Large
Number of Pockets: 2 inside, 2 one the waist belt, 2 for hydration bottles 1 each side
Max. Load Carried: 25 Lbs
Height of Owner: 6' 2"
Price Paid: $159.99

Fantastic pack! I live in Florida so sweating here is a must. Not anymore. Not with this pack.
Mesh back panel is awesome. The pack is also very light and for me who loves light backpacking is perfect. I also took it to Europe as my only luggage and had no problems with taking it on a plane and walking around in the cities as well as backpacking for 3-5 days. However once again I tend to pack light and wash my clothes more often rather than take a lot of them.
It is also perfect for bicycle commuting because it tends to sit low and hugs the body without sweating too much due to, once again, mesh panel.
Design: top loading
Size: m
Number of Pockets: 3
Max. Load Carried: 28
Height of Owner: 5 11

Your Review
You May Like
Specs
Price
Historic Range: $59.35-$159.00
Reviewers Paid: $79.98-$159.99

Recently on Trailspace