Osprey Atmos AG 50
Rating:


Source: bought it used
Price Paid: $125

Summary
Hands down the most comfortable, ergonomically correct framed backpack I have ever worn!!!
Pros
Comfort
Ergonomics
Simplicity
Durability
Adjustability
Cons
Small hip belt pockets
Noisy
So to start, I chose this backpack as the pack to carry my winter setup. I am an ultralight hiker most days, but in the winter I prefer to carry a little extra. After a little over 1,000 miles with this pack, unless I am in for some PR for miles... I take this pack without hesitation.
Fortunately it compresses enough that I can put my 18-lb setup in this pack and it does not become floppy or odd. When winter comes I am usually 28 lbs or so, and it has no problem taking the weight. It would take much more, I'm positive of it (they claim it is comfortable up to 40 lbs), but the ten pounds is almost literally unnoticeable in the way that it feels.
I have come to use this pack in below zero snowstorms during my LONG TRAIL hike this past January, summer conditions all along the AT last year, and wet springy conditions this year out west while exploring the Palouse area of Washington, down into the desert of Arches National Park. There is nowhere that I don't prefer it over my other packs, unless again I'm going for miles and miles only.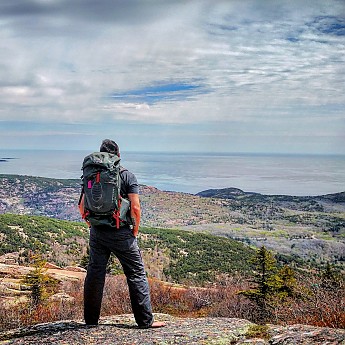 So to start this pack fits ridiculously good.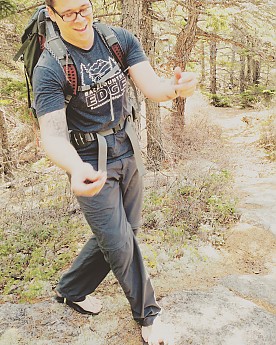 (No really look, I can even dance while I am wearing it)

I knew the first time I tried it on that I needed one. The webbing that runs from your shoulders to your hips acts as the perfect suspension all while keeping the pack off of your body to help with keeping cool. It works perfect. You still get a bit warm naturally, but nothing like if your back was completely covered.
I have always loved the attention to detail that Osprey uses on small things like the straps. The hip belt straps pull out and away from your body to tighten them opposed to back in and towards your body, making it much easier to get a good tight fit with minimal effort.
The adjustability for the fit is really great. The hip belts adjust on the fly and have several different lengths to choose from making it super easy to get a full hug around your hips. The shoulder straps have several different settings also allowing you to set your pack perfectly up for you. Not only can you choose from S, M, L, but now you can also dial that one size into several others to get the exact dimensions you need.
The comfort this pack provides is not even comparable. Normally I'm carrying 18 lbs inside of 35L packs, so going to something so much larger definitely gave me some reservations at first. After I packed it up with my winter gear, I threw it on and was absolutely amazed. The hip belt almost holds the pack to your body before you even put the shoulder straps on.
After your initial adjustments are finished, you will find this pack first so perfect to your back. The best part? It doesn't really matter how you are shaped as the webbing conforms to your body... or mine for that matter. The webbing design puts the weight perfectly on to your hips and is near weightless towards your shoulders.
This pack is a 50L pack with a  removable top lid. I personally take mine off to spite weight, but could see its benefits for storing last minute things like keys, wallets, phones etc. It has also has an external mesh front pouch which i find extremely stretchy, however it seems to stay taut every time I empty it and go right back to where it is supposed to. 
The pack in this case, is extremely simple. One large main compartment with a sleeve for a hydration bladder. Two hip belt pockets. Two water bottle mesh side pockets, and one mesh front pocket. Otherwise it does not have a ton of bells and whistles less a couple other gear attachment loops and a separate sleeping bag compartment.
I personally like it this way because I don't feel obligated to use all the odd pockets that some packs give, which often takes away from my organization albeit I convince myself otherwise. This pack being an open layout allows me to fill it the way that I want to, which also allows me to easily remember where everything is in my pack. I still might have to dig to the bottom, but at least I know it's at the bottom and how to get to it.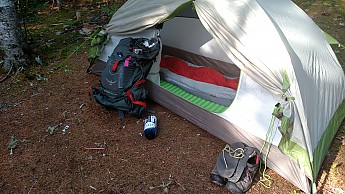 The weight distribution of this pack, as I had mentioned before, is perfect. It carries weight so well that I just literally can't say enough good about it. Twisting and turning does not seem to be an issue with this pack on my back.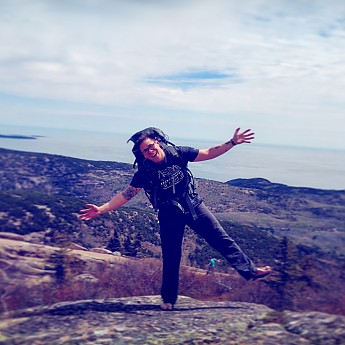 The pack comes with several compression straps that I personally make great use of. Going from 28 down to 18 lbs seems to make the compression straps necessary. There is definitely some extra there when it's all cinched down, but not enough to bother me. I might be ultralight hiking, but I'm not concerned enough to ruin a good piece of gear to save a half an oz. 
Now as far as ease of use... the pack is actually extremely simple. The adjustments are fool proof, the lack of pockets, zippers, bells and whistles make the rest pretty self explanatory... although I have found one issue, which is exactly the same issue I find with all Osprey packs. Now I suppose since this is designed to use with a water bladder, this peeve could be argued.... but spite the front and top access for the water bottle holders, I cannot seem to get my water bottles back in the pack while it's on my back without literally turning and stretching so hard that it cramps me up.
I can get them out easy enough, but I cannot seem to get a bottle back in. A Smartwater bottle does allow me a bit of luck from time to time and it will slide right in, but as far as a Nalgene goes... either I'm terrible proportioned and my arms are shorter than I think, or something is just a small amount off.
Now don't get me wrong, the design itself is brilliant with the front and top access... I just think that it is in the wrong spot. Moving it closer to the body however could mean it's in the way of your arms, so I'm not really sure if this is even fixable. 
One thing Osprey is doing that I find extremely helpful, is incorporating the whistle in the chest strap. It's brilliant, extremely lightweight, and saves me from a dangling accessory. I also love the on-the-fly hiking pole storage. Slide in the ground ends by your hip, pull the elastic over the handles, and cinch shut and you're done. Both of these features I found very well thought out and easy to use.
The other feature worth noting is the suspension on the hip belt. Of course this is the whole thing with this pack...but again it's a world of difference. It makes perfect sense when you think about it, and trying it on provides a level of comfort that no other pack I have worn has.
Having a removable top lid that gets replaced by a sewn in top flap is truly brilliant. I like the look and the function of having the one panel just fall over the top of the bag. It's easy to use, keeps everything out, saves weight when you remove the top lid, and looks great!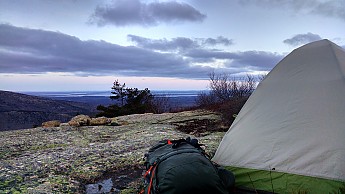 Like most Osprey products, this one is built to last. The main compartment using 100d x 630d nylon dobby, the bottom using 420HD nylon packcloth and the accents using 210D High Tenacity Nylon, this pack is definitely built for the long haul. The packs is abrasion resistant and the dirt wipes off with no problems. With some decent care there is no reason you won't have this pack for a very long time.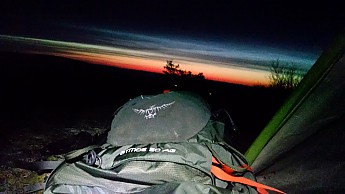 Now to note a few worthy issues I had with this pack. All are minimal really except one but worthy of the note.
First, this pack is noisy. it does not squeak or jingle... it creeks. Like a new pair of leather boots maybe. It just has that, tight, strong style creek to it. Like stretching a fabric material that is already stretched. Which makes sense because it's the webbing that does it, in which case that's exactly what is happening. You are stretching an already stretched fabric. Even when putting it on, as you spread the waist belt, you can hear it creek. Not ridiculous really, but noticeable.
The second note is the hip belt pockets. They are useless. They are not really small I have found, because if you can load them from the front, all while shoving everything to the back, you can get some stuff into them, although you have to pull everything out to get to the thing in the back. I have found they hold a Clif bar or two if you squish them, in one side... and you might get your cell phone and a lighter in the other. But I wouldn't plan on loading them up with all your little extra doodads because you will probably have to leave a few home if you were.
Now the biggest issue with this pack, when it is 0 degrees F outside, in the middle of a blizzard, the wind is howling, and its dumped a foot by noon, only to dump another foot by nightfall... this pack becomes dangerous. The webbing on the back allows snow to sit between you and your pack. The area between you and the pack that the suspension creates seems to be the perfect little spot to hold snow.
How is this dangerous? Well when you spend all day hiking to the point where you are fairly numb from the cold, you don't seem to realize the exact points where the cold is colder than others. The snow melts, making your back extremely wet, and with snow against it all day you become extremely cold. Since it's so close to your core it really is hard to pinpoint the cold until your body temperature has dropped enough that your fine motor skills start to lack a bit.
Also it provides such an opportunity to leave such a large part of your core exposed that if you were choosing this mainly for winter I would suggest looking at all options. I have been able to be conscious of this and after the first snowstorm and when I stop I clean it out....but I could see this as a real issue.
If it was not for the hipbelt pockets, and the snow, this pack would easily be a 5 star pack. It is designed to provide a comfort oriented backpacking trip and its nothing short of that. I would highly recommend at least trying one of these on and sizing it up.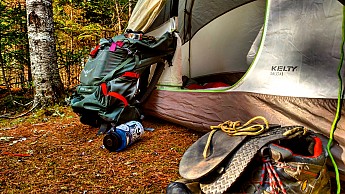 Where to Buy
sponsored links
Help support this site by making your next gear purchase through one of the links above. Click a link, buy what you need, and the seller will contribute a portion of the purchase price to support Trailspace's independent gear reviews.