Osprey Talon Pro 20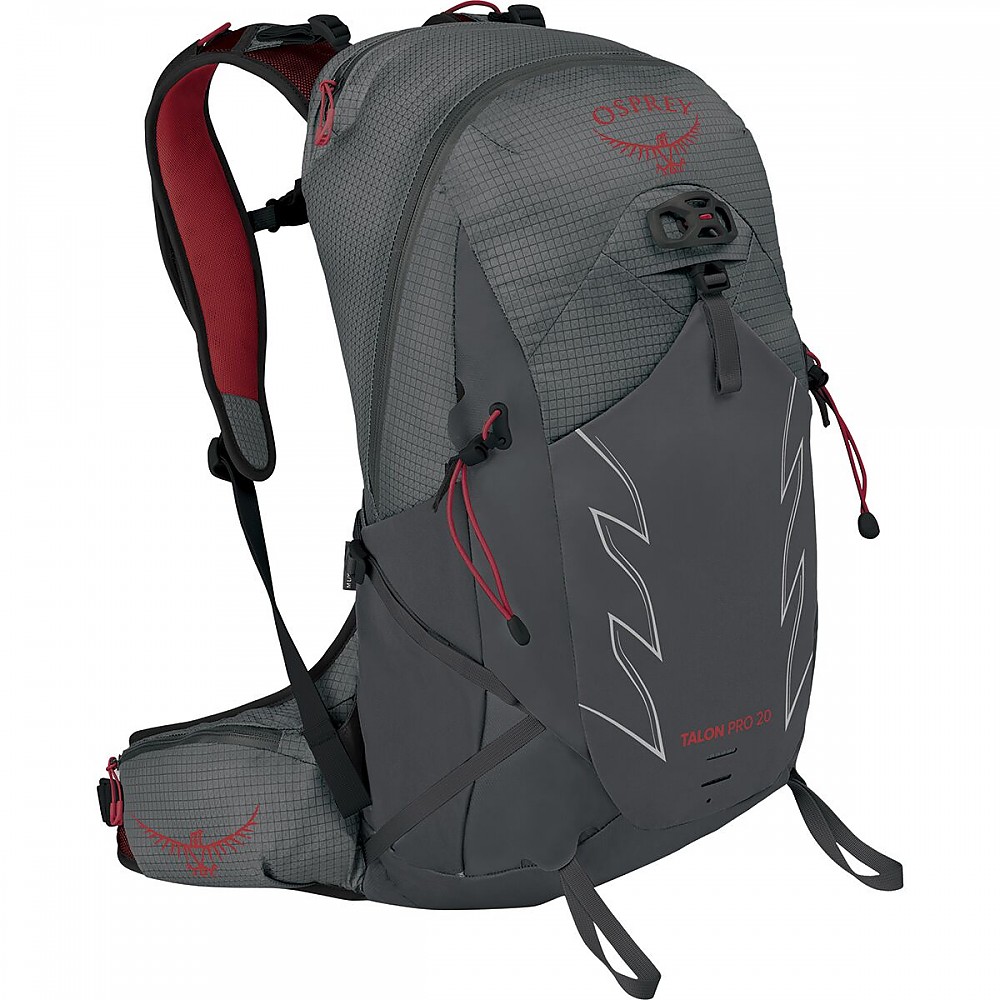 A highly-responsive daypack from Osprey that incorporates some nice features for those with technical needs, but perhaps a little overkill for the average weekend hiker. As a long-time user of the non-Pro version of the Talon pack, I found the Pro version to be mostly the same, with some slight upgrades here and there, with the most noticeable being an improved ride (fits closer and doesn't jostle around).
Pros
Close, responsive feeling
Highly breathable
Comfortable
Manufacturer's highly-praised warranty
Cons
Not much weight savings from non-Pro model (still relatively light though)
Only 1 colorway
Personal Experience with Osprey Daypacks:
I've used the Osprey Talon 22 as my primary daypack for more than 10 years now. My first Talon 22 was purchased back in 2010 and I wrote a review about it in 2014. I've subsequently acquired another, updated model of the Talon 22. Both packs get frequent use and I've tried testing the Talon Pro 20 in approximately the same manner in which I've used my other Ospreys. As a long-time Osprey user, I tested the new Talon Pro 20 to see how it stacks up against the non-Pro model of the Talon 22, as well as non-Osprey daypacks.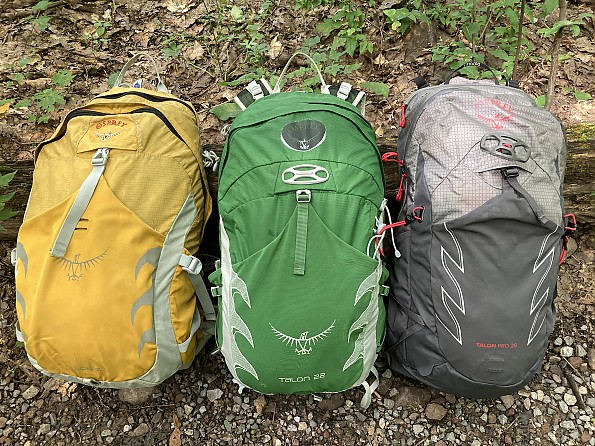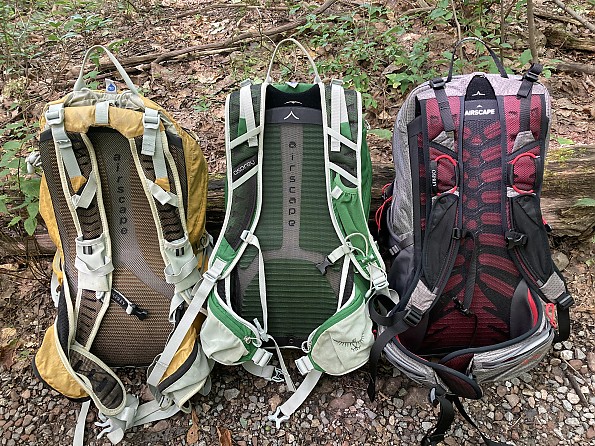 What's the difference between the Pro model and the normal Talon/Tempest daypack?
By wearing the Pro model, the user immediately becomes a better hiker with stronger legs, greater endurance, and incapable of getting lost...ever! Just kidding. Here's what actually makes the "Pro" model different from the normal, non-Pro Talon daypacks by Osprey (and research suggests the same applies to the Tempest Pro, the women's equivalent pack):
1. Fabric change 
Pro Model: 

Nanofly 100D x 200D nylon UHMWPE, PFC-free DWR

Regular Model: 

bluesign-approved recycled 100D x 210D wave check high-tenacity nylon, PFC-free DWR
2. Frame updates 
Pro Model: slightly trimmed down and fits closer to the body

Regular Model: made of same material but cut slightly more generously
3. Stretch pockets 
Pro Model: stretch woven pockets on sides and rear are slimmer and made of updated woven material
Regular Model: stretch mesh pockets on sides and rear are slightly wider and stretchier
4. Capacity and color options
Pro Model: 2 sizes available for each (Talon is 20L and 30L, Tempest is 18L and 28L). One colorway for Talon and one for Tempest.
Regular Model: 7 sizes available for each (Talon ranges from 6-44L, Tempest ranges from 6-40L). Numerous colorways for both the Talon and Tempest.
Conditions:
Over the course of four months, I've tested the Osprey Talon Pro 20. It's been on my back for numerous dayhike adventures, weekend camping trips, and even as a carry-on travel bag while flying. It's gone on dusty trails in the unseasonably hot and dry Pacific Northwest (USA) and along creeks during muggy fishing trips in the Mid-Atlantic (USA). The longest single period of time it was on my back was during a 7-mile dayhike in rocky terrain that required careful foot placement so as not to break an ankle or step on a snake.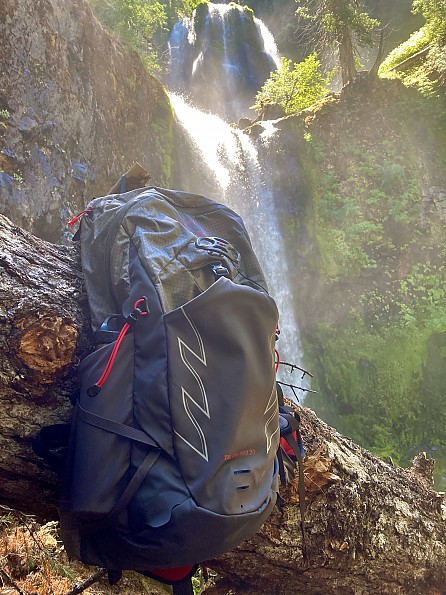 Comfort:
I've seen more and more Talon and Tempest (the women-specific equivalent to the Talon) daypacks in the backcountry and around town in recent years and I believe a primary reason for this is because of how comfortable this line of daypacks are. Simply put, the Osprey packs, including the Talon Pro 20 are comfort-driven. This one in particular features a comfortable Airscape back panel that breathes really well, along with the "Biostretch" hipbelt and shoulder straps that are made from comfortable foam with a breathable mesh exterior. Nothing digs, pinches or pulls, regardless of how much weight I'm carrying and this pack can easily be carried for several consecutive hours without needing to take it off or adjust.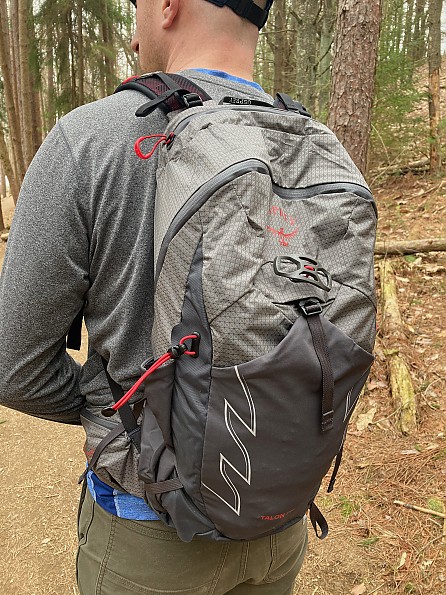 Ride:
More than its comfort, what stands out the most to me is how incredibly close this pack feels to the back. I thought the non-Pro model of the Talon 22 had a close-fit (and it does, generally speaking), but the Pro model feels much closer and more snug to the back. That may not exactly sound like a good thing to some, but trust me, it is. Feeling close allows for greater responsiveness and a more confident ride.
Situations in which I've found this particularly useful have been while carrying the pack while wading across a rocky-bottom creek with no poles, hiking steep and slippery stone steps around a waterfall trail, and trail riding on a mountain bike with the pack on. Having the pack close and not bouncing around helps keep me stable. I can see this as a huge benefit for additional pursuits that require technical skills or agile movements like cross-country skiing and ice climbing, among others.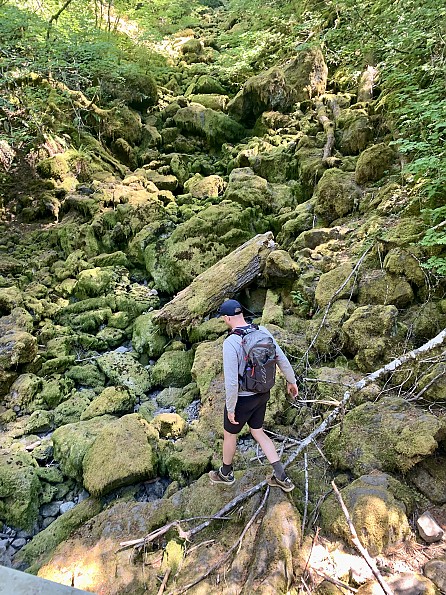 Capacity:
I've found that a 20-25L pack is my ideal size for most day hikes and I enjoy the added frontcountry benefit of this size's additional uses like an easy airline carry-on when traveling, weekend pack for short, non-camping trips, etc. For day hiking, I can reliably stow all my essentials in the pack, with the exception of deep winter dayhiking when I take along a few extra bulky layers which require a larger size pack. In addition to the 20L, a Pro-version in 30L is also available. For the women's-specific Tempest Pro, the capacity choices are either 18L or 28L.
Weight:
This is one area of confusion for me. The Pro series of the Talon packs are marketed as being lightweight/weight-savings, which implies (at least to me) that they would be less weight than their counterpart non-Pro series packs. However, a quick look at the weight listings show something different:
Talon Pro 20 (L/XL size) = 2.301 lbs. (1.044 kg)

Talon 22 (L/XL size) = 2.04 lbs. (1.06 kg)

Talon 22 (S/M size, which is actually 20L capacity) = 1.91 lbs (0.94 kg)
Yes, the non-Pro and Pro Talon packs are all fairly lightweight in the grand scheme of things, particularly for how many features they possess, but I don't think the Pro series is quite as much weight-savings as is being marketed, at least not when compared to its non-Pro series Osprey counterparts.  
Organization and Ease of Use: 
The pack's various pockets are easy to access via zippered closures and mesh openings. I find myself regularly utilizing the full pack, not just one or two areas. Both the external and internal top-zippered pockets are consistently in use, as is the main compartment. The two side-pouches are almost always used for holding water bottles (although it should be mentioned that they are narrower than the non-pro version bottle pockets, so getting really wide bottles in these is rather tricky), and the mesh dump pocket in the front is used here and there. The pockets I use the least are the hip pockets (sometimes holds my phone or a snack, but that's about it) and the integrated shoulder strap pouches (I just don't like things riding there). 

Features: 
Being pretty familiar with the Talon packs, the first noticeable feature that set this Pro-series pack apart from the others is the Nanofly fabric, which feels lighter and thinner (but not weaker) than other Osprey daypacks and most daypacks on the market, aside from perhaps ultralight-specific packs. From a technical perspective, the Nanofly fabric "integrates ultra-high-molecular-weight polyethylene (UHMWPE) ripstop and 100D nylon, creating an incredibly light fabric with remarkable abrasion resistance," per the manufacturer. From a non-technical perspective, I'd say the fabric is noticeably lighter feeling from its predecessors and so far, has held up perfectly well to bumps, scrapes, tosses, etc.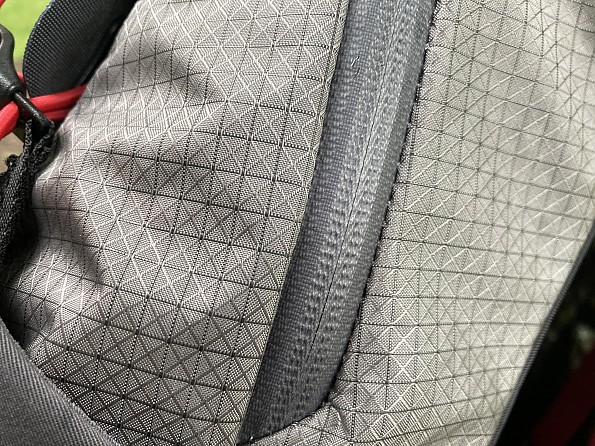 Additional Features:
Other features are either less noticeable or have basically become standard for Osprey packs, including some of the following: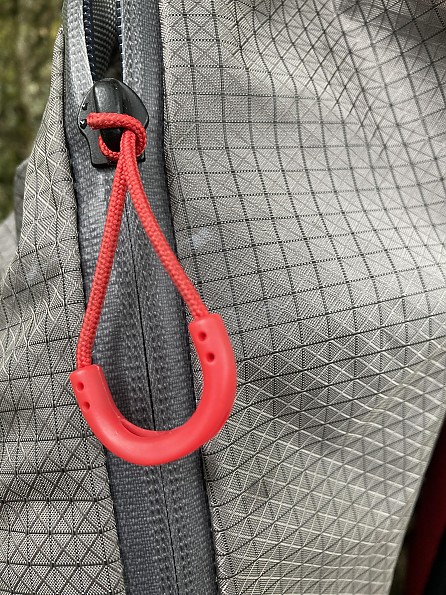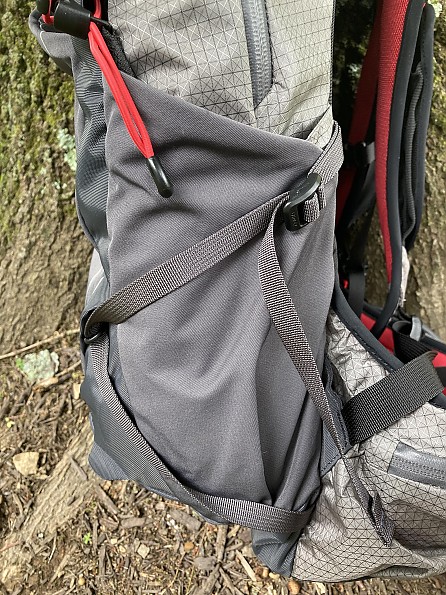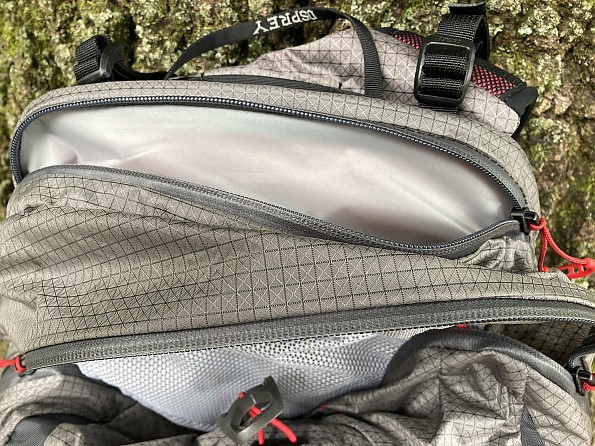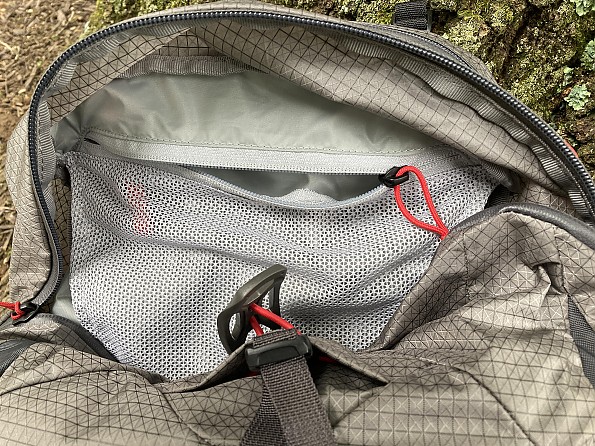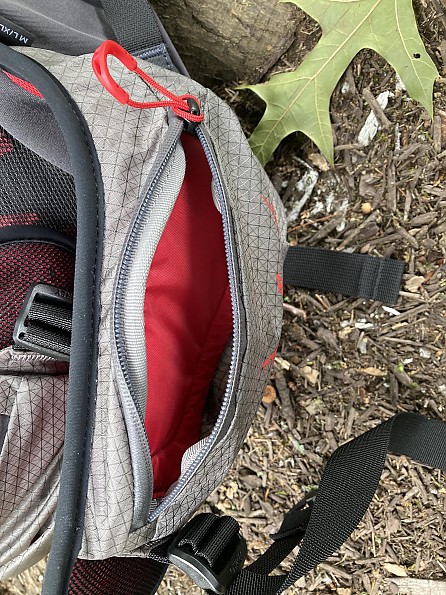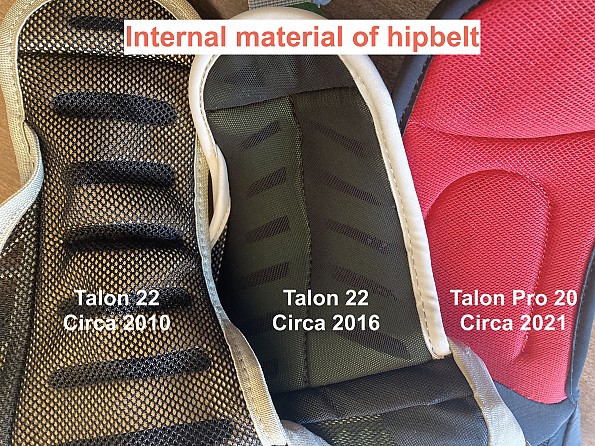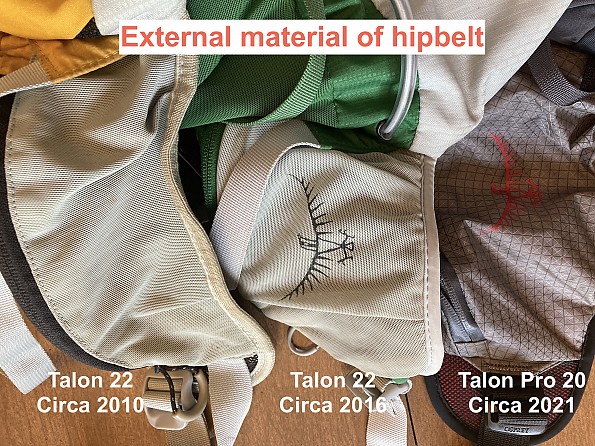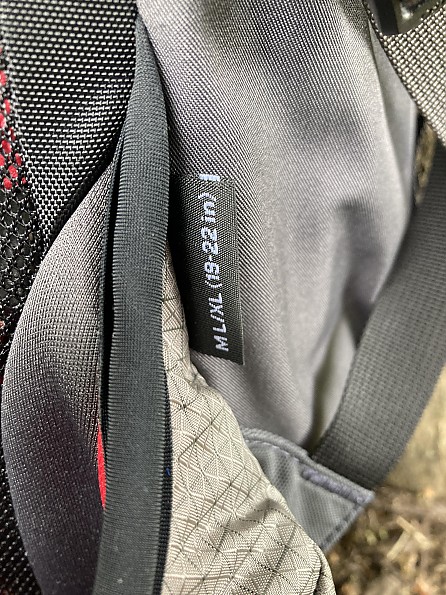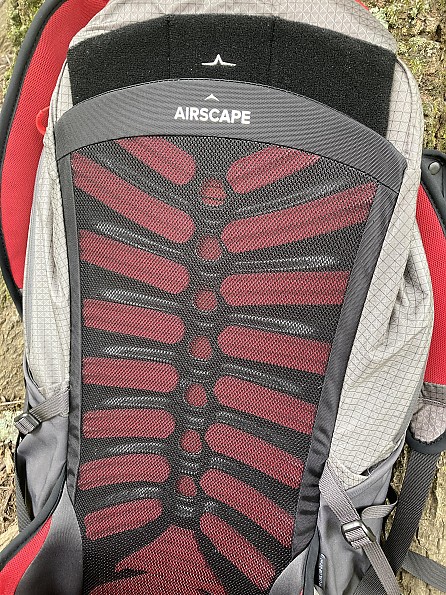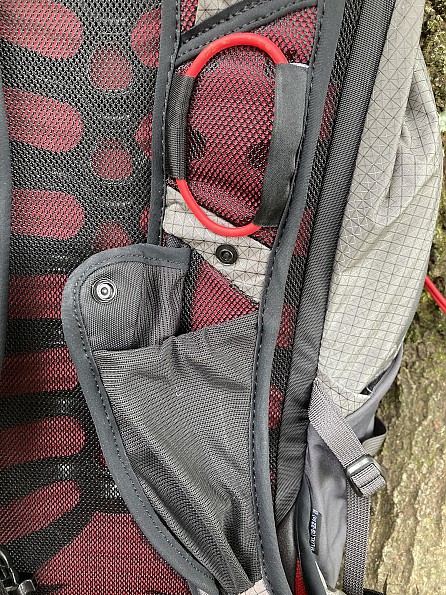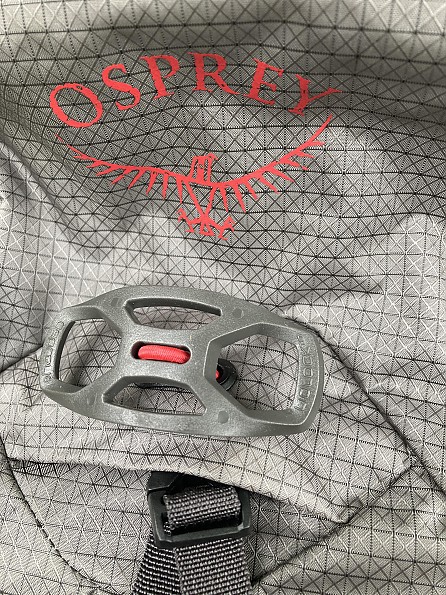 Hydration:
In most scenarios, I prefer stashing water bottles in the side mesh pockets over carrying a hydration reservoir. Since the side mesh pockets are a bit narrower than usual and some of my extra large bottles don't fit well in them, I chose to use the hydration reservoir compatibility on a couple hikes. The pack does not include a reservoir, but is compatible with most basic reservoirs on the market. I happen to have an Osprey reservoir that, based on its color scheme, looks like it was made specifically with this pack in mind, but that is coincidental.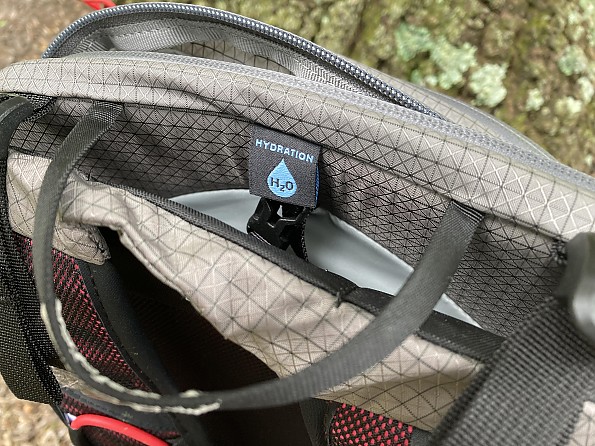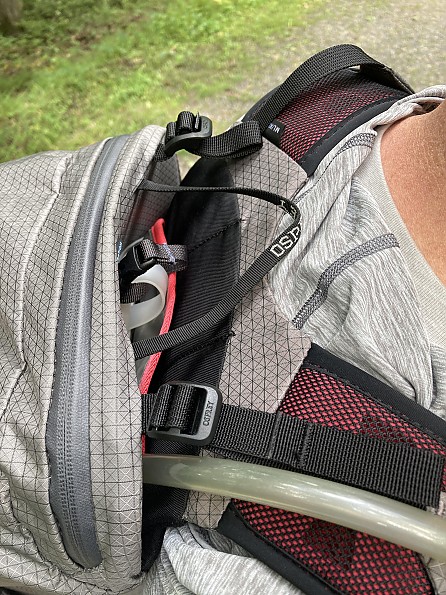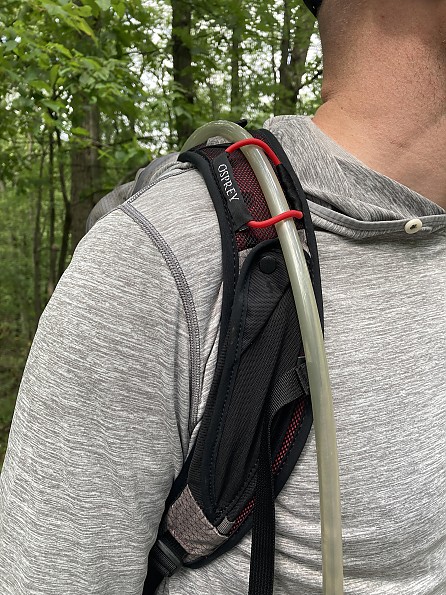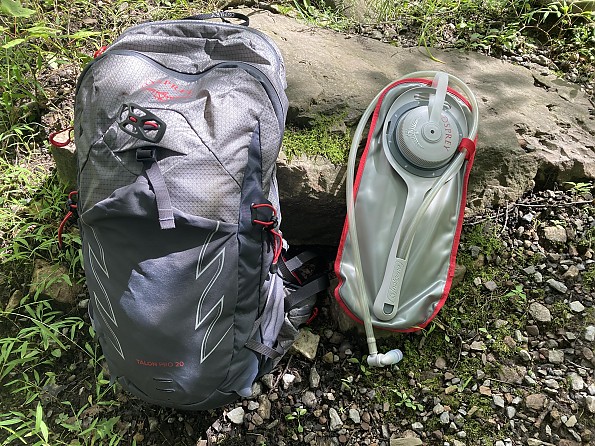 Construction and Durability: 
While I've only used the pack for four months, the long-term durability cannot be fully assessed yet, but by looking at the construction, coupled with my experience with Osprey packs and their generally durable nature, I have no reason to believe this won't stand the test of time, assuming the new Nanofly fabric lives up to its claims. 
Is the added cost worth it for the Pro model?
The Talon Pro 20 currently retails for $50 USD more than its non-Pro counterpart, the Talon 22 ($180 vs. $130 USD). Some may ask, is the Pro version really worth 38% more cost? My answer is, well, it all depends. For me, it comes down to how much you value the added responsiveness this pack offers. For casual day hikers, it's probably not worth the extra money since the non-Pro version is a really good pack to begin with, but for those with outdoor pursuits that truly benefit from carrying a pack that feels completely attached and not jostling around, then perhaps the added cost is worth it.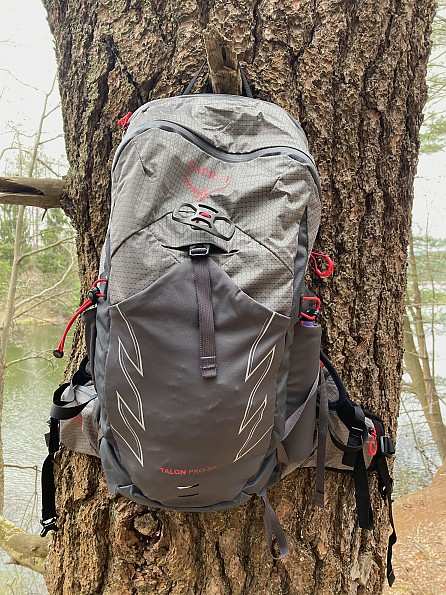 Overall Assessment and Recommendation:
The Osprey Talon Pro 20 is a great daypack that is indeed an improvement in some (but not all) areas from the standard, non-Pro model Osprey Talon 22 pack. I'd imagine these improvements are also featured in the women-specific model (Tempest Pro), but cannot validate that claim from my testing.
The single-most important improvement is how well this pack rides. It feels more like an extension of the body than any other daypack I've used. While I've carried Osprey daypacks for more than 10 years and generally recommend the Osprey Talon line of packs to others, I'd specifically recommend the Pro model for those who want the additional benefit of a highly responsive, never-jiggling-around-on-your-back daypack, which could be particularly useful for those with technical or fast-moving pursuits.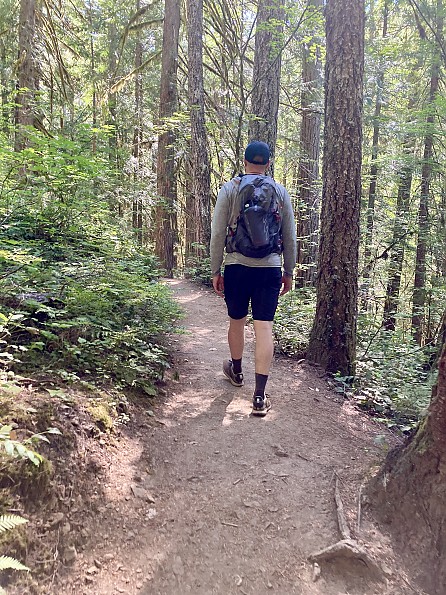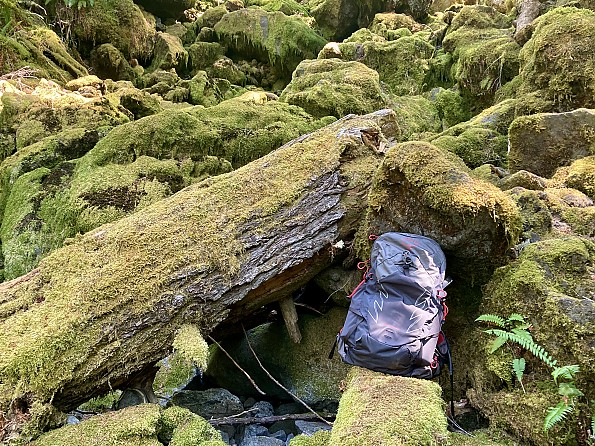 Experience
I've used the Osprey Talon 22 as my primary daypack for more than 10 years now. My first Talon 22 was purchased back in 2010 and I've subsequently acquired another, updated model of the Talon 22. I also own and use additional daypacks from other manufacturers, typically ranging in size from 20-30L.
Source: received for testing via the Trailspace Review Corps (Sample for testing and review provided by Osprey)

Your Review
Where to Buy
Help support this site by making your next gear purchase through one of the links above. Click a link, buy what you need, and the seller will contribute a portion of the purchase price to support Trailspace's independent gear reviews.
You May Like
Specs
S/M
L/XL
Price
MSRP: $180.00
Current Retail: $149.99-$200.00
Historic Range: $149.99-$200.00

Load Range
10-20 lbs

Volume
1,098 cu in / 18 L
1,220 cu in / 20 L
Dimensions
18.5 x 10.63 x 9.06 in
20.47 x 10.63 x 9.06 in
Weight
2.01 lbs
2.301 lbs
Main Fabric
Nanofly 100D x 200D nylon UHMWPE, PFC-free DWR

Accent Fabric
bluesign-approved recycled 420HD nylon packcloth, PFC-free DWR

Bottom Fabric
bluesign-approved recycled 420HD nylon packcloth, PFC-free DWR

Recently on Trailspace