Osprey Viva 50

Top 25 in women's Weekend Packs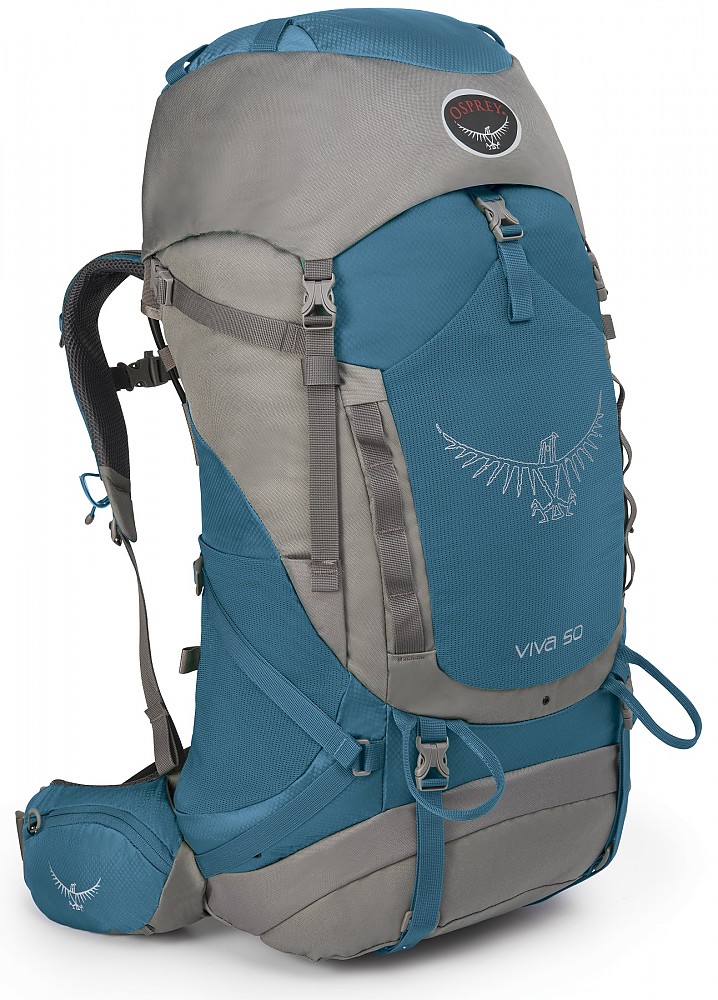 The Viva series is advertised as being without all the bells and whistles but I would argue that it is chocked full of features which, for the most part, increase functionality but do not add significantly to the weight. An ultra-lightweight it is not, but at 3 lbs., 8 oz., it's a respectably light pack with a high level of comfort and durability.

Attention to small details in functionality will delight users and help make this pack a top choice; though, the ease-of-adjustability features found in the Viva series may not be as strong of a selling point for everyone. In addition to being suitable for a wide range of women's figures, I would recommend the Viva for multi-user situations or as a child/teenager's pack, as it has the ability to grow as they do.
Pros
External hydration compartment
Good fit/comfort for women
Hipbelt pockets and stretchy mesh pockets
Ergonomic zipper pulls, hip belt tensioning design, and many other small but functional details
Cons
Not as lightweight as some packs
Adjustable shoulder harness allows minor slippage at the connection points, which results in noise
Ease-of-adjustability features may not be needed by all end-users
In my years of backpacking, I have used several packs from industry leaders (Dana Design /Granite Gear) and felt I could provide a fair critique of comparable ones. This was my first experience with an Osprey pack and it has been a very positive one!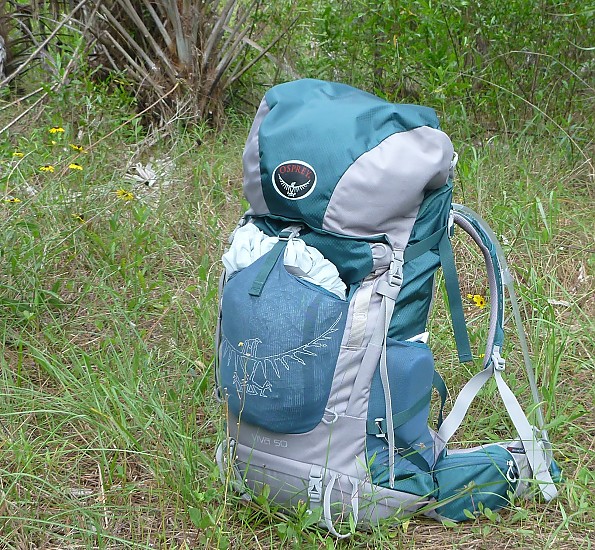 The Viva series comes in two attractive colors, my favorite being the one above.
Fit and Comfort
The Viva is marketed as a women's-specific pack, as the stated torso length range is 14 -19 inches and the hip belt range is 26 - 42 inches.  With many adjustable features and a narrow shoulder harness, I agree that the Viva is a very solid choice for a wide range of women. In addition to myself, several of my female friends (of various heights and hip sizes) tried the Viva and found that fit and comfort met or exceeded our expectations.  One of the praised features was the hip belt, which has adjustable pads to better accommodate a woman's curvy figure.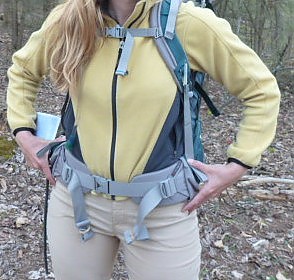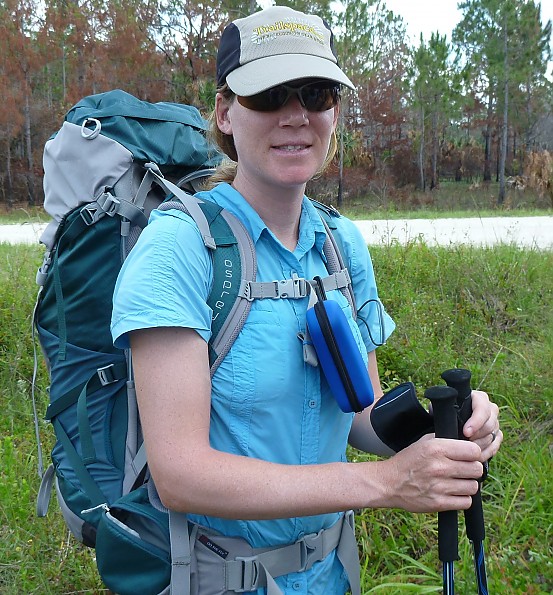 For people with different sized hips, the Viva's belt can adjust.
In my experience, the biggest benefit of a women's-specific pack comes down to torso fit. For years, I put up with a pack that was too big simply because I didn't understand the crucial relationship to load distribution. Using a pack that actually fits me has made backpacking much more enjoyable, so it is great that outdoor companies like Osprey are catering to women's dimensions in designing packs.
The most unique feature of the Viva is a readily adjustable shoulder harness, which changes the torso length with minimal effort. My other pack involves screws and the unfastening of multiple straps to change the harness position on the framesheet.  While most users don't often change torso length once it's set, consider a situation in which two people might be sharing the pack (one carrying a lighter daypack and switching back and forth to equally share the load). I have encountered said situation many times, so this feature seems rather useful to me. But my main criticism of the Viva also comes as a result of this feature.
Perhaps I am being nit-picky here, as most packs exhibit some form of noise, but the creeks and squeaks of this pack sometimes seem excessive. After several trips, I finally traced the source of the aberrant noise to the slight movement of the connecting nylon material sliding over the wire frame, which is coated in clear surgical tubing (pictured).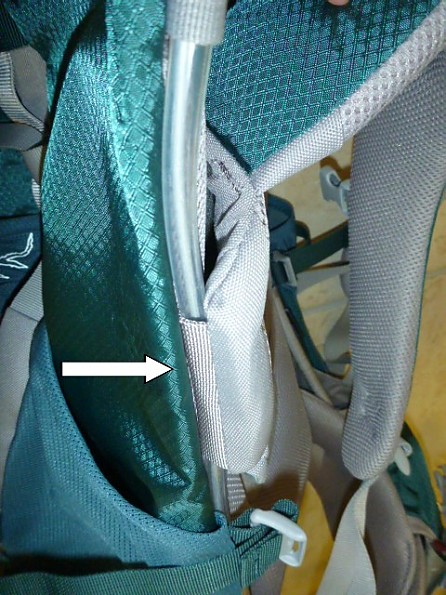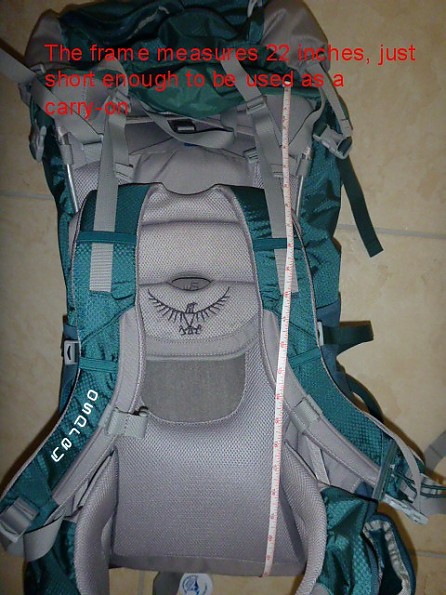 This minor slippage back and forth does not seem to affect the fit or functionality of the design. And to put things into perspective, my own groaning and/or chit-chatting usually exceeds the pack; together we make a symphony. Another quirk of this system is that the harness adjustment scale does not depict inches but rather sizes (XS, S, M and ticks in between).  A window just above the osprey logo indicates where it is set (pictured).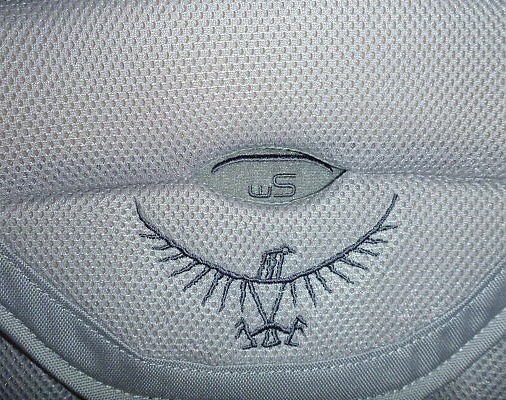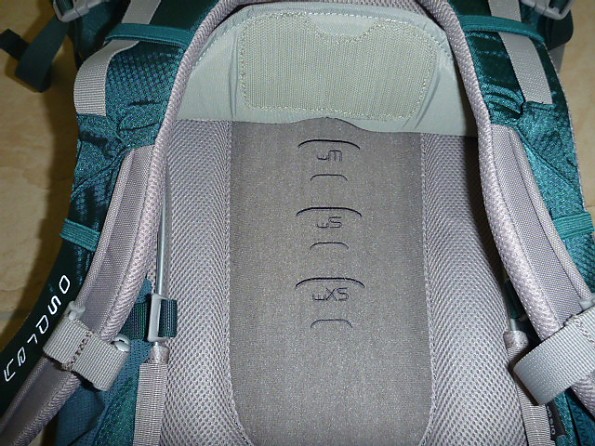 My preference would be for the scale to indicate inches, for a more precise measurement. Again, not a big deal because the harness is so easy to adjust that fine-turning can be done according to the feel of the pack when on the trail.
My final concern is whether the 'hook and loop' closure (i.e. Velcro) could slide loose or degrade over time. But it is a very sturdy attachment and the various tensioning straps transfer most of the load to the frame, anyways. Despite such nuances, I would recommend the Viva for a multi-user situation as described above or as a child's pack. For the end user that does not see the benefits of this design, there are very similar Osprey packs without it.
Capacity/Ride/Stability
The stated capacity of the Viva50 is 3051 cubic inches / 50 liters and the recommended load is 30 – 50 lbs. There is also a Viva65 pack (3967/65) that weighs only 2 ounces more. The capacity that one chooses to go with is very much a personal preference but I found the size of the Viva50 to be as stated and just about perfect for one to multi-day trips.
I tested the pack at a low-end load of 30 lbs., which included my lightweight 2-person tent, sleeping bag, NeoAir pad, a change of clothing, stove/canister, cook-stuff, a chair (my one luxury item), food and 8 lbs of water (to increase the weight for testing). Aside from food, water, and extra clothing, this is basically the load I would carry whether doing one night or 5. All my gear fit inside the pack, with plenty of room leftover, but I must emphasize that I use pretty minimalist gear.
When I first started backpacking 15 years ago, I lugged around a 5000+ cubic inch pack that weighed over 7 lbs. empty…time and experience gradually steered me towards reduction. But even if you don't count ounces like calories, products are constantly evolving to be lighter and more compact.
Last year, I finally traded in my mammoth pack for one this size, which most consider to be an 'overnight' capacity. Given the right gear and conditions, one can make this size pack work for multiple days, especially if sharing the load amongst spouses/friends.  And most backpackers will agree, the lighter you can get your packweight, the better off you'll be.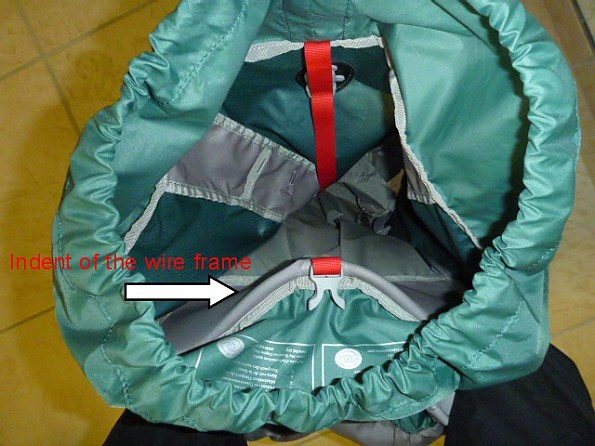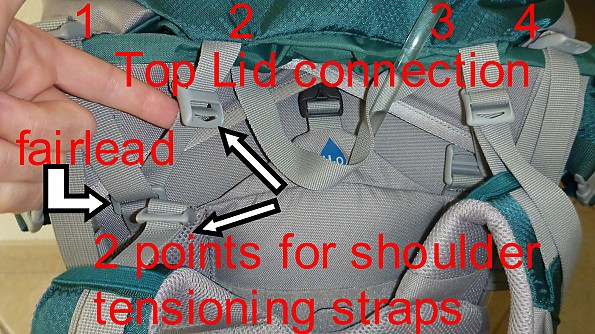 The Viva has a slim but tall profile, as compared to my GG pack of the same capacity (which has a squat and rounder profile). I do find that my GG is easier to pack and organize, as fitting gear into the Viva's narrow top opening is sometimes hindered by the curve of the wire frame (pictured above). This design results in increased head space, which is good, and I feel that the load is probably distributed better by this narrower design. The floating top lid allows for a great deal of expansion or it can be unstrapped and left behind if not needed…a feature I often utilize for short trips.
Generally I don't like for a pack to protrude over my head but the Viva is designed well-enough to minimize the top lid from taking up head space.  Notably, the Viva features a 4-point attachment via fairleads design on the top lid, which improves stability and compression when the pack is overstuffed (pictured above). Capacity can also be increased by using the many options for attaching gear on the outside.  But here again, I prefer a 'clean' pack profile as reducing the amount of gear on the outside improves stability, protects your gear, and reduces the likelihood of getting hung-up on stuff. Now that my sleeping pad is the size of a Nalgene bottle, there's no need to strap it to the outside of my pack.
Lastly, the peripheral hoop wire frame design, as opposed to a center rod, seems to provide good support and structure while allowing a wide range of motion. It may also be of note that the hip belt cannot be removed. While this can make travel on airlines more difficult, it also means the belt is well-integrated into the suspension system. Removable belt designs offer versatility but can feel a bit 'floppy' or isolated from the internal frame.
Organization, Accessibility & Compression
This Viva is a classic top loading design with an accessible bottom sleeping bag compartment and floating top lid. There is a divider separating the sleeping bag compartment with strapping on either side so it can be loosened, unfastened, or the end user can just cut it out entirely. The stretchy front and side pockets allow for a lot of versatility…I particularly found the front pocket handy for stowing my rainfly to double as a quick rain cover. The pockets also offer a good place to store food, tools, and wet clothes and/or a wet tent.  The material expands considerably but also keeps things compressed and secure.
The pack sports all the typical compression strapping (side straps, top lid straps, load lifters, and 1 interior compression strap at the top) but it handled various sized loads quiet well.  Like many packs of its genera, it has an overabundance of webbing…manufactures go with a one-size-fits-all standard and figure the end user can trim to their heart's delight. As an alternative, I used rubber bands to keep straps tidy (a necessity when checking bags on airlines).  I like that the bottom sleeping pad straps can be removed and reattached, though I found it next to impossible to do so without cutting the ends, as they are sewn back on themselves to prevent slippage out of the buckles.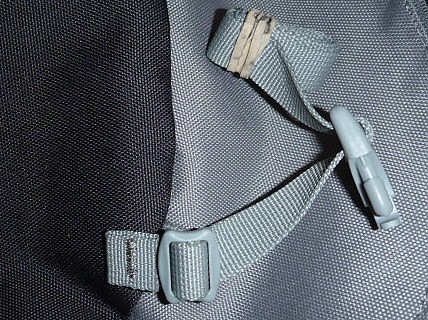 Construction & Durability
The pack is constructed mostly of high quality rip-stop nylon, along with more durable canvas-like material in higher-impact zones, i.e. the bottom. The stretch mesh pockets are obviously more delicate, but are not load-bearing. Seams and stitching appear to be substantial. I can attest that in a 30-minute drizzle, the silicon-impregnated material shed water nicely. All bets are probably off in a downpour…best off using a pack cover (not included) or you can go with the old trashbag-liner.
Ventilation
I used this pack on a May overnight hike in Southern Florida, where the day temps reached into the low 90's. As I was pretty much drenched in sweat all over, I did not notice that the pack added much to my discomfort. In all other circumstances, I did not find ventilation to be an issue. As such, I would say that the pack demonstrated average to above-average ventilation.
Features and Ease of Use
For me, a combination of many small but well-thought-out details make the Viva and other Osprey packs stand out amongst the crowd. Here are a few: A superbly-engineered cord lock on the top opening skirt increases ease of use substantially over a conventional barrel-tie. Easy to grasp zipper pulls found on all zippers and ergonomic hipbelt tightening straps that tighten by pulling towards your center….excellent!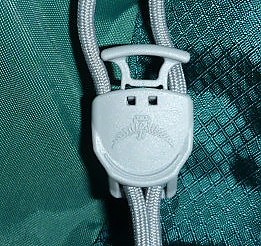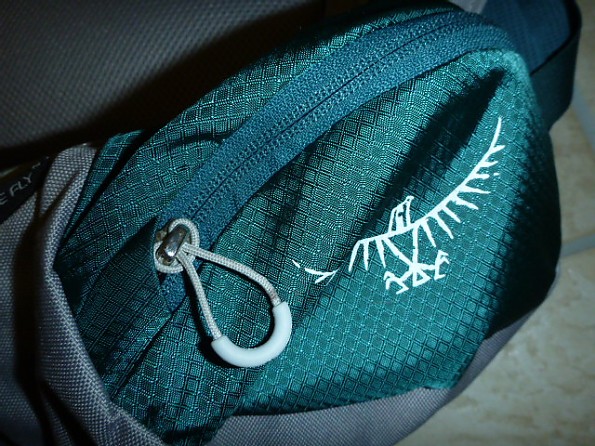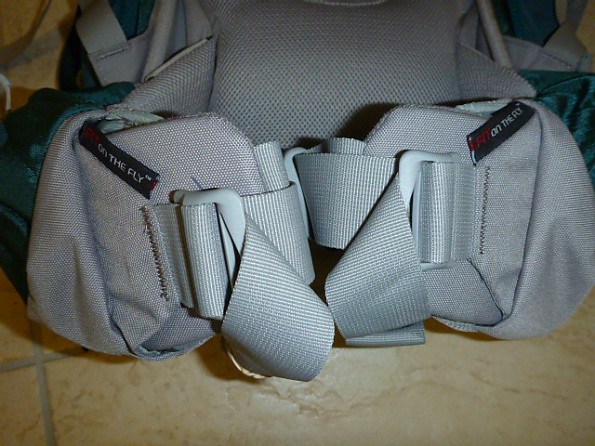 The hipbelt pockets are also a great design and don't inhibit movement as much as I thought they might, with consideration given to what you put in them. I would advise not storing too much and/or breakable items in these pockets because this tends to be a high-impact area. I did not think that I would find the Stow-on-the-Go feature for trekking poles all that useful but I can now see the merits of it.
I use trekking poles pretty religiously but have moved to a z-pole design, which are a bit short for the strapping in this set-up. I did manage to make it work and was surprised to find that the storage did not inhibit my arm swing all that much. This feature appears to come standard on most Osprey packs but the strapping can easily be removed if you don't like it or have need of it.
My favorite feature, hands down, is the external hydration compartment. I can't say enough about this design as for years I couldn't see the sense in putting a water bladder inside where it could leak and soak all my stuff, not to mention that it's very difficult to slide a full bladder into an already full pack. With this design, removal and replacement of a bladder is a breeze…I fit 2 liters of water easily. When wearing the pack, the pressure caused by your back even seems to help force the water up through the bladder tube. Osprey went so far as to include a drain hole at the bottom, just in case a bladder should leak.
Lastly, I travel with my packs on airplanes a lot, so it's an extra bonus that the hard parts of this pack measure 22 inches, the max. height of a carry-on for most airlines. I was able to take this pack as a carry-on on 2 different airlines. You just have to be carefully not to overload it…nothing in the top lid.
In addition to air travel, I tested this pack on a couple of overnights and multiple day hikes of 20 miles or less. A planned visit to Colorado has been delayed due to the fires but I intend to use the pack on a few multi-day trips later this summer and will update the review at that time. My inclination was to give this pack 4.5 stars instead of 4 but I am withholding until I can put some more miles on it in the mountains. Thanks for reading!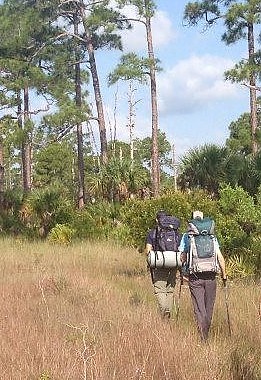 A sunny and serene day in the Florida pinelands.
Source: received for testing via the Trailspace Review Corps (Sample provided by Osprey for testing and review)

Your Review
Where to Buy
Help support this site by making your next gear purchase through one of the links above. Click a link, buy what you need, and the seller will contribute a portion of the purchase price to support Trailspace's independent gear reviews.
You May Like
Specs
Price
Current Retail: $200.00
Historic Range: $89.93-$200.00

Recently on Trailspace