Original PEET Dryer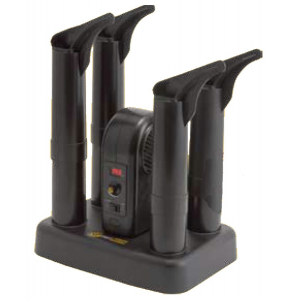 Like to dry footwear, handwear, headgear quickly and safely? Like to stop microbial growth and odors overnight in boots? The trick is getting out moisture quickly, but gently. I've had mine for over 25 years, and it works the same as new! It never has altered or hurt any of my gear. A MUST HAVE item, unless you only wear rubber or plastic sandals (I dry my leather sandals on it).
Pros
Gentle, highly effective dryer for athletic shoes, boots, gloves, helmets, hats, etc removing moisture, sweat, and odors!
Heat convection driven, no motors or moving parts to wear out
Does not damage leather, rubber, synthetics, does not delaminate boot souls
Stops microbial growth and removes odors
Safe to leave leave plugged in unmonitored for hours, days, week unmonitored
Silent operation, circulating air throughout item(s)
Haven't detected bad odors when using it (but I take care of all gear immediately after a hike, others might not?)
EXTREMELY DURABLE, with unheard of 25 yr guarantee! (took me 25 yr to verify)
Best gear protection investment I've made yet!
Comes in fishing wader height and 4 station dryer models too
Other options and accessories are available too!
Cons
Baits the user into trusting the unit for long periods, this is heated and safety should always be concerned!
Need to (should) monitor items drying to remove at desired stage
Could potentially over dry items if left for overly long periods (I check at 2, 8, 12 & 24 hours)
Bulky footprint when not in use (put a nightshade on it?)
Do not use if you like your current footware odors
Not recommended for drying fish
Only comes now in black? (= makes me jealous, I like it better!)
Important Update:  I've been living in the dark ages, PEET I see has a whole family of innovative use focused products and accessories (the glove dryer inserts may be my next option to get).  The principle all looks similar, as much as possible using gentle heat with natural convection air movement.  Slow, sure, safe treatments. http://www.peetdryer.com/products.html 
Example of how footwear (and socks) get wet ... this was on yesterday's hike with a group of about a dozen Meetup hikers (some of which are beginner hikers).  The poncho rain protected hiker later borrowed socks from me at lunch.  After washing, they are on the Peet now!
I've always heard to never dry boots and clothing on radiators or other warm/hot surfaces.  But what are you going to do if you need the gear dry for the next day, or it is drying too slowly and I am risking mildew (mold funky) odors? I have, for instance at Bed & Breakfast lodging locations and motels, used the room radiator (and even lamp shade!) and yes some gear has gotten a little scorched! When driving to the next extended overnight getaway like this, I plan to pack the Peet too!
I was SO skeptical and careful with the Peet, especially when I risked $300 hiking boots on it. My unit is over 25 years old now. I have never had an overly hot item from it, or damage of any kind. Check out my Asolo Power Matic 200 boot review here. The boots have over 1,000 miles and three years on them. They were rinsed then dried immediately after arriving home, for every week's hike and/or snowshoe trip. (I should have wiped the unit's base so that it looked cleaner for the review.  But this is the reality of the unit.)
Rotating convection directors allow me to change angles
Footwear inserts can be put on top of the lightly warm boots to also dry! (Yes that is the boot insert taken out and put on top.  As shocking as that photo might look at first glance, repeat after me ... that is not a soul separating.  Although having tried repeatedly for over 25 years, TrailFrog has lost no soul on this thing yet.  But rather he has saved a lot of dough and maybe helped heat that cool back room slightly?  And there was no odor to knock down fellow hikers, when taking off 1000+ mile boots at lunch on a summer's hike (in spite of how fun that may sound to see).
My boots can be dried overnight unless I rinsed body salts out of the inside, then it takes 24+ hours. They'd likely take a week without the dryer and risk getting microbial attack. I never get odors/attack with the dryer. In fact, it helps drive out odors if the are there. My 1,000 mile use boots smell as good as new!!!
Trusting my Asolo Aconcagua mountaineering boots to the mercy of the 'Peet'. No problem ...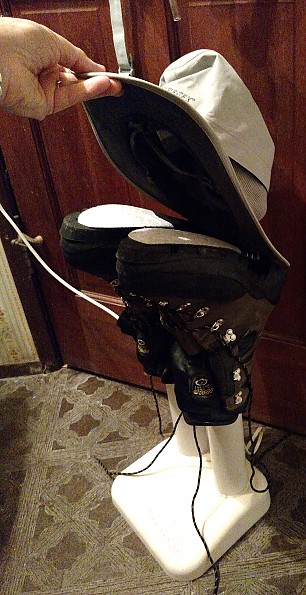 More than just footwear! Manufacturer comment:  "Ideal for all types of materials including leather, PVC, rubber, neoprene, canvas, synthetics, cloth, fleece, felt, micro and all modern fabrics".
Using my head here, I'm using some of that extra heat to also dry my out my very wet Outdoor Research Ghost Hat. I rinsed off its felt headband and rim first before putting on the unit. Heat will rise from the warm boots too and clean rubber tread acts to let air into the hat headspace.  
The Darth Vader look!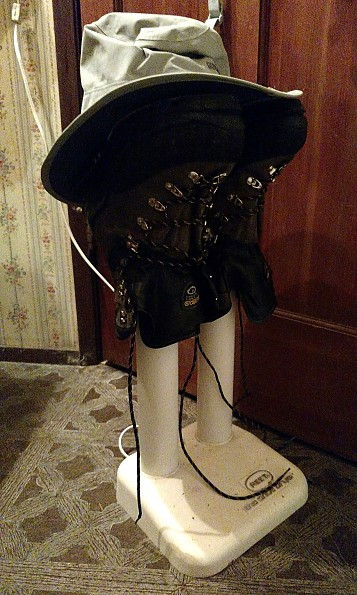 A glove dryer too ... useful for slow drying gear. Outdoor Research Advance Warm Dry (AWDG) Gloves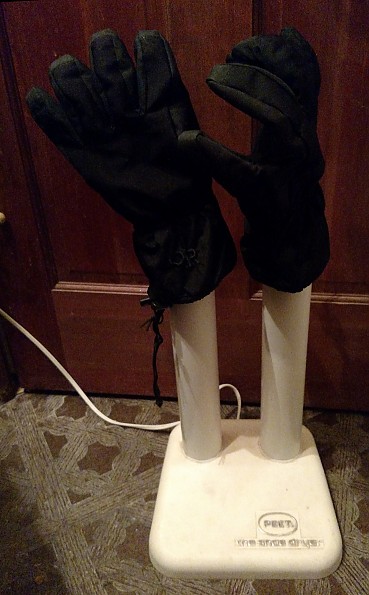 Wicking gear is easy to dry, even when layered.  It's easy to get wet on hikes out here in PNW. And with the coolness and humidity it can be hard to dry things fast enough. If I used a clothes dryer the socks would get hotter and might shrink over the years, so I used the Peet. (Also if boots are in the mixture too, they sound HORRIBLE in the dryer and can leave scuff marks!)  
Two sets of Smartwool socks on top of the gloves—my socks and an emergency pair I lent to hiker on yesterday's hike to Heather Lake (see below). It rained hard most of the day and my fellow hiker submerged her boots too far on one of the many shallow stream crossings. Another hiker slipped and fell in backwards, but was quickly helped out by a fellow hiker. 
Although layering works make sure that vents still have open space so that it items don't overheat! Layering will only work best for wicking materials that direct moisture towards when drying is happening at fastest rate.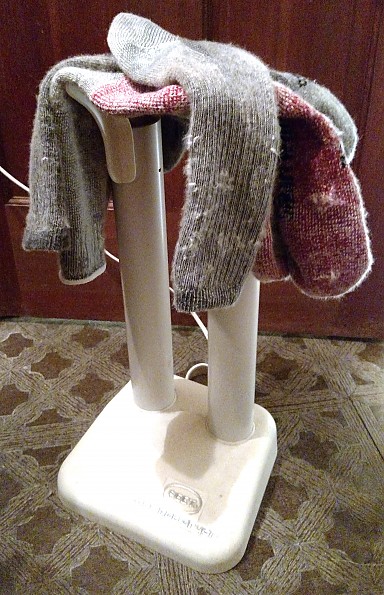 I added gloves two under the two pairs of socks. The gloves were almost dry in 3 hours, so I removed them. The Smartwool socks were still very wet. They really like to pick up and hold water, preferably wash water not sweat (guys ... read that last part again). Thus, the two pairs of socks here will be dry tonight, when I get back home.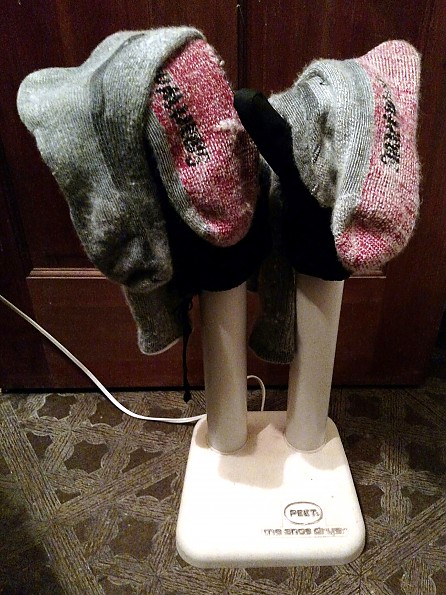 Example of where things get wet out here ...
Heather Lake is a beautiful little lake in an avalanche alpine setting. It is right below the majestic looming lookout spire peak of Mt. Pilchuck*, WA. We saw two river otters in the lake at the edge of the floating sheet of ice. One had just surfaced from catching a nice sized silver colored fish (trout I think), which he/she was starting to eat.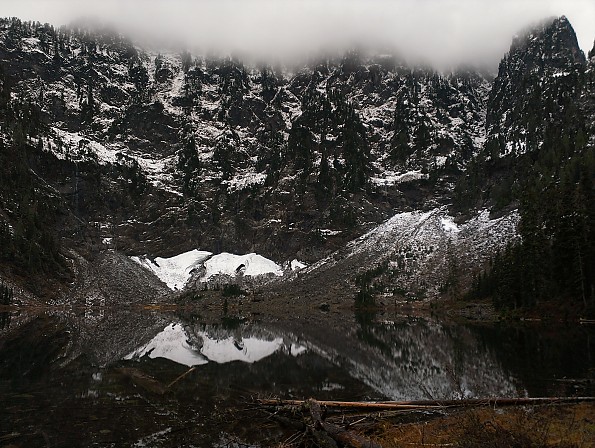 * Be careful when you option to take the alternant similarly beautiful hike up above to Mt. Pilchuck.  A hiker died there a few weeks ago. He left his group, and while exploring around the top alone, he fell 400' to his death! Having the wrong hiking boots up there would not be advised!
The year before with my daughter ... yes the 'ol Peet dried my boots after this hike too!
Source: bought it new
Price Paid: Can't remember! Sears I think? $29 - 39?

Your Review
Where to Buy
Help support this site by making your next gear purchase through one of the links above. Click a link, buy what you need, and the seller will contribute a portion of the purchase price to support Trailspace's independent gear reviews.
You May Like
Specs
| | |
| --- | --- |
| Price | Historic Range: $79.95 |
Recently on Trailspace