Outdoor Research Ghost Rain Hat

#4 in men's Rain Hats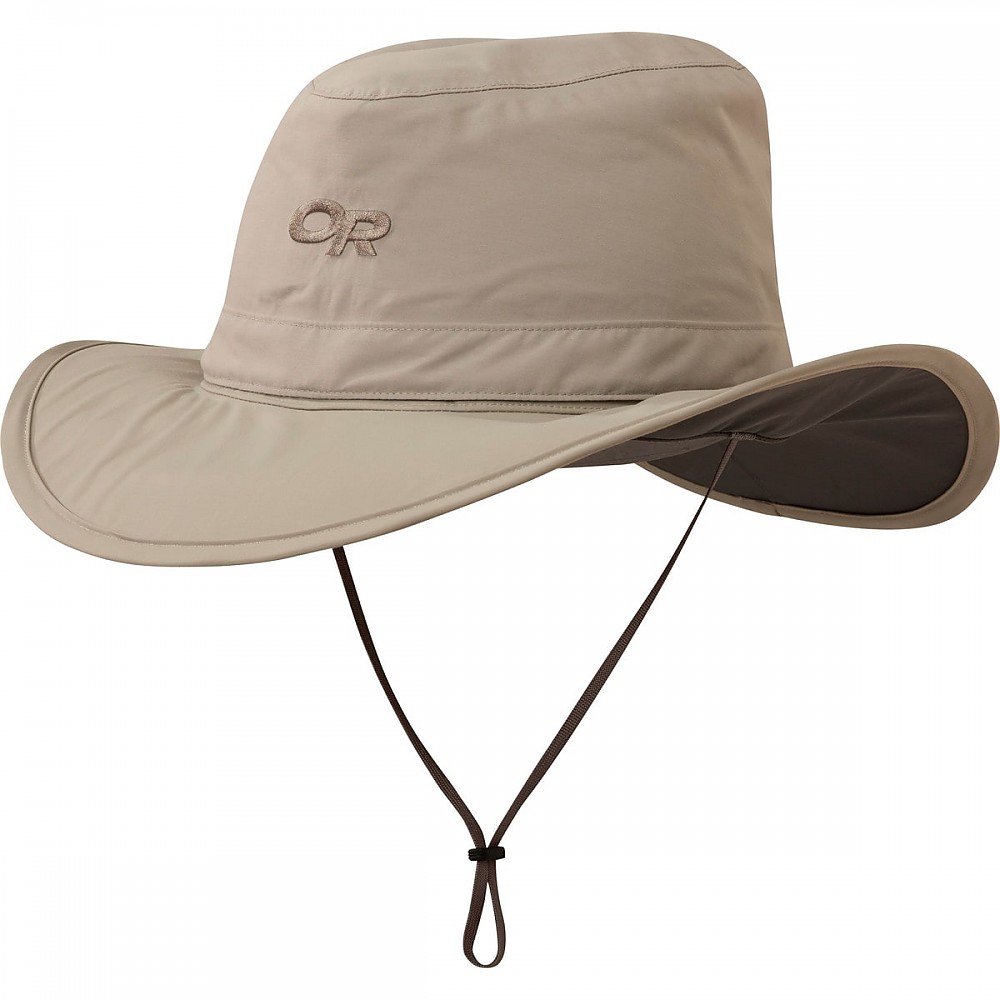 Best all around outdoor hat that I've found yet for our moist, often unpredictable, Pacific Northwest USA weather! Three-season especially rain (but not summer) use, with adjustment options, giving unparalleled flexibility. Classic outback form styling.

Had Indiana Jones lived out here, the Ghost might well have been his hat! Almost perfect already and my guess is that later generations may soon be.
Pros
Highly functional design with important flexible options
Gore Tex weatherproof breathability
Innovative built in cap cover that can be open and stored away in the hat giving increased aeration when not raining
Mesh weave ventilation area for when the rain cover is removed is extensive
Ventilation mesh backed with breathable fabric to keep out knats and other biting insects
Cooling effect to the forehead and head top where you need it most
Wide rim to block sun and rain, with perimeter wire to stiffen
Dark underside on light colored hat to reduce light reflections
Chin strap for wind, running or horseback riding, removable or stollable while attached
Wet headed and sun stressed people compliment you on the trail that they wish they had a hat like this.
Cons
Too hot for summer use (I use it under 50° F or raining)
My hat could use more durable water finish added at the factory (I can add it)
When rinsing after hikes with a hose, rim internally fills up with water (does drain out)
Dries more slower than expected (more durable water finish might fix this)
Hat not nearly as waterproof if you forget to deploy the Ghosts' skull cap (ie., learning curve).
Theft if unguarded might occur
Higher cost than simpler hats (get what you pay for)
It was talk my wife into me getting this or wear her purple n' black Seattle Sombrero.  Her S'brero fits neither into my preferred color or functionality range. The S'brero is very nice for some, but just too floppy and hot for me!  I have basic hike standards to meet.  Go in style, and try to approach hugable.
I found that I like wearing hats for more than just weather protection. I can dress with less upper body layers and as I warm up, start working on temperature adjustment by altering head layer configuration first -- sequence: full Ghost deployment > skull cap tucked away > hat completely off.  Then harder to remove upper layers begin.
(In the photo below: there's also an OR Ferrosi Hoodie, 3-L Osprey Hydraulics within the Z-40 Gregory backpack (my size is more like 45 L), Columbia Freeze Zero Bandana, and Leki hiking pole (handles). Hike location was one week ago, on the partially snowy Eastside Ridge Trail, on Squak Mountain, near Issaquah, WA. Nice little 7.5 mile uphill stroll just prior to the Seahawks game.)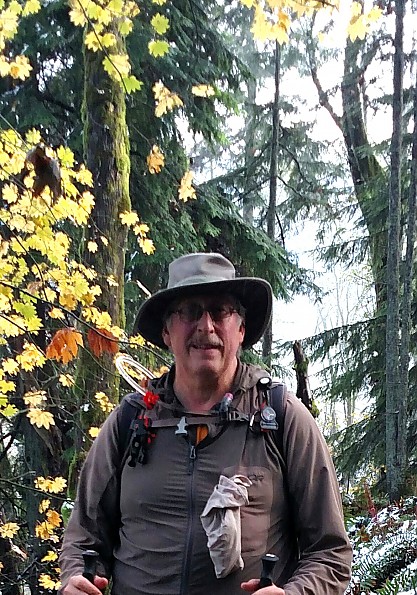 Warmer weather option side view ... Ghost is hiding away its dark cave.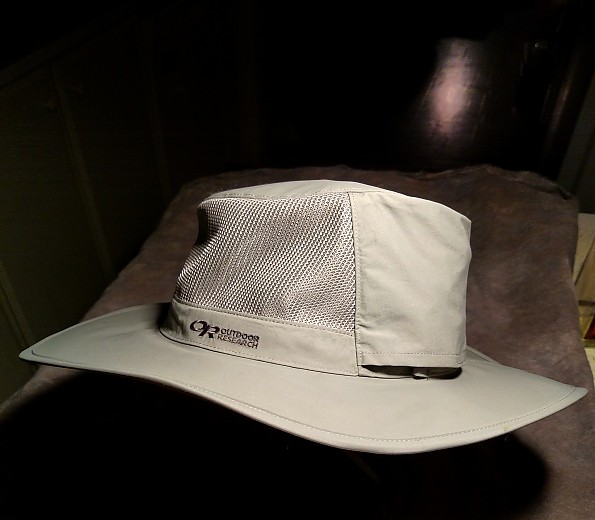 Warmer weather option top view, also showing above head method of getting chin strap out of the way. That wide rim protects well against overhead sun and rain, both face and back of the next. It withstands wind pretty well until hard blowing occurs. 
Some users miss the S'brero Velcro tabs to lift and attach the side trims to the hat top. It wouldn't look as stylish this way. But two thin Velcro strips as used to hide the Ghost's skull cap could be put on those vertical seams. I like that idea.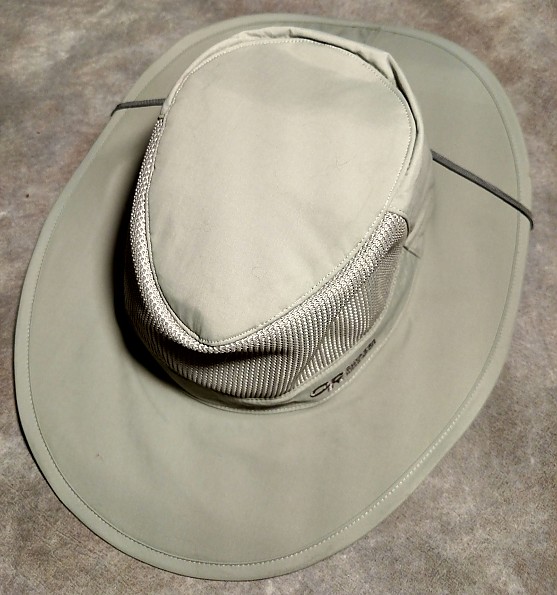 Indication of Gore Tex empowerment in Rain Hat mode, also showing velcro that helps hide away the waterproof skull (cap, the type of Ghost here).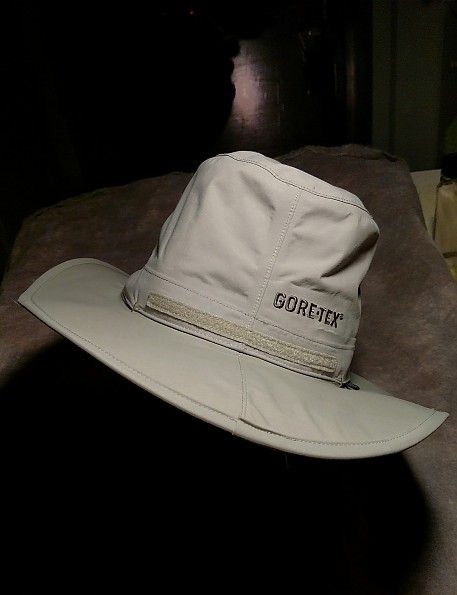 Functional aspect secrets of how the cap ventilates in hiking 'beast mode' and with the waterproof skull cap peaking out ... look closely. During a recent group hike, it began raining hard and our hiker leader later reminded me that the hat would even be more waterproof if I capped it. Good point ... slow forehead dripping disappeared. And another potential Darwin Mini-Event was avoided.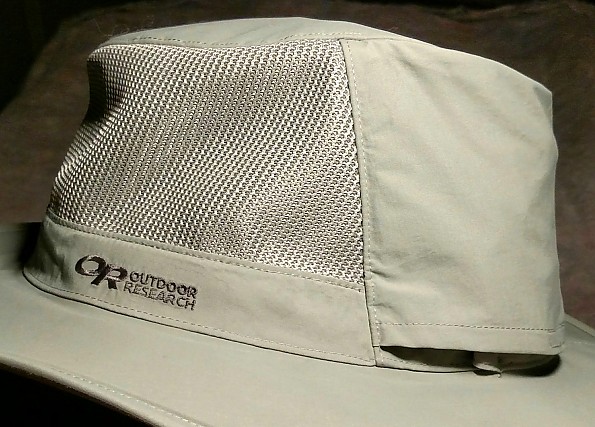 Waterproof skull cap deployed from within the Ghost.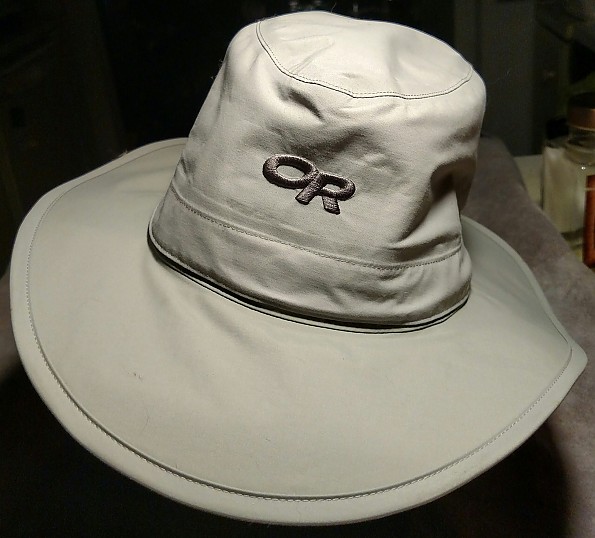 A hidden round magnet in the hem of the skull cap, below the OR logo letter location, empowers this Ghost element to haunt, I mean be fixed. See the roundness there?  My sincere hope is that that magnet does not rust and stain over time (had this less than a year, OK so far).  Then again it could look like a neat blood stain.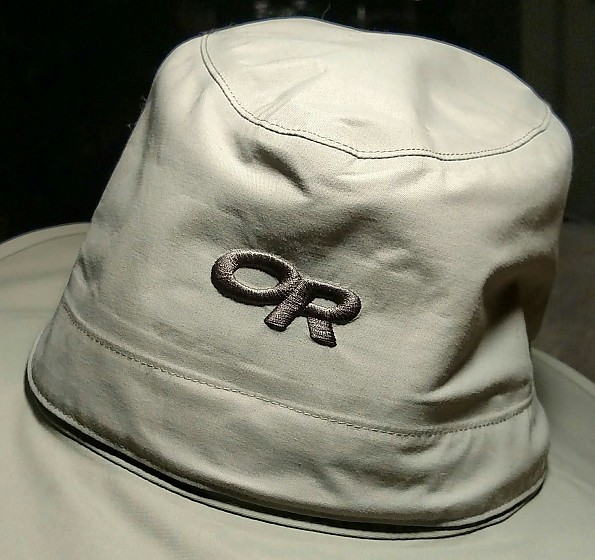 Skull cap starting to hover to disappear into the Ghost Hat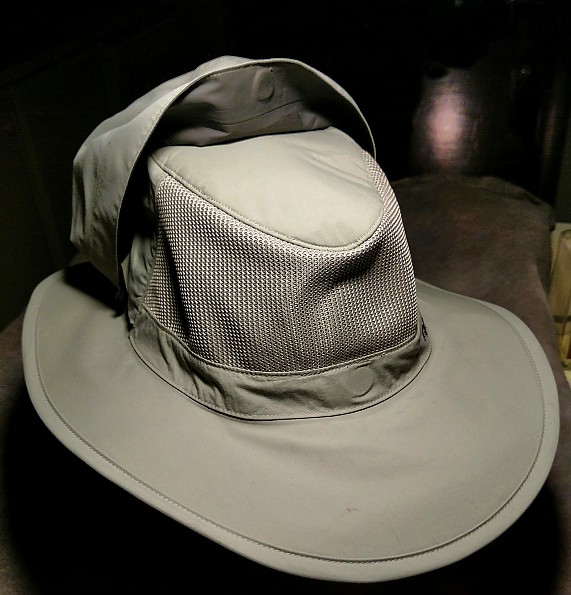 Skull cap starting to disappear ... now you see it, soon you won't.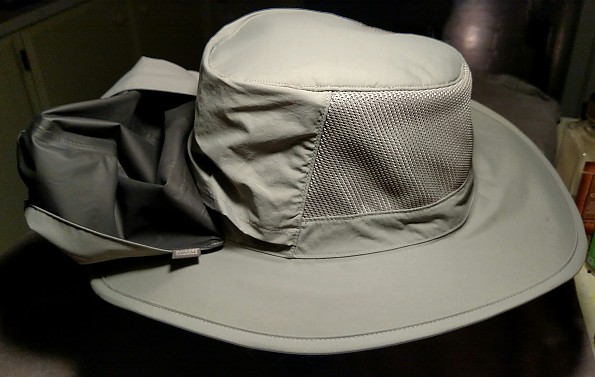 Still trying to disappear ... playing to help it disappear.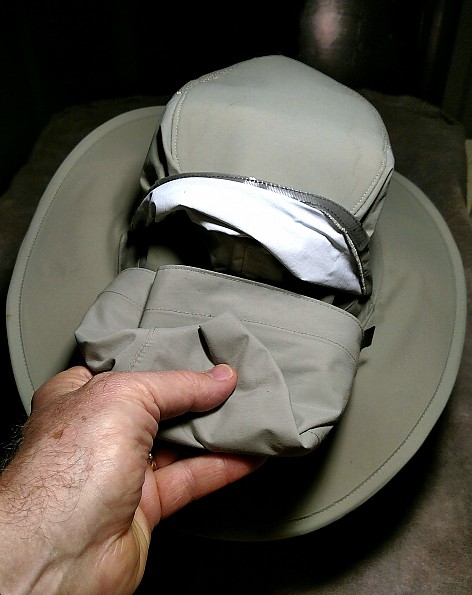 A hidden false door panel closes ... and it will be gone from sight ... hiding there. Hum, I have to test if I can hide some ice cubes up there also to extend use range into warmer days.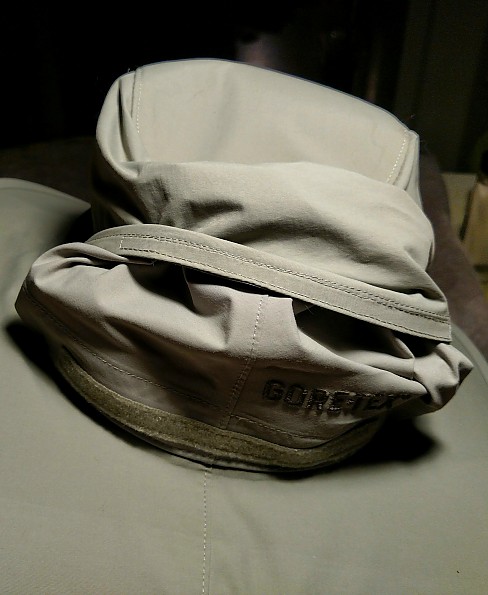 Sunshine mode, with Skull Cap Ghost not in sight ... and there's the other round magnet signature. They must have lined up the magnets right because the skull cap doesn't fly up on its own. Hum, but it be fun to re-adjust the magnets for a fellow hiker.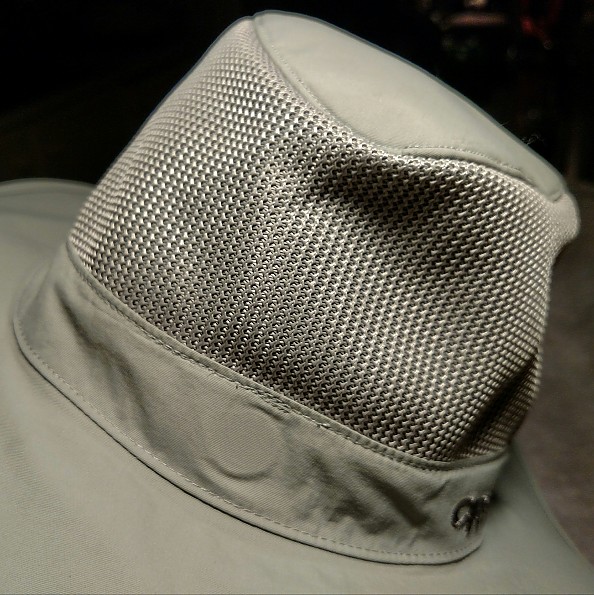 Head ventilation increased by using a loosen woven fabric over the hat area covering the forehead. So it gets the cooling to wear you feel you need it most. Knat feeding frenzies are inhibited by this. Also stops rain from splashing on your forehead directly if it starts to rain and you forget to evoke the rain hat mode (yes with the skull cap cover). The hat is noticeably cooler when the wind blows.  I'm wondering if the hat could be improved if a lighter weight, looser weave fabric backing is used.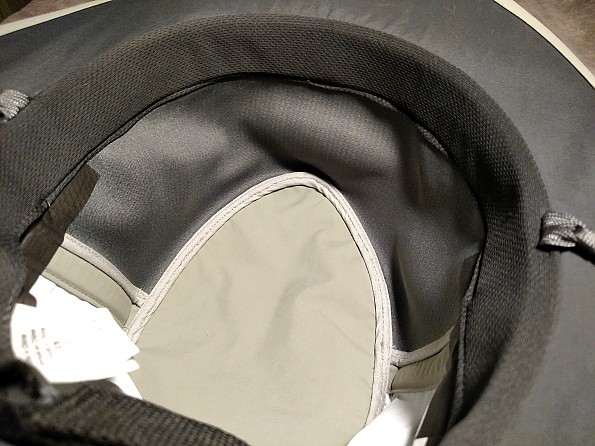 Chin strap provided for those windy days, and it is removable if it drives you crazy.  Size adjustment Velcro (black band) provided. This gives hoody and sweatband options as well makes allows re-adjustment when the skull cap hides and removes some of the forehead space. Then there are those of us whose heads swell with temperature or too much detailed information.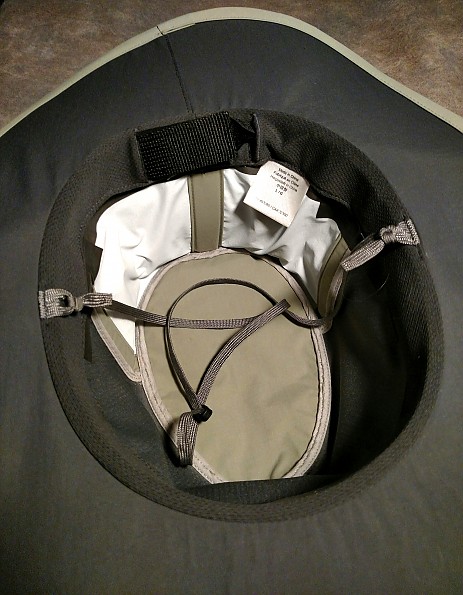 Alternate method of Chin Strap hiding (other than on your chin) when the dangling strap is driving me crazy.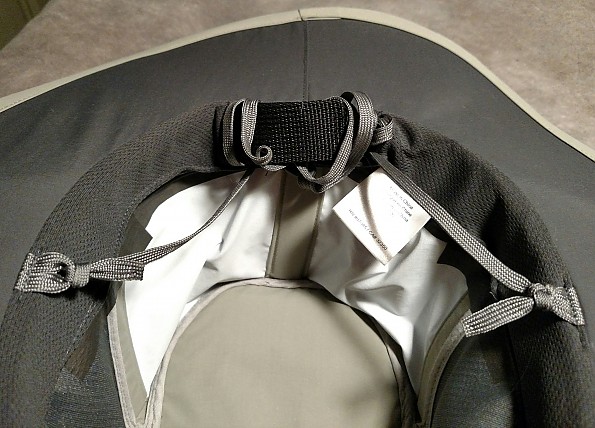 Alternate method of Chin Strap hiding (other than on your chin) to give that outback look (push the extra cord into the skull cap hiding place. This method suspends the warmer storage area away from the back of your head.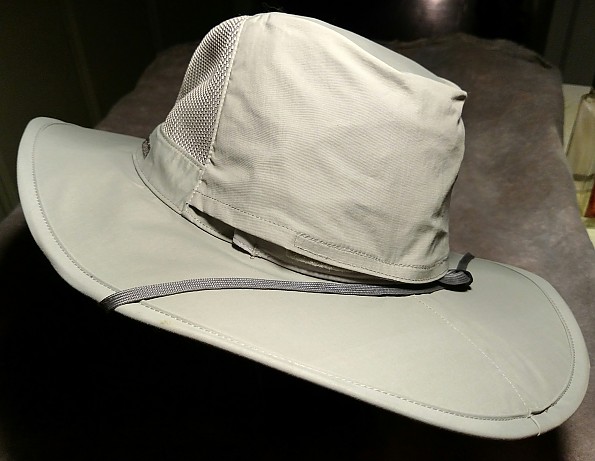 Detail on Size Adjustor and Stitching quality.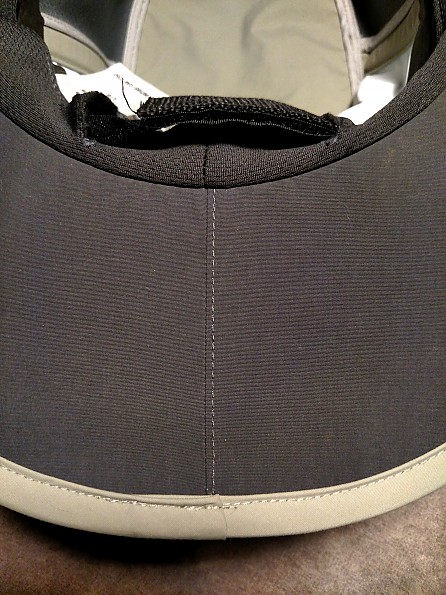 I like the CHARCOAL BLACK color best for this hat ... but did not buy it.
The darker hat might start a expense justification thought process, covering the need to begin a hat collection. I'd need the lighter colored hat anyway, for warmer weather use ... and hope someone thinks about the (read this) "CHARCOAL BLACK MENS LARGE" for my Xmas present.  (Not having the charcoal hat in hand to photograph, and feeling odd about photographing it at REI, while drooling over it ... I've approximated the opposite color scheme here, via color negative presentation.)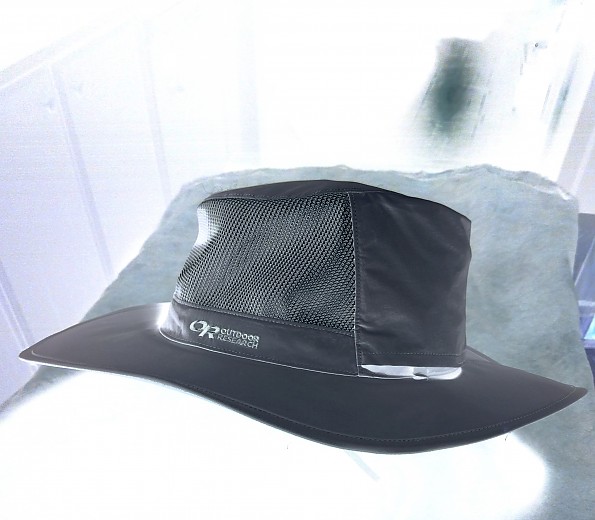 I stand by the functionality of this product. Like the ubiquitous, ever popular OR 'Seattle Sombrero', the Ghost Rain Hat is designed to be highly functional. My overall impression is that the Ghost is to meet the desires of those not yet succumbing to enjoy a S'brero.  The Ghost is still as squashable and packable as its rival.
However, the Ghost has more outback (Australian?) styling, an internal wire rim helping to de-flop the wing like rim on windy days, and give it the shape you desire. The Ghost is not nearly as hot as the S'brero, extending Ghost use to more like to 3 in our climate (rather than 1 - 1.5) seasons. The Ghost also provides two different levels of ventilation ... unless it is raining and the Gore Tex skull cap is deployed.  
And good news ... the wide rim does not interfere and with Photo Gray sun glasses!  Tested at hike to Bowman Bay / Rosario Beach area near Anacortes, WA (easy but scenic hike ... made funner by carrying our full winter pack).  Haven't been able to impress the maiden yet.  She's offerring fish, but I don't understand why yet.  Barter for the hat?
The Ghost is also just as tough and durable as the S'brero, but sneakier in its' options. I won't permanently crush it with an ill-placed step, backpack, visit by a family dog, or in a suit-case.  (Note: sorry that the Keen trail sandals from last summer's Lake Tahoe are trip still need washing and Nikwax Nubuk & Suede Proof treatment).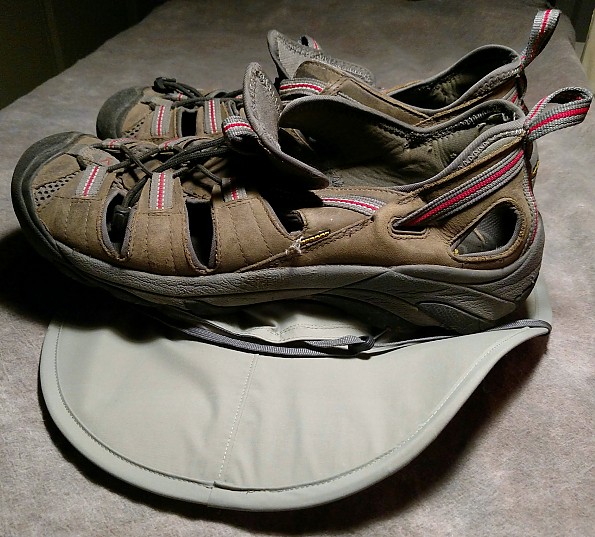 The Ghost appears to be a strategically designed product!  Its first generation shown here is actually nearly perfect. OR does their homework and I've learned to appreciate and trust their developments. Their gear thus tends to evolve, improving over time. Water repellent surface finishes, fabrics, strength and formability of wire in rim, Velcro side tabs to protect from wind flapping or expose skin as desired, etc ... I suspect might even improve over time.  Might even someday come in Black/Purple for my Wife?
The Ghost Rain Hat has a similarly shaped weatherproof cousin called the Olympia for those that want more style control with more rim wire stiffness to set form shape, without with increased ventilation options.  Olympia has Pertex rather than Gore Tex.  Olympia's less ventilated design would give it uses targeted for less aerobic activities, such as walking, horseback riding, and rodeo watching, where some extra warmth might be appreciated too.
The Ghost RAIN Hat, even suggested in name, is NOT a hot weather sun hat.  For that, I see others liking the Tilley Airflow or Sundog types with neck skirt.  I use a one, which I will be reviewing shortly.
Source: bought it new
Price Paid: Outdoor Research sale ~$25% off list price

Your Review
Where to Buy
Help support this site by making your next gear purchase through one of the links above. Click a link, buy what you need, and the seller will contribute a portion of the purchase price to support Trailspace's independent gear reviews.
You May Like
Specs
| | |
| --- | --- |
| Price | Historic Range: $23.97-$79.00 |
Recently on Trailspace