Pacific Outdoor Equipment InsulMat Max-Thermo

The InsulMat Max-Thermo has been discontinued. If you're looking for something new, check out the best air-filled sleeping pads for 2023.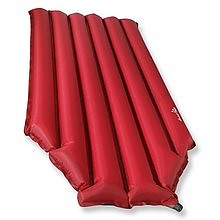 Like the other reviewers, I too, am a hardcore Therm-A-Rest loyalist. But bad knees and a tendency to carry too much gear forced me to re-evaluate all my gear. This mat wins hands down.
Lightweight (1.5#) comfy (2.5") and warm. The biggest plus for me is the pack size. I can now pack my sleepng pad inside rather than strapping a 20 or 25 inch wide roll on the outside. It really streamlines things.
I have used it in a variety of conditions and if I were to say anything negative it would be that it is a little narrow and can give the sensation of wanting to roll off if it is inflated too much. Don't over-inflate and it's the best. For the money, this pad can't be beat. Warmth and comfort in a lightweight easy-to-pack package. I'd definitely add this one to the gear locker.
Price Paid: $57

This mat is significantly more comfortable than any mattress I have used (blue foam, z rest, guide-lite), costs only $55 if you don't find it on sale, which you will, and weighs just under 1.5 lbs. That is less than any Therm-a-Rest I have used (more weighty than the new one, but it's 2.5 inches thick as opposed to 1).
If I can't sleep, I am miserable hiking. If blue foam was all there was, I'd probably just be a day hiker. I used a Therm-a-Rest for years, and now that there is a better alternative, I use it. I never slept better on the trail. The downside? You waste a few breaths on it. Cry me a river, you get to sleep for eight hours without waking up.
Price Paid: $50

Version reviewed: Long
The Insulmat Max Thermo is the most comfortable sleeping pad I've ever used! It's much more comfortable than both the Thermarest and the Basic Designs Ergomat I've used for years. It's much lighter than either mat and rolls up to a very small cylinder in my pack. It's a little narrow, but I haven't had any problems staying on it (maybe due to the vertical air channels). The long size is perfect for my lanky 6'5" frame. It does require a few breaths to inflate, but it's worth it. I'm finally sleeping well in the backcountry!
Price Paid: $58 (long)

This is the best sleeping mat I have ever used. It gives you the advantages of a firm sleeping pad and a soft air mattres. The valve system is also the easiest I've seen on an air mattress. I've used the mat on a two-week trip in Yosemite and I slept out on the rocks many nights (I would usually bring a closed cell to put under my pad) and I have had no problems with punctures or abrasions. I will never use my thermarest pads again unless forced to.
Price Paid: $50

This pad is thicker and cushier than heavier self-inflating pads. I have had the best nights sleep on the trail ever since buying it. I have even had occasion to use it after a storm dropped three inches of pea size hail and the only thing between the ice and me was this pad and a little nylon (my sleeping bag has no insulation on the bottom.) The pad was slightly cool, but didn't keep me from my zzz's. It's a great pad for three-season use.
Price Paid: $54

This is one of the best I have used. I was a diehard Therm-a-Rest user until I tried the InsulMat a friend loaned me. I bought one the day I come home, lucky me it was on sale. I used my own on a 5-nite thru hike and slept thru 2 thunder and rain storms without waking.
Price Paid: $55

If you need a comfortable mattress but require comfort for a reasonable price this is it. I use it all year round with a closed cell pad between it and my sleeping bag, you can't beat it! Excellent product!
Price Paid: 92 cdn

The most comfortable mat I ever had. It is so light and compact.
The only downside is you need to blow it really hard. But it's worth a sweet sleep.
Buy it, no regret.
Price Paid: $35

Outstanding pad for backpacking! Takes up little pack space, inflates quickly, and insulates well. Good choice to add to your pack!
Price Paid: $34.95

This packs nice and small and light, but when I sleep on it I feel like I'm about to roll off. Maybe the solution is to put a little less air in it.
Your Review
You May Like
Specs
Price
Historic Range: $33.95-$56.99
Reviewers Paid: $34.95-$58.00

Recently on Trailspace