Patagonia Nano-Air Hoody

The Nano-Air Hoody is a mid-weight insulating layer than can reach across a wider than normal range of temperature and weather conditions. It is relatively unusual in that the synthetic insulation is encased in a soft, stretchy nylon shell that is more stretchy and much more permeable to air than a typical soft shell. Its ability to wick moisture away and "wear dry" quickly is exceptional for a layer with its insulting properties.

Weaknesses include somewhat shapeless pockets that sag when filled and sizing that, like a number of Patagonia garments, can be a bit peculiar.
Pros
Versatility
Moisture handling
Comfort
This review follows  a year wearing the Nano Air Hoody a lot. I'm outside a lot, typically walk or hike 500-600 miles a year in all kinds of weather. It isn't perfect, and it's quite expensive. It's a great jacket to wear when you're active, working hard in cooler to cold weather, because its combination of insulating properties, air and moisture wicking, and quick-dry capabilities work in such a wide range of temperature and wind conditions. also great for sitting around on cool three-season evenings.  

Basic Details
The Nano Air Hoody cost nearly $250 new. It is a full front zip jacket with four pockets, all in the front. Two smallish chest pockets and two lower, larger 'hand' pockets. All zippers run smoothly and have zipper pulls that are pretty easy to use with gloves. The pretty thin and stretchy fabric means items of any weight will make the pockets sag.  Unexpected, not a deal-breaker, but it feels weird that something as light as my smart phone makes the pocket sag so much.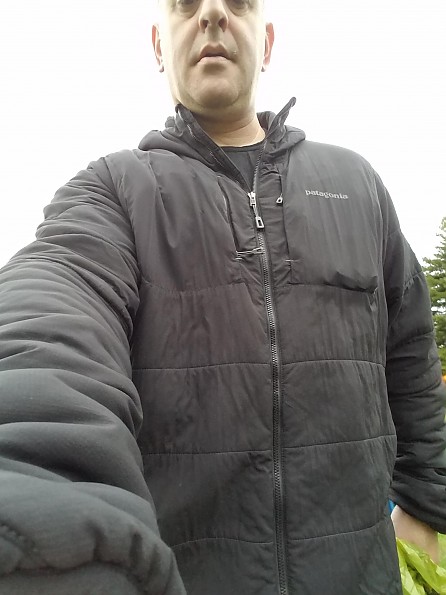 The hem has a shock cord that can be pulled tight on both sides. The cuffs and edge of the hood are elastic but don't adjust. In fact, there is no hood adjustment at all. My size XXL weighs 15-16 ounces.
The Fabric and What It Does
I wish that I had a cross-section of the insulation for this jacket. It consists of thin pieces of synthetic insulation that are sewn to an inner and outer nylon shell, though calling it a 'shell' really doesn't describe it well. By 'thin,' i mean at most as thick as a Patagonia R3 or 300 weight Polartec fleece jacket. It's not 'fill' the way you would think of a down or Primaloft puffy jacket. My best guess/estimate is that it looks sort of like Primaloft, but it is manufactured as flat pieces more akin to Polartec fleece, and that best describes how it functions.  
The inner and outer shell is stretchy nylon. Pretty thin, very stretchy, offering not much more wind resistance than a Polartec fleece jacket. The insulation is stitched to the outer nylon layer; the inner nylon layer is about the same weight and consistency. It is lighter and stretchier than virtually all other soft shells I have worn. The photo of the pocket detail above shows how it is stitched together.
Worn alone as an outer jacket, it is great in cool (mid-low 60s is as warm as I have tried it) to cold (teens and twenties) weather, so long as you're active and the wind isn't blowing too hard. In increasingly cold and windy weather, you'll lose a lot of core temperature because it doesn't stop wind much. But, I can wear this jacket on steep uphills carrying a large pack without worrying much that I'll overheat because air flows through it so easily and moisture wicks away about as well as a fleece. The fabric may have a  very light DWR, but precip pretty quickly soaks in.  if you wear this in the rain, freezing rain or wet snow, you'll probably need a hard shell over it.
As a mid-layer under a shell, the jacket is much warmer, again made for being out and active. It doesn't offer enough insulating/dead air space to sit around in cold weather for long periods of time; it's ideal for windy cold weather hikes under a shell.  
Being able to wear the same jacket from cool fall days all the way through winter hikes under a shell is the real highlight and advantage of this jacket. I don't have anything else like it in my closet in that respect.
Fit/Comfort
One of my occasional peeves about Patagonia is in the way their garments sometimes have odd issues with how they fit. My level of angst about this jacket is low to medium. I wear a size 46 jacket, which almost always means I buy an extra large. With the Nano Air Hoody, the shoulder area felt sufficiently constricted that I opted for size XXL. But, the sleeves of the XXL are a little long, and the body of the XXL other than the shoulders is a little looser than I would like. Fit is the reason I grade it four stars rather than five.
The elastic, non-adjustable cuffs do the job well—Patagonia has clearly nailed this. The hood is on the loose side, and worn without any hat, it sometimes droops and partially obscures my vision. It's definitely a hood better worn with a wicking ball cap on the warmer side and a mid-weight knit or fleece hat in colder weather, because adding a brim or even a bit of volume makes the hood fit much better.  
The very stretchy material means this won't impede your movement at all, unless you size it too small. The inner fabric feels great next to my skin, even if I'm wearing a short sleeved T underneath. This is a quiet jacket, doesn't rustle in the wind at all.  
Function in the Field
Rather than summarize, I'll include some observations I made along the way on specific days.
1. Cool weather hike on the Billy Goat Trail near my house in Maryland.  It's a fall day, mid-fifties, northwest winds 10-20. The trail can be taxing, it's a sweat inducing couple of hours out and back. I wore the Nano Air Hoody with a mid-weight merino short sleeved T and shorts. When I was working harder, I half unzipped the front. I was sweating, always do on that trail no matter the season, but not drenched and pretty comfortable.  I kept the jacket on when I stopped for a snack. The jacket was a little damp afterward.  Very happy with it today.
2.  Cold winter walk. Wearing a Patagonia RI grid fleece long sleeve shirt and a knit wool cap, long john bottoms. Out for a couple of hours at the end of the day. It's in the mid-twenties, windy, some snow flurries falling. I'm a little cold at the outset due to the wind — it's cutting through this jacket. As I get moving and work the trekking poles hard on the first uphill, the wind isn't bothering me as much, and I'm pretty psyched that I'm not overheating. I wore the hood most of the time and was happy with it.  
3.  February hike up Sugarloaf, about a half hour from our house, with my 15-year-old (she's 16 now). Mid-20s, sunny, light wind. I'm wearing a fleece beanie and a mid-weight merino long sleeve layer underneath, shell pants over a very light long john. We meandered around lower parts of this small mountain to add a little mileage then hit the short, steep top section that is always pretty hard work. I have about 20 pounds on my back. A fair bit of rime forms on the outside of the jacket as moisture wicks out and freezes. I kept the jacket on at the top, didn't need to pull on an outer shell while we shared some hot chocolate and snapped a few pictures. 
4.  Cool summer evening in Maine, wore it to an outdoor restaurant with a golf shirt underneath. Fine sitting around as things cool off. The jacket tends to pick up odors and smells like the restaurant after. I wash this after any hard, sweaty hike because it doesn't smell great otherwise; wash it on delicate, low agitation, and I partially dry it (low heat, maybe 20 minutes), remove it damp, and let it dry the rest of the way on a hanger.  
5.  Late fall hike in the Shenandoah — a bigger, longer hike, Old Rag, one of the family favorites. A couple of hours away. Same wool T I wore in mid-50s weather. On the uphills, which are pretty hard, I'm half-unzipped. At the top, I added a light synthetic long-sleeved layer when we stopped, then pulled a shell on over everything as it turns out to be fairly windy.  
6.  Walk along the main artery near our house and over to the Seven Locks tTrail during a snowstorm. Crummy wet snow with some ice underneath, I'm wearing MicroSpikes on my boots and a thin long sleeve synthetic shirt under the Nano Air. I'm not wearing a shell, seeing how it handles wet snow. I'm fine during the walk — core temperature well-regulated — and the jacket still keeps me plenty warm, wore the hood on and off to avoid overheating. It's getting damp as I go, I can feel it's somewhat heavier. Wet stuff intrudes pretty quickly.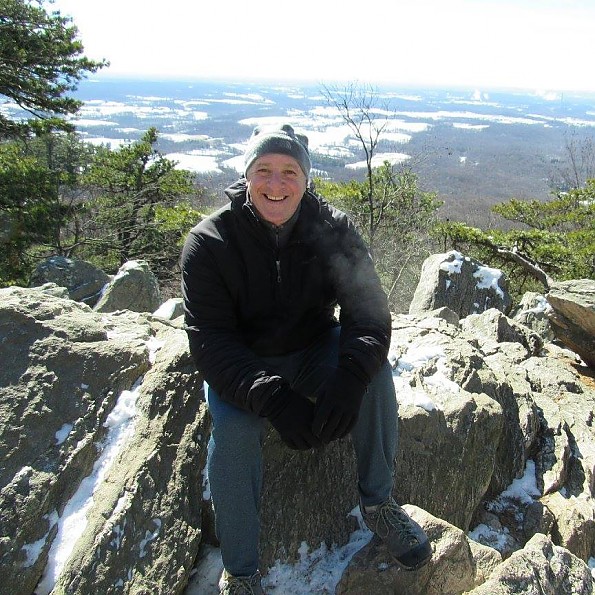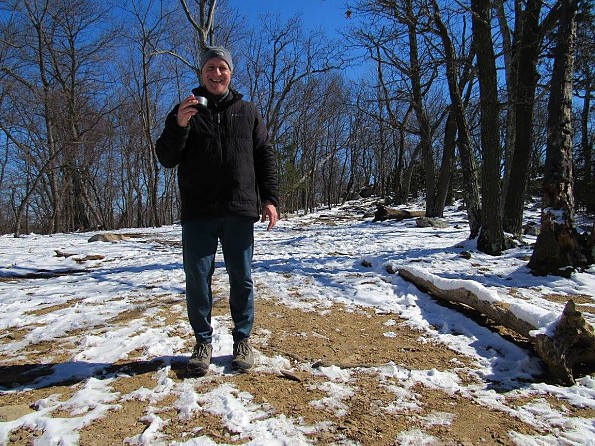 Durability
No damage  or product failures after a year. Not my choice for bushwhacking; I think the outer fabric would tend to snag pretty easily. Typical quality Patagonia construction.  
Conclusions

I really like the jacket. There are so many days where this is what I reach for and what I wear all day. The fit could (and hopefully will) get nailed down so it's true to size, and the saggy pockets are a pretty inevitable consequence of the outer fabric choice, which exists for pretty easy-to-understand reasons.  
Source: bought it new
Price Paid: $249

If you are a serious four-season outdoor junkie, consider using this jacket. It hits a perfect sweet spot: (from the company) "From trailhead to summit and back, the Nano-Air Hoody sets a new standard for technical insulation, merging the comfort and breathability of open fleece with the protection and warmth of a puffy."

Honestly, I put this jacket on, and hardly have taken it off since I received it for testing. This jacket is the most comfortable and versatile garment I have ever worn. And the jacket only gets better from there.

The coat was designed around the climbing/alpine crowd, but I have found this coat is the perfect layering piece for one's favorite outdoor pursuit.
Pros
Breathable, yet warm
Stretchy
Light
Warm
Good pocket placement
Sheds light moisture
Comfortable!
Perfect layering garment
Cons
Expensive
Fabric pills
Does not pack small
Hood is not adjustible
Hood does not accomodate helmets
Patagonia designed this jacket as part of a whole coat system. They were aiming at replacing fleece, and their "put it on and leave it on" mentality. Hence, Nano-Air has a slimmer profile intending it to be layered under its Nano Puff. As part of a layer system, the Nano-Air has high breathability making it a great outer layer as long as it isn't too windy.
Thus, it can stand alone in light moisture in temp ranges of 30-60 degrees in light breezes, and it functions as a perfect mid-layer piece in higher precip, lower temps, or high winds with an over-layer.
I gave it four stars because 1) it is an expensive garment, and 2) the jacket is starting to pill in high-rub places.

I don't normally include SO much from a distributer's website, but I cannot outline the specs any more accurately than they did. The info is spot on (and we all know that manufactures can "stretch" the strengths of their gear. Not so, this time.)
From Patagonia:

… Its exclusive, supremely stretchy and breathable fabric package combines a plain-weave liner, warm-when-wet FullRange™ insulation and a lightweight-yet-durable, weather-shedding 100% nylon ripstop shell with DWR (durable water repellent) finish. The Hoody has an incredibly soft, supple feel and full mechanical stretch (without moisture-holding spandex) that allows for a close, femininely sculpted fit over baselayers and an uninhibited range of motion. At chilly belays or in frigid conditions, pull on a lightweight shell and the Nano-Air's thermal properties skyrocket. The trim, stretchy hood is designed for next-to-noggin use, though it'll still fit snugly over low-profile helmets. Two above-harness handwarmer pockets and two smaller chest pockets all close with trim, low-bulk zippers. The center-front zipper has a storm flap and zipper garage, while stretch binding at the cuffs and a dual-adjustable drawcord hem seal in warmth.

The Specs from the company:

Light-yet-durable 100% nylon ripstop shell and plain-weave liner offer generous mechanical stretch and exceptional breathability, with a DWR (durable water repellent) finish
Revolutionary 60-g FullRange™ Insulation warms and stretches; combined with the shell and liner, this creates a jacket with generous mechanical stretch and unprecedented air permeability (40CFM)
Iconic Nano Puff® brick quilting in the side panels, articulated patterning and other quilting details improve shape and durability
Stretchy hood with binding easily pulls on or off, even when jacket is zipped
Center-front zipper has wicking interior storm flap and zipper garage at chin for next-to-skin comfort
Two handwarmer pockets and two chest pockets are zippered, welted and low-bulk to wear comfortably with a harness or pack
Stretch binding at the cuffs and a dual-adjustable drawcord hem seal in warmth
Shell: 1.3-oz 20-denier 100% nylon ripstop. Lining: 2-oz 50-denier 100% nylon plain weave. Both shell and lining with mechanical stretch and a DWR (durable water repellent) finish. Insulation: 60-g FullRange™ 100% polyester stretch insulation
334 g (11.8 oz)
Made in Vietnam.
Honestly, the jacket really does live up to the manufacturer claims, but at a pretty steep price. 
Fit & Comfort
I LIVE in this jacket! It's the one I ALWAYS reach for!
This test jacket is a medium, and I felt like it was a perfect fit for me at 5'4". I had my daughters and their friend try on the jacket. At 5'7" and 5'8" the jacket fitted each of their frames very well. My middle daughter lives and breathes climbing, and has a +2 reach. The sleeves were great on her 5'7" frame.
5'7" with +2 arm length
Many jackets "bunch" while worn under packs, etc. This jacket does not ever really "ride" up under the pack. If a garment is going to ride up, it will do it while on crutches! I included a picture of me on crutches while wearing the jacket. The jacket NEVER clumped or bunched under my arms.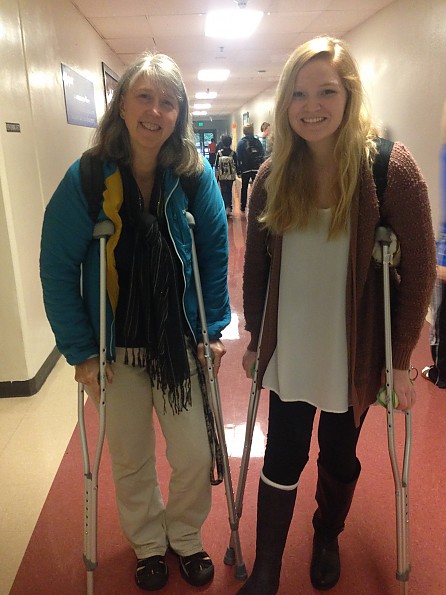 Commiserating about our crutches. The jacket never rode up under my arms.
What's really amazing about the jacket is in how it rode against my body. It became almost a second "skin". I never had it pooch or gap under a pack, never needing to tug the collar or hem down. The only time I had to pull my garments down is when my base layer shirt would ride up over my slippery boarding pants.
This coat is almost "anti-friction" in the way it moves with the natural motion of the wearer, regardless of the activity.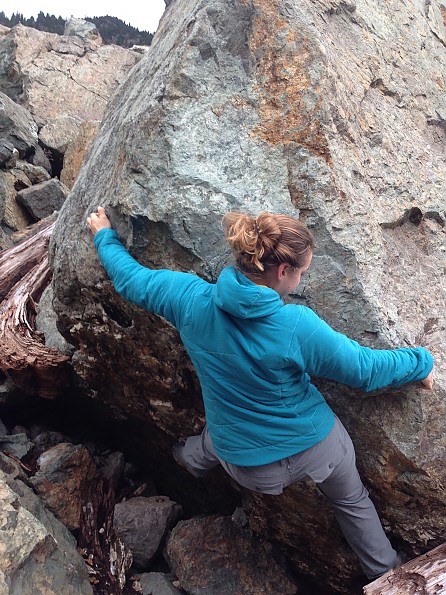 The jacket moved very naturally with her.
Patagonia designed this coat from the inside out, and it shows.
Adjustability
The coat has just one size adjustment, and this is around the hips. The coat features two snug points near the inside of the jacket. I haven't needed to use this feature

Water Resistance
The jacket's DWR works perfectly in light rain and snow.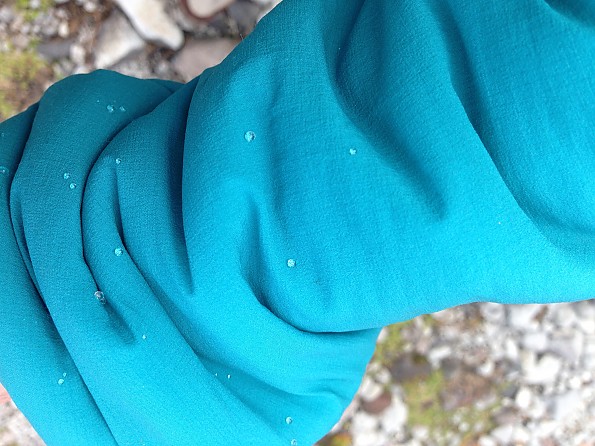 The only time I really had the coat wet out is when I was wearing the jacket while I was installing chains on my car in the pouring snow, and the cuffs rubbed all over the wet tires. (The cable was all twisted up, which prolonged installing the cables.) The water did soak all the way through the sleeves, but took about 15 minutes to dry once I got back into the warm car.
An hour in a pouring snowstorm was a good test for the hood and shoulders. They did get damp while installing the chains, but the water did not soak through at those points. The outer jacket dried quite quickly. The only part that stayed damp was at the neck where my cotton tee got wet before I put the hood up. The jacket and synthetic layer prohibited drying the cotton somewhat.
Most importantly, I NEVER felt cold or wet, even after eventually spending an hour fixing my chains, and helping another couple who had never installed chains on a car. 

Breathability
The jacket shines here. I have worn this coat in temps from 15 degrees to 60 degrees. As long as the wind is not whipping at the lower temps, I stay comfortable in the coat.
In most of my other outdoor garments, I find that I am often adjusting them to regulate my temperature during the cycle of activity and rest. I really don't do that much with this jacket.
I am able to work hard in the jacket.  If I get a bit warm, I unzip it. But, most of the time I find that when I put it on, I totally forget that I am wearing it. 
The coat works great in mid-autumn temps, and I really don't need to take the coat off when I am being active.
It's also the perfect mid-layer piece.
On an 8-mile snowshoe trip, with the temps in the mid-20's, the Nano-Air was a fantastic layering piece. I often feel over-warm when I layer, only to  zip/unzip or even peel a layer to adjust — and I never really did any of that during the day. The only time I made an adjustment was to put the hood up for a while when we walked through a "cold-sink".

Moisture
I never really feel overheated in the jacket. The fabric has never felt sticky or tacky against me. In fact, a couple times I needed to throw the jacket on all by itself, and the material felt so soft and comfy, I didn't want to have to put other clothes on.
But the wicking and breathing is the very reason Patagonia designed this jacket. I am honestly impressed at how amazing this coat is at handling the warming/cooling cycle as I go about my activities.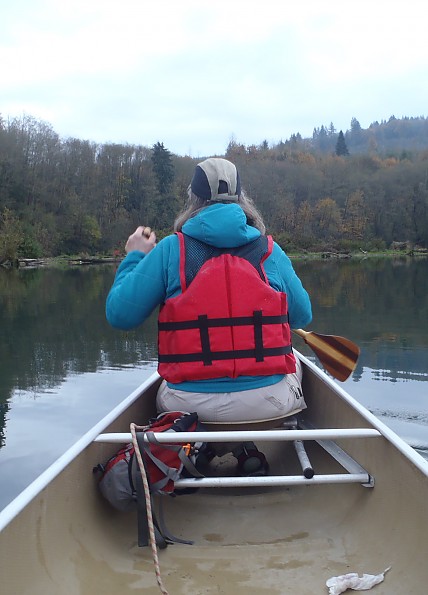 Layered perfectly, the jacket never rode up under the life vest

Warmth
I went for a five-mile training hike in 22 degree temps wearing this jacket as the only outer layer, but I had a pack over it. I found that the jacket was *not quite* enough as the wind picked up a bit, and we were often in the shade. It wasn't unbearable, but I did get pretty chilly when I stopped moving.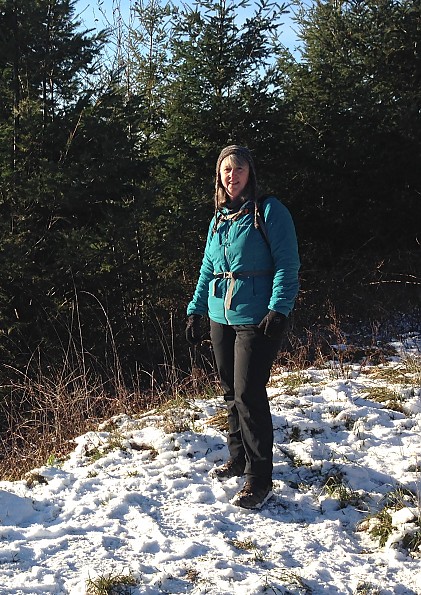 It was a high of about 22 this day. Jacket was great unless the wind picked up at that temp.

The only times I have found myself reaching for an outer jacket is when the temps dip into the 30's or so.
As a stand-alone outer layer, it works best in the 30's to 60's range, sans big winds.

Layering
The jacket, while a bit "puffy" by design, really does layer well with other garments. The medium gives me enough room to wear a layer or two beneath, and the nylon outer fabric allows the jacket to be worn under other coats.
I have an OR soft shell that I favor for mid-winter sports, and the sleeves have a fleece liner. The jacket never bunched up or hung up on the fleece liner. I truly forgot I was wearing the jacket.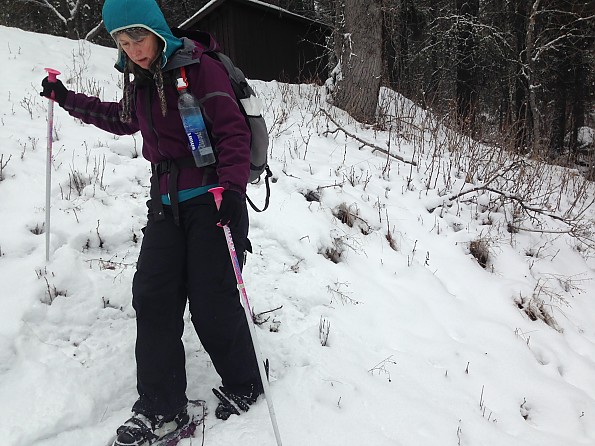 The picture shows how the outer coat rode up, not the Nano-Air.
What amazes me about the versatility of this coat is I have worn it when it was 30 degrees outside, come into a 68 degree room, and didn't think about taking it off.
As mentioned, I was out in the pouring snow and 27 degree weather for an hour. I jumped in the car, which was VERY warm, and never felt overheated. Later, we stopped for dinner, and I was comfortable in the cool restaurant. 
I think Patagonia installed a temperature Genie in a hidden pocket — truly, I have never had a garment that "self-adjusted" to the ambient temperature—in fact, I didn't think it would be possible for a coat to be so effective at coping with such a large temperature range.

Abrasion
I have to give the coat a serious downtick here.  I think Patagonia needs to find a way to make the shell fabric more durable while maintaining the integrity of the purpose of the coat.
Nylon is notorious for abrading, so I have kept an eye out for this issue. I have found that the fabric has not snagged or abraded as much as I am finding places where the fabric is starting to pill.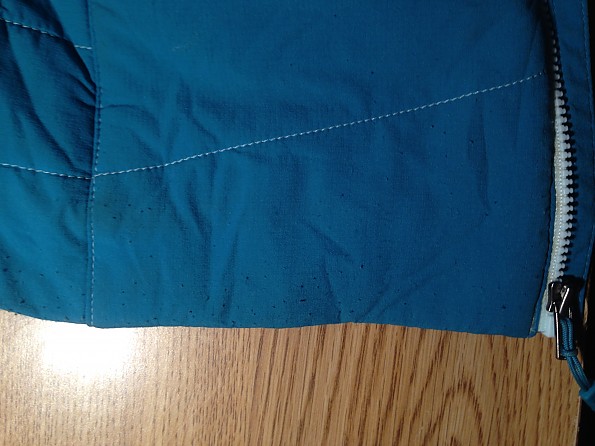 Pilling is happening on the front hem, inside and out.
Since climbers are an important target group, I could see where the rubbing and sliding on rocks all day could really contribute to pilling of the fabric.

Function
The pockets were really comfortable, warm, and well designed. Not only do my hands fit naturally in the pockets but the weight does not make the fabric pull while resting my hands in the coat.
I never lose things out of them, either.  
Both sets of pockets are intentionally designed to be accessible while wearing a pack or harness, and they are.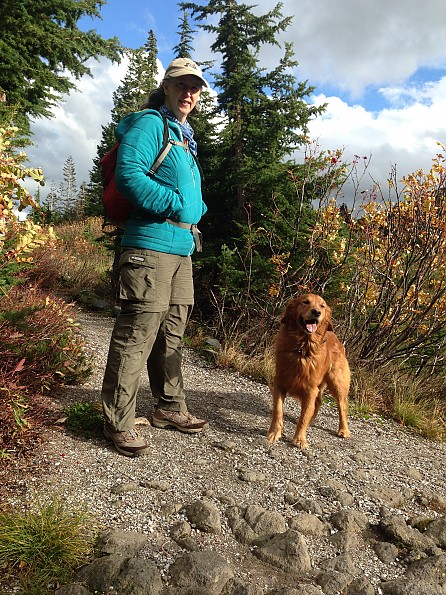 I put my hands in my pockets A LOT. No real pull or breakdown of the fabric.
One of my favorite features of the chest pockets is how much they hold, and the contents manage to not look all bulgy and bulky in them. The pockets are big enough to hold my reader glasses and wallet, or my iPhone, etc. I LOVE having fingertip access to my glasses, and not worrying about having them get smashed.
The only consideration is remembering which chest pocket has contents, because the seat belt rubbing against the contents is annoying in the car.
The zippers of the pockets work perfectly, but because the fabric is SO stretchy, I find I have to hold the hem of the jacket when zipping the pockets closed. 
The jacket does not compress down super small, but I can fit it comfortably into a 1 gallon zip-top baggie.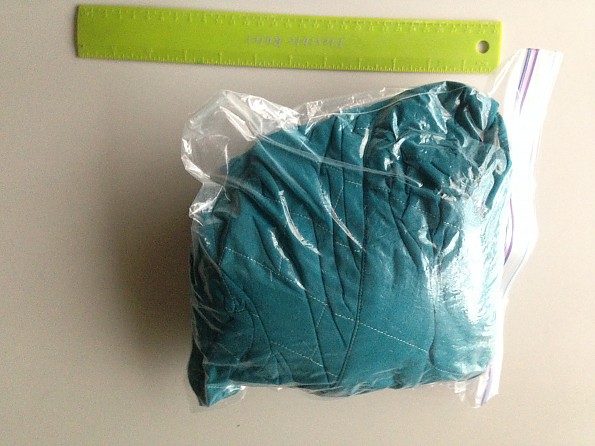 It packs to about 8x9x4".

Ease of Use
The fabric of the jacket has done a couple of serendipitously wonderful things that I did not expect. I find that even though I have nearly been living in the coat, the sleeves are quite clean. Often the hem of the sleeves will get rather "lived in" and gnarly. The combo of design, fabric and DWR has really helped to keep the "yuk" factor down on the hems/sleeves.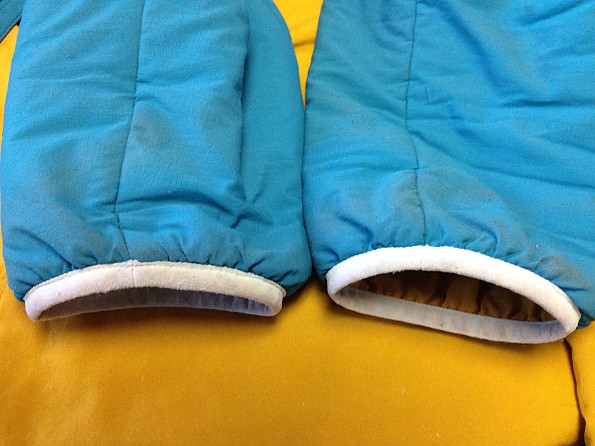 I am surprised at how "clean" the cuffs are with all the use I give this coat—left intentionally unwashed for this review.
Also, because I have really used the jacket, I was expecting that "exercise" order to linger. Nothing. No smell. I even had my husband test the smell factor. He couldn't smell the odor factor, either. I was really surprised that after several weeks of use, all we both could sense was a typical fabric odor.
The only negative feature that grabbed my attention is that I found that the chest zipper caught from time to time. I think much of that factor goes back to the high four-way stretch this garment has, and the catching is more user-error than design flaw.

Features:
The multi-sport application of this jacket is one of its best features. The fabric truly does "adjust" to the activity level of the wearer. I've paddled, hiked, snowshoed, and biked wearing this jacket. It holds up to Patagonia's claims of what it is made to do.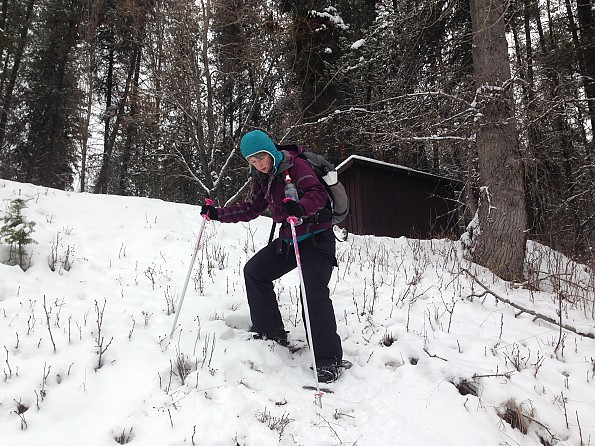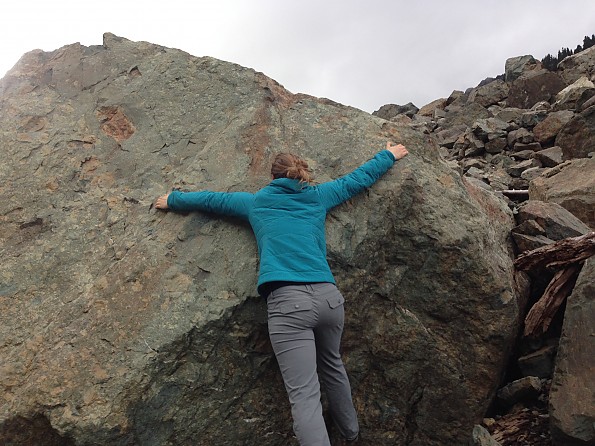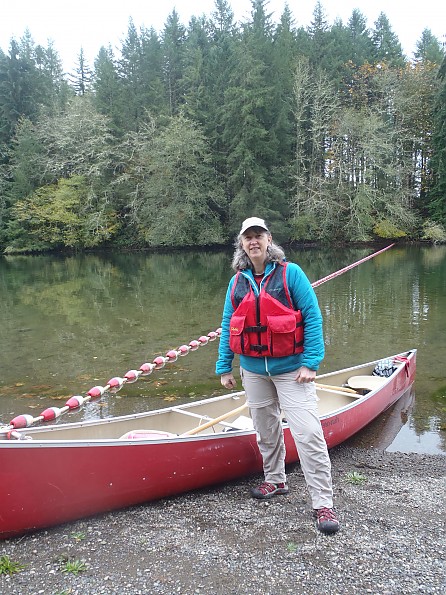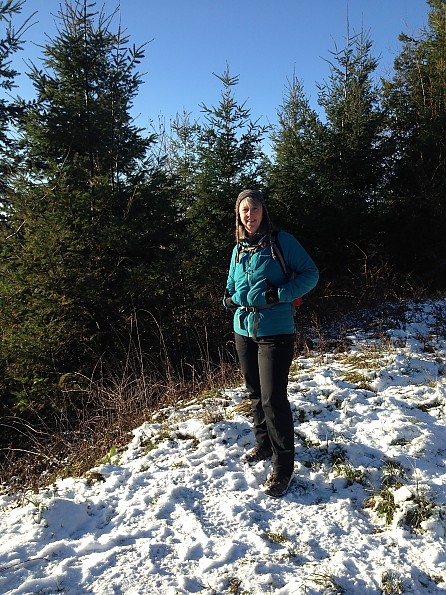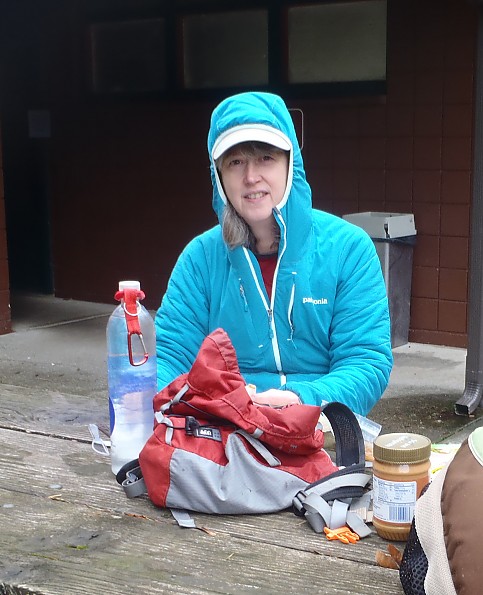 This coat will keep up with whatever grass you don't let grow under your feet.
The hood is not really designed to cover helmets. I find the hood too big for my small head without a brimmed hat or knit cap beneath.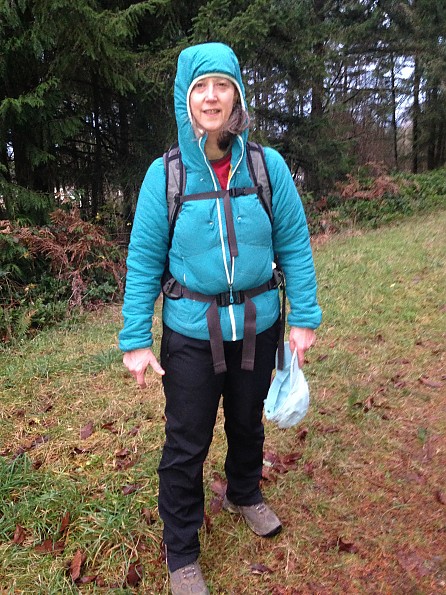 The hood has no adjustments, and kept falling into my eyes.
 I also tried a bike helmet and multi-sport helmet under the hood for comparison.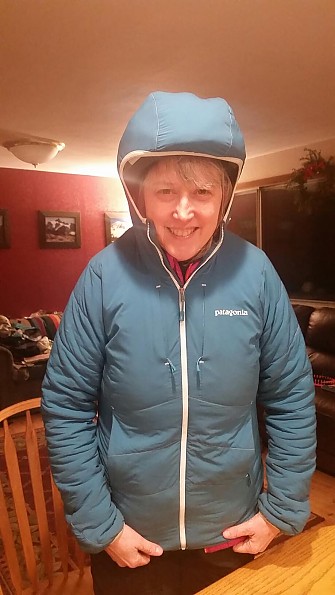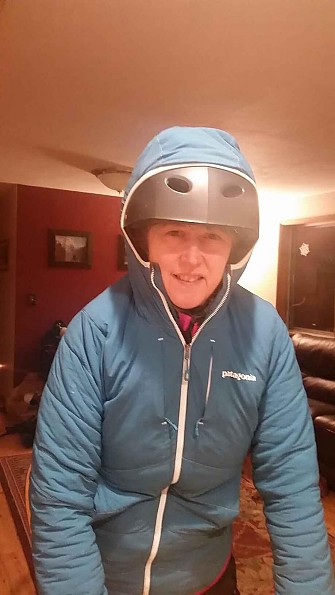 The jacket admits that there's room just for a small helmet — I put bike and multisport helmets on for comparison.
The Nano-Air more than lives up to its expectations.

Construction & Durability
The coat is very well made. I have been watching for thread-fraying, hem pulling, fabric thinning, and other high-wear signs.
As noted earlier, the only issue of note is the pilling.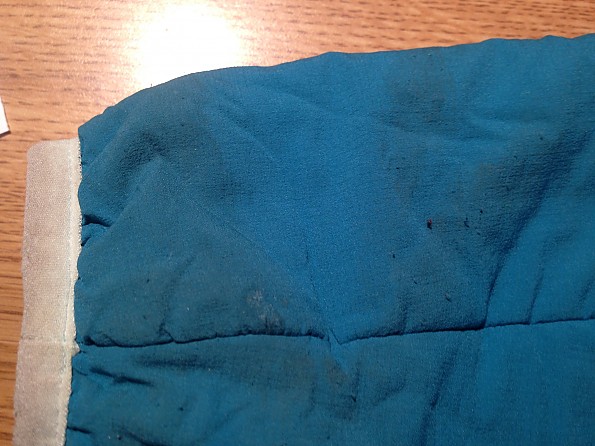 The sleeve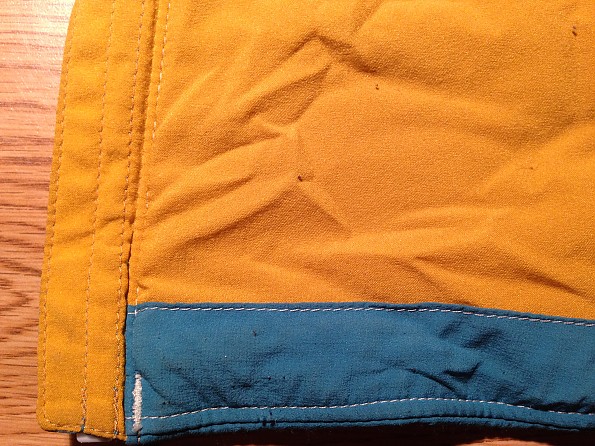 Inner hem
Everything else about the coat reflects the quality and design that Patagonia stands for.

Conditions
I have used this in the Pacific Northwest, during the fall and early winter for three months.
I really love the quality and warmth of the Nano-Air. The piece is comfortable and effective hitting that sweet spot they targeted.
This is a quality garment. I strongly recommend this coat if it's in your budget.
Source: received for testing via the Trailspace Review Corps (Sample provided by Patagonia for testing and review)

I love how comfy and versatile this jacket is, but hate how poorly it has held up.
This jacket is super comfy, both for hiking and skiing as well as lounging at home. It is the warm layer that I always want to wear.
I bought it to replace a light down jacket and have found that it is closer in warmth to my Patagonia R2 Jacket and that I choose one or the other for outdoor excursions. I think that the biggest bonus over an R2 is that it moves more moisture away from my back so I'm not quite as cold when I stop moving.
The main downside is that it has help up very poorly to use. I have used my R2 heavily for six years and it barely shows it. My Nano-Air has been in heavy rotation for only a year now and it shows signs of abrasion in many places and is pretty stained. The matte fabric picks up stains like no other! I have even taken the precaution of always washing it in a delicates bag and that hasn't seemed to help.
I still love wearing it and it still functions, but it looks pretty bad. I would suggest buying a dark color and not using it for abrasive activities such as climbing or bushwacking.
Source: bought it new

This has become my go-to layer for anything aerobic: from hiking and ski-touring, to simply walking and city living. Very warm for its weight, and breathes super well.
Pros
Lightweight
4 pockets
Weather resistant
Nicely fitted hood
Soft elastic cuffs
Ultimate breathability
Cons
So thin and lightweight I feel I need to be careful with it
After years of using a variety of fleece and down hoodies, I have found my new go-to hoodie for everything active. It's super lightweight, way warmer than I thought it could be (I now regularly wear just a t-shirt underneath for ski touring, rather than a long-sleeve base layer), DWR does well in an hour or two of light rain, fairly wind resistant, compact, and it fits great.
Hood is not made for helmets, which is fine as I use it for X-C and backcountry skiing and hiking, and although there's no cinch-strap, it fits extremely well.
I normally don't like elastic cuffs, but these are so comfy!
Breathability is amazing as well. Plus, I've worn it and sweated in it every weekend for two months, haven't washed it once, and it still smells new!
Not the cheapest hoodie out there, but if you're looking for something that works so we'll is so many different conditions and for so many different activities, this is your hoodie!
Source: bought it new
Price Paid: $275

Your Review
Where to Buy
Help support this site by making your next gear purchase through one of the links above. Click a link, buy what you need, and the seller will contribute a portion of the purchase price to support Trailspace's independent gear reviews.
You May Like
Specs
Men's
Price
MSRP: $299.00
Current Retail: $329.00
Historic Range: $104.65-$329.00
Reviewers Paid: $249.00-$275.00

Weight
346 g / 12.2 oz

Insulation
60-g FullRange 100% polyester (40% recycled) with four-way stretch

Fabric is certified as bluesign approved

Women's
Price
MSRP: $299.00
Current Retail: $329.00
Historic Range: $57.50-$329.00

Weight
289 g / 10.2 oz

Insulation
60-g FullRange 100% polyester (40% recycled) with four-way stretch

Fabric is certified as bluesign approved

Recently on Trailspace