Platypus Sprinter XT 35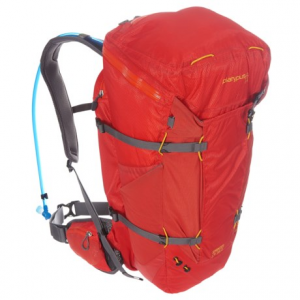 This is a great pack. Well-constructed, waterproof, comfortable (probably more comfortable for men), but it may not fit everyone's hiking needs niche perfectly.
Pros
Fits a lot of stuff
Water resistant
Durable
Big Zip
Cons
Chest strap placement
Loading big zip
I didn't really like this pack to start. I had taken it on several day hikes and field work, but I couldn't figure out its niche. It holds far more than I would take on a day trip, but not enough for my typical overnight.
In an attempt to think about what other people would like to know and in reading reviews is when I really started getting lightbulb after lightbulb and really discovering some of the coolest features about this bag.
Trailspace sent me this in September and I'm not reviewing it until May, but I'm really glad I waited. The bag just continues to grow on me.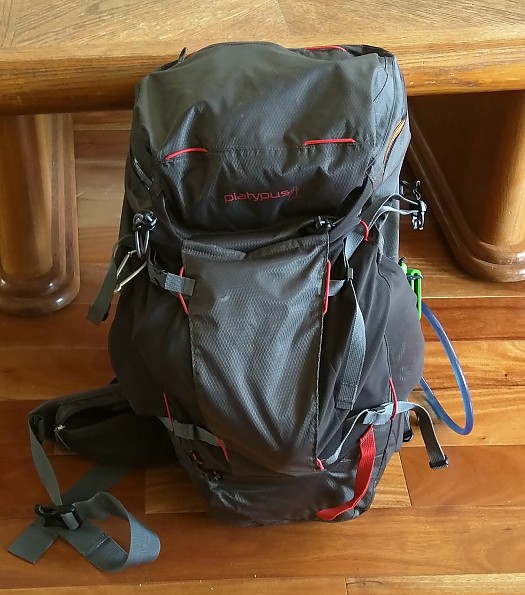 Fit and Comfort:
Under cons I list "chest strap placement".  This will not apply to over half the people reading this, and LOTS of backpacks do this, but the chest strap squishes the top of my boobs down which is not a comfortable way to hike. It's like my backpack is at war with my underwire. Also the pushing of skin makes for an occasional pinch near my armpits. For short hikes I will go without clipping the chest strap, but for longer ones I prefer stability and support of keeping the pack in place over the discomfort of my chest.
Kyle at Cascade Designs who sent me the pack helped me pick out the right size of the two: "If your torso is 17" or less I'd go with the S/M, 18" or more I'd go with M/L. If you have another pack that you like the fit of you might be able to figure out what size that one is too and compare."
The photo below is intended to show where it sits on my back.
Balance:
I hiked an iced-over trail in February, and while carefully choosing my footing I am pleased to say that the pack shifting was not a concern. (Obviously chest strap was secured for this venture.)
Capacity:
This is the one area that has really grown on me. Originally, I couldn't find a use for it as it was way too big for a day trip and way too small for an overnight. Hammock + Sleeping bag would basically fill the whole thing when I finally managed to get both in at once (I had to abandon both stuff sacks and get creative).
You do need to load the 3L Big Zip first as it's hard to wiggle into the pack once it's already full. Totally worth it though, as I've never gone through more than 3L in a day on the trail.
The sweet spot for this bag is day trips that are more than just a hike. I use it for training by fill it with all of my water bottles (that way if I get into trouble and need to shed weight I just dump extra water). I used it for a outreach day where I had to hike out into a field to teach kids about soil. It was a great way to transport all the water, soil, stickers, etc. I needed for the day.
The best use is for trail work days. I can fit all the water I need, as well as snacks, chaps, raincoat, guidebook, first aid kit for the crew, and other small essentials. I can also use the loops on the outside to transport small tools.
Durability:
I'm probably a bit rougher on this pack than I would be if I purchased it myself. Tossing it on my bedroom floor, leaning it up against trees, and not always doing the buckle before setting down are usually things I avoid with my full size pack. With this though, I'm always doing that stuff. The hip buckle itself seems a bit chincy, but it's held up perfectly to several hard hits.
Again, with trail work, I usually depack once arriving at the work site and leave it on the ground and it's just fine.
After trail work last week, I was zipping the top pocket shut and teh zipper pull broke. For all the abuse I've given it, I'm actually surprised that's the only incident I've had.
Weather proofing:
Sitting on the ground in the pouring rain all of my gear stayed bone-dry. It's super liberating to not need a rain cover.
Organization:
It resembles a normal internal frame pack—one large spot for most of the gear. The top pocket holds a lot more than I expected. My usual cache is granola bars, my keys, two small plant ID books, pens, notebook, headlamp, and small binoculars. The rest of the pockets are less secure on the outside of the body except for two mesh pockets on the hip belt which I usually use for my buff and garbage bags.
Features:
I love the magnetic clip for the Big Zip hose! It is the best thing I've ever seen. When replacing the hose after taking a drink, I don't even need to think about it—just get it to the general area and the magnetic does the work.
Occasionally, the hose will fall off the magnet when I set the pack down which has resulted in a dirt-covered mouthpiece, but that may have to do with the amount of care I take (or lack thereof) when setting the pack down.
I've also come to like the pole loops on the pack. I have recently started using trekking poles and for the longest time, never set them down on a hike. Though one day I did stow one pole on the pack in order to free one hand to eat an apple on the trail—so there's that. Now I mostly use the loops for other tools. Get creative!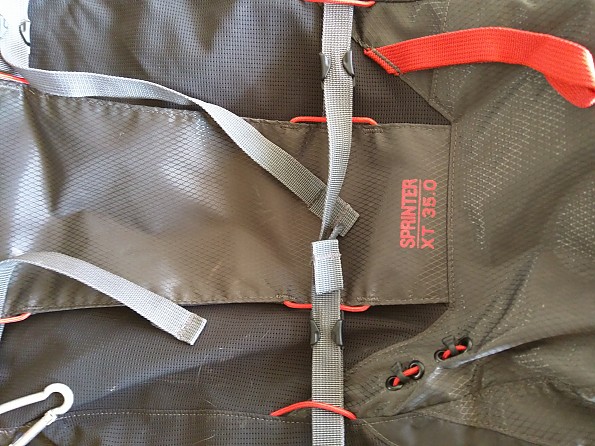 Source: received it as a sample, freebie, or prize (I won this from Trailspace last September for one of my reviews.)

Whether you're out on a day hike, bike ride, or even an overnight backpacking trip, the Platypus Sprinter XT 35 is a great pack that has many features to fit your needs. Cascade Designs has put a lot of thought on the design and functionality of this backpack. I would definitely recommend this pack.
Pros
Independent hydration sleeve
Waterproof zipper closures
Comfortable shoulder straps
Pack compression is great
Removable aluminum stay
Roomy external pockets
Very durable fabric (Weatherproof Diamond Ripstop Nylon)
Great design and usability features
Cons
2 lbs. 13 oz. for Large size
Aluminum stay and back sleeve support weigh 9 oz.
No load lifters to support heavier loads
Poor pack ventilation
Review Platypus Sprinter XT 35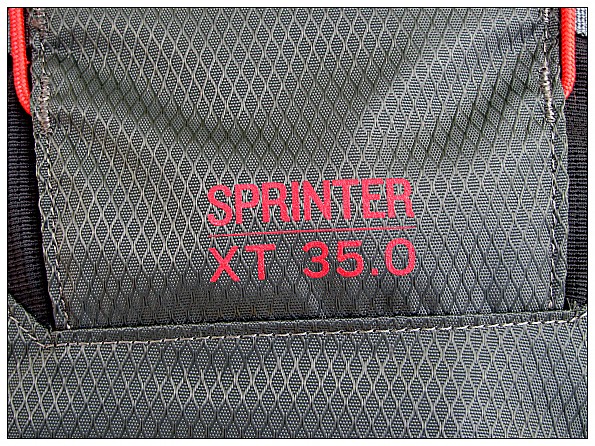 I. Product Features:
Main Compartment and Top Pocket:
Hate cinch-top closures? Fortunately, this pack has none! The Sprinter XT 35 features weatherproof zippers and taped seams.  The main compartment has a ton of room for your gear that is made very easily accesible due to the use of the zippered enclosure.  The top pocket also utilizes weatherproof zippers and taped seams.  Storing items you need to access fast are best stored on this top pocket.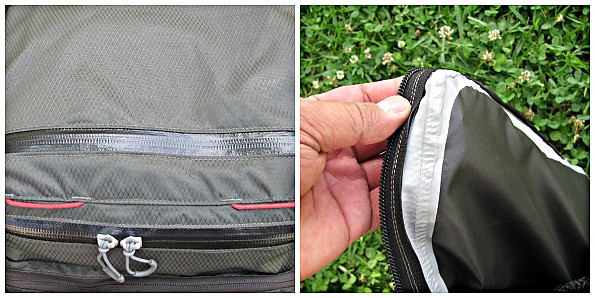 Independent Hydration Sleeve:
The Sprinter XT 35 features an independent hydration pocket. I find this feature very useful because taking your bladder in and out of your pack can be obtrusive. Having the bladder in its own sleeve makes loading and reloading your water quite convenient and easy.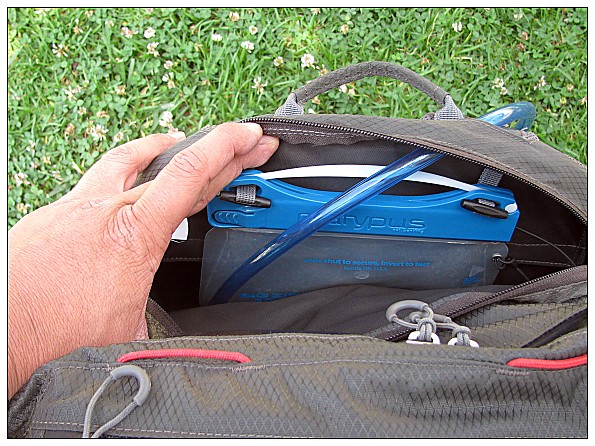 Shoulder Straps and Suspension:
The Sprinter XT 35 features ventilated shoulder straps which makes it very comfortable to carry. However, with the lack of the top-load adjusting straps, you have to make sure to not overload this pack with too much weight. Though Cascade Designs does not list the weight capacity of this pack, I would not want to load this with more than 25 lbs. of gear.  I am sure the pack could carry more weight, however, your shoulders will not be thanking you later.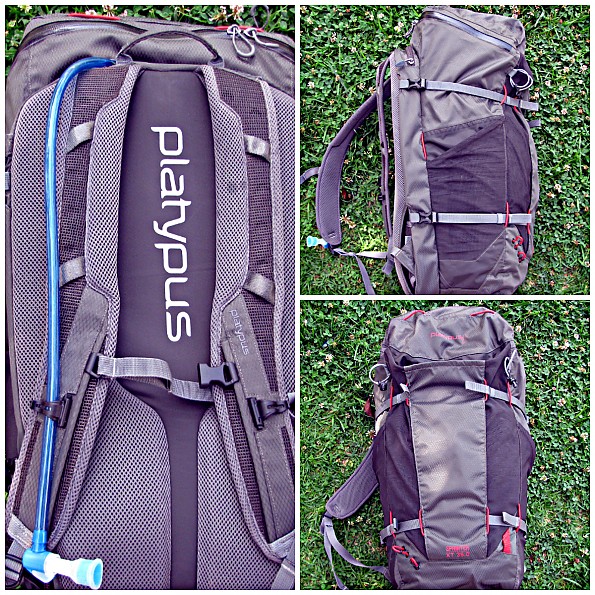 Pockets:
The Sprinter XT 35 also features two hip-belt pockets, side pockets, and a large shove-it pocket to store any items you would normally want accessible throughout the day.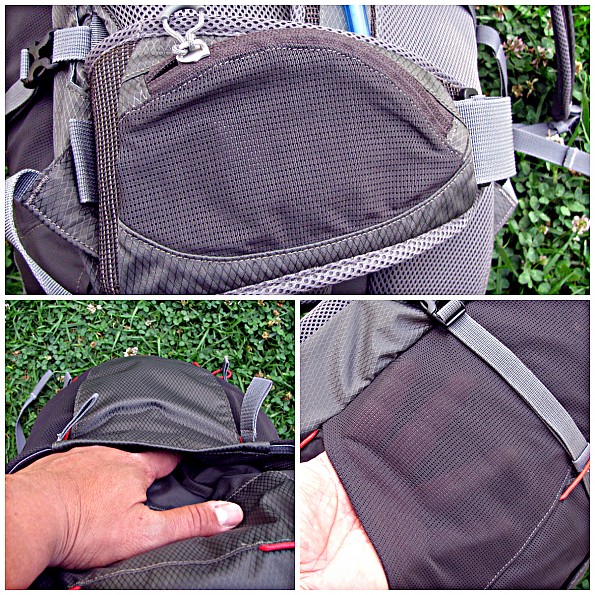 Stowing Features:
The pack also has trekking pole loops and ice axe loops for easy stowing.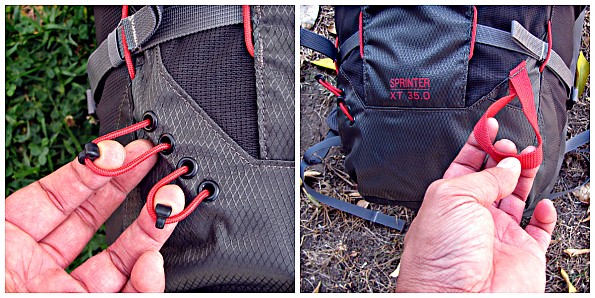 Other Features:
One last feature that I think is just smart, is the ability to tuck in the hip belt. This makes this pack a great carry-on on flights and also when just storing it in your trunk.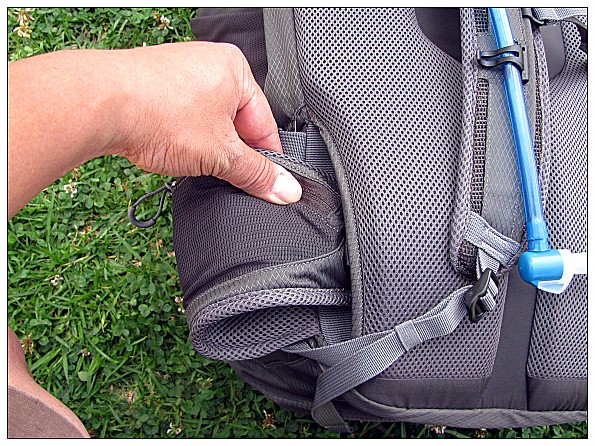 II. Capacity:
Per the manufacturer, the pack volume is 35 liters or 2135.83 cubic inches.  Depending on how much you carry, this is enough room for your overnight or weekend long trips. You can see from the photo below how much you can actually fit in this pack.
I wasn't kidding when I said this pack is full of features. My favorite is definitely the independent hydration sleeve. It made a huge difference not having to fight with your packed gear to get the water out.
With loads of less than 20 lbs., I have found this pack to be very comfortable despite not having load lifters on the shoulder straps.  However, with heavier loads, one could start feeling a bit of a shoulder strain. I did find that hip belt does transfer the weight very well to your hips and it is quite comfortable.
So far, this pack gets a very positive vote in my book. However, there are some features on this pack that I didn't like. Let's talk about weight. For a 35 liter pack, I expected this to be a lot lighter than it is. The dry weight of this pack is 2 lbs. 13 oz. — 3 oz. shy of 3 lbs.! After looking closely, I was able to remove the aluminum stay and back piece. This was then weighed and on my scale it registered a little over 9 oz.
With lighter material options these days, I feel that Cascade Designs could have used a lighter aluminum piece that is just as strong. With the amount of design pluses so far on this pack, I was disappointed by this.  The good news is that you do have the option of not having the support. By not having the aluminum stay, you are potentially reducing the pack weight down to 2 lbs. 4 oz.
With the weight aside, the other issue I had with the Platypus Sprinter XT was the ventilation on your back.  Compared to other packs I have used in the past, the Platypus Sprinter XT has poor ventilation. Every break I took where I took off the pack, my back was drenched in sweat. This wouldn't be much of an issue during warmer months of hiking but if this is used during colder months, having a sweaty back could be dangerous.  I hope that Cascade Designs will review this and it would be interesting to see what they can come up with to improve the ventilation design of this pack.
IV. Final Thoughts:
Overall, I must say that the Platypus Sprinter XT 35L is packed with very functional features. It's a very well designed and comfortable pack. 4 out of 5 in my opinion...it would've have been a 5 if the weight of the pack was lower and if there were no ventilation issues.
Your reviewer on an overnight bikepacking trip :)
For more information about the Platypus Sprinter XT 35, check out Cascade Designs.
V. Testing Conditions
Testing of this product was done on four separate outings in the San Gabriel Mountains, Angeles National Forest, Griffith Park Trails, and Verdugo Mountains (backpacking and day hiking).
Locations:
Manker Flats to Mt. Baldy
West Fork Bike Trail to Glenn Trail Camp
Stough Canyon - Youth Camp Loop 
Griffith Park - Glendale Peak and Hogback Peak
Source: received for testing via the Trailspace Review Corps (Sample provided by Platypus for testing and review)

Your Review
Where to Buy
Help support this site by making your next gear purchase through one of the links above. Click a link, buy what you need, and the seller will contribute a portion of the purchase price to support Trailspace's independent gear reviews.
You May Like
Specs
| | |
| --- | --- |
| Price | Historic Range: $39.00-$159.95 |
Recently on Trailspace