Princeton Tec Fred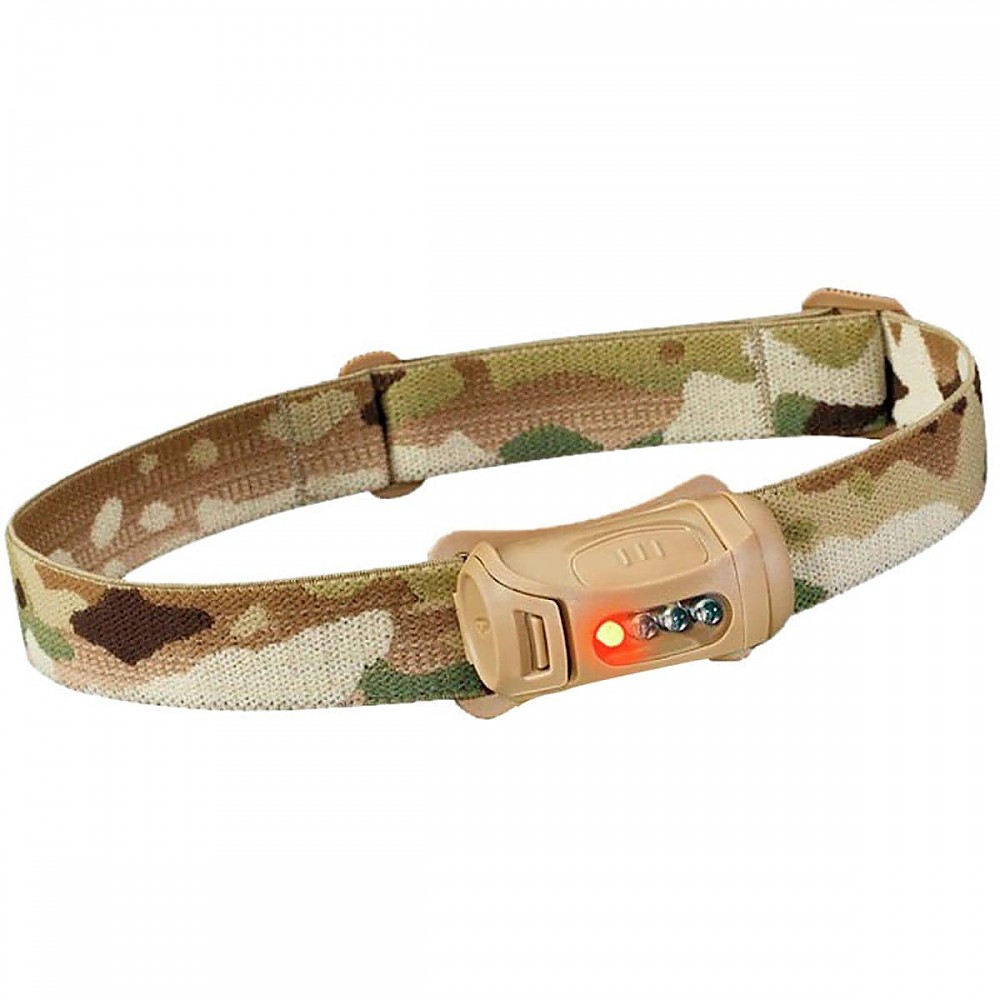 A light, well-made headlamp with bright, focused beams, and a red light mode. An intelligent switching pattern becomes intuitive with use. Made in the USA.
Pros
Has a red light mode
Intelligent switching
Bright, focused light
Lightweight
Made in the USA
Cons
Headband too small for some
Battery compartment hard to open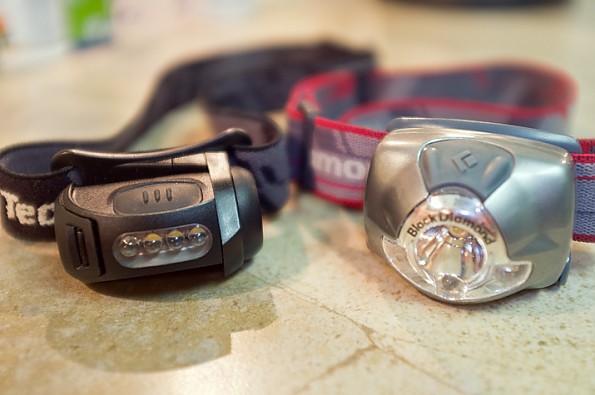 I've had a few headlamps before this one. In my first section of the Appalachian Trail, I took my Black Diamond Cosmo LED headlamp. It had two side LEDs for a flood effect, and one central 0.5-watt LED with a conical reflector to focus the beam. It was a fine unit except for one thing. It didn't have a red light mode.
Now, many like red light to protect night vision. But if one's hiking the AT, and  turns on a white light inside a crowded shelter after dark, they are often called names, have their sanity questioned, and are generally ostracized from the community of hikers.
As soon as I got home from that first section, I started looking for a new headlamp.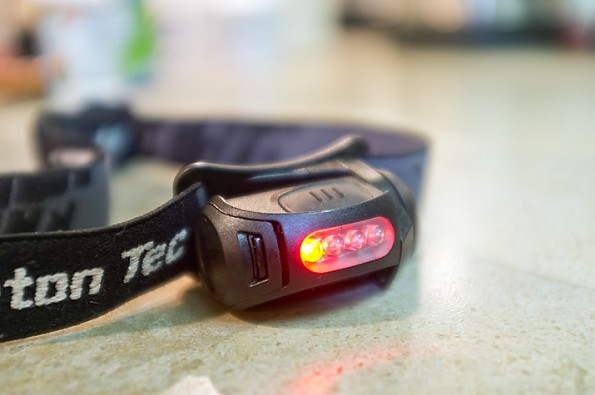 The Fred was based in Princeton Tec's successful Fuel series. at 78 grams with batteries, the Fred is pretty light. (My old BD was 86g, so that little bit of weight reduction was a bonus.) It has a small profile, and rotates up and down on the headband. It comes in a variety of colors including a couple of cammy patterns, and desert sand.
The Fred has two light sources from which to choose, one red "Ultrabright" LED, and 3 white Ultrabright LEDs. Each light source has two modes (High and Low). Unlike some other popular lights, when you turn on the Fred, it starts in the low power red mode. Others start in a retina-burning white mode, which is a good way to end up hiking alone.

From the off position, a quick double tap takes you to bright mode. To get to white light mode, you hold the button down for a few seconds. You don't have to cycle through the white lights to turn it off, like some other lights require.
It's a bright light. Rated at 45 lumens, the high white mode will reach out well over 100' down the trail, the two red modes are sufficient for breaking camp for a pre-dawn start, or making a midnight call of nature.
It runs on three alkaline (included), NiCad or NiMH batteries. Battery life is rated by the manufacturer at 180hrs in low red, 74hrs in high white. I can't really quantify my experience with battery life, but in two sections totaling 1,212 miles, I changed the batteries once towards the end. I'm not much into night hiking, and I generally go to sleep when it gets dark, so I never really let it burn very long.
At least one reviewer, with a "fairly big" head complained about the headband being too short for him, and putting uncomfortable pressure on his head. I generally wear a size 7 1/2 hat, I have the headband adjusted to its maximum size, and it fits me fine.
It meets IPX4 in the International Electrotechnical Commission standards, meaning it's designed for water resistance to splashing and quick dunkings. Should be fine in a light rain. I never had a problem with water intrusion, but I never used it in the rain except for quick midnight calls of nature.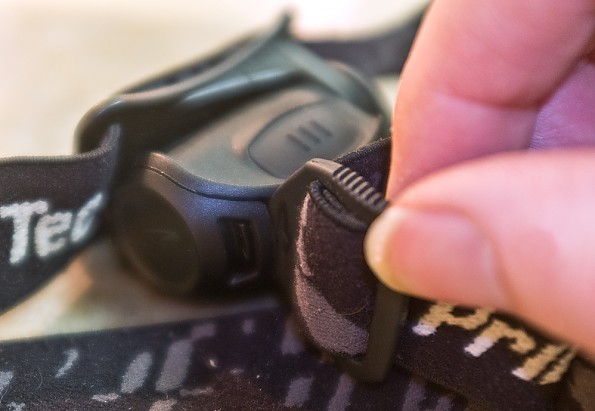 That level of waterproofness apparently comes with some pain. Opening the battery compartment is tough. The instructions call the tab on the headband adjustor, a "tool" for opening the compartment
Princeton Tec warrants the Fred against manufacturing defects for five years.
This is a great light for campers and backpackers. Well, at least for those with hat sizes  smaller than 7 3/4 ...
Source: bought it new
Price Paid: $23.60 on Amazon

Lightweight, bright, affordable, efficient headlamp with both red and white wide and narrow beams. It is perfect for backpacking, running, or grilling.
Pros
Lightweight
Red light
Water resistant
Burn time of 180 hours
Price
Easy to change light settings
Cons
Can be difficult to open battery compartment
I previously owned a Petzl Tikka XP and was becoming increasingly displeased at its battery life as it aged.  I decided it was time for a new headlamp. After reading multiple reviews, I decided to purchase a Princeton Tec Fred. Because I wanted it mainly for backpacking, I chose the Fred because of its low weight (< 3 oz.), the fact that it offers two red beams, and that it has a pivoting lamp.
I was immediately impressed the first time I used it. One of the best features of it is that when you first turn it on, it starts with the red low beam. This is great for not blinding other people around you and it also helps your eyes adjust. When you press the single button again it will make the red beam brighter. If you press and hold for a second, it will switch to a white low beam. Another quick press will turn to the brighter white beam. A longer press of the button will then turn the headlamp off. 
You do not need to cycle through all the settings in order to turn it off or switch colors. Personally, I prefer the brighter red beam since it does not blind others and generally provides enough light to work around camp. It is rated at 45 lumens.
I did not really keep track of the overall burn time of the lamp, but in the past year, I have only needed to change the 3 AAA batteries once. This is the only issue with the headlamp that I have found. The headband size adjuster has a tool on it to help open the battery compartment, however, it still requires a bit of force.
The headlamp is rated as water resistant and luckily I haven't had to use it much in the rain. It seems to hold up in Florida's humid climate though.
Overall, I would very highly recommend this headlamp. It is perfect for setting up camp in the dark, cooking around a campfire, reading in  your tent, or even grilling in your backyard at night (as I sometimes do).
Source: bought it new
Price Paid: $30

A decent, lightweight headlamp with red mode.
Pros
Lightweight
Inexpensive
Waterproof
Red light mode
Cons
Headband not big enough
Not very bright (low range)
The Princeton Tec Fred is a basic headlamp. It's relatively inexpensive and offers two white light settings and two red light settings. It's waterproof, light, and easy to use. 
On the pro side, the waterproofing of the headlamp is effective. I have put it to the test on many different trips, but I have yet to have it fully submerged. I've also used it in subzero temperatures (Celsius) and it putters on.
However, I do not think the range is as good as advertised. I've found the range to be a bit disappointing, to the point that I may consider replacing it. Even on its brightest setting, I still find myself squinting or supplementing it with a handheld wherever possible. 
The headlamp is extremely easy to use, with one button that controls the colour and brightness of the light. Push the button once, it turns on red; twice, the brighter red; three times, low white; and four times, bright white. 
The major downside of this headlamp is the headband itself. I have a moderately large head (sz 7.5) and I find the headband to be too tight, even at its loosest possible setting. I find after mere minutes of use the symptoms of a headache. 
Apart from the negatives, it is a durable headlamp capable of being used in all weather conditions without fail. However, due to the low range and headband issue, I cannot recommend it to anyone with a large head, or anyone who has the expectation of a really bright, long range device.
Source: bought it new
Price Paid: $30 Canadian

This headlamp does everything I need it to!
Pros
Lightweight
4 levels of brightness: 2 white, 2 red
Red LED
Cons
Won't take lithium cells.
None that I can find. Still waiting for first set of batteries to die.
This is the 4th headlamp I've owned, and is hands down, the brightest, by far. I was torn between the BD Spot and the PT Fuel, but felt I didn't need 4 levels of brightness from a white LED. I was also able to buy it locally to try out, unlike the Spot, which would have been ordered. My old Rayovac (which I've had to fix numerous times) is now unreliable, so I felt a replacement was necessary. 
I bought the Fred with backpacking in mind, but use a headlamp, on average, 4-5 nights a week, for up to an hour each night to split and haul wood to the house during the winter. In addition to that, we're still remodelling our house, so it has to pull triple duty if I'm in the attic or basement, fixing something.
As I said, the light has done everything I've asked of it over the past 4 months, and hasn't let me down. It has a rubber coated switch on the housing that, when depressed, immediately turns on low-red LED mode. If it is depressed again, within a second or so, it will go into bright-red-LED mode, which I've used on occasion to load wood. 
I found both red modes usefull while backpacking on the AT a few weekends ago. I was with 5 other friends and was able to see to prep my bivy without ruining my night vision (it was a super clear, cold, starry night).  Holding the switch down for approximately 2 seconds turns on the low-white LED. This has been all I've needed for loading and splitting wood. 
On white-low, I can easily see 20-30 yards - more than enough.  Depressing the switch a second time once in low-white mode turns on high-white mode. I decided to try this mode while on the AT. I took a short hike away from our shelter area, and was surprised at how far the light could reach. I could easily see each white blaze on the trail. Will I use it for a night hike on the AT? Unlikely - but it's nice to know I could if I had to. 
The light is based on the PT Fuel, and uses three AAA batteries. On my scale, it weighs 2.8 ounces with batteries, a full 2 onces less than my old Rayovac. 
The only minus I could find is that the light will not accept lithium batteries. I emailed Princeton Tec and was told to use conventional batteries only. Regarding some of the problems others have had with the Fuel (ie. turning on in the pack and broken battery covers) I haven't had any problems.
It didn't turn on in my pack while hiking 12+ miles, and, I've only ever placed the original batteries in it, which currently have an estimated 24 hours on them, with no dimming. The cold had no affect on it either. I awoke at about 0400 needing to relieve myself and noticed my water bottle was frozen, the Fred (sitting beside it) turned on no problem, again, with no dimming.
I would wholeheartedly recommend this light for an all-around, reliable headlamp.
Did I mention it was made in the USA?
Source: bought it new
Price Paid: $24

Your Review
You May Like
Specs
Price
Current Retail: $14.84
Historic Range: $14.49-$29.99
Reviewers Paid: $23.60-$30.00

Recently on Trailspace