Princeton Tec Helix Bluetooth

Top 50 in Battery-Powered Lanterns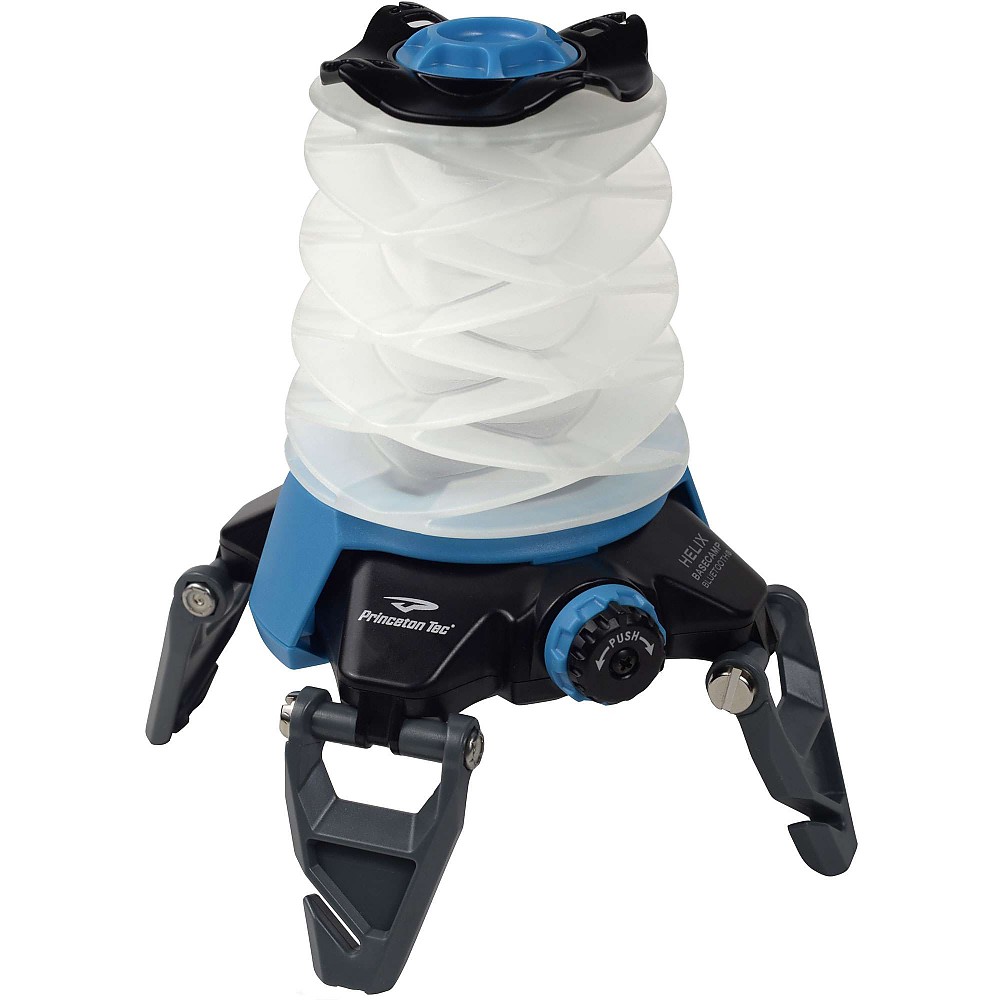 Specs
Price
Current Retail: $95.99
Historic Range: $76.83-$119.99

Reviews
1

review

5-star:

0

4-star:

0

3-star:

1

2-star:

0

1-star:

0
The Princeton Tec Helix Backcountry is a collapsible lantern, which uses a rechargeable lithium ion battery (1800 mAh or 3 AA batteries as a back-up), to boast up to 250 lumens of ambient light. Using Bluetooth technology the lantern can be controlled with your smartphone using the free app (available for both Android and iOS).

The Helix Bluetooth would be best for the technology enthusiast whose primary concern is not weight, whether that's around the cottage, BBQ, festival or car camping. The highlights are the well designed app, ability to charge external devices and the build quality. Unfortunately the battery life and the speed it charges other devices both leave something to be desired.
Pros
Bluetooth software is well designed
Good range of light
Battery level indicator
Ability to hang, or stand
Able to charge other devices
Cons
Battery life
Speed to charge external devices
Burn Time and Power Source
The Helix Bluetooth's battery (1800 mAh) is easy to access, just unscrew the screw on the underside (you can use a coin, screwdriver, knife or an excessively long fingernail, if you have one) and swap them out. The battery door sits flush and secure and they certainly haven't skimped weight on the screw—it's metal and could double as bear protection if you need! As a back-up you can use 3AA batteries.
There is a plastic piece that covers the access to the charging port (both for input and output) and the battery level indicator. It sits well when properly sealed, but is just held in with pressure and can easily be misplaced when removed from the lantern.
The battery life unfortunately fell short of my expectations, as did its ability to charge other devices.
The times listed on the box were (followed by my results)…
Lithium-ion
Low Red- 22 hrs (21 hrs)
Low White- 18 hrs (16 hrs 51 mins)
High Red- 7 hrs (6 hrs 49 mins)
High White- 5 hrs (4 hrs 12 mins)
3 AA Batteries
Low Red- 40 hrs (roughly 38 hrs, I kept missing this one)
Low White- 30 hrs (28 hrs 45 mins)
High Red- 16 hrs (15 hrs 1 min)
High White- 8 hrs (7 hrs 26 mins)
As you can see the majority of the battery life claims I found to over exaggerated.
For smaller devices such as my iPhone 5s, or my small point and shoot camera, it was able to charge 1% of the battery every 3 mins. For larger devices like an iPad Mini or Bluetooth speaker it was closer to the 10 minute mark. And in doing that it used up 2/3rds of the lantern's battery.
Something just seems very backwards about charging other devices off of the lantern, but then needing to recharge the lantern itself. Why not cut out the middle man and charge the other device (camera, phone, mp3 player) initially?
I did initially think that the light needed to be on to charge a device, but after reading the instructions (in my defense, I am a male, reading instructions is not my first option), I found that you just push the dial twice to activate power to the external source without needing the light on. That's smart, I'm not.
Another small disappointment is that only one cable is included, so unless you're charging a device that uses a micro USB cable you're outta luck. For me that was most of the things I intended to charge. Luckily I had a cord from Brunton that is the required USB (that plugs into the lantern) on one end and micro USB, the old Mac 10 pin, and the new Mac lightening on the other. If you didn't already own something like this you'd either have to spend the extra ten bucks or bring a separate cable for each device you intend to charge.
Ease of Use
The lantern can be controlled either by downloading the app (available on both Android and iOS) and using your smartphone, or manually using the dial.
The Bluetooth controls have been well thought out, and while a little Spartan in their design, are easy to learn and enjoyable to control. A center power button is surrounded by four pie shaped pieces, one each for red, white, brighter and dimmer. Each one can be overridden by using the lantern manually and vice-versa. I do wish there was some tactile feedback to the buttons though, a small vibration from the phone would be nice.
The dial on the lantern is nice and chunky, which makes it easy to grip, but my main problem here is that you need two hand free to turn it on. You need to push the button in before it will turn, and unless it's propped up against something it usually just slides the whole lantern when you push it in.
It kind of defeats the whole purpose when you have something in your hand (say an excessively loaded up hotdog...I may or may not be speaking from personal experience) and you need to two hands free to turn on the light manually. Without your hand behind it to brace it you either can't turn on the light or you just got ketchup on yourself.
There's a blue locking collar that you can rotate to prevent the light from turning on during transport, which furthers my point; you shouldn't need to depress the button to turn it on, at least not so much.
Range and Beam
There are two different ways to evaluate the range on the Helix: in use with the globe, and when removed, as a spot (or flash) light. Let's break it down into those two categories:
Lantern: While on high the lantern pumps out 250 lumens of ambient white light, more than enough for use around a campfire, stove, by the cooler at a cottage or reading in your tent. The light is diffused through the globe and covers a circle roughly 35 feet in diameter.
I've found the high setting to be almost too bright for many occasions, when reading, especially in a smaller tent, the medium, or even low setting, is more than capable. For route finding, or map reading, at night when you don't want to mess up your night vision, the red light comes in handy.
Spotlight: Unlike on the smaller Helix Backcountry model (previously reviewed) where I found this feature quite useful, the Bluetooth Helix is much larger and more unwieldy for this use. You are able to prop the legs to angle the beam of light in any direction you'd like, but I've more often than not just left the globe on.
Durability and Weather Resistance
There isn't too much to break, and what there is, is well made and protected. The lights are covered by solid plastic that both protects them and focuses the spotlight beam, and then presumably has the globe over them.
The legs are sturdy and the hinges have the perfect amount of resistance—not so tight that they are annoying to deploy, but not too flimsy that the light flops around. The metal hardware evokes confidence and the quality is top notch.
I see two possible weak points in the long term. One is the plastic used to attach the globe to the base and two is the plastic globe itself possibly weakening from repeated collapsing. Princeton Tec does cover this product for a five-year period, which is nice.
The rain and snow that I've exposed it have caused no negative results. The cold does certainly effect the battery life and it needs to be kept warm, either in a jacket pocket or sleeping bag at night.
Size and Weight
The Helix Bluetooth's pack size is more than reasonable. It goes from 7 inches fully extended (legs and globe) to 3 1/2 inches when collapsed, so completely in half. The stated weight is much more accurate than its smaller counterpart the Helix Backcountry.
The Bluetooth Helix is listed at 11 ounces and the weight I got on the scale was 11.15, so more than acceptable, and I even had the hanging strap on it, so I'm not sure if they weighed it with that accessory installed. This lantern is not meant to be for extended backcountry trips but rather car camping, festivals, cookouts, and the occasional overnighter. I've found both the size and weight more than reasonable for these uses.
Conclusions
So who needs this? Should you buy it? I personally feel there is much more value, and versatility, in the Helix Backcountry, but if you're into technology and the weight and size isn't an issue to you then it is a well designed product.
The controls are all well thought out and it's made well enough that it will last you a long time. A product like this though comes down to two main things—battery life and the ability to charge other devices off the lantern, both of which I was not overly impressed with.
Conditions and Testing
I've got no reasonable guess as to how long I have used the light. It's been on and off so many times I've lost count. Sometimes it's been turned on for five seconds to find a zipper pull for midnight bathroom breaks, and sometimes it's been found left on, presumably for hours, under the couch.
I can tell you that I've had it for five months now. It's been used from early December 2015 until now, May 2016. As with all batteries, the winter cold can be very hard to overcome and they need to be kept warm, one of the reasons I wanted to do any extended testing period to not (harshly) judge the batteries solely during the peak of winter.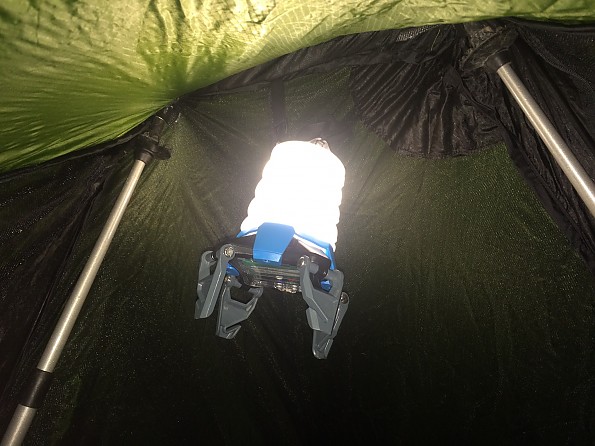 *My thanks to Trailspace and Princeton Tec for the opportunity to test this product.
Source: received for testing via the Trailspace Review Corps (Sample provided by Princeton Tec for testing and review)

You May Like
Recently on Trailspace