Renogy 21 Watt Foldable PowerPort Solar Panel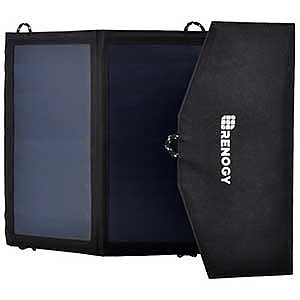 Reviews
1

review

5-star:

0

4-star:

1

3-star:

0

2-star:

0

1-star:

0
The solar panel is a highly efficient 3 panel portable charger that is designed for use in emergency situations off the grid or device charging on long trips away from power sources. The charger contains two USB ports that are designed to be "smart" and deliver the appropriate amount of energy to each device efficiently. I would say this charger is probably best used for backpacking where it functions as a helpful tool, but should not be relied on for daily charging.
Pros
Lightweight
Multiple attachment options
Included carabiners
Two charging ports
Cons
Requires sunlight
No internal battery
As a member of another website, I sometimes get the opportunity to try out different products in exchange for a review. On a recent camping trip I got to try out the Renogy Foldable PowerPort Solar Panel. Some of the things I really loved about the solar panel are:
Weight: The first thing that struck me when I opened up the solar panel was just how light it was for how many panels and how efficient it is. Weight is a huge concern when backpacking and having an energy source at this size is amazing. Just make sure you are in an area with direct sun cause otherwise it's not so effective. Also you will need to carry a battery pack with you since there isn't one built in. 
Dual plug: The panel has two USB slots for charging and a small Velcro pocket that could hold a phone or battery pack to avoid cables dangling everywhere. The ports are also designed to deliver the power according to the device plugged in and are termed "smart" ports. I found while using it that it struggled to charge two devices at once but this was probably more due to the challenge of finding direct sunlight. However, it still ended up charging one device more than the other if it could pull enough power to at least charge one. 
Attachment hooks: This was a crucial design component and I'm glad they included so many attachment options. The panel came with two small carabiners that are perfect for attaching to a backpack and there are so many loops on the solar panel that it gives you lots of flexibility in how to attach it. I was able to get mine setup on my backpacking pack so that it had the best upward angle towards the sun. Take a look at the pictures below to get a better idea.
One of the things I struggled with though was getting a consistent and complete charge of any of my devices. A lot of this had to do with the fact that we were hiking in shadier areas and there wasn't consistent direct sun. Additionally, we were backpacking so it was hard to get the panel to face the sun directly while moving. 
Overall I would say this solar panel does a good job for its weight and size but I wouldn't rely on it if I absolutely needed a way to charge my phone every day of a backpacking trip. In an emergency though you could find enough sun to get your device charged up and make a call or send a text. 
Source: tested or reviewed it for the manufacturer (I kept the product after testing.)

Disclosure: The author of this review received a sample of the product from the brand or its representative in exchange for a review.
You May Like
Recently on Trailspace