Rivendell Mountain Works Jensen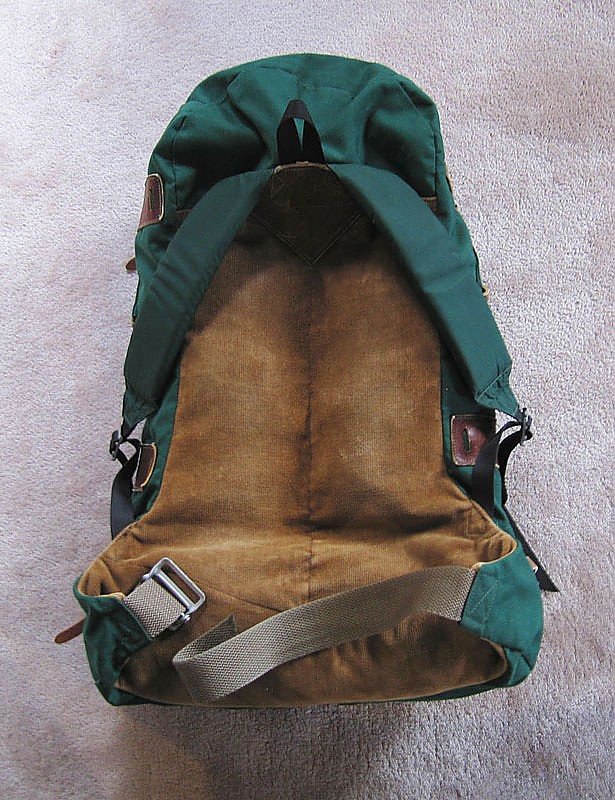 Specs
| | |
| --- | --- |
| Price | Reviewers Paid: $40.00-$350.00 |
Reviews
3

reviews

5-star:

1

4-star:

1

3-star:

1

2-star:

0

1-star:

0
An aesthetically delightful and comfortable specialty pack for shorter trips in mild weather for the purists. Utterly miserable if pushed beyond its weight/capacity limits.
Pros
Simple elegant comfortable design for lightweight short trips.
Cons
Unsuitable for heavy weight or extended trips
Like the previous reviewer, I lusted after the Rivendell Jensen pack when I was a poor graduate student in the '70s. By the time I could afford that, it was long out of production.
Fast forward 40 years, after a very long search I bought a 1970s Jensen pack on eBay. It is the original version with two zippers opening the top lid rather than back panel. Forest green with tan corduroy back panel. A metal buckle which curiously is sewn onto the right hip belt (a left-handed version?). Eager to find out what I have been missing all these years, I tested it out on several hikes and one overnight trip.
Here's my impression:
I agree with almost everything the previous reviewer said, this pack is not for lugging around a lot of gear. With careful packing, it can hold a surprising amount for a 1-2 nights backpacking trip.
Here is my arrangement: Bottom compartment: 2-lb 30° down sleeping bag; left 'tube' compartment: short inflatable sleeping pad, change of clothes, first aid kit; right 'tube' compartment: 3-lb 2-person tent, light rain gear; on top of the two 'tubes': Optimus 99 stove (It serves double duty as cookware with an aluminum foil lid), headlamp, GPS, small knife, small water bottle.
Fully loaded, the pack is transformed into two fairly rigid columns that provide support and comfort against my back. With tent poles lashed between the two columns, the whole package weighs about 15 lb without food or water. The pack adheres to my back much closer than any other packs I have carried.
Disadvantages: Aside from the need to pack gear carefully, there is no way to load larger items like a bear canister in this pack. There simply is not enough room to hold much more than the items I described above for longer trips or cold weather. Although there are many exterior attachment points, hanging bulky items outside negates the purpose of the design and makes it less comfortable to carry than with a modern internal-frame pack.
In sum, the Jensen pack is a true classic. Its influence on early pack designs by other manufacturers cannot be overstated. I also had the JanSport version of this design, yet I found that less comfortable than the original. I'm glad to see that the original Jensen pack is reincarnated and being made in Washington. In my opinion, this pack should be in the Museum of Modern Art.
Experience
Universal Medalist frame pack, Kelty frame pack, JanSport Great Sack, Gregory Snow Creek, Wilderness Experience internal-frame, Hine Snowbridge internal-frame, Lowe Alpine Expedition, Wilderness Experience Klettersack, Gregory Z55, Gregory Paragon, Lowe Alpine Mountain Attack.
Source: bought it used
Price Paid: $125

One of the first frameless packs made...
Pros
Awesome toughness
An early innovation in frameless
Quality construction
Back around 1977 I heard tell of a new concept in packs—no external frame. Internal frame packs had not yet made their appearance. I read the reviews, I looked at the pictures, and I had a friend who operated a backpacking store order me one. I think it cost me an awesome $40. That was a pile of money for an impoverished grad student who needed to skip meals to pay for it. Well, I craved equipment, my girlfriend had dumped me and so, I purchased. 
The limitations of my frame pack were many for an impoverished student that traveled by hitchhiking and buses. My frame pack (EMS Heliomaster with added sleeping bag compartment) was an extra-large (I probably should have owned a large size, but I got it discounted, like most of my equipment); it was often an enormous issue to carry it on anything but trails.  I had an image of myself carrying the Rivendell onto and off Trailways buses, using it for visits to the parental estate, as well as weekends in the woods and carrying the masses of books like "Piers Plowman" criticism that I was occasionally compelled to tote.
The design was cunning. The fabric was a remarkably heavy fabric like today's cordura, but, I think far heavier than the fabrics used today.  There was a bottom compartment designed for a sleeping bag while the main sack was composed of two vertical tubes designed to give the pack form once packed. It lacked a lid pocket, as there was essentially no lid; construction was a bit like a inverted horseshoe. The part of the pack with the harness had a zipper that traveled the edge of the pack. It supposedly give you access to the main compartment.  It was a great idea in theory. It worked beautifully to support the pack, as long as the things you needed to pack fit into the pack. It seemed pretty watertight, but to get in the pack, you pretty much had to unpack the whole damned thing. Not fun even in your bedroom let alone a rainy mountain.
But...here comes the big but. The tubes were so narrow as to prohibit a lot of equipment other than clothing. Even clothing was rough since it had to be tightly compacted. A full sized octavo hard covered book did not fit in the main compartment. My first generation synthetic sleeping bag did not fit in the sleeping bag compartment and barely in the main compartment.
Tent poles did not fit anywhere and even a small two person tent was hopeless; you could sort of use the pack itself as a stuff sack, but then the tent would take up half the pack. My Optimus 8R stove (which I have reviewed elsewhere on this site—basically a steel box) could not be made to fit in any way close to my back. Even getting it into the pack was a major challenge; mark you, the stove measures something like 6.5" x 6.5" x 4.5".  A Svea 123 might have fit with its cylindrical shape, but my cigar box Optimus would not.
One other but: There were sort of two compartments and the sleeping bag compartment. The tubes that came were open/conjoined at the top and bottom, so actually it was one curved compartment. The main compartment/tubes were accessible, if I remember right, only from a panel which rested against my back. In order to get at stuff at the bottom of the main compartment (which was actually two lengthwise compartments) you had to unpack everything in the tube that contained it.
The pack was on the market for some time, until eclipsed by the newer internal frame packs which offered somewhat better support and much more flexibility of loading. They came on the scene and the Rivendell departed rapidly. One can see why. It did not even function well as a travel pack. (Travel packs had yet to make an appearance...and I had hoped this would serve.) 
At one point, I contemplated opening up the center seam to allow a single big bag. I was dissuaded by the friend who ordered it for me. It might have been a good idea nevertheless. I might have opened the center seam and added pockets and a compression strap. Had I done so, I could have at least used it on buses for weekend trips home and the occasional hitchhiking adventure.
After a few largely failed attempts to work around these shortcomings it returned to my friend's store to be resold on consignment. I made most of my money back and it sold rapidly, no doubt to someone else who had read the reviews.
On the whole I regretted the failure of the experiment and still do. I no longer take buses, but a modification of this design would still be welcomed as a step between the formless UL packs and the heavier but awesomely comfortable IFs. Find a modified version as tough as the Jensen and I would still like to have it. If I ever find one used and in good condition, I might pick it up for day trips, maybe converting it to a single compartment.
Source: bought it new
Price Paid: $40, big money for the time

Great design and great construction.
Pros
Comfort
Lightness
Ruggedness
Simplicity
Cons
Requires care in packing (but I tend to pack carefully no matter what kind of bag I'm using.) Can't be overloaded as willy-nilly as most other packs.
Got one of Eric Hardee's current-version Jensens about four years ago. Stupendous pack for backcountry hut touring on skis. The weight stays close to the back (have not experienced a better pack in that regard), and capacity is perfect for about four nights out with no tent and with a light sleeping bag.
I do have the optional snap-on side pockets and wouldn't be able to make those trips work without them.
Experience
Two five-day hut tours in Colorado, and limited use as a big duffel bag in car travel.
Source: bought it new
Price Paid: About $350 for pack (extra-rugged version) & two side pockets

You May Like
Recently on Trailspace