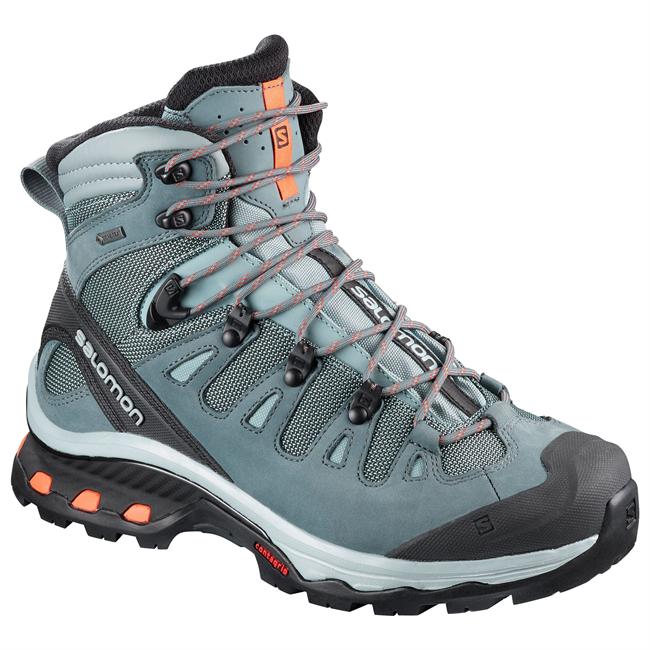 Specs
Price
Current Retail: $171.99-$229.95
Historic Range: $171.99-$229.95

Reviews
1

review

5-star:

0

4-star:

0

3-star:

1

2-star:

0

1-star:

0
I really wanted this boot to work for me, but it did not. I tried both men's and women's in a couple of different sizes. But they were not for me. I'd like to share my experience in case it can help others.
Pros
Very lightweight
Looked good
Good traction
Cons
Uncomfortable for me
Sweat boxes
Off the bat I'll say I'm hard to fit. I have normal ladies' heels but a wide, D/E forefoot. My feet are straight, not curved-around, with naturally low but functioning arches, so I get pressure on the outside of my forefoot from shoes made on curved lasts (common for females) and shoes with "arch support" or "pronation control" are painful for me. I generally wind up in men's shoes touted as "neutral" and sized up to get width.
Off trail I do best in wide minimalist shoes and going barefoot, and for dayhiking I like trail shoes and trail runners, but for carrying a backpack on rocky trails for many miles per day I like pretty sturdy boots with stiffish soles to bridge gaps in rocks, and firm ankle cuffs. I have hyperflexible, unstable ankles—that are prone to rolling on uneven ground and I find the support of a sturdy ankle cuff necessary to help prevent falls while backpacking. Up until now I have only had success with full-grain leather boots for this purpose, but still I look enviously and dream of something lighter that might work. So I when I wore a hole in the sole of my Zamberlan boots, I tried these Salomon above ankle trail shoes ("boots").
These did seem like the best option available (at the time I think I tried on every pair of contenders in the retailers in my home city!), so I bought and tried both the mens and womens version, and swapped sizes. I trialled them outside, on trails, once I found a pair that seemed comfortable after a bit of indoor wearing. Here's what I experienced:
Out of box comfort was immediate, of course—there is really nothing to soften or "break in"— if these shoes are not comfortable straightaway they are not going to be comfortable, I would say!
They were fantastically light, and I loved looking at the ladies' version (the mens were plain black, not very exciting...). They did seem to fit, they did not crush the ball of my foot as most boots and shoes do, they did not slip at the heel, they were snug around the ankle collar but did not put pressure on my Achilles tendon (another common trouble spot for me!).
And yet, they felt decidedly odd. I felt as though I were perched somehow *above* the sole of the shoe in the inside of the arch area, rather than being securely nestled down into it. There was a strange feeling as though the inside of my feet, inside the ankle and around the arch area, was sort of suspended above air, cantilevered almost, as though there were no sole underneath this area. This was although the heel cup was nicely cupping my heels securely.
The (very knowledgable and experienced) shoe shop person agreed with my observations and said that this is the style of the shoe and I'd get used to it. I had to size up a bit (above what the foot length measurement would indicate) to get the width in the mid and forefoot area, but this is normal for me! There was plenty of toeroom and in general I found them exciting—they made me feel like a race horse ready to hit the track!
Out on the trail, my impressions were that the boots were far more flimsy than what I was used to, but I really loved the feeling of lightness. There was far less support of my ankles than I get from full grain leather; the rubber rands on the front did give the some protection from bumping toes against rocks. The ankle cuffs were really there just to protect the ankles from knocks and scrapes and also had the important effect of preventing the feet from slipping forward on downhills (they did this well). But they didn't offer much support and I felt it would be easy to roll ankles in these. Underfoot traction on wet rocks was excellent, and I found the soles stiff enough and supportive on rocky trails. 
I was disturbed after my first hour-long outing during light rain to find my socks wet and the shoes were wet inside, especially in the toebox and underneath the feet—my socks were very damp. I had not experienced this in my other trail shoes or leather hiking boots, all of which are Goretex lined. When I removed the footbed I was looking at some sort of blue foam plasticky stuff underneath (not a stitched-in liner "sock" such as my other boots have always had), and it was very wet to the touch. I wondered if the shoes were somehow leaking water up through the soles! To test it further I let them dry out for a few days then wore them for an hour in an indoor shopping centre which was, of course, completely dry. The same thing happened—they were wet inside. So, not leaking. But this was a new one for me!
As you will read elsewhere, the laces are a bit annoying. I could not get them to stay tied up, they kept working loose. This wouldn't have been a deal-breaker, I'd have replaced them if I'd kept the boots longer.
What made me give up on these boots eventually, was a pressure point on the inside of my foot, beneath the ankle. One of the pictures above shows the inside of one of the boots (lying on its side) and you can see the black band that runs around the heel and beneath the ankle bone on the sides of the boot—I believe this is what was causing the pressure.
It was noticeable from the beginning, but initially not particularly uncomfortable. It even felt sort of nice, like my ankle area was in a sort of supportive sling. However, it caused a pressure pain which got worse and worse the more I wore these boots, and got very bad after a walk where I carried a backpack to see what would happen. When I started to get shooting type nerve pains up into my shin (like "funny bone" pains) I stopped wearing them. I have never had this pain before or since, thank goodness - these boots simply were not right for me.
I hope that if you have similar feet to mine (you have my sympathy if you do!) you might find this review helpful. 
I cannot comment on the durability of these boots as I did not wear them long enough. They are also the first pair of synthetic boots I've trialled for any extended period so I don't know if this level of moisture buildup is normal for these materials. I just know I don't have this issue with my leather boots or my Oboz trail shoes.
I have found a pair of leather boots that works much better for me, and when/if trailspace adds the Anatom Q3 Braeriach boot to its product list, I'll be happy to review that too.
Happy trails!
Experience
Trialled these boots in indoor and outdoor environments, both dayhiking and carrying a backpack—both male and female versions and a couple of different sizes. I have been a bushwalker/hiker/backpacker for many years, but this is the first pair of synthetic above ankle boots that seemed to fit well enough for me to trial outside the shop!
Source: bought it new
Price Paid: $300 AUD


All Quest 4D 3 GTX versions
In addition to the 1 women's review above, there is 1 review for another version of the Quest 4D 3 GTX. Read all reviews »
You May Like
Recently on Trailspace