Sazzi Digit

#3 in unisex Sport Sandals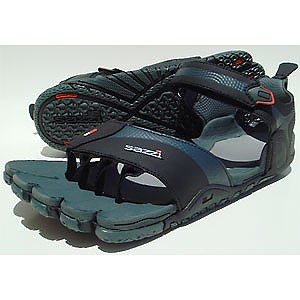 Sazzi's take on the traditional water sandal provides some unique and helpful innovations. Having independent toe movement helps with balance in a lot of situations. Also, the individual toe separators help stabilize your feet. These features, plus a comfortable fit and a sole that is very grippy in wet conditions, made this a winner for me.
Pros
Relatively lightweight
Individual big toe helps with balance
Better forefoot stability than most
Comfortable
Sole does great in wet conditions
Cons
Waterproof materials can create hot spots
Toe separators can feel weird when first using them
This is a follow up to my review of the Sazzi Decimal, a flip-flop with some unusual design features.
For this review, Trailspace and Sazzi provided a size 11 1/2 pair of the Digit sandal. In many ways, the Digit and Decimal share key similarities — the outsole, the individual pieces of nylon between each toe, the non-absorbent materials used for the straps, and the comfort and thickness of the footbed are all similar if not entirely identical.  The sandals arrived in nice zippered bag that says the bag and the sandals are made from recyclable materials and can themselves be recycled.
Features:
The Digit is different than the Decimal in some important ways.  First, the Digit has a somewhat stiffer sole, no doubt due to the thin shank embedded in the midsole — you can't fold the sole in half like a flip-flop, and the shank offers somewhat better protection from pointy rocks underfoot. 
Second, and most obviously, the Digit has a hook and loop closure ankle strap that uses one small metal piece of hardware, but is otherwise just strap material. 
Third, not surprisingly, the Digit weighed a few ounces more — 19.8 ounces on my kitchen scale. Still, that is lighter-weight than many competing water sandals.  
Fourth, the toe design is somewhat different, which I talk about in the "fit" category below.
Finally, the fit was a little different, as I will discuss below.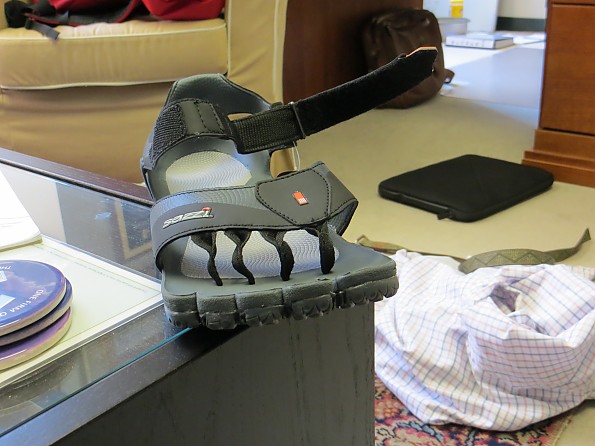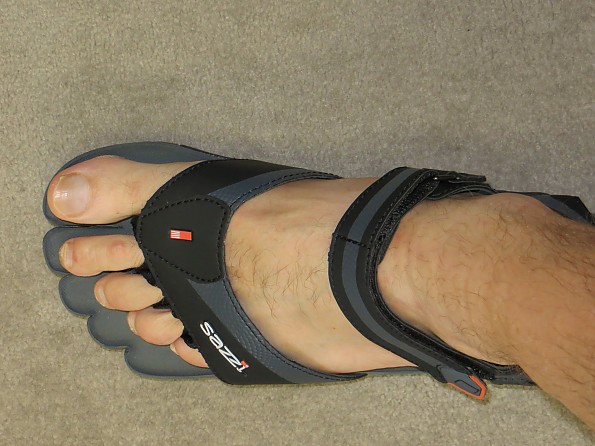 Fit:
The front strap did a good job accommodating my E width feet — a somewhat less confining fit than the Decimal. The ankle strap is easy to use and kept my heels firmly in place. The length is true to size. 
As I previously noted, the small pieces of nylon between each toe take some getting used to, and they mean it takes a little more time to put the sandals on. However, they also provide meaningful additional stability/security for the front of your foot compared with other water sandals that have the single "flip flop" strap between your first and second toes. 
Because the sandal fit so well, I suffered no blisters and only one hot spot after wearing these for a number of weeks. Also, having the ankle strap made the pieces between each toe less noticeable. Even on reasonably steep downhills, I felt only limited pressure between each toe. As a result of the ankle strap and the between-toe fabric, my feet felt very secure in these sandals.  Whether I was using them to hike up and down steep sections of trail or bashing around in the water, I never felt like my feet were sliding around. 
One interesting difference between the Digit and the Decimal is the toes. The Decimal, the flip flop, has five toes that move independent of each other. The Digit has big toe that moves independently, and the other four toes are together, more like a traditional water sandal.
It's a design difference that did not have much impact on how the shoes feel; the flip-flop's fully independent toes give you a slightly better feel for the ground. However, the main benefit, from my experience, is that having an independently-moving big toe gives you a better feel for the ground and better balance. I noticed this in particular when I was traversing up and down angled trails and could feel the toes moving independently when I walked across (rather than straight up and down) the hilly parts.
Traction:
The sole on the Digit is fairly shallow, clearly not designed to be a lug sole for hard trails, but rather intended for walking on flatter surfaces and in water. A lot of the walking I did was on the C&O Canal towpath, which is basically dirt with some loose sand and small rocks occasionally. They are perfectly fine for that. 
However, like the Decimal, I thought the sole had really good grip on wet rocks and wanted to check that out.  On one occasion, I scrambled up some pretty steep, smooth rocks on a trail next to the Potomac River not long after it rained, and the sandals didn't slip or lose traction.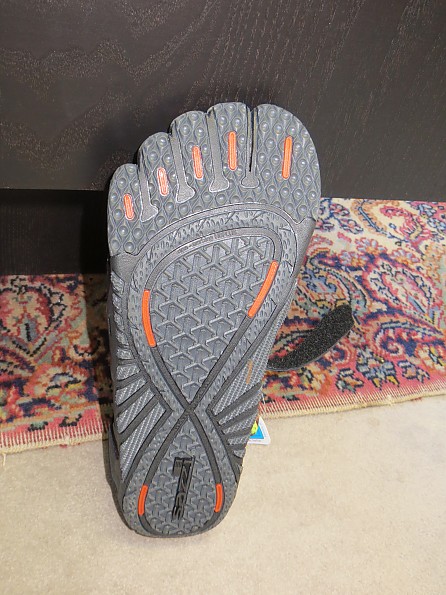 I also spent a fair bit of time walking around in the nearby Potomac River because we had such a warm fall. I thought these sandals would be good for stream crossings and wanted to check that out.
The Potomac has some small islands that one can wade out to, and the riverbed is coated with moss, silt, slime, and smooth rocks. So, in a small offshoot of the Potomac, where the water doesn't flow as quickly as the main river, I walked across a lot of smooth and sometimes very slick/slimy rocks. 
For the most part, the sandals gripped well; on a few occasions, I skidded a little if I wasn't careful. The only water shoes or sandals I have used that have better water traction are shoes with very sticky black rubber soles, the ones that can mark up your floors if you aren't careful, and a pair of water guide shoes that use a sticky sole that is siped, kind of like a pair of deck shoes for sailing.
Anyway, water and wet traction is a strength for this sandal.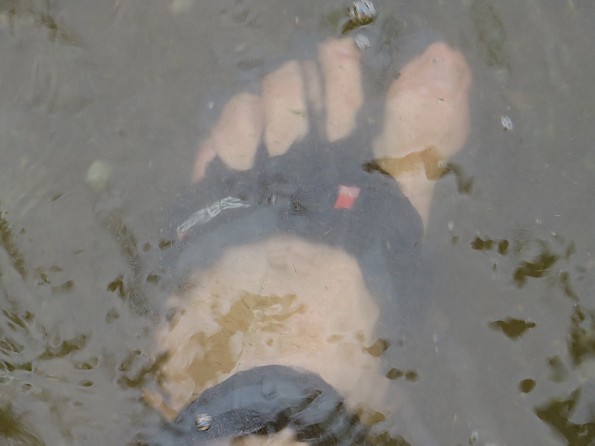 Underwater and on partially-submerged slimy rocks, I felt like I had very good traction.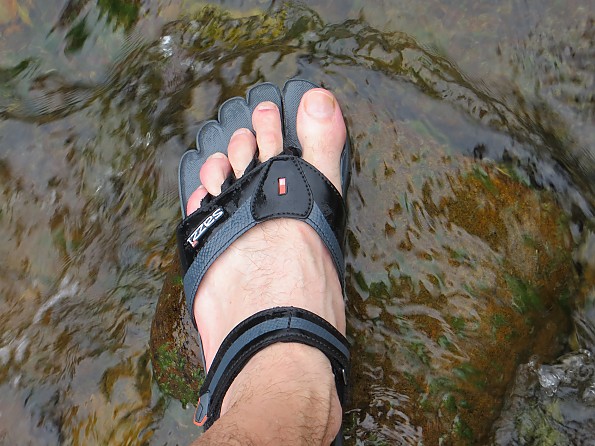 Uses: 
I did quite a bit of hiking in these sandals, so long as the conditions weren't too rough. Sometimes, I was on a cobblestone hill near my office. I walked many miles on the dirt towpath. On a couple of occasions, I took them on more difficult/rocky trails, either beside the Potomac River or up and down Sugarloaf Mountain, a nice hike that's a 30-40 minute drive from where we live. 
The sandals are fine and comfortable for normal walking and at home in the water. On the steep and rocky parts of the Potomac River trails, I had to be fairly careful to avoid stubbing my toes, and I tried to avoid stepping on really pointy rocks. 
With the open toes and lack of foot protection, I do not recommend using these (or any other sandal, frankly) for trails where you want your feet and toes a little more protected or for canoeing where you might run into some significant portages.  However, they definitely provided better protection for the bottoms of my feet and better stability, when I did stray onto the harder trails, than the flip-flop version.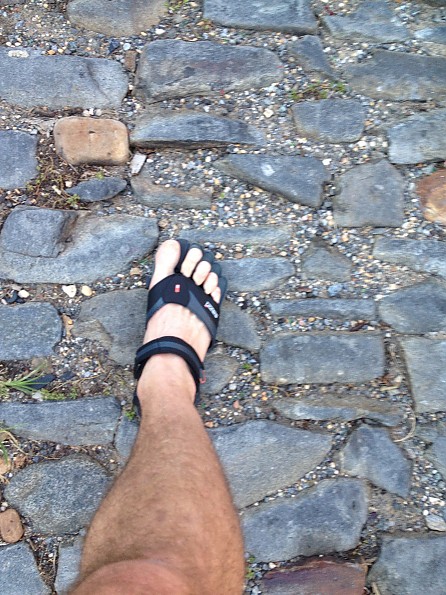 These have more than enough cushioning and stability for the cobblestones.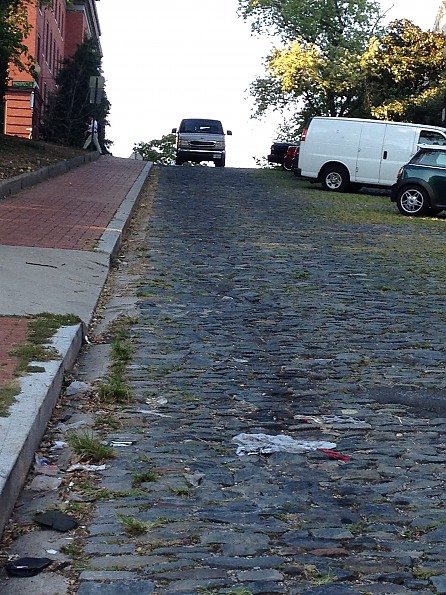 I used these on some rocky sections where I felt like I was pushing the envelope due to concerns about whacking my toes and feet, like any sandal.  Traction was fine, though, and these rocks were still wet in spots.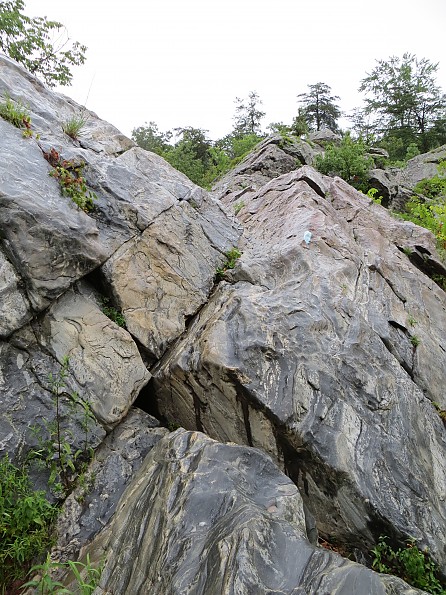 I also used them in the water on a number of occasions, which I talked more about in discussing their traction in wet conditions. I highly recommend these around water – having a big toe that moves independent of the rest of the sandal is nice and gave me the feeling that I had slightly better balance, and they have great traction. I would have liked to use them for canoeing, but did not have the opportunity. 
Durability:
I didn't have a chance to test out the hook/loop on the straps by really gumming them up, which would have been interesting because river sand and silt can foul up hook/loop closures. Otherwise, like the flip-flop version, the straps and sole are not showing any appreciable wear after quite a few miles. It's a well-made sandal that isn't going to quickly wear out or fall apart. 
Recommended Use:
Light hiking; activities in and around water, like stream or river crossings; water sports, like canoeing; and just plain walking around, because this is a pretty comfortable and good-looking sandal. I liked them a lot and would not hesitate to reach for them when I'm on or around the river, or on the easier trails in the summer. 
I would eventually like to see a version of this shoe with polyester straps rather than 'waterproof' materials, but overall, I was very pleased to be able to compare the flip-flop Decimal and sandal Digit versions of this shoe and thought this sandal was a better fit for a hiking-oriented audience.
Source: received for testing via the Trailspace Review Corps (sample provided by Sazzi for testing and review)

Your Review
You May Like
Specs
| | |
| --- | --- |
| Price | MSRP: $100.00 |
| Weight | 440 g/15.5 oz |
Recently on Trailspace