Sazzi Decimal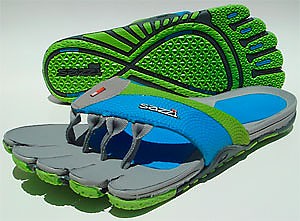 A unique revision of the flip-flop that has some nice foot stability and ground feel. Their light weight, relatively sticky sole, and improved toe motion makes them an interesting alternative for stream crossings. Unforgiving waterproof instep straps can create blister challenges, however. The individual toe separators did not feel great on steep downhills but otherwise did a very good job keeping my feet in place.
Pros
Comfortable footbed
Individual toes mean somewhat better balance
Individual toe separation helps sandals stay on in water
Lightweight
Fairly sticky sole works well in wet conditions
Cons
Individual toe separators cause pressure on downhills
Main instep strap's waterproof material is unforgiving and caused blisters
Sazzi's take on the classic flip-flop offers some potentially interesting improvements. My impression is that Sazzi's innovations have some validity but that the sandals could benefit from some improvements. 
Observations Out Of The Box
The size 12 pair I received weighed 15.2 ounces on our kitchen food scale. To put them in perspective, these sandals weighed 3.4 ounces more than a similar-sized pair of Vibram Fivefingers and 1.2 ounces more than a pair of Crocs. They are significantly lighter than several popular brands of water shoes and sandals, as well as my favorite flip-flops acquired years ago in Hawaii.
Fresh out of the box and the nice storage bag, I immediately noticed the midsole is made of a few different materials, and the toe portion is unusual. I admit to some initial skepticism about the functionality of the toes.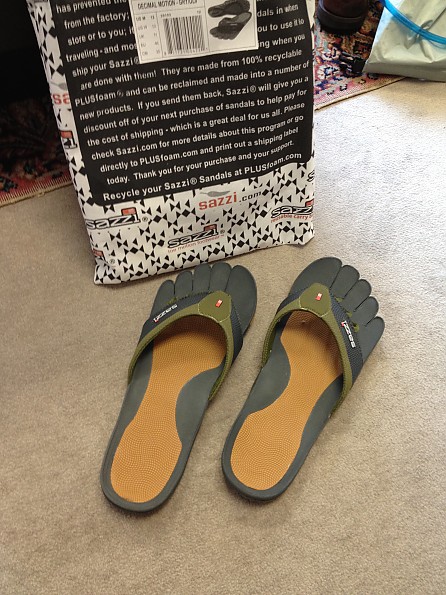 The individual toes are not the only unusual feature. There are four individual pieces of nylon that separate each toe, a decidedly different take on the normal flip-flop's single strip.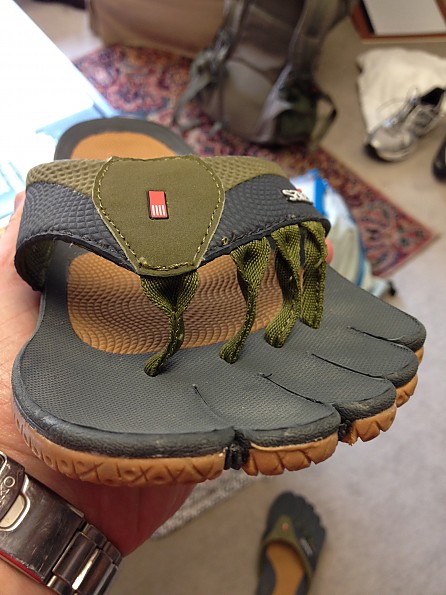 The sole pattern looks busy, but the tread pattern and material combined to make these very good in wet and slick trail conditions.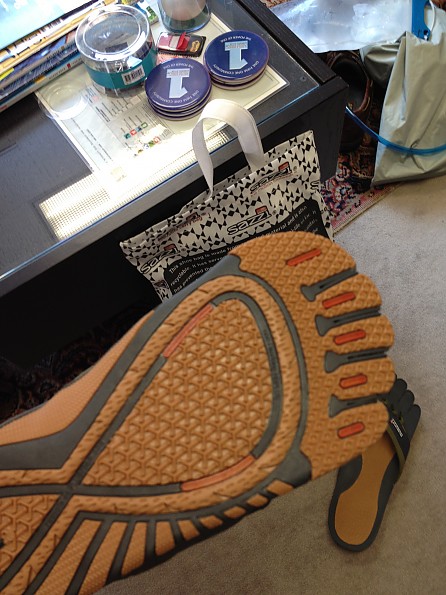 The Testing Grounds
To test these sandals, I walked in them a lot. Sometimes, I just walked around in them running errands and going to and from the pool on weekends, normal flip-flop usage. I also used them for distances and under conditions where I wouldn't normally use a pair of flip-flops. One of my favorite walks is a four mile loop that combines paved streets, cobblestone-paved hills, and dirt trails; I took the Decimals on this walk six or seven times.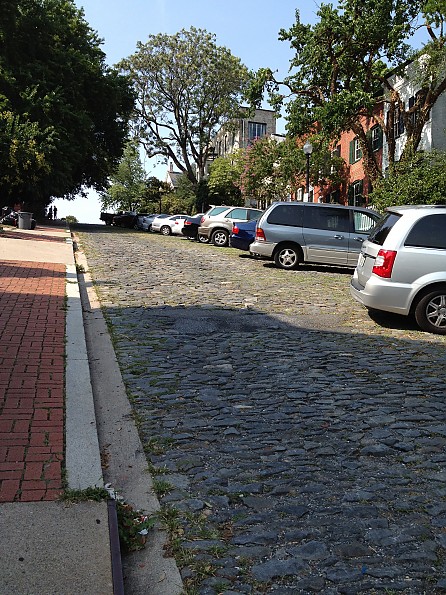 The main cobblestone hill, near Georgetown University.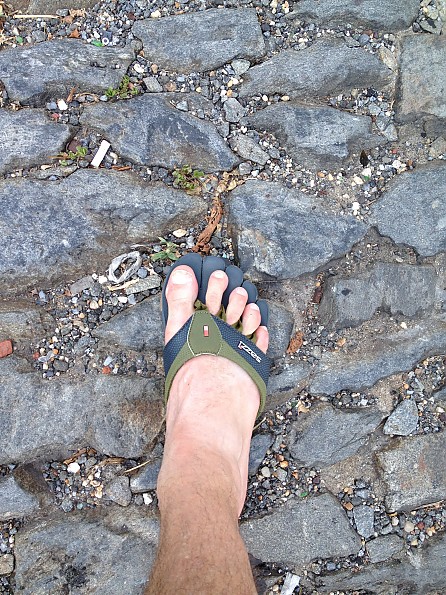 I made a point of not only walking up and down the uneven street, but also moving laterally to see how the Decimals would stay on my feet and feel on the ground.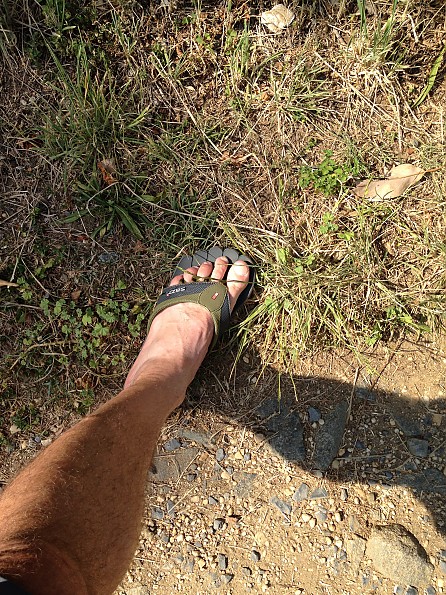 The dirt path portion of this loop runs adjacent to the C&O Canal and is fairly flat. I also wore the Decimals on a half-dozen hikes on different legs of the Billy Goat Trail, parts A, B, and C, all of which run in the rocky areas in the Maryland side of the Potomac River.  
A couple of those days were wet and rainy. I normally would not wear flip flops on these trails but wanted to figure out how these would function in those conditions. Sazzi makes a similar shoe (the Digit) with an ankle strap that would probably be a better match for these conditions.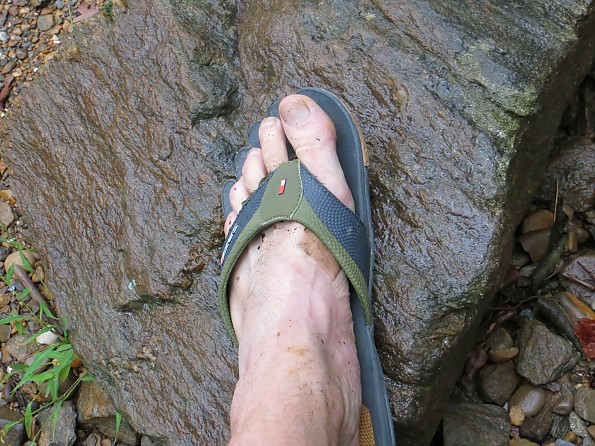 On one very wet day, I hiked during and after a deluge that flooded parts of the trail.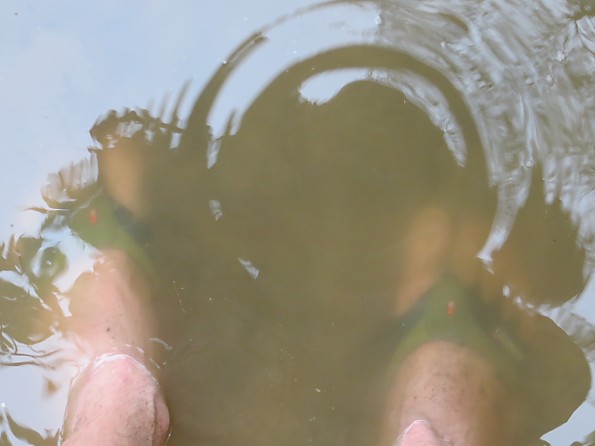 My Takeaways
1.  The individual toes take some time to loosen up and truly move individually. Initially, they feel somewhat stuck together. After a few miles and some uneven terrain, the toes start to move independently of each other. When that happens, the separate toes make it a little easier to 'feel' the terrain and improve your balance as a result. This was particularly apparent on the trail and walking laterally across the cobblestone hill.
2. The midsole is all-day comfortable without being so thick that you don't feel the ground. It provides a fair bit more protection than a Fivefinger shoe and feels more firm and supportive than an inexpensive flip flop. Overall, I liked the nice combination of softness and support. It's a winner. The only shortcoming I found was that I felt really pointy rocks, but that is the case with any shoe that has a thinner midsole and is generally this lightweight.  
3. The individual toe separators help the Decimal stay on your feet and distribute force better than normal flip flops. Nonetheless, and not surprisingly, this is still basically a flip-flop and not well-suited for hiking on uneven or rocky trails. They felt fine on a dirt path and pavement. On steeper downhill grades, those toe separators put uncomfortable pressure between my toes. 
4.  This is a great sole for wet conditions. Apart from super-grippy marking soles and heavily siped water treads, these did great along the river and on wet, rocky trails. I was surprised at the traction, particularly considering that they don't have an ankle strap.  
5.  This shoe is well-suited to river and stream crossings when you are hiking because it dries very quickly.  Other than the thin nylon straps between each toe, there isn't any other material that absorbs water. They are light enough to carry attached to your pack with a carabiner.  
6.  The least comfortable part of the Decimal, for me, was the main strap across the foot. The strap is "waterproof," which means it feels almost rubbery. The material felt hard against my feet and caused persistent blisters on both of my insteps when I used the Decimals for the longer walks. I ended up wearing moleskin on each instep to avoid this. The strap material did not soften up or become more forgiving with use. I would have appreciated straps made out of nylon or polyester webbing, which I think might help solve this issue. In fairness, i have a fairly wide foot, and a lower-volume foot might not experience this challenge. 
Conclusion
I appreciated the opportunity to test these sandals for the review corps. The Sazzi Decimal is comfortable for normal flip-flop use and a very good option for river or stream crossings during a backpacking trip. I would not recommend doing longer hikes in the Decimal, but I don't take longer hikes in any flip-flop and very few water shoes or sandals either.  
Source: received for testing via the Trailspace Review Corps (sample provided by Sazzi)

Your Review
You May Like
Specs
per pair Women's 7
per pair Men's 9
Price
MSRP: $80.00

Weight
245 g/8.6 oz
350 g/12.3 oz
Recently on Trailspace