Sea to Summit Comfort Deluxe Insulated Mat

Top 25 in unisex Air-Filled Sleeping Pads
The Comfort Deluxe Insulated Mat has been discontinued. It was replaced by the Sea to Summit Comfort Plus XT Insulated.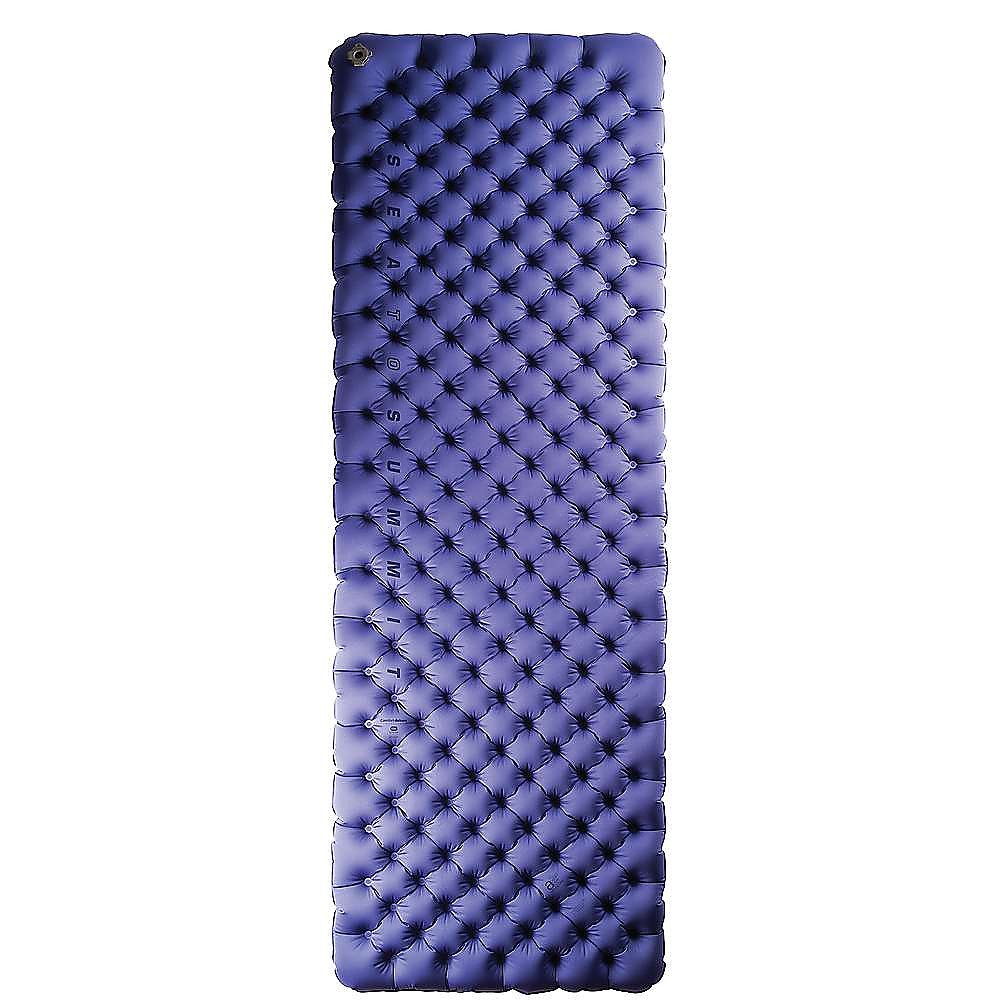 If you have room for one luxury item, this should be it.
Pros
Insulated
Double sided
Very supportive
Extremely comfortable
Cons
Expensive
Bulky for backpacking
Heavy for backpacking
I don't believe these are available anymore, but the Sea to Summit Comfort Plus XT Insulated air sleeping mat seems to be the direct replacement. It has the same specifications and looks. The only difference I can find other than the color is that the new Plus XT is an inch wider, which is good, but it's also 6.3 ounces heavier and an inch taller when packed as a result.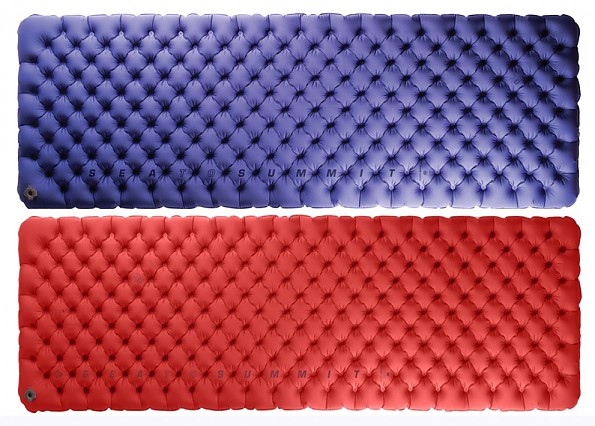 Sea to Summit is an Australian company with US headquarters in Boulder, Colorado. Their stated goal is strive to bring you closer to the outdoors by designing innovative gear that is nimble and light, but serious enough to deliver when called into duty.
Their journey really took off in 1990 when founder Roland Tyson, who'd been making his own gear using an antique sewing machine in his bedroom since 1983, was commissioned by Tim Macartney-Snape to make the gear he'd use in an audacious attempt to climb Mt. Everest by beginning his ascent at sea level, at the Bay of Bengal. His five-month trek from sea to summit was a success, as was the gear Roland made for him, and a brand was born. You can learn more about their interesting story here....   https://seatosummitusa.com/pages/our-story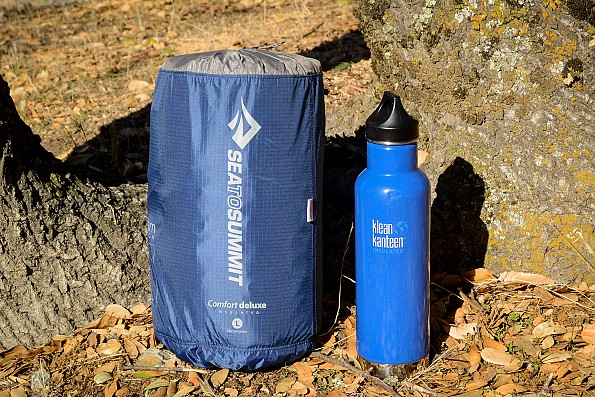 The Comfort Deluxe Insulated Air Mat is definitely not an ultra-light piece of gear, and Sea to Summit does not recommend it for extended backpacking due to its weight. It is recommended for short hikes and basecamp.
It comes in two sizes and I opted for the long, which weighs 2 pounds 7 ounces. Packed in its stuff sack it's 6 inches around by 10 inches tall. While not ultra-light it's still small and light for the level of comfort it provides.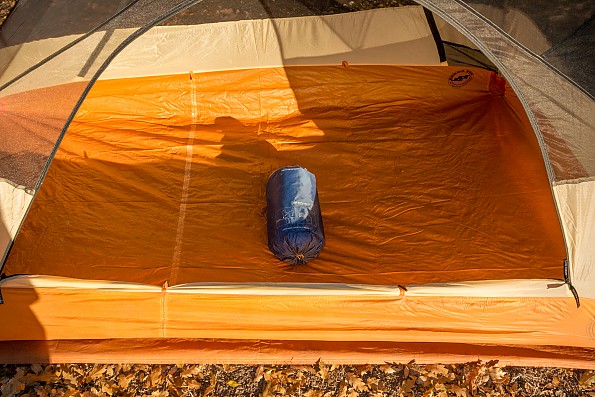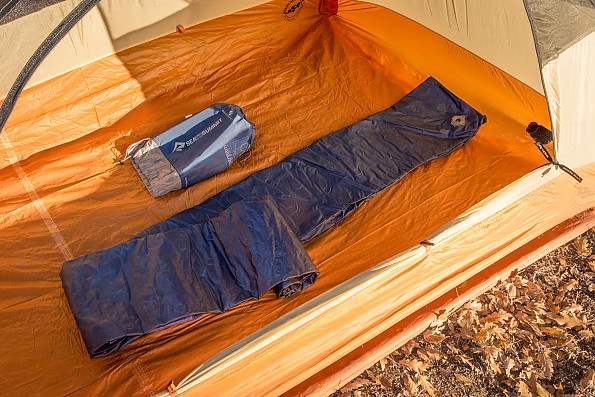 I enjoy kayak camping, and one of the many things I like about camping that way is that it affords me the luxury of carrying a little more gear than backpacking does. While I do love photography, and an extra lens or two and small tripod are welcomed additions to put into that extra space, it's comfort for my aging body that I most appreciate it for, and this sleeping pad is my number one comfort item in that regard.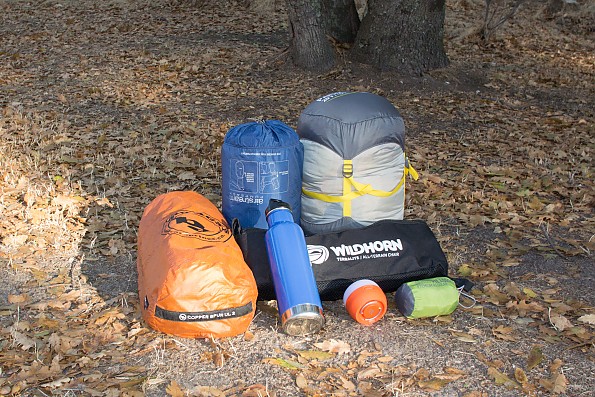 For me, sleeping well is paramount to an enjoyable experience exploring the outdoors. I have a bad back, and waking up miserable countless times throughout the night and then being tired and aching all the next day is not my idea of a good time.  
Luxurious is the best adjective I can think of to describe this sleeping pad. The individual air cells aid circulation while providing superior support. I'm a side sleeper and my hip never touches the ground through it. The top surface is kind of velvety which feels nice to the touch and not quite as cold as plain, smooth plastic. It's also a little more grippy than plain old plastic, which helps keep you from sliding off of it in your sleeping bag.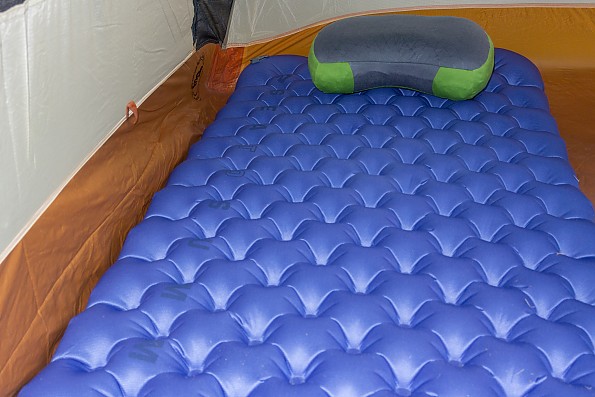 It's a plush three inches thick and is basically two inch-and-a-half thick pads fused together, each having its own valve for filling. This allows the bottom to be filled stiff to isolate your body from the ground while allowing the top to be adjusted for firmness, optimum support and comfort. The double layer design also means you won't wake up to a fully deflated pad should a puncture occur in one of the layers, and a repair kit containing patches and a replacement valve flap is also included.
I have found if I fully inflate both the top and bottom halves it will make my back hurt, but with some of the air let out it's almost as comfortable as the mattress on my bed at home...I kid not. So do take the time to adjust it to your liking as the differences are not a small thing.  
The air valves are two-part and multifunctional. The upper portion is for filling. This section is a one-way valve that lets air in, but not out. There's also a small button in the middle that allows a small amount of air to escape when pushed. This is how you adjust the firmness level to your preference. When you're ready to pack it up you simply pull the lower portion open allowing all the air to escape quickly and easily.

Speaking of getting air in and out, air mattresses are known to get full of mold on the inside, primarily from the warm moist air expelled by our lungs when "blowing them up". Sea to Summit states that their pads are fully treated with an anti-microbial agent to help prevent this, but it's still best to not inflate it that way. So what then, should we carry a pump? Nope, one is already included in the stuff sack. Really.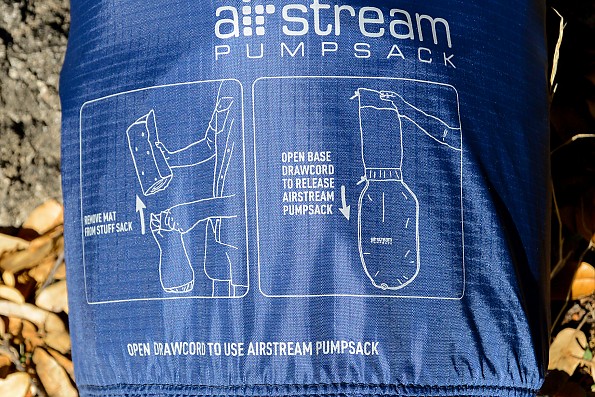 Inflating your pad couldn't be easier using what Sea to Summit calls their Air Stream Pumpsack. Me, I just call it a wind bag. It's simply an extension of the stuff sack that drops out of the bottom with a valve fitting on it. This fitting simply mates to an open valve on the sleeping pad, then all you do is open the top of the stuff sack and point it into the breeze; letting the breeze fill up that lower portion. After that, you just squeeze the top closed and push the captured air into the pad by compressing the "wind bag" with your weight. As an added bonus, you can turn the whole thing inside-out to reveal a smaller valve fitting on the other side.. to inflate your pillow. What will they think of next?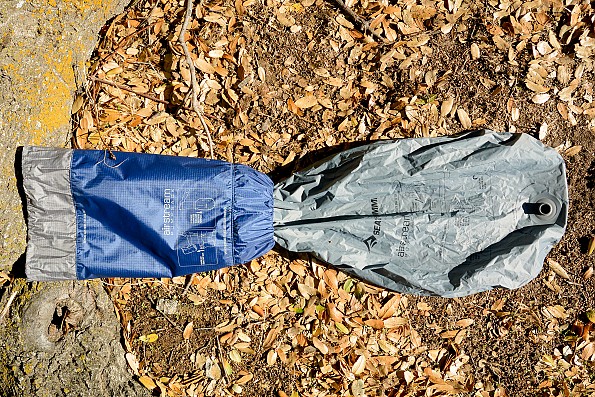 It's actually harder to explain than to do. About four bag fulls of air will fully inflate one half of the sleeping pad. If there's no breeze simply reach in with your arm and "fluff" the wind bag open to fill it with air. It does take a little patience, but it's easy to do and works quite well once you get the hang of it. I find it infinitely easier than using my lungs, and I always finish before my friends who do use their lungs.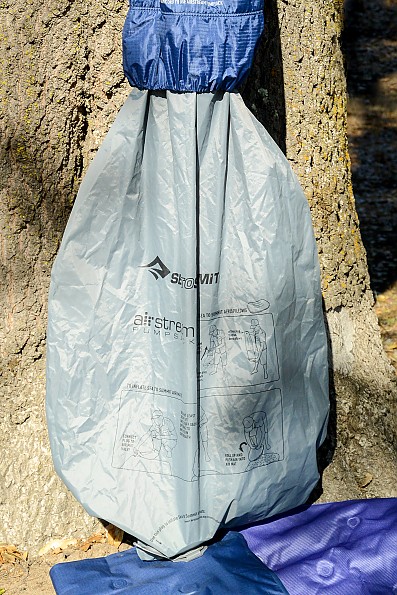 Once filled I have found that adjusting the firmness level is best done while lying down on the pad. That said, I have accidentally pulled a valve fully open by mistake and let out all the air in that section more than once when attempting to do this. I've found this is an easy mistake to make, so you do need to be careful to just pull the top portion and not the whole thing when opening a valve for adjustment.  
The Comfort Deluxe is a four-season pad and has a stated R value of 5, which means it's insulated better than most air filled sleeping pads. I've woken in the morning to ice on my tent and didn't notice the cold ground in the least during the night. So it definitely does a good job of insulating you from the cold ground. Some insulated air pads can be quite noisy, crinkling and crunching every time you move. I've noticed no such problems with this one.
My long version fits inside my Big Agnes Copper Spur UL2 perfectly when inflated, just touching the tent at both ends. It's wide enough to get the job done, though personally I'd welcome that extra inch of width on the new version as the added weight and bulk wouldn't be a big deal for me, though your milage may vary. It's unbelievably comfortable and I wouldn't dream of sleeping on the ground without it. If I ever find myself backpacking, I will find a way to pack it—it really is that good.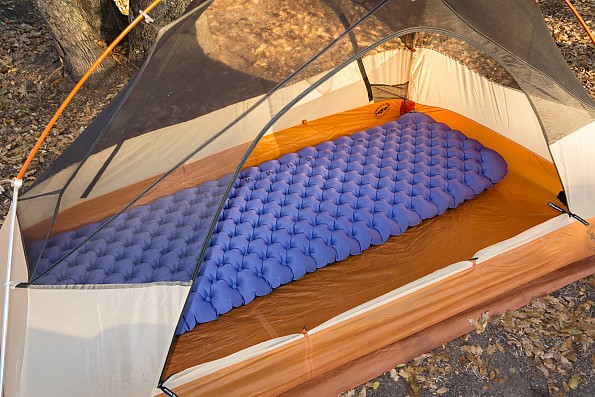 So that's pretty much it. Like all quality gear it's a bit pricey and in this case a little bulky, but worth every bit of all of it. If you can make room for only one luxury item in your kit, this is probably the one you'll want. You'll wake up quite happy with your choice.
Experience
I've had this pad for a couple of years now and I've spent as many as 11 consecutive nights sleeping on it. I've always had a good nights sleep on this pad and have never regretted what I've spent in terms of money, weight, or space. I'd recommended it to anyone looking for a comfortable sleeping pad that's not ultra-light, but not too bulky either.
Source: bought it new
Price Paid: $179

Your Review
You May Like
Specs
Price
Historic Range: $153.77-$239.95
Reviewers Paid: $179.00

Recently on Trailspace