Sea to Summit Ether Light XT Extreme Insulated


Version reviewed: Large
A super comfy lightweight mat for warm sleep in cold conditions. When the conditions are "extreme," the Ether Light XT Extreme Insulated pad delivers. The Thermolite insulation helps you forget that you are sleeping on the ground, and it is completely worth the bulk and weight.
Pros
Air Sprung Cell construction for excellent comfort and stability
Extra thick (4") for comfort in all positions
Good insulation (R 6.2)
Stuff sack inflation helps prevent moisture inside the mattress
Packs easily
Good bulk and weight for the comfort level
Cons
The pillow lock system is a great idea, but in real-world practice, only sort-of works
I have been a fan of the Sea to Summit UltraLight Insulated mat for a few years now, and have reviewed it here previously. For the weight and packability (16 oz), it provides really good comfort in warmer weather. But in colder winter and shoulder season temps, I have used a bulkier/heavier Therm-a-Rest mat, as the UltraLight Insulated really isn't up to the task.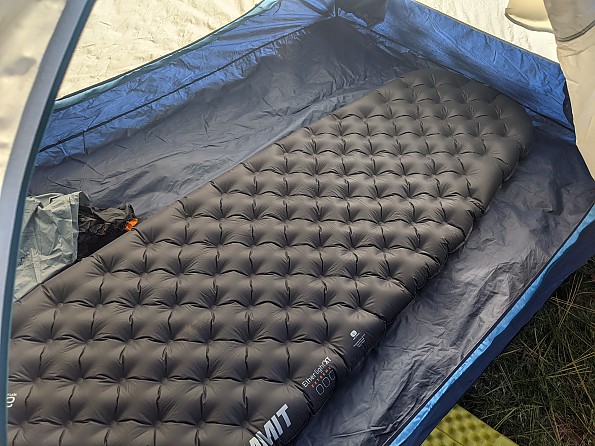 So, when the chance to try the Ether Light XT Extreme Insulated mat came along, I was eager to give it a go. I tested the "Large" model.
Comfort: At four inches thick, the cush level exceeds the older Therm-a-Rest Basecamp AF pad (2.5") I use for car camping.
I tend to be a side sleeper, and at no time did I ever feel like I was "on the ground" with the Ether Light XT Extreme Insulated. You can finesse the inflation level using the valve, by letting small amounts of air out without losing inflation. The Air Sprung Cell construction is very similar to the S2S UltraLight Insulated mat, and makes for great stability, so I never feel like I'm going to roll off of the pad during the night.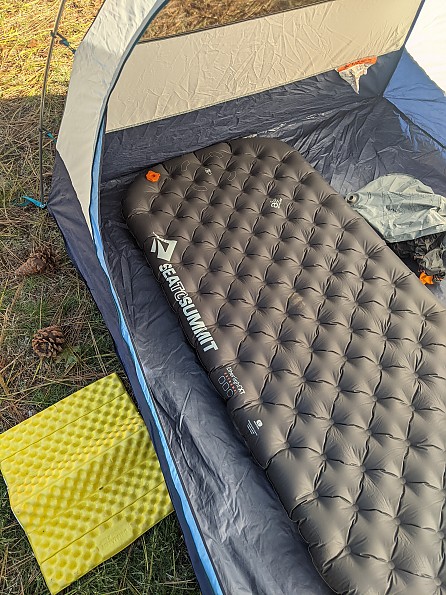 Warmth: This four-season mattress has an R rating of 6.2, so exactly double the UltraLight mat at 3.1 (the women's has an R value of 6.3). And boy does it make a difference. The dual-density Thermolite does a tremendous job of keeping the cold from the ground from seeping up to your bag, even in damp conditions. 

When I used my bulky Therm-a-Rest mat in colder conditions, I found that the low R value of 1.7 doesn't really cut it. So, I would normally add a closed cell foam pat underneath (usually a Therm-a-Rest Z-Rest) to boost the insulation. With this mattress, an extra pad is completely unnecessary.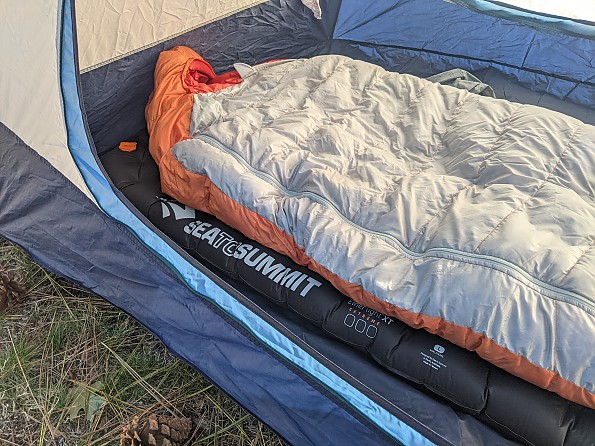 Ease of Use: I was a little dubious of the "Airstream pump-sack" inflation idea, and really didn't see how it would work. But it actually functions really well. There is a port on the stuff sack which plugs into the valve on the mat. From a foot or so away, you blow air into the big open end of the stuff sack, then close the end and roll it up, squeezing the air into the mat. Then you repeat the process until the pad is fully inflated; It generally takes me about seven times to get the pad fully inflated. While this might feel a little bit cumbersome, I can see how it would go a long way in keeping moisture from building up inside the mattress. And I don't get dizzy from blowing into the valve with my mouth!
Deflating is easy… just open the valve and roll it up!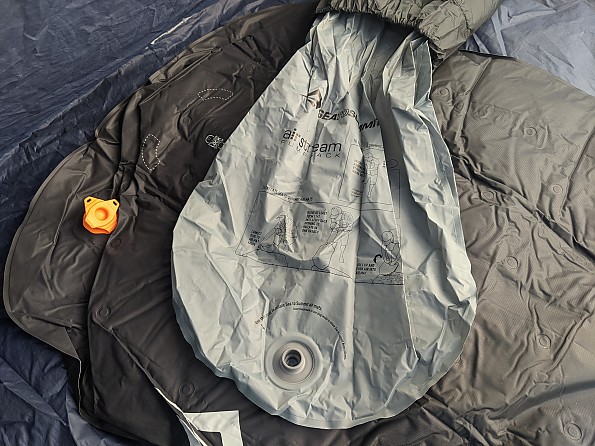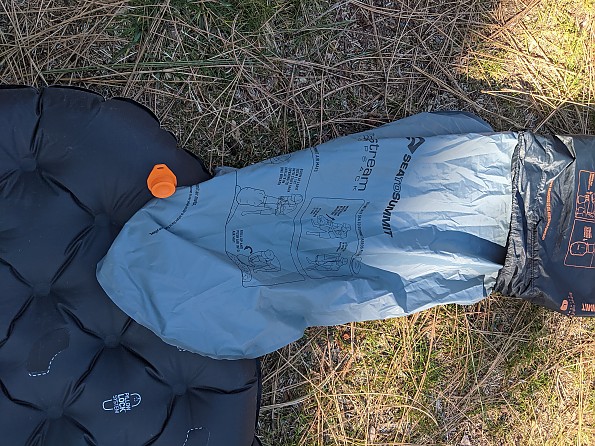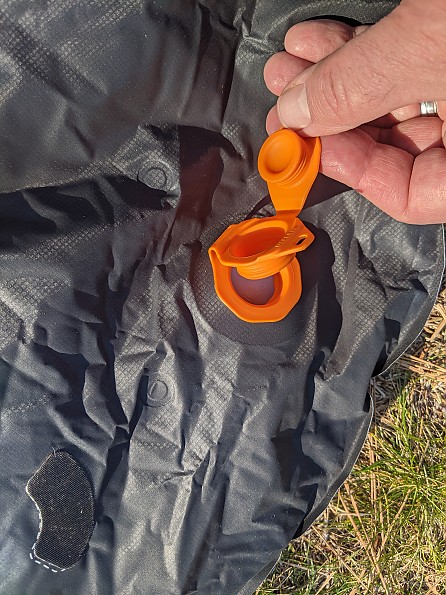 Weight and Packability: The manufacturer lists the weight of the Large mat at 33.5 ounces, just a shade over two pounds, with the Regular size coming in at 25.4 ounces, a little over a pound and a half. My scale shows the weight of the large at 36 ounces with the stuff sack. I've carried mats heavier than this in the past, and considering the extra warmth and cush, I'm okay with that.
The manufacturer shows the stuffed size to be 7.3 x 11 inches. I measured it at 12 inches, about the same size as a jumbo roll of paper towels. The mat is fairly easy to get in and out of the stuff sack. I've had some other mats in the past that were a major endeavor to get back into the stuff sack. While it's bulkier than most mats I take on the trail, it's still smaller than the Therm-a-Rest I use for car camping.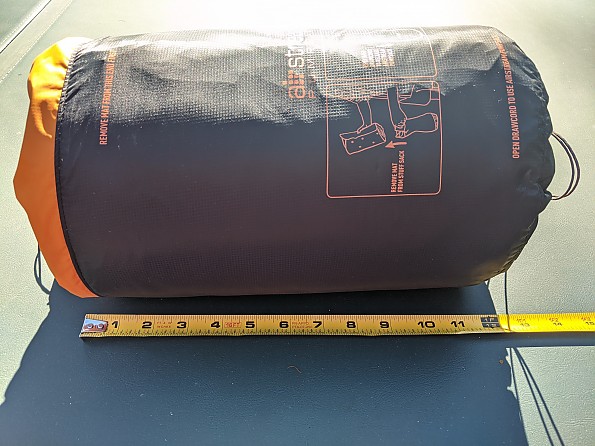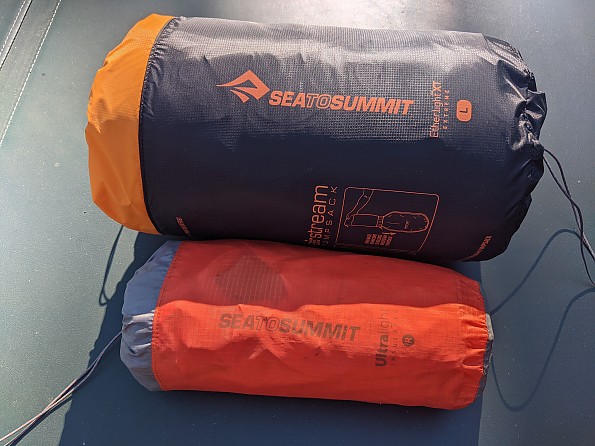 Pillow feature: One of the interesting features of this pad, is the ability to attach any Sea to Summit inflatable pillow to the mat (I have a Sea to Summit Aeros Ultralight pillow). I tend to be a rather restless sleeper, so I am constantly having to pull my pillow back up under my head during the night.
There are four adhesive loop and hook patches which can be attached to the top of the mattress. The fabric backing on the patches grip the back of the pillow. However, this is only partly successful. If you have the pillow and mattress fully inflated, the pillow and the patches don't always line up, and the pillow can slip. I found when my head was on the pillow, it stood firm. But as soon as I lifted my head, you could hear it detach from the mat. So it "sort of" works.
Bonus: The Airstream pump sack also can be used to inflate the pillow. One puff easily does it.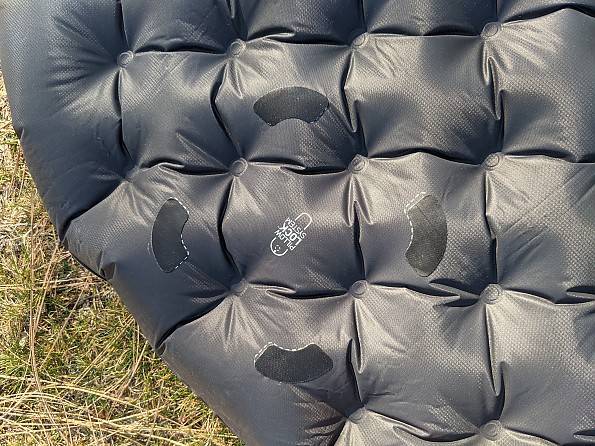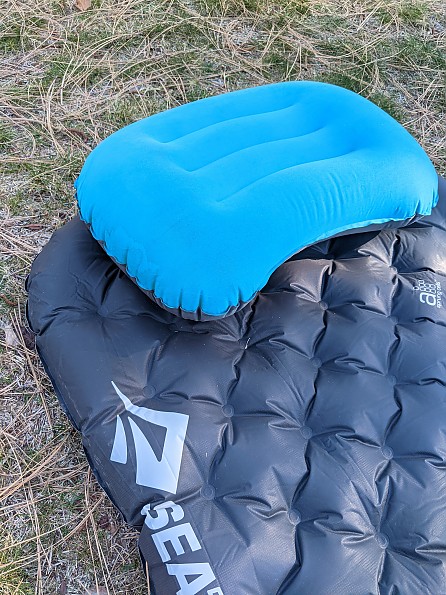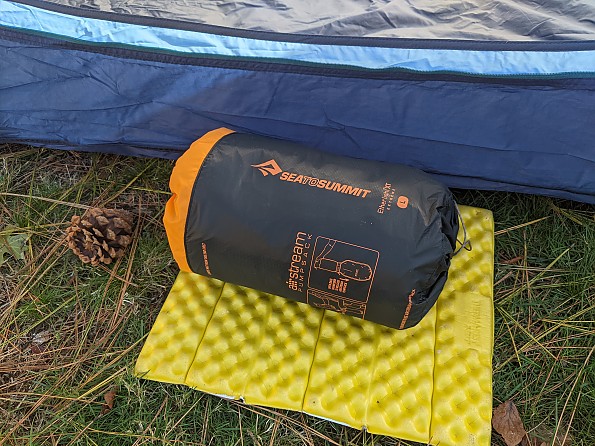 Construction/Durability: Physically, the mat has a similar appearance to the UltraLight Insulated pad, with its welded and laminated Air Spring Cell construction. While I haven't used it enough to know about its long-term durability, with the same construction as the UltraLight Insulated, I expect it should hold up very well (after six years, the UltraLight has yet to develop a leak).
The 30D nylon face fabric has a slightly rough texture to help keep your bag from sliding off during the night. The 40D nylon base fabric feels really substantial, and like it would hold to anything you could throw its way.
Early Conclusions: The Ether Light XT Extreme Insulated is a well-made, warm and cushy mattress, designed for when the temperatures drop. It's easy to inflate and packs down pretty well for its comfort level. I am eager to continue testing it further in the coming months!
Options: The Ether Light XT Extreme Insulated also comes in different versions, including a rectangular version if you like a little larger pad, and a women's version. Manufacturer specs below:
Mummy regular: 25.4 oz / 72 x 21.7"
Mummy large: 33.5 oz / 78 x 25.2"
Rectangular regular: 33.5 oz / 72.1 x 25.2"
Rectangular large: 37 oz / 79.1 x 25.2"
Women's mummy regular: 24.2 oz / 66 X 21.7"
Women's mummy large: 30.7 oz / 72 x 25.2"
Also, note that the women's models have a slightly warmer R value of 6.3.
Experience
Late autumn overnight on a chilly Lake Tahoe evening (41°F). And a couple of sub-freezing nights (27°-28°F) in my Sierra Foothill backyard (my wife told me that I was crazy, which may be true)! The bag I used for testing is the Big Agnes Torchlight UL 20, and the pillow is a Sea-to-Summit Aeros Ultralight pillow.
Source: received for testing via the Trailspace Review Corps (sample for testing and review provided by Sea to Summit)

Super comfy, heavy, large.
Pros
OMG it is comfy!
Best insulation I have ever experienced
I am a confirmed side sleeper (left side down). Bought this mat because I desperately needed a high R-rating pad for camping in single F digits. Thought at the time it was too expensive. But I was warm in single digits on snow in the Sierras on it. 
Used it recently for multi-day backpack in Sierra high country. It is more comfortable than my two Warbonnet hammocks (including a Bridge), my Therm-a-Rest hammock, my Hennessy hammock, even my Select Comfort mattress at home! And...it reflects heat back at you so it feels like you have an electric blanket underneath you.
Honest, I got the best nights of sleep  on this mat in years. I will probably give up on camping hammocks now. It is that good.
Update 8/2023. OK I loved this mat. But it leaked. Looking at reviews online (especially Backcountry) this is a common problem due to a manufacturing defect. So...not so good.  Hopefully a second generation mat is in the works. 
Update 9/2023. I emailed Sea to Summit and asked if they would replace the mat even though it was out of warranty because I read some of the mats had a manufacturing defect. They wanted to see my receipt and the serial number on the mat. And then they sent me a new mat completely free of charge! Did not even ask for the old one back. Have to say with CS like that they just created a loyal customer. 
Experience
Backpacking for over 50 years
Source: bought it new
Price Paid: $220

Your Review
Where to Buy
Help support this site by making your next gear purchase through one of the links above. Click a link, buy what you need, and the seller will contribute a portion of the purchase price to support Trailspace's independent gear reviews.
You May Like
Specs
Men's
regular
large
rec regular wide
rec large
Price
Current Retail: $219.00-$239.99
Historic Range: $159.16-$239.99
Reviewers Paid: $220.00

Best Use
Cold Weather Backpacking

R-Value
6.2

Season Rating
4 Season

Weight
25.4 oz / 720 g
33.5 oz / 950 g
33.5 oz / 950 g
37 oz / 1050 g
Dimensions
72 x 21.7in / 183 x 55 cm
78 x 25.2 in / 198 x 64 cm
72.1 x 25.2 in / 183 x 64 cm
79.1 x 25.2 in / 201 x 64 cm
Packed Size
6.9 x 9.4 in / 17.5 x 24 cm
7.3 x 11 in / 18.5 x 28 cm
7.3 x 11 in / 18.5 x 28 cm
7.3 x 11 in / 18.5 x 28 cm
Thickness
4 in / 10 cm

Fabric
Durable 30D/40D nylon

Comes With
Stuff sack w/ integrated pump, repair kit & Pillow Lock

Women's
regular
long
Price
Current Retail: $219.00-$239.00
Historic Range: $159.16-$239.00

Best Use
Cold Weather Backpacking

R-Value
6.3

Season Rating
4 Season

Weight
24.2 oz / 685 g
30.7 oz / 870 g
Dimensions
66 x 21.7 in / 168 x 55 cm
72 x 25.2 in / 183 x 64 cm
Packed Size
6.9 x 9.4 in / 17.5 x 24 cm
7.3 x 11 in / 18.5 x 28 cm
Thickness
4 in / 10 cm

Fabric
Durable 30D/40D nylon

Comes With
Stuff sack w/ integrated pump, repair kit & Pillow Lock