Sea to Summit eVent Compression Dry Sack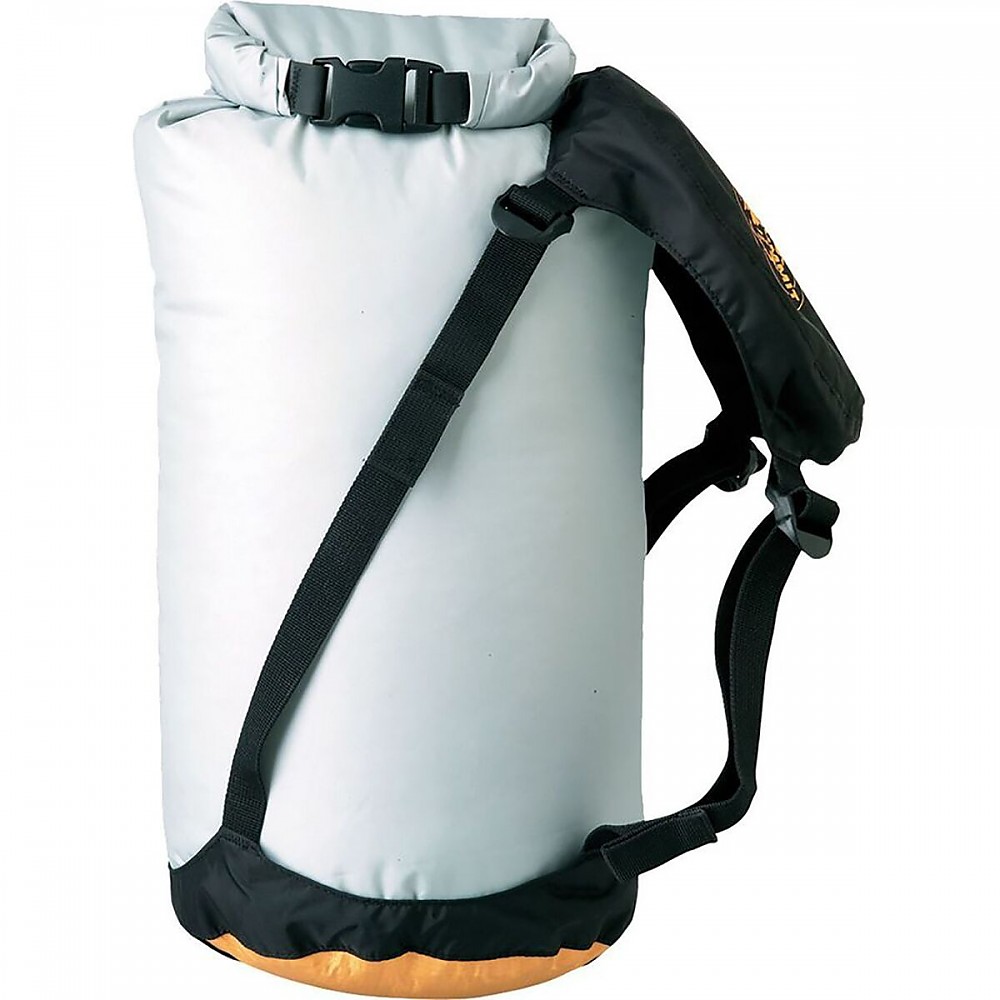 A necessary accessory for any down sleeping bag, combining water resistance with good compression. A bit heavyweight, but it's definitely lighter than a pound of water inside your sleeping bag. Quite durable and very convenient to use.
Pros
Offers good protection from accidental water exposure
Easily compressible
Durable 70D Nylon fabric, lasts for years
Offered in various sizes
Cons
A bit heavyweight
Larger sizes are quite expensive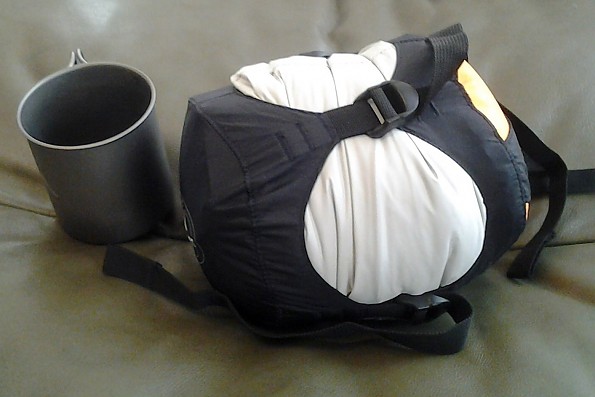 Fully compressed XS bag with 3-season sleeping bag inside (compared to 450ml Toaks mug)
Before purchasing a pair of such bags in 2013 I traveled a lot with synthetic sleeping bag packed into a regular fabric compression sack. In bicycle trips sometimes we have to ride under a week-long rains, so a good protection against water exposure (especially in case of sensitive equipment, such as sleeping bag) is a must for us. We know that the water will always find a way under any rain cover.
Traditionally we packed our gear to plastic bags from nearby shop (or carried a roll of durable trash bags in long trips), and in really bad weather we doubled the bags for ultimate protection. But the plastic bags are expendable and they wear quite quickly. In long trip you can never tell surely if your equipment is actually protected at given time.
At some point we started to use the Ortlieb 12L dry bags for our clothes. But with sleeping bags there was a problem: you cannot compress the waterproof bag well, as its fabric doesn't let the air out. After switching to lightweight down sleeping bags (Deuter Trek Lite 250) for our three-season trips I decided to purchase the real waterproof compression sacks. Everybody knows that the down filler shall be kept away from water at any cost. So there were two possible choices for us: Ortlieb compression bag with deflation valve and Sea To Summit bag with eVent membrane fabric.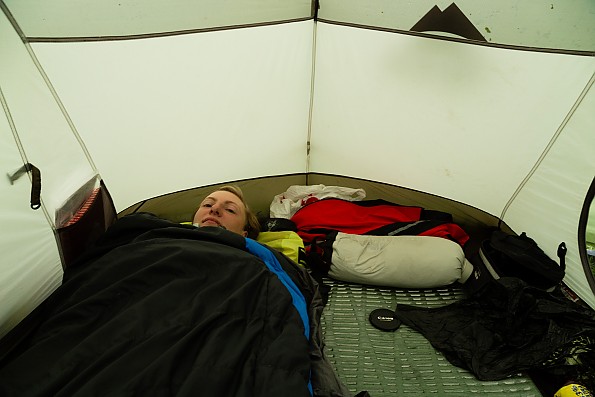 Thanks to being not air-tight, this bag (in larger sizes than XS) may be used as a pillow, when filled with spare clothes

I figured out that using the membrane fabric for letting the air out is what I really want, so I purchased a pair of Sea to Summit XS bags in 2013. In 2015 our child was born, so I purchased one more down sleeping bag for him and the third Sea to Summit bag. We've been using these compression bags since 2013 in all our backcountry activities above freezing temperature. One of the compression bags was a bit damaged due to accidental petrol leak in my fuel bottle, so it's not 100% watertight anymore, but it's still quite good.
Our three XS sacks are seen on this photo, ranging from fully relaxed to fully compressed state: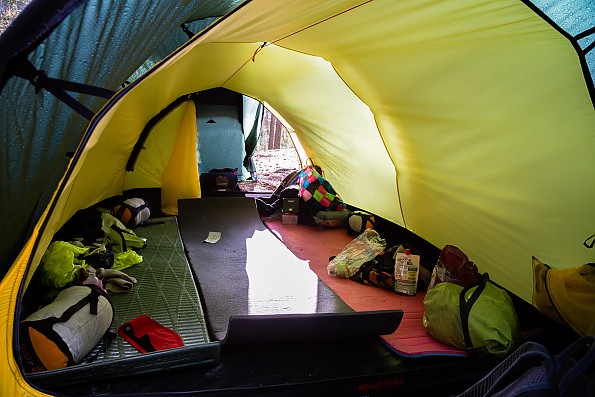 The idea of Sea to Summit eVent bag is quite clever. It combines the dry bag with roll closure (it's made of durable 70D Nylon fabric), four convenient compression straps and the bottom base made of eVent membrane. The latter allows the air out during the compression (the process is a bit slower than with regular not-waterproof compression bag), and in the meantime the membrane keeps the water out.
Of course, these bags are not designed for water sports, but using them in regular backcountry trips removes all worries about water inside your backpack or pannier bags. Notably we used these bags in our 2014 Iceland trip, when it was raining literally for 10 days in row. Our down sleeping bags remained dry as much as it was possible in such conditions. There were numerous other trips with heavy rain—we've never had wet sleeping bags, period.
I like the numerous size options offered by Sea to Summit, ensuring the best possible fit to your sleeping bag or other equipment (note that compressing the clothes will be not much effective). We use the smallest possible 6-liter XS size (compresses down to 2-3 liters), but for 4-season use and/or synthetic bags you'll need a larger bag.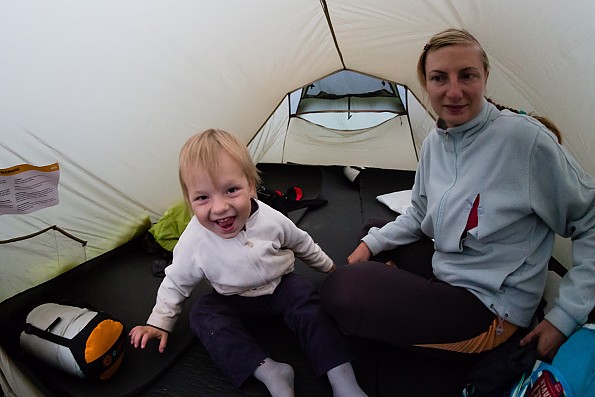 With our child playing nearby, we prefer keeping the sleeping bags in their drysacks for extra confidence
The only downside of Sea to Summit eVent compression bag I can see is its relatively heavy weight (about 100 grams in XS size, compared to 20+ grams for lightweight fabric sack of similar size). But this comes from durable 70D fabric which will last for years of use. I wouldn't recommend going ultralight in this matter (though there is lightweight UltraSil option in Sea to Summit lineup).
This product is highly recommended for all users of down sleeping bags.
Source: bought it new
Price Paid: 2x25 + 1x30 USD

A perfect piece of backpacking gear; always have a dry sleeping bag. Compresses easy, and it has really strong straps.
Pros
Sturdy because of its great materials
Compresses small
Guaranteed waterproof
Great straps
I carry a Kelty Cosmic 21-degree down long sleeping bag and a Sea to Summit pillow in a SM eVent compression bag.
I carry a Mountain Hardwear Ratio 40-degree long down bag and a Sea to Summit pillow in an XS eVent compression bag.
Below the eVent XS packed with The North Face Aleutian 50 synthetic long sleeping bag and a Sea to Summit Aeros pillow Ultralight.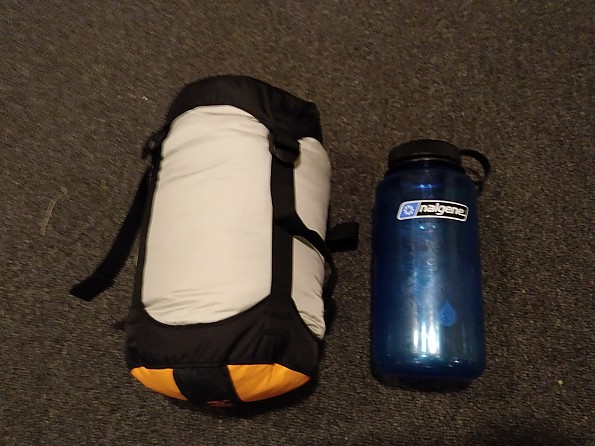 Below the Aleutian 50 long with a new eVent compression bag.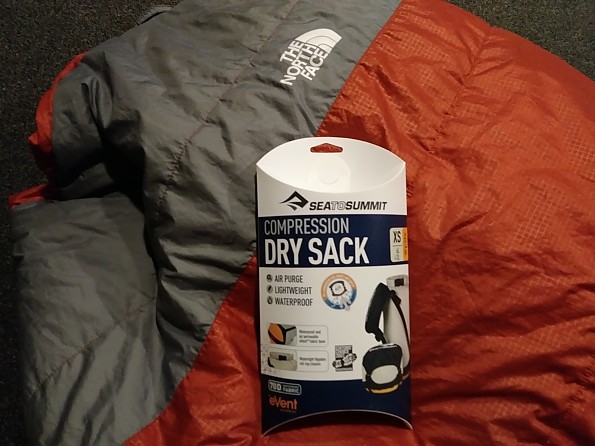 Below the eVent with The North Face Aleutian 50 long and the Aeros pillow.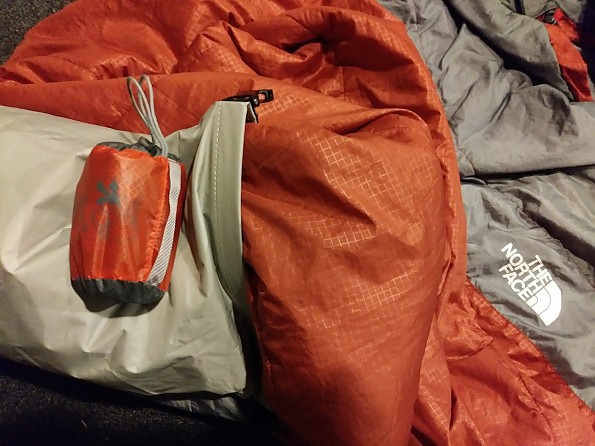 Below the Aleutian 50 long sleeping bag and Aeros pillow in eVent prior to compression.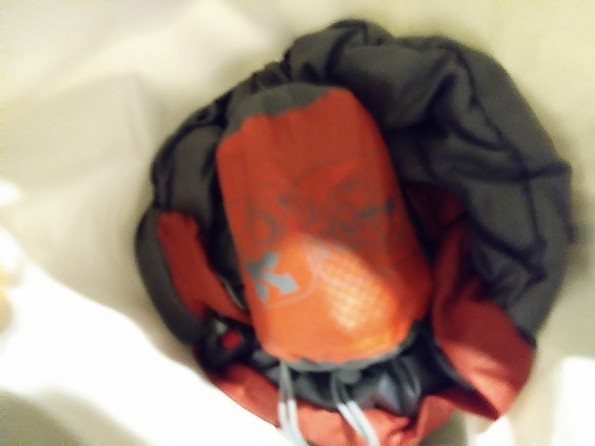 I always try and dry my sleeping bag on a rock or the top of a dry tent before placing it in the eVent compression bag, especially if it's going to be stored in a backpack on a  hot day.
I carry a synthetic bag in summer here in the humid Northeast because it's easier to wash and can take repeated laundering.
When packing the eVent bag, pack as tight as possible with your hand, pull the empty part of the eVent down the side of the packed part, fold, close, and then compress.
Source: bought it new
Price Paid: $27

Perfect compression sack.
Pros
light
waterproof
looks good
It's been a while since I've been backpacking, and when assembling some gear to get back into it, I realized I'd need a compression sack for my sleeping bag. I'd used Granite Gear bags in high school, and was about to buy one of those when I noticed the awards and glowing reviews about this bag. It's all the Granite Gear sacks offer, but waterproof. And it looks great.  
Its super easy to use, just stuff it, roll the plastic thing on the top a few times, clip the buckle, put the top on, and cinch it down. I've used an REI 20 degree synthetic bag in the size M 15 liter bag, and it fits like a glove, and compresses it down to about half of what it is in the normal stuff sack.  I could probably get it even smaller if space was an issue, but I'm using a Bora 80, so not too much of an issue...
Features are fantastic. It does exactly what it's supposed to do, compress the sleeping bag, but it's waterproof to boot. Just a little more peace of mind that if the rain soaks through my pack and pack cover, I can at least sleep dry that night. Also, I've used the compression sack as a bear bag in the past, and the waterproofness of this sack will be even better, keeping the food and whatnot dry in the event of a storm.
Construction is top notch. The feel of the bag is light, but quality. The color scheme is nice, no goofy colors, and eVENT! It's probably overkill on this bag, but it's cool nonetheless. It's easy to see how air permeable the membrane is when you compress the sack and hear the air coming out the walls of the sack. All the straps and buckles are double stitched and reinforced. I didn't have any qualms about cinching it down really tight, and all the buckles hold nicely.  
Fantastic piece of gear. It's so nice when a company gets every little detail right, especially on the little things.  It makes it that much easier to buy it and trust it.
Source: bought it new
Price Paid: $35

Worked decent, however if I were to hang it from a tree at night and it happened to rain, all of the contents would become wet. Carried two of these on my Appalachian Trail thru-hike in 2012.
Pros
Compression system works great
Cons
Doesn't really keep contents dry
These were… pretty good compression bags. I mean they compressed really well. They just didn't really keep my stuff dry. I used two of them, a 10L and 14L if I can remember correctly. I used one for my food and the other for my sleeping bag.
If I hung my food bag from a tree one night when it happened to rain, I would take it down the next morning and all of its contents would be pretty damp. In fact one time, I had some Dots candy and a bunch of hot chocolate that pretty much melted all over everything else, so I wasn't too happy about that. I ended up having to throw some stuff away and wash out the sack at Nuclear Lake.
I do like how well it compresses though, especially the sleeping bag, and I would definitely recommend it for the sleeping bag because you definitely don't want to get your down bag wet and will generally act as a good barrier while you keep it in your pack.
In the end… well if you get them then fine. If you don't, that's ok too.
Source: bought it new
Price Paid: $30

A rare combination of dry sack and compression sack in one affordable package. The Sea to Summit eVent compression sack has held up in a variety of conditions without breaking a sweat.
Pros
eVent allows you to get the sack compressed to the
perfect size without having to worry about getting every
inch of air out from the start
Cons
The material the sack is made of is light enough,
but the construction could be a bit more rugged.
The eVent dry compression sack is a great combination of dry bag and compression sack products. This allows any outdoor enthusiast to cut back on the gear they are taking into the wild.
This product is as straightforward as it gets and is easy to use. I got a large and it easily fits a 40-degree synthetic sleeping bag. It is light and easy to pack away when not in use.
The "eVent" feature allowing air to exit and no water to enter is a phenomenal bonus making packing this dry sack faster than ever. So far this feature has lived up to my expectations but not beyond them.
The construction is the only thing I think leaves a little to be desired. The product's tightening straps could use to be beefed up a little, maybe more stitching in this area. However, so far it has held up over time and in conditions from freezing rain to snow while strapped to the outside of my pack.
Source: received it as a personal gift

These roll-tops are great! I highly recommend these to anyone. I used the 17-liter size on several canoe treks and have had no leaks. They are lite and easy to use.
Price Paid: $40

I gave it four point five out of five because i like clips to pop the bag open quickly. but it is a great sack.
Its bag was an upgrade for a DIY bag made, I wanted something that was water proof but buying eVent by the yard is very expensive. I Googled "waterproof compression sack", found this one for $20 new, and bought it. (I have since bought some of their waterproof ditty bags)
The bag is different is one key way, compressing the air out through the eVent takes time. I am scared to push it too fast so it takes me a couple minutes to compress it fully when it is loaded to the top. I have shorted this time by compressing my sleeping bag before putting it in.
It is water proof; i have soaked my pack to the point of submersion without a problem (for the sack not the rest of my pack).
Price Paid: $20 (close out)

This is the compression dry sack that you want for your sleeping bag. It will keep it dry and allow you to pack it down small.
Pros
Waterproof protection
Compression capability
I use this compression sack for my sleeping bag for backpacking. It is easy to get the bag in, compress the bag.  Because this is waterproof it is important prior to folding it down to get as much air out of the bag as possible.  The construction design allows me to quickly compress the bag down.  
This is an extremely durable sack and look forward to using it in years to come!
Source: bought it new
Price Paid: $34.95

Very sturdy and well made, straps didn't get all tangled, compressed nicely, and kept sleeping bags clean and dry.
Pros
Waterproof
Easy to stuff
Built to last
Used these compression dry sacks on a recent 11-day trip to BWCA. We couldn't be happier with our purchase. They kept our sleeping bags dry and clean, were easy to stuff due to the interior coating, compressed nicely, and the straps didn't get all tangled up. They show no sign of wear after much abuse.
Source: bought it new
Price Paid: $49.95

Made very well. Compressed easily and well.
Pros
Multiple sizes
Waterproof
Compressed well
I used a friend's last year and am very excited to have my own this year. I like the roll top better than the draw string and love the buckle it uses to stay firmly rolled. The compression straps work great. 
Source: borrowed it

Waterproof compression sack.
Pros
Great for sleeping bags/clothes
Easy to use
Perfect for compressing sleeping bag and/or clothing for backpacking. Added bonus in that the bag is waterproof to protect your items.
Have used for four years, big fan. Very easy to use.
Source: bought it new
Price Paid: $30

Your Review
Where to Buy
Help support this site by making your next gear purchase through one of the links above. Click a link, buy what you need, and the seller will contribute a portion of the purchase price to support Trailspace's independent gear reviews.
You May Like
Specs
Price
Current Retail: $19.98-$44.95
Historic Range: $19.98-$54.99
Reviewers Paid: $20.00-$49.95