Sea to Summit Folding Bucket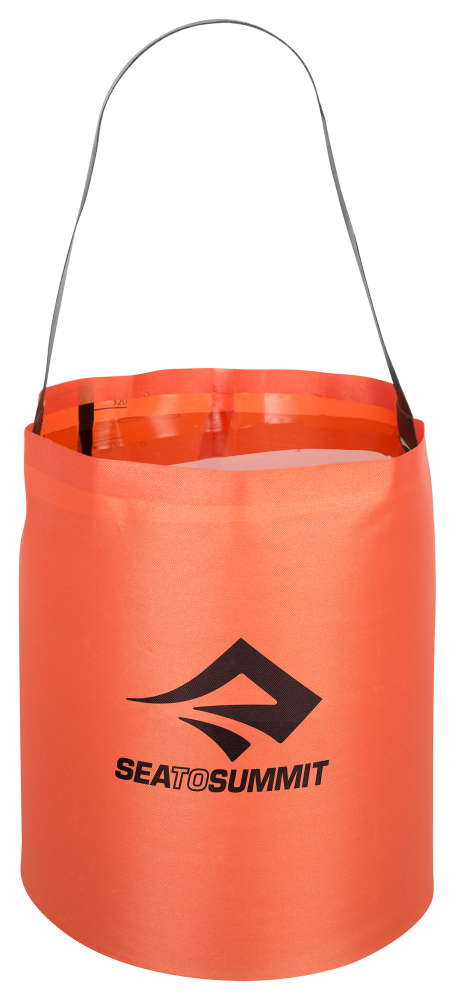 Add some convenience to your trip by filtering water from camp. This piece of gear will help you do that.
Pros
Convenience
Small
Light
Simple
Every now and then, you seem to run across a piece of gear that makes you wish you would have thought of that. Well, that piece of gear for me was the Sea-to Summit Folding Bucket. How many times have you sat on a river or lake bank to pump water into your water bladder or 1L bottle? This piece of gear eliminates all that.
The Sea To Summit folding bucket holds 10 Liters of water from which you can filter water within the comfort of your own camp.  It measures about 3" X 3" X 1" thick when it's in the carry case and weighs in at 3.4 oz's.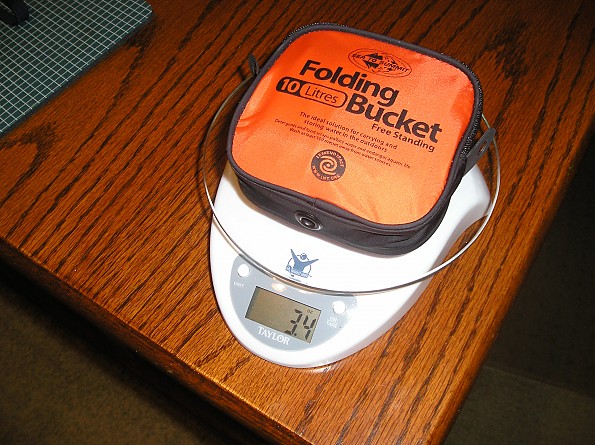 It's made from a treated heavy nylon (I assume), is extremely durable and fully seam sealed. 
When you need it, unfold it, fill'er up with water, take it back to camp and start pumping. I've found with two to three people, the 10 liter size is just about right for recharging water bladders and filling several 1 liter bottles for use during dinner.  If you have excess water, Sea To Summit conveniently put a small handle on the back side to you can easily dump out the extra on a nearby tree.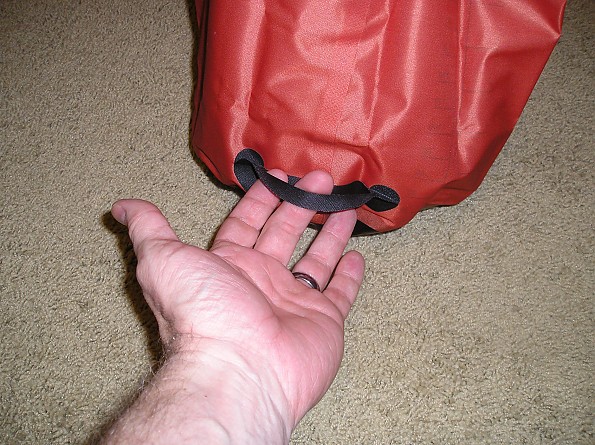 It does take a little finesse to fill since the sides are not rigid, but it's well worth the practice and effort. If you can find a deeper place in the river or lake in order to fully submerge it, it is easier to completely fill.  It is also self supporting when filled, but you do need to find a reasonably flat surface to set it on.  If you don't, it will collapse fairly easily.
One other item of note.  Be careful about leaving the bucket full of water over night.  On a recent trip into Kilpacker Basin near Telluride, Colorado, a friend of mine left some water inside the bucket over night so we could top off in the morning. When get got up the next morning, we found a small pika inside of the bucket desperately trying to get out. I still haven't figured out how he got inside, but after a little bath, I don't think he was any worse for the wear.
The only downside to the folding bucket is the cost (hence the 4 stars). In my non-business thinking mind, i'm guessing $10. If you were somewhere around there, both of us would be grossly wrong. Sea to Summit gets $25 big ones for this little gem.  I nearly choked when I saw the cost, but I did it anyway.  Since I doubt I'll wear it out, I figured I would do my part to help the economy.
For 3.4 oz's, I'm willing to trade some weight for a little convenience and yeah, I still wish I would have thought of the idea.
Edit: please note there is a difference between the bucket I reviewed and the picture shown by Trailspace.  in the picture from Trainspace, the ULTRA-SIL version is shown.  I don't own this version, but i believe the ULTRA-SIL version is much lighter, but its not free standing.
Source: bought it new
Price Paid: $25

This bucket performs reasonably well with some care. While it can be challenging to fill, and difficult to get it to stand up, it adds a real level of convenience to backcountry camping. No more frequent trips to the water supply — I find one fill-up of the bucket provides enough water for an overnight stay.
Pros
Relatively lightweight
Relatively compact storage
Cons
Difficult to keep it standing
Difficult to fill
I never thought I'd buy something like this for backpacking ... but I figured it might help prolong the life of my water filter between cleanings if I had a bucket to let sediment settle before using the filter. Also it probably is more LNT-ish to collect water from the source and store it at the campsite rather than making multiple trips to the water's edge to filter it from there.
Anyway, I've used this just once so far on an overnight trip, and it worked out pretty well. It did help in the ways I thought it would. There are a few things to consider though.
It can be difficult to fill unless deep water is accessible. To really fill it, you need to have water deep enough to submerge the bucket while it's upright. Pulling the bucket along horizontally doesn't allow you to collect much water. So it works fine if you have a stream where there's a pool, or a lake that slopes fairly steeply... or of course if there's a waterfall :). But if the water source is a shallow stream, this bucket probably won't be of much use.

It can be tricky to get it to stand up while full of water. I lost one bucket full because it simply fell over after I'd left it and walked away. After that I was much more careful in positioning it, and it was OK. But as I used water from it, I kept wondering if it'd tip over again (and collapse). I guess you just need to be careful, and if possible, position it next to something supportive.
At about 3.5 oz (with the little stuff-package), it's significant, but probably not unreasonable given its benefits. It is very compact when folded, so it doesn't take much space in your pack, or pack pocket.
I plan to continue using mine, at least when headed to destinations where I'll be likely to find a suitable water source where I can use it.
Update: November 24, 2011
I've continued to use this on my trips since first posting my review over a year ago. I've developed this routine now, when I select a campsite, I fill the bucket at the water source, then find a low hanging branch, or narrow rock outcropping, or similar at my site, and attach the bucket handle with a bungee cord to keep it upright. Then I have a water source right at my campsite without needing to schlep to the lake/creek repeatedly.  
It's better for the water-side vegetation, more convenient for me, and I can even select campsites further from the water without it being inconvenient (again, better for the environment near the water). I've found this to be well worth the few extra ounces in my pack...
Here there was a convenient log with a nicely positioned hook for the bungee: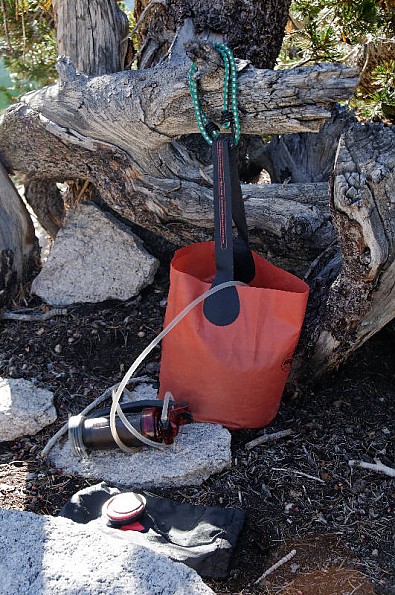 Source: bought it new
Price Paid: $25

No more going down to the creek over and over to fill your bottles. Use this bucket to prolong the life of your filter.
Pros
Size
Durability
Convenience
Lightweight
Cons
Difficulty standing on its own
Price
I paid full price for this bucket and I haven't been sorry one single time. You can probably find it on sale if you look long and hard enough and that would only make a great product even better.
Okay, I have no complaints about the Sea to Summit bucket, including the primary one of most reviewers that it won't stand up on its own. It's a collapsible bucket made out of cloth so I'm not sure why anyone would expect to set it down and have it stay upright for any length of time.
Bill got it 100% with his review — his suggestion being to hang it from a branch or prop it between rocks. I always find a place to hang it but be careful it's not going to hang next to a sharp twig or branch that could potentially poke a hole in it.
I've seen other review that say it's difficult to fill but I haven't found that to be the case, whether filling from a creek or a lake. If you're filling it in a fast flowing creek or stream, brace yourself and get a firm grip on the handle or you may end up taking a nose dive or losing the bucket altogether.
Another review talks about the bucket springing leaks along the folds. Here's a helpful hint that works with the bucket the same way it does with a tent. Never fold it the same way each time! I never try and fold this bucket along the same fold marks it came out of the case with. I generally grab the handle and the bottom and pull it into a narrow cone, then roll it up and wrap the handle around it.
Finally, if you're a total ounce counter but still want to carry this bucket into the backcountry, you can shave some weight be leaving the little carrying pouch at home.
Overall, I've saved way more money than this bucket cost just by reducing how often I have to replace the cartridge in my Katadyn Hiker Pro. Fill the bucket, let everything settle out and then pump. When this bucket finally gives out (three years and still going strong), I'll replace it with an identical one in a heartbeat!
Source: bought it new
Price Paid: $25 USD

Version reviewed: 10L
Sea to Summit 10l Folding Bucket:
Pros
10 liter size
Good sized container
Packs very small
Dries fast
Cons
May wear at fold lines
Difficult to stand up - may spill
This is a folding bucket, in the same family as the Sea to Summit Kitchen Sinks. This one packs the smallest even though it holds 10l. This one is the bucket which packs the smallest. It doesn't have the wire support in the rim of the kitchen sinks and it isn't very self supporting.
It's really good for carrying water, but it isn't that easy to get it to stand upright. You can see in the picture that I did get it to stand up, but it could easily fall over and then you would have to get more water. It definitely won't stand up if it is filled to the stated capacity. It is better to hang it from a branch or something.
Here is what it looks like mostly full: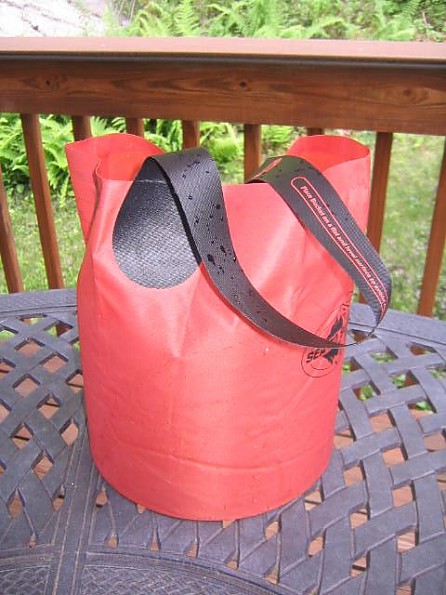 Here is what it looks like packed up  (it is the second from the left if you can't tell):
Source: bought it new
Price Paid: $27

Lightweight bucket made of sturdy material is great for hauling water back to your campsite. Unfortunately, it can also be easy to tip over.
Pros
Lightweight
Packs up small
Sturdy material
Good capacity
Great for filtering water out of
Cons
Easy to knock over
Need something else to help fill bucket easily
This 10 L bucket definitely has good capacity for holding water. In the past we would fill up a bunch of Platypus bottles, but you would have to bring a lot of them.
We found it to be useful when you need to collect water to filter. It allows you to carry your water back to camp to be used for filtering or cooking instead of having to use your cooking pot or filtering directly from the pond or stream.
It folds up to a very small size (~4" x 4") and weighs only 3 oz! The nylon is very high quality and well constructed with no seams.  It also has a good length handle which helps with carrying and pouring.
Unfortunately because of its light weight, you need to physically push it under water in order to fill it. We also found that you need another tool such as a cup to help fill it to the top. Also, when it is completely full it tends to get top heavy and we have knocked it over twice now. This is a terrible feeling when the water source is not nearby.  
Overall, it is a nice addition to my camping gear collection and I do bring it on all of my trips.
Source: bought it new
Price Paid: $32.95

l like being able to carry water back to the campsite and this works great, except as others have said it spills easily.
Overall like this bucket and will continue to use. I like the fact that I can fill and get comfy to pump water into my bottles.
Source: bought it new
Price Paid: can't remember

Fold causes a wear spot that leaks.
Pros
Stands up by itself (carefully)
Hangs
Cons
Heavy
Folds
Not very compact
Loved it on the first use.  Second use it sprung a little leak at a fold.  Patched it with duct tape, but I'm not confident in it now.
Source: bought it new
Price Paid: $30

Your Review
Where to Buy
Help support this site by making your next gear purchase through one of the links above. Click a link, buy what you need, and the seller will contribute a portion of the purchase price to support Trailspace's independent gear reviews.
You May Like
Specs
10 liter
20 liter
Price
Current Retail: $29.95-$39.95
Historic Range: $19.98-$39.95
Reviewers Paid: $25.00-$32.95

Weight
2.8 oz / 80 g
3.9 oz / 110 g
Capacity
2.6 Gallons
5.2 Gallons
Recently on Trailspace