Sea to Summit Sigma Stainless Steel Pot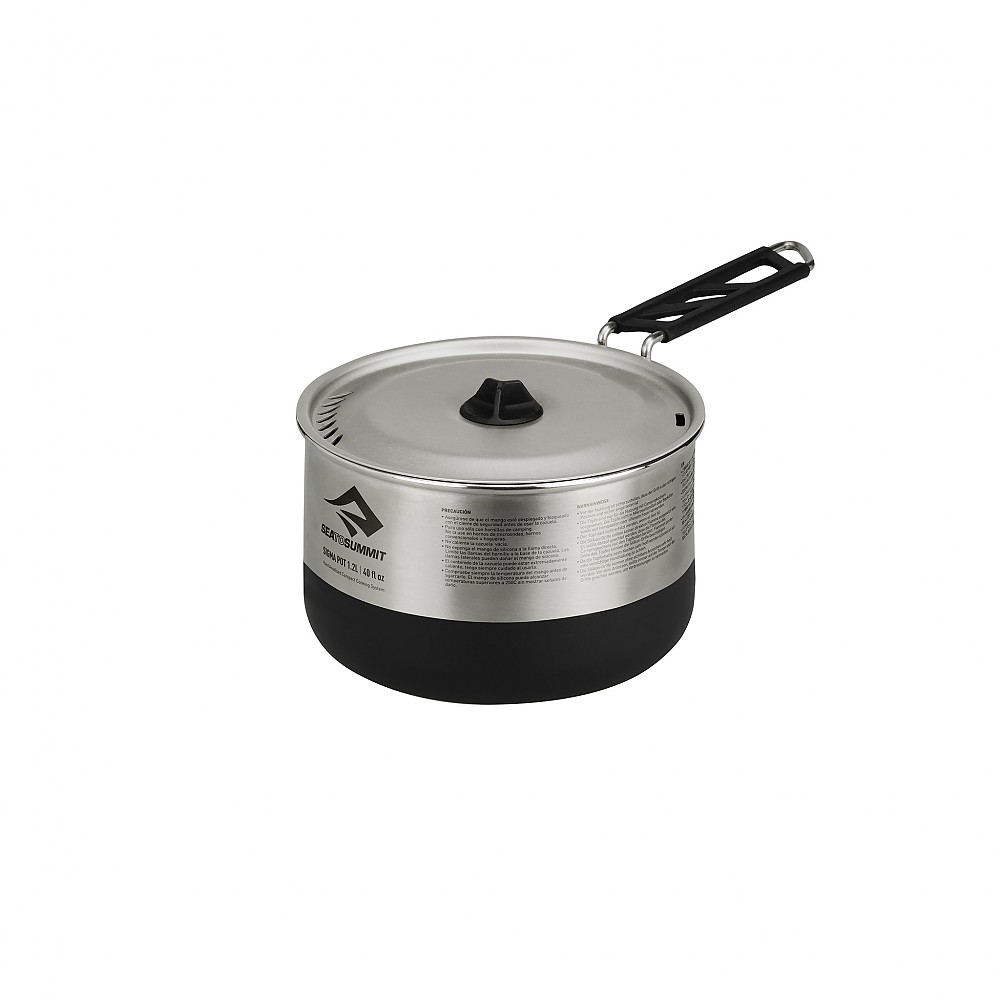 Version reviewed: 2.7L
The best thing about this (the handle) is also the worst.
Pros
Light for SS
Lid is great as it has strainer and hanger
Handle is potentially brilliant
Cons
Handle is let down by plastic locking clip—it just isn't strong enough for the bigger pots.
I have used many pots over the years—from old coffee tins through to fancy European aluminium art works (wish I had kept my Sigg billies...) For the longest time I have used MSR alpine pots as they are completely bomb proof and I haven't really found anything better. I am doing a lot of cycle touring with my two kids these days and needed something capable of making tea, porridge, or pasta for three—we had been using a 3L MSR pot but that takes up half a pannier!
I purchased the 2.7L Sigma pot to save a bit of space and weight— the SS is much thinner than on the alpine pots so the weight is pretty good, as is the shape. What really got me in was the built-in handle that acts as a lid clip and the strainer lid with holding clip. It looks like S2S have really thought about how people actually use these things in the wild and hats off to a great design.
Being thin, you need a stove that can be turned right down—but I have cooked curries, eggs, porridge with no problems. The largish radius at the bottom makes cleanup easy. The clip for holding the lid on the side of the pan is a great feature and the strainer lid is super useful. S2S tell you not to, but cooking on a fire is perfectly doable as long as you are sensible about it. The steel will still cop some denting but nothing fatal and nothing like aluminium pots. Not having to carry pot grippers (or Paddy fingers as they are called in Oz) is also handy.
I would be ready to put my beaten up alpine pots into retirement except for one thing—the handle has a nasty habit of letting go! With a full load of pasta, and given that you need to press down a bit on the lid to strain, the clip lock has let go on several occasions. We've all been there, with a pile of steaming pasta own the ground and many muttered expletives, one is in for a gritty dinner...  
I think it probably works fine on the smaller pots, but it just doesn't scale to the larger sizes. The culprit is (as is so often the case) the plastic pivot clip lock. It is some sort of nylon and just doesn't have enough mojo to prevent the handle swinging away and dumping dinner. It needs to be much better because losing food is the best you can hope for and unless you are nimble, personal injury could easily occur.
If you remember to pour to the left instead of right—it doesn't seem to be a problem because the forces are working to keep the handle in place—but I don't always remember that and I don't really trust the pot as a result.
Overall, it is intelligently designed and the manufacturing quality is great. S2S's heart is clearly in the right place, but someone cut corners on testing the handle mechanism. Plastic has its place but this isn't one of them. If they fix that, this is a 10 out of 10 and destined to become a classic. I had to rate it two stars because despite all the good ideas, the pot is is potentially dangerous.
Experience
40+ years of bush cooking, dozens of meals with this particular pot.
Source: bought it new
Price Paid: 59AUD

Similar to a previous comment...best feature is the worst by far.
Pros
Reasonably lightweight
No-slip bottom also is nice, especially on my tiny backpacking stove.
I will add that the little rubber knob on the lid is nice to remove lid and without burning even when the pot is hot
Cons
Swing away handle is convenient but this has given way with 1L of water in pot.
The handle lock mechanism has to be redesigned....I suggest anyone purchasing to "fix" the handle in some way to prevent serious injury.
UPDATE OCTOBER 2020: 3 Stars for Pot but 5 Stars for Sea to Summit. Sea to Summit has been spectacular in dealing with the issue I experienced. They were extremely concerned and have taken the pot to their testing lab for further study. This was the larger pot (3.7L) and the first generation. It may not be an issue with the newer version. I really like this pot but the larger size, in gen 1 seems to have had issues. I suspect the smaller size is fine.
I have other Sea to Summit Gear, all great stuff. In cooking range I really like the X-Pots. I am very impressed with this company and how they handled my concerns. I will be getting a replacement without question from them. As a note I did order this from an online retailer since my local retail store in Canada, MEC, was out of stock. I dealt directly with Sea to Summit, there were no questions or concerns about where it was purchased. They handled this. Based on this experience, albeit unfortunate, I will always feel confident purchasing from this company.
UPDATE SEPTEMBER 2020: Sea to Summit called me directly about the  issue I raised. I submitted simply through their website under warrenty/support. I do believe they may have mitgated this issue with a more recent product version. If so, I will move the rating way up as I really like the pot. As an aside I am also very happy with the direct contact and support for warrenty on it by Sea and Summit. I do believe they have been great in their quick response to my concerns.
ORIGINAL POST:
I will further support a previous review regarding the lock mechanism. I have to admit that the issue with the lock giving way is REALLY an issue. PLEASE POUR TO THE LEFT.
I unfortunately had read this review before purchasing this, but then in classic fashion as I was pouring boiling water into my coffee I forgot the advice here, the lock mech gave away dumping boiling water on my foot. I had running shoes on and still suffered severe burning. My career aspiration as a foot model I fear are over.
I have been trekking with gear for over 40 years, cycling, canoeing, and hiking. This was the first and worst injury, sadly due to product engineering or manufacturing. The pot size/weight is perfect for my needs. However, I will not use it, especially as it puts others at risk if they repeat this occurrance.
I will be talking with Sea to Summit over this to see how I can "fix" my pot. I hope they have some improvement here. Otherwise, I will MacGyver the lock in some way to ensure this cannot happen. Maybe just remove the handle or create my own lock pin or something.
So 2 stars until this issue is addressed, otherwise it would be an easy 4-5 stars. I have been able to reproduce this in my kitchen sink with cold water. I will create a video for Sea to Summit and if requested will follow up here with pictures/video of the problem.
Experience
This is the first Sigma Pot I have owned. I have used a lot of equipment over the last 40 years for cooking on the road/trail/waterway. I will admit much of my trekking cookware has been far less expensive, but none have been the blame for injury.
Source: bought it new

Handle pivot lock clip issue. Lock on both pots in 2.2 set disconnected.
Cons
Design issue on handle pivot lock which makes product unsafe
I had the same issue with this pot. The lock on the pivot just disconnected and got lost in the grassy ground.  It happened to both pots during the same camping trip. Now it's a real safety issue as you can easily meet an accident due to the pot swinging out easily.
I'm requesting a Warranty claim or just sending a replacement lock.
Experience
Accident prone product.
Source: bought it new
Price Paid: $80

Your Review
Where to Buy
Help support this site by making your next gear purchase through one of the links above. Click a link, buy what you need, and the seller will contribute a portion of the purchase price to support Trailspace's independent gear reviews.
You May Like
Specs
1.2L
1.9L
2.7L
3.7L
Price
Current Retail: $25.82-$59.95
Historic Range: $25.82-$59.95
Reviewers Paid: $80.00

Weight
7.6 oz / 214 g
10.9 oz / 308g
13 oz / 370 g
16.4 oz / 465 g
Pot Volume
1.2 L / 40.6 oz
1.9 L / 64.2 oz
2.7 L / 91.3 oz
3.7 L / 125.1 oz
In-Use Size
5.7 x 3.8 in / 144 x 96 mm
6.5 x 4.7 in / 165 x 120 mm
7.2 x 4.7 in / 182 x 120 mm
8 x 5.3 in / 203 x 135 mm
Material
Marine-grade stainless steel

Recently on Trailspace